A new rider in the Alba Development Road Team for 2023 is second year Junior, Evie White who joins the Alba team from Deeside Thistle – VeloUK quizes Evie on her 2022 season and the one ahead of her in 2023
Q&A: Evie White (Alba Road Dev Team)
After a great year as a first year junior, Evie White will be focusing on the junior national series whilst gaining experience at a senior level.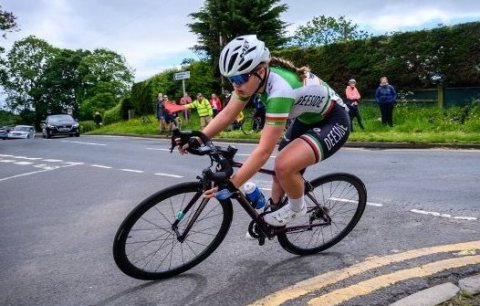 Q: How has been your winter's training?
Evie: I've mostly had to do a lot of long rides on the turbo due to the weather but I've been able to go out on the roads a few times.
Q: What is the biggest challenge training in the winter for you?
Evie: It was always too dark to go for a ride outside after school which meant I did a lot of training on the turbo. I also had to make sure I had enough layers on whenever I went outside because I've had to stop riding early a couple of times due to the cold.
Q: Do you get to train with others in the winter or is mainly solo?
Evie: I do mainly solo training, but I have managed to do some training down in Glasgow with some riders on the Scottish cycling performance programme.
Q: What performances of yours in 2022 during the season help motivate you during the winter?
Evie: I had a good start to the road season last year, particularly at Hatherleigh when I came 6th overall and 5th junior. This motivates me during winter training because I know all the long rides that I did last year helped me to improve my endurance a lot.
Q: What was the best result/performance of yours in 2022?
Evie: Second at the Scottish junior road race champs and a few top 10s in the road race series.
Q: What were the things you learned in 2022 at races that you feel will help you in 2023?
Evie: I need to be confident when I'm riding in the bunch.
Q: What was the toughest bike race you did in 2022?
Evie: Bizkaikoloreak in Spain because it was extremely hot and there were lots of big hills.
Q: When are you aiming to begin racing in 2023?
Evie: I went to Apeldoorn in the Netherlands for some track racing on the 6th of January.
Q: Do you find the off season without racing a good thing or a boring part of the year?
Evie: I found it good because I had a chance to focus on some other things for a little bit and I felt more relaxed about my training.
Q: Finally, what are your key goals for 2023?
Evie: Top five in the junior road race series and gain more experience in larger bunch races.
Good luck Evie in your races in 2023!
---
---
Cycle Division's Shop
---
Send your results as well as club, team & event news here
---
Other Results on VeloUK (including reports containing results)

---
Other News on VeloUK