The 17th CiCLE Classic between Oakham and Melton Mowbray on April 23rd was won in epic conditions by Luke Lamperti from Tijl de Decler and James McKay
Classic Races: CiCLE Classic 2023
---
---
Winner Luke Lamperti in the GSG Clothing UK winner's jersey
1. After seven miles of racing, a five up breakaway came into Wymondham with the peloton not that far behind
2. The peloton pass by my little scooter ;-) as they come into Wymondham
3. After a half lap of the roads around Wymondham, the break had extended their lead big time as the peloton sat up
4. Peloton cruising after lap 1 around Wymondham
5. After two laps of Wymondham, the break was still clear
6. The pace in the peloton had lifted as it came past after two laps of Wymondham 
7. A little later, a good half an hour or more, the break came over Somerberg and was still clear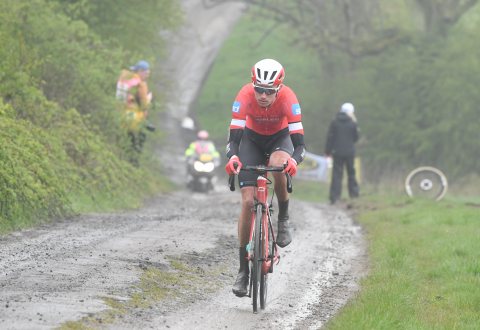 8. A lone rider from Wales in the gap between break and peloton
9. The peloton meanwhile was lead by Lotto and Jacob Scott (third last year) had many a split and the race of attrition was well under way with many a dropped rider
10. To Owston and that break was getting smaller but still clear
11.Lotto driving the pace hard behind the breakaway
12. Next time in Owston and a lone leader with the peloton not far behind now …
13. Trinity driving the peloton behind the lone breakaway
14. Stapleford Park the first time and the peloton had caught the breakaway and both Josh Giddings and Jacob Scott were still at the sharp end!
15. A big group still together for the battle for the win despite some attacks on the finishing loop, one which off course, and from this group Luke Lamperti was the winner
16. Rory Townsend with his special Pork pie, winner of the special sprints award
17. Joseph Smith winner of the King of the Bergs. The result sheet still to be updated .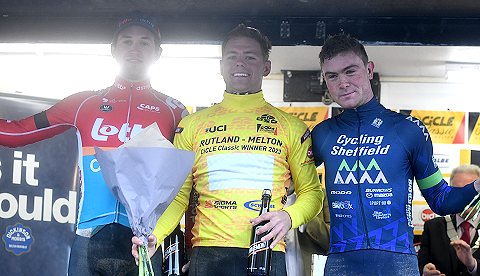 18. L-R: Tijl de Decker (2nd), Luke Lamperti (winner), James McKay (3rd)
RESULT
1 Luke LAMPERTI Trinity Racing U23 4h38'33 –
2 Tijl DE DECKER Lotto DSTNY Development Team U23 4h38'33 –
3 James MCKAY Cycling Sheffield 4h38'33 –
4 Niklas PEDERSEN Team ColoQuick 4h38'33 –
5 Rory TOWNSEND Bolton Equities Black Spoke 4h38'33 –
6 Jacob SCOTT Bolton Equities Black Spoke 4h38'33 –
7 Abram STOCKMAN TDT-Unibet 4h38'33 –
8 Ollie PECKOVER Trainsharp 4h38'33 –
9 Jelle HARTEEL Lotto DSTNY Development Team U23 4h38'33 –
10 Martin PLUTO Abloc CT 4h38'33 –
11 Finn CROCKETT Scotland 4h38'33 –
12 Jack ROOTKIN GRAY Saint Piran U23 4h38'33 –
13 Huw BUCK-JONES Wales Academy U23 4h38'33 –
14 Joshua Amos GUDNITZ Team ColoQuick U23 4h38'33 –
15 Edo GOLDSTEIN Team Ecoflo Chronos 4h38'33 –
16 Simon BAK Team ColoQuick 4h38'33 –
17 Tim SHOREMAN Scotland 4h38'33 –
18 Alec SEGAERT Lotto DSTNY Development Team U23 4h38'33 –
19 Callum THORNLEY Trinity Racing U23 4h38'33 –
20 Wessel MOURIS Scorpions Racing Team U23 4h38'33 –
21 Toby BARNES BC East Midlands Region Carter-Legrand 4h38'33 –
22 Joseph BECKINSALE ROKIT- SCRT1 4h38'33 –
23 Breiner Henrik PEDERSEN Team ColoQuick U23 4h38'33 –
24 Luke VALENTI Team Ecoflo Chronos U23 4h38'33 –
25 Joshua GIDDINGS Lotto DSTNY Development Team U23 4h38'33 –
26 Alex PETERS Richardsons-Trek-DAS 4h38'33 –
27 Alexandar RICHARDSON Saint Piran 4h38'39 + 0:06
28 William TRUELOVE ROKIT- SCRT1 U23 4h38'41 + 0:08
29 William TIDBALL Saint Piran 4h39'01 + 0:28
30 Niek VOOGT Scorpions Racing Team U23 4h39'03 + 0:30
31 George JACKSON Bolton Equities Black Spoke 4h39'03 + 0:30
32 Callum MACLEOD Abloc CT 4h39'09 + 0:36
33 Luke VERBURG Abloc CT U23 4h41'02 + 2:29
34 Sebastian NIELSEN Team ColoQuick 4h41'12 + 2:39
35 Jacob SMITH Wheelbase Cabtech Castelli U23 4h41'22 + 2:49
36 Ryan CHRISTENSEN Bolton Equities Black Spoke 4h41'31 + 2:58
37 Ben CHILTON Ribble Collective U23 4h42'33 + 4:00
38 Harry BIRCHILL Saint Piran U23 4h43'22 + 4:49
39 Joseph LAVERICK Ribble Collective 4h43'48 + 5:15
40 Oliver HURDLE Stolen Goat Racing Team 4h44'08 + 5:35
41 Luuk HERBEN Abloc CT 4h45'04 + 6:31
42 George PEDEN Team PB Performance 4h46'29 + 7:56
43 Sebastian GARRY Kalas-Motip Race Team 4h46'34 + 8:01
44 Brent CLÉ Scorpions Racing Team 4h46'34 + 8:01
45 Evan RUSSELL Saint Piran U23 4h47'10 + 8:37
46 Jack CROOK Richardsons-Trek-DAS 4h47'10 + 8:37
47 Cai DAVIES Kalas-Motip Race Team 4h47'10 + 8:37
48 Milan PAULUS Lotto DSTNY Development Team U23 4h47'10 + 8:37
49 Jerome GAUTHIER Team Ecoflo Chronos U23 4h47'10 + 8:37
50 Adam KELLY BC North West Region 4h47'10 + 8:37
51 Bodi DEL GROSSO Abloc CT U23 4h47'10 + 8:37
52 Tom MARTIN Wheelbase Cabtech Castelli 4h47'10 + 8:37
53 Jacques COATES Team PB Performance U23 4h47'24 + 8:51
54 Matthew ELLIS ROKIT- SCRT1 4h47'24 + 8:51
55 Nicolas RIVARD Team Ecoflo Chronos U23 4h47'33 + 9:00
56 Spencer DAVIES Wales Academy U23 4h47'34 + 9:01
57 Dan GALPIN BCC Race Team U23 4h48'41 + 10:08
58 Harry TANFIELD TDT-Unibet 4h48'49 + 10:16
59 Philippe JACOB Team Ecoflo Chronos U23 4h48'53 + 10:20
60 Ross BIRRELL Scotland U23 4h48'53 + 10:20
61 Mitchel FITZSIMONS Bolton Equities Black Spoke U23 4h48'53 + 10:20
62 Gavin HADFIELD Team Ecoflo Chronos U23 4h48'53 + 10:20
63 Lee ROSIE Wheelbase Cabtech Castelli U23 4h48'53 + 10:20
64 James NICHOLSON TAAP-Endura 4h48'53 + 10:20
65 Matthew BOSTOCK Bolton Equities Black Spoke 4h48'53 + 10:20
66 Matthew KING Xspeed United Continental 4h51'42 + 13:09
67 Sam CULVERWELL BC East Midlands Region Carter-Legrand 4h51'43 + 13:10
68 Tom WILLIAMS ROKIT- SCRT1 U23 4h51'43 + 13:10
69 Davide BOMBOI TDT-Unibet 4h51'43 + 13:10
70 Irfan ZAMAN Embark-Spirit BSS U23 4h52'31 + 13:58
KOB Overall Classification
Cold Overton Berg (Pass 1)
1 David HIRD (SCR) ROKIT- SCRT1 5 pts
2 Joseph SMITH (BEM) BC East Midlands Region Carter-Legrand 3 pts
3 Tom WILLIAMS (SCR) ROKIT- SCRT1 1 pts
BurroughBerg (Pass 1)
1 Joseph SMITH (BEM) BC East Midlands Region Carter-Legrand 5 pts
2 Tom WILLIAMS (SCR) ROKIT- SCRT1 3 pts
3 James NICHOLSON (TAE) TAAP-Endura 1 pts
Burrough Melton Lane
1 Joseph SMITH (BEM) BC East Midlands Region Carter-Legrand 5 pts
2 James NICHOLSON (TAE) TAAP-Endura 3 pts
3 Tom WILLIAMS (SCR) ROKIT- SCRT1 1 pts
Cold Overton Berg (Pass 2)
1 Tom WILLIAMS (SCR) ROKIT- SCRT1 5 pts
2 Milan PAULUS (LDD) Lotto DSTNY Development Team 3 pts
3 Bodi DEL GROSSO (ABC) Abloc CT 1 pts
BurroughBerg (Pass 3)
1 Rory TOWNSEND (BEB) Bolton Equities Black Spoke 5 pts
2 Callum MACLEOD (ABC) Abloc CT 3 pts
3 Martin PLUTO (ABC) Abloc CT 1 pts
CuckooBerg
1 James MCKAY (CSD) Cycling Sheffield 5 pts
2 Martin PLUTO (ABC) Abloc CT 3 pts
3 Breiner Henrik PEDERSEN (TCQ) Team ColoQuick 1 pts
GENERAL TOTAL
1 Joseph Smith East Mids team 13 points
Special Sprints
Special Sprint 1 – Wymondham Windmill (Pass 1)
1 David HIRD (SCR) ROKIT- SCRT1
Special Sprint 2 – Wymondham Windmill (Pass 2)
1 David HIRD (SCR) ROKIT- SCRT1
Special Sprint 3 – Wymondham
1 Joseph SMITH (BEM) BC East Midlands Region Carter-Legrand
Hot Spot Sprint 1 – Oakham
1 David HIRD (SCR) ROKIT- SCRT1
2 Tom WILLIAMS (SCR) ROKIT- SCRT1
3 6 James NICHOLSON (TAE) TAAP-Endura
Special Sprint 6 – Owston Grainstore Wait in Beer Award
1 Joseph SMITH (BEM) BC East Midlands Region Carter-Legrand
Hot Spot Sprint 8 – Owston Village (Pass 2)
1 Rory TOWNSEND (BEB) Bolton Equities Black Spoke
2 Breiner Henrik PEDERSEN (TCQ) Team ColoQuick
3 William TIDBALL (SPC) Saint Piran
Sprint – Owston Village (Pass 3)
1 Jacob SCOTT (BEB) Bolton Equities Black Spoke
2 Joshua Amos GUDNITZ (TCQ) Team ColoQuick
3 Jack ROOTKIN GRAY (SPC) Saint Piran
Dickinson & Morris Pork Pie Sprint Award
1 Rory TOWNSEND (BEB) Bolton Equities Black Spoke
GENERAL TOTAL
1 Rory TOWNSEND (BEB) Bolton Equities Black Spoke
2 Jacob SCOTT (BEB) Bolton Equities Black Spoke
3 Jack ROOTKIN GRAY (SPC) Saint Piran
4 Joshua Amos GUDNITZ (TCQ) Team ColoQuick
5 Breiner Henrik PEDERSEN (TCQ) Team ColoQuick
6 William TIDBALL (SPC) Saint Piran
7 James NICHOLSON (TAE) TAAP-Endura
8 Tom WILLIAMS (SCR) ROKIT- SCRT1
Team classification
1. Lotto DSTNY Development Team 29
2. Team ColoQuick 34
3. Bolton Equities Black Spoke 42
4. Saint Piran 68
5. Abloc CT 75
6. Scotland 88
7. Team Ecoflo Chronos 88
8. Scorpions Racing Team 94
9. ROKIT- SCRT1 104
10. TDT-Unibet 134
11. Wheelbase Cabtech Castelli 150
Under 23
General classification
1 Luke LAMPERTI (TRI) Trinity Racing 4h38'33 4h38'33
---
---
Cycle Division's Shop
---
Send your results as well as club, team & event news here
---
Other Results on VeloUK (including reports containing results)

---
Other News on VeloUK