Hannah Barnes of  MG Maxifuel won her second round of the Johnson Health Tech Grand Prix Series by sprinting clear on the final climb up to the finish in Redditch town centre.
Hannah Barners (MG Maxifuel) wins the sprint to the line in Redditch ahead of Laura Massie and Barne's teammate  Charline Joiner, (MG Maxifuel). Hannah had been in a two up break with Adela Carter who was winning the sprints but when the break came back, Hannah won the sprint…  lots of strings to her bow!
Hannah Barnes extends Series lead in Redditch – MG Maxifuel team in control of all three women's standings following Round Three
Hannah Barnes took her second victory in a week in the Johnson Health Tech Grand Prix Series to open up a 14-point lead at the top of the standings following the Redditch event.
The MG Maxifuel rider continues to also lead the Sprints competition, with her squad jumping from third to first in the team standings, ten point in front of defending champions Matrix Fitness Race Academy.
Barnes sprinted to victory from a group of around 15 riders who had stayed at the front throughout the 40-minute race on the tough Worcestershire circuit.
Hannah said afterwards to Gordon Wiseman "I'm really pleased with my result tonight. I wasn't feeling too good today but I managed to pull it off. It was my legs, I just felt that I had nothing in them. It was a really, really tough circuit but I did the mtb Nationals on Sunday and that was a really tough race as well" (Hannah got fifth in that race).
"I didn't really have a plan for tonight. I didn't know what the course was like until we rode round it this evening but it was obvious straightaway that it was going to be hard to get away. I thought the bunch would whittle itself down quite quickly and it did and then it quickly became the survival of the fittest. Loads of people willing to attack but no one really stayed away. And then with 5 laps to go it eased off quite a bit.
The Big Photo Album
"But as it was a smaller group at the end I knew who was up there, who would do well up the climb and I was watching their shadows. Adela Carter was going well in the sprints so I knew I had to watch her. Laura Massey went early, she had a really good ride.
"But we had Charline in 3rd and Karla finished 6th so we stole the team award as well. Rod's happy and so are the sponsors with MG being just down the road. We were told to win or else and we did!"
(thanks to Gordon Wiseman for the quotes)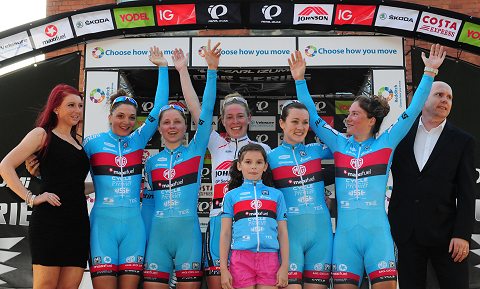 Top Team, MG Maxifuel 
A late addition to the Johnson Health Tech Grand Prix Series calendar, Redditch proved a hit with spectators with thousands turning out under sunny skies to see the first ever women's race at the town's Pearl Izumi Tour Series event.
Active throughout was Team Hope Factory Racing's Adela Carter, who grabbed both sprints on the evening and was rewarded with the combativity prize for her attacking riding. The two sprint wins weren't enough to overhaul Barnes in the standings, with the MG Maxifuel rider watchful throughout to mark any threatening moves.
Several times riders tried to go clear, but on each they were brought back with no one team able to fire any riders up the road from the front bunch.
Come the final lap and it was Barnes who leapt clear, round the final to win by several lengths from Abergavenny Road Club's Laura Massey, who equalled her best ever Johnson Health Tech GP Series result.
Charline Joiner's third and Karla Boddy's sixth helped MG Maxifuel take the team win on the night and into the overall standings lead, with Matrix Fitness Race Academy nipping at their heals with fifth, seventh and eighth on the night thanks to Hannah Walker, Gabby Day and Jessie Walker, all of whom were involved in the action at the front.
Round One winner Natalie Creswick finished 14th for Team MuleBar Girl – Sigma Sport, to keep the squad in the running for team honours, but dropping back to fourth individually.
Behind Barnes Louise Mahe is joint second with Gabby Day, before a trio of riders on 39 points also within striking range of the Johnson Health Tech white jersey.
Highlights of the Redditch race will be shown as a part of The Pearl Izumi Tour Series highlights programme on ITV4 at 10pm on Wednesday 5th June. Round Four of the Johnson Health Tech Grand Prix Series takes place at Woking on Tuesday 11th June.
Rod Freeman – MG Maxifuel Pro Cycling Team Principal
"Tonight's round being just down the road from our principal sponsor MG makes the win really special. We're leading the team and rider competitions now but we know it's not over yet for the overall, we've still got two rounds to go.
"When we saw what Hannah did at Colchester with Karla getting third and Charline, going well but not quite on form with a chest infection, we knew we could get that extra bit. Then to get it together tonight was really pleasing.
Charline came through today and I think it's testament that she has made a fantastic jump from being a track rider to road. She would argue that she was already used to riding up the banking but the big climb tonight was much bigger than that. She really came into it.
"The women's result tonight is really where we wanted to be. When we first came into this with the women's team we saw Matrix as something to aim to be in women's racing. To be one point behind them at Colchester we knew we were getting really close. And now we're leading the Series. We're delighted to get where we are today".
Sprints and combativity winner, Adela Carter of Hope Factory Racing
Adela Carter – Team Hope Factory Racing – Sprints Competition, Combativity Award and 4th o/a
"I think it's fair to say that this is the first time I've really shone in a Johnsons round.  I don't think I've changed my riding between rounds, it's just that I stayed in the front group this time as opposed to having to work my way through from a back group.
"I normally do cyclo-cross and some mtb in the summer. I think the big climb helped sort the group out and on such short climbs I'm ok, I'm more used to those from my other cycling disciplines. And it was different being up at the front, I really enjoyed it!
"Tonight I picked up the Combativity award and won both sprints. With cyclo-cross and mtb's you tend to change speed quite frequently and in 'cross there's lots of short sprints out of corners so, although I'm quite new to crit racing I knew I could use those skills. Previously though I've tried to keep out of the way so as not to get hurt!
"The course was incredibly hard and to begin with the group stayed together. I think it was difficult for a solo attack to stay away because it was such a difficult course. But I'll come back for more, I'll definitely give it a go".
The women's race gets under in glorious sunshine and a great crowd in Redditch where posters for the race were everywhere!
 
Charline Joiner – third, left) "Tonight wasn't a sprinter's circuit but I just tried to stay with the leading group of riders on the hill. I'm pleased that I managed to do that. I got a rest on the downhill and stayed in the pack at the bottom on the flat and then dug in to try to stay in the top ten on each climb, I just had to dig in. Positioning was really important on a circuit like this."
"I'm so chuffed with the result tonight. I'm so happy. I really, really wanted a top 3 placing in the Series. I've not been well in the past few weeks with a chest infection. We're still trying to sort out if it's asthma or Hay Fever, I'm just coughing all the time and that's why I'm really happy with that result".
Result
1. Hannah Barnes MG-Maxifuel Pro Cycling
2. Laura Massey Abergavenny Road Club
3. Charline Joiner MG-Maxifuel Pro Cycling
4. Adela Carter Team Hope Factory Racing
5. Hannah Walker Matrix Fitness Racing Academy
6. Karla Boddy MG-Maxifuel Pro Cycling
7. Gabriella Day Team Rapha-Focus
8. Jessie Walker Matrix Fitness Racing Academy
9. Clemence Copie High Wycombe Cycling Club
10. Annabel Simpson Team Hope Factory Racing
11. s Helen Wyman Kona/ FSA Factory Team
12. Louise Mahe Team Mulebar Girl – Sigma Spor…
13. Ella Hopkins Breast Cancer Care Cycling Tea…
14. Natalie Creswick Team Mulebar Girl – Sigma Spor…
15. Ciara Horne Breast Cancer Care Cycling Tea…
16. Sarah Byrne Champion System/Maxgear/Base
17. Tamina Oliver Team CTC
18. Nicola Soden Champion System/Maxgear/Base
19. Melissa Brand MG-Maxifuel Pro Cycling
20. Joanna Tindley Matrix Fitness Racing Academy
21. Rohan Battison MG-Maxifuel Pro Cycling
22. Hannah Payton Team CTC
23. Roxanne Fournier
24. Tanya Griffiths Ipswich BC
25. Louise Borthwick Edinburgh RC
26. Grace Garner RST Racing Team
27. Nicole Oh Les Filles Racing Team
28. s Eleanor Jones VC St Raphael
29. Lyndsey Glazier Team Hope Factory Racing
30. Emily Barnes Condor Cycles
31. Hannah Manley VC St Raphael
32. Adele Martin Team Hope Factory Racing
33. Wiesia Kuczaj Team Mulebar Girl – Sigma Spor…
34. Paige Milward Squadra Donne – Shutt VR
35. Saskia Hook Squadra Donne – Shutt VR
36. Sian Botteley Squadra Donne – Shutt VR
Round Three Colchester Team Winner: MG Maxifuel
Round Three Colchester Combativity Winner: Adela Carter,, Team Hope Factory Racing
Round Three Colchester Sprints Winner: Adela Carter,, Team Hope Factory Racing
Individual Standings, post-Round Three
1) Hannah Barnes,, MG Maxifuel, 59pts
2) Louise Mahe,, Team MuleBar Girl – Sigma Sport, 45pts
3) Gabby Day,, Matrix Fitness Race Academy, 45pts
4) Natalie Creswick,, Team MuleBar Girl – Sigma Sport, 44pts
5) Karla Boddy,, MG Maxifuel, 39pts
Team Standings, post-Round Three
1) MG Maxifuel, 138pts
2) Matrix Fitness Race Academy, 128pts
3) Team MuleBar Girl – Sigma Sport, 116pts
Sprint Standings, post-Round Three
1) Hannah Barnes, RMG Maxifuel, 27pts
2) Louise Mahe,, Team MuleBar Girl – Sigma Sport, 13pts
3) Adela Carter,, Team Hope Factory Racing, 10pts
---
Other Results on VeloUK (including reports containing results)

---
Other News on VeloUK