The Stage 11 time trial of the Tour de France has been won by Tony Martin with Chris Froome extending his lead in the overall standings
World Time Trial Champion Tony Martin (Quickstep/Omega Pharma), equipped with a 58 tooth chain ring, set the early mark with a time of 36.29 and was fastest at all the time checks until Froome came through the first one fastest by a single second.
With Martin finished and in the hot seat, there was then a wait of many hours until all the GC contenders had completed their ride.
MARTIN: "To be honest, I'd almost given up hope of the stage win. It was starting to look very disappointing when I saw Chris beat my times at the intermediate check"
On a day when the wind got stronger as the day progressed, no one was certain who would win until the final metres of the stage. No rider was able to surpass Martin's times at any check… until the arrival of Chris Froome. The rider who finished second in both long time trials on his way to second overall in 2012 beat Martin's time by one second at the 9.5km mark; and Froome was 2.42sec ahead at 22km… which prompted a vacant stare from the German in the hot seat at the finish.
Tony Martin: "To be honest, I'd almost given up hope of the stage win. It was starting to look very disappointing when I saw Chris beat my times at the intermediate check. I nearly started to cry. I couldn't believe it. I was more-or-less sure about the win as I had a good advantage to guys like 'Chava' and Kwiatkowski who really strong time trial riders so I expected that Froome might get to within 30 seconds or something like that but not beating me at the intermediates.
"Now I'm really happy and maybe it's nicer to win this way. Luckily some of my skin is back [after the accident of stage one] and I can sleep on my back again. I'm more-or-less recovered… for sure there are still some wounds that are open but we riders are used to this so it's no problem any more."
"When I heard that I could continue the Tour de France I knew I wouldn't be 100 per cent there for the team time trial but I always expect to have a good performance today and I'm really happy now that I could do that. At the end of the day I'm the lucky guy and I think I deserve a little bit of luck."
In the race for overall honours, we were reminded that there is one dominant force in the 100th Tour: Froome's nearest GC challenger in the time trial was Bauke Mollema who kept his third place on the overall rankings but, with his 11th place, slipped further behind Froome on time: from 1'44» to 3'37». Alejandro Valverde is second but only 12 secs ahead of his Dutch rival.
Other former TT winners at the Tour weren't even close to victory today: Contador – who won in Annecy in 2009 – was behind by 2'15"; Evans – who won in Albi in 2007 – was behind by 2'30"… but today wasn't about past performances it was a contest between to riders with different ambitions: one wanted to win the stage, the other wants to win the Tour de France. And the TT world champion got his reward at Mont-Saint-Michel:
Michal Kwiatkowski meanwhile, who had the white jersey earlier in the Tour, took it back with a ride that saw him race to a time 1.31 slower than his teammate Tony Martin. His ride was one of three by the Omega Pharma that at one point at the first time check had them 1-2-3 in the result until Froome went fastest.
"I'm very happy about my performance but I actually did very well in every TT I've done this year so I keep on going that way. I'm pleased with the result of today and happy for Tony [Martin, his team-mate at Omega Pharma-Quickstep] and to have the white jersey back."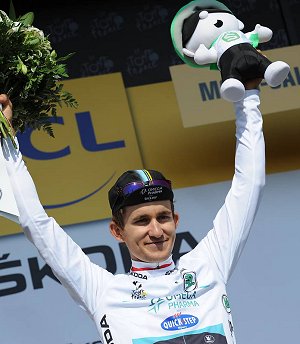 "The third week is such a hard one for climbers and I think Nairo [Quintana] is such a good climber who will be hard to beat all the way to Paris but I'll not give up and I'll try to improve."
If there was an award for the worst ride from a GC contender it would have been that of Andy Schleck with his ride placing him outside the top 100 showing that his time trialling has not improved any as he lost four minutes plus with a time of 41.13.
"I'm really happy with that result" says Froome, "Tony Martin deserves the win. I was struggling the last few Ks in the headwind"

"I think I started blowing in those last couple of kilometres when I came into the headwind in the final. I just struggled to keep that same momentum going. I think I'm going to need every second that I can get [against my rivals] so I'm really happy with that today. It was one of my best time trials, certainly.
"Tony Martin fully deserves that stage win; he's an amazing time trial rider but my main target today was to try and extend my lead on the other GC rivals so I'm also really happy with my performance today. I think I've got to take it as the way the general classification is, and look at [Alejandro] Valverde as my biggest competitor at the moment. If last weekend is anything to go by, I think I'm going to need every second I can get at this stage.
Chris Froome on his custom Pinarello designed with cross winds in mind, apparently. PhotoSport International. uk usa asia.
"Morale is great within the team and it's great to see Richie [Porte] doing alright today, that's him just saying, 'Listen guys, I'm not out of this race – I'm still here and I'm still right at the front!'
"Tony did a fantastic ride to win the stage and show why he's the world champion but I'm really happy with my time and having extended my lead on the general classification. It's still a long way to go but I'm happy with the advantage that I've got at the moment."
Result
1 MARTIN Tony Omega Pharma – Quick-Step 36:29:00
2 FROOME Christopher Sky Procycling 00:12
3 DE GENDT Thomas Vacansoleil – DCM 01:01
4 PORTE Richie Sky Procycling 01:21
5 KWIATKOWSKI Michal Omega Pharma – Quick-Step 01:31
6 TUFT Svein Orica GreenEDGE 01:35
7 CHAVANEL Sylvain Omega Pharma – Quick-Step 01:37
8 ROY Jérémy Equipe Cycliste FDJ.fr 01:43
9 DUMOULIN Tom Team Argos – Shimano 01:45
10 CASTROVIEJO Jonathan Movistar Team 01:52
11 MOLLEMA Bauke Belkin Pro Cycling Team 02:05
12 TALANSKY Andrew Garmin – Sharp 02:08
13 VALVERDE BELMONTE Alejandro Movistar Team 02:12
14 BAK Lars Ytting Lotto Belisol Team 02:15
15 CONTADOR VELASCO Alberto Team Saxo-Tinkoff @ st
16 KREUZIGER Roman Team Saxo-Tinkoff 02:18
17 SAGAN Peter Cannondale Pro Cycling Team @ st
18 BODNAR Maciej Cannondale Pro Cycling Team 02:21
19 PERAUD Jean-Christophe AG2R La Mondiale 02:22
20 ROGERS Michael Team Saxo-Tinkoff 02:26
21 EVANS Cadel BMC Racing Team 02:30
22 TEN DAM Laurens Belkin Pro Cycling Team 02:32
23 PLAZA MOLINA Ruben Movistar Team @ st
24 VELITS Peter Omega Pharma – Quick-Step @ st
25 MONFORT Maxime RadioShack – Leopard 02:33
26 MILLAR David Garmin – Sharp 02:34
27 SERPA PEREZ Jose Rodolfo Lampre – Merida @ st
28 ROCHE Nicolas Team Saxo-Tinkoff 02:35
29 GALLOPIN Tony RadioShack – Leopard 02:37
30 WESTRA Lieuwe Vacansoleil – DCM @ st
31 IZAGIRRE INSAUSTI Ion Euskaltel – Euskadi @ st
32 SIUTSOU Kanstantsin Sky Procycling 02:39
33 SMUKULIS Gatis Katusha Team 02:40
34 BOOM Lars Belkin Pro Cycling Team 02:43
35 GENIEZ Alexandre Equipe Cycliste FDJ.fr 02:47
36 TAARAMäE Rein Cofidis Solutions Crédits 02:50
37 FUGLSANG Jakob Astana Pro Team 02:53
38 GILBERT Philippe BMC Racing Team 02:55
39 LUTSENKO Aleksey Astana Pro Team 02:57
40 MORABITO Steve BMC Racing Team @ st
41 COPPEL Jérome Cofidis Solutions Crédits 03:04
42 COSTA Rui Movistar Team @ st
43 DELAPLACE Anthony Sojasun 03:07
44 GESINK Robert Belkin Pro Cycling Team 03:09
45 BURGHARDT Marcus BMC Racing Team 03:10
46 FLECHA Juan Antonio Vacansoleil – DCM 03:11
47 BRUTT Pavel Katusha Team 03:15
48 BAUER Jack Garmin – Sharp 03:17
49 VAN GARDEREN Tejay BMC Racing Team 03:19
50 RIBLON Christophe AG2R La Mondiale 03:20
51 BAKELANTS Jan RadioShack – Leopard 03:22
52 FEDRIGO Pierrick Equipe Cycliste FDJ.fr 03:25
53 BOASSON HAGEN Edvald Sky Procycling 03:27
54 QUINTANA ROJAS Nairo Alexander Movistar Team 03:28
55 PINOT Thibaut Equipe Cycliste FDJ.fr @ st
56 RODRIGUEZ OLIVER Joaquim Katusha Team 03:29
57 QUINZIATO Manuel BMC Racing Team @ st
58 MORENO FERNáNDEZ Daniel Katusha Team 03:30
59 GERRANS Simon Orica GreenEDGE @ st
60 LEMOINE Cyril Sojasun 03:32
61 GAUTIER Cyril Team Europcar 03:33
62 MARTIN Daniel Garmin – Sharp 03:36
63 POELS Wout Vacansoleil – DCM @ st
64 TIMMER Albert Team Argos – Shimano 03:37
65 STANNARD Ian Sky Procycling 03:38
66 THOMAS Geraint Sky Procycling 03:40
67 VEILLEUX David Team Europcar @ st
68 IRIZAR ARANBURU Markel RadioShack – Leopard @ st
69 KL̦DEN Andr̩as RadioShack РLeopard 03:42
70 MALACARNE Davide Team Europcar @ st
71 TOSATTO Matteo Team Saxo-Tinkoff 03:47
72 DE MARCHI Alessandro Cannondale Pro Cycling Team 03:48
73 NAVARDAUSKAS Ramunas Garmin – Sharp @ st
74 CUNEGO Damiano Lampre – Merida 03:51
75 HANSEN Adam Lotto Belisol Team 03:52
76 LANCASTER Brett Orica GreenEDGE 03:53
77 MEYER Cameron Orica GreenEDGE 03:56
78 MOREIRA PAULINHO Sergio Miguel Team Saxo-Tinkoff @ st
79 MARANGONI Alan Cannondale Pro Cycling Team 03:57
80 GAVAZZI Francesco Astana Pro Team 03:58
81 TERPSTRA Niki Omega Pharma – Quick-Step 03:59
82 TROFIMOV Yuri Katusha Team 04:00
83 VORGANOV Eduard Katusha Team @ st
84 MOINARD Amaël BMC Racing Team 04:01
85 REZA Kevin Team Europcar @ st
86 DE CLERCQ Bart Lotto Belisol Team 04:06
87 VANDBORG Brian Cannondale Pro Cycling Team 04:07
88 GOSS Matthew Orica GreenEDGE @ st
89 VAN POPPEL Danny Vacansoleil – DCM 04:08
90 MEDEREL Maxime Sojasun 04:10
91 ROLLAND Pierre Team Europcar 04:16
92 WYNANTS Maarten Belkin Pro Cycling Team @ st
93 ZUBELDIA AGIRRE Haimar RadioShack – Leopard @ st
94 AMADOR BAKKAZAKOVA Andrey Movistar Team 04:19
95 MORI Manuele Lampre – Merida @ st
96 ANTON HERNANDEZ Igor Euskaltel – Euskadi 04:20
97 ASTARLOZA CHAURREAU Mikel Euskaltel – Euskadi 04:22
98 ERVITI OLLO Imanol Movistar Team @ st
99 ROJAS GIL Jose Joaquin Movistar Team 04:23
100 IMPEY Daryl Orica GreenEDGE 04:24
101 SICARD Romain Euskaltel – Euskadi 04:27
102 COUSIN Jérôme Team Europcar 04:28
103 ARASHIRO Yukiya Team Europcar 04:29
104 GASPAROTTO Enrico Astana Pro Team @ st
105 ALBASINI Michael Orica GreenEDGE 04:30
106 NAVARRO GARCIA Daniel Cofidis Solutions Crédits 04:32
107 KOREN Kristjan Cannondale Pro Cycling Team @ st
108 NIEMIEC Przemyslaw Lampre – Merida 04:33
109 CIMOLAI Davide Lampre – Merida 04:35
110 DANIELSON Thomas Garmin – Sharp @ st
111 TANKINK Bram Belkin Pro Cycling Team 04:36
112 SIMON Julien Sojasun 04:38
113 FISCHER Murilo Antonio Equipe Cycliste FDJ.fr @ st
114 VOECKLER Thomas Team Europcar 04:39
115 LAGUTIN Sergey Vacansoleil – DCM @ st
116 VUILLERMOZ Alexis Sojasun 04:40
117 KUSCHYNSKI Aleksandr Katusha Team @ st
118 BARDET Romain AG2R La Mondiale @ st
119 HOOGERLAND Johnny Vacansoleil – DCM 04:41
120 MOLARD Rudy Cofidis Solutions Crédits 04:42
121 JEANNESSON Arnold Equipe Cycliste FDJ.fr 04:43
122 MATE MARDONES Luis Angel Cofidis Solutions Crédits 04:44
123 SCHLECK Andy RadioShack – Leopard @ st
124 GESCHKE Simon Team Argos – Shimano 04:45
125 GARCíA ETXEGIBEL Egoitz Cofidis Solutions Crédits 04:46
126 DUPONT Hubert AG2R La Mondiale @ st
127 FEILLU Brice Sojasun @ st
128 VICHOT Arthur Equipe Cycliste FDJ.fr 04:48
129 O'GRADY Stuart Orica GreenEDGE @ st
130 TRENTIN Matteo Omega Pharma – Quick-Step 04:52
131 DEGENKOLB John Team Argos – Shimano 04:55
132 CLARKE Simon Orica GreenEDGE 04:57
133 GENE Yohann Team Europcar 04:59
134 HENDERSON Gregory Lotto Belisol Team 05:00
135 KENNAUGH Peter Sky Procycling @ st
136 HESJEDAL Ryder Garmin – Sharp 05:02
137 LE MEVEL Christophe Cofidis Solutions Crédits 05:03
138 STEEGMANS Gert Omega Pharma – Quick-Step 05:04
139 GREIPEL Andre Lotto Belisol Team 05:05
140 MINARD Sébastien AG2R La Mondiale 05:06
141 BOOKWALTER Brent BMC Racing Team @ st
142 KADRI Blel AG2R La Mondiale 05:08
143 FAVILLI Elia Lampre – Merida 05:10
144 LOSADA ALGUACIL Alberto Katusha Team 05:12
145 VANMARCKE Sep Belkin Pro Cycling Team 05:13
146 LEVARLET Guillaume Cofidis Solutions Crédits 05:14
147 KRISTOFF Alexander Katusha Team 05:15
148 DE KORT Koen Team Argos – Shimano @ st
149 ROELANDTS Jurgen Lotto Belisol Team 05:16
150 DIDIER Laurent RadioShack – Leopard @ st
151 NORDHAUG Lars Petter Belkin Pro Cycling Team @ st
152 OROZ UGALDE Juan Jos̩ Euskaltel РEuskadi 05:17
153 BENNATI Daniele Team Saxo-Tinkoff @ st
154 GADRET John AG2R La Mondiale @ st
155 DUMOULIN Samuel AG2R La Mondiale 05:18
156 SIEBERG Marcel Lotto Belisol Team 05:20
157 NIEVE ITURALDE Mikel Euskaltel – Euskadi 05:21
158 IZAGIRRE INSAUSTI Gorka Euskaltel – Euskadi 05:23
159 MURAVYEV Dmitriy Astana Pro Team @ st
160 BONNET William Equipe Cycliste FDJ.fr 05:24
161 MARINO Jean Marc Sojasun @ st
162 FROHLINGER Johannes Team Argos – Shimano 05:28
163 CAVENDISH Mark Omega Pharma – Quick-Step 05:31
164 PINEAU J̩rome Omega Pharma РQuick-Step 05:32
165 FERRARI Roberto Lampre – Merida 05:34
166 VOIGT Jens RadioShack – Leopard 05:36
167 BOECKMANS Kris Vacansoleil – DCM 05:37
168 PEREZ MORENO Ruben Euskaltel – Euskadi 05:41
169 SABATINI Fabio Cannondale Pro Cycling Team 05:42
170 HERNáNDEZ BLAZQUEZ Jesús Team Saxo-Tinkoff 05:44
171 EL FARES Julien Sojasun 05:54
172 KITTEL Marcel Team Argos – Shimano 06:00
173 MOSER Moreno Cannondale Pro Cycling Team @ st
174 WILLEMS Frederik Lotto Belisol Team 06:02
175 VEELERS Tom Team Argos – Shimano 06:04
176 CURVERS Roy Team Argos – Shimano 06:08
177 VAN POPPEL Boy Vacansoleil – DCM 06:10
178 HIVERT Jonathan Sojasun 06:13
179 LOBATO DEL VALLE Juan Jose Euskaltel – Euskadi @ st
180 LEEZER Tom Belkin Pro Cycling Team 06:44
181 LOPEZ GARCIA David Sky Procycling 06:49
182 BAZAYEV Assan Astana Pro Team 07:21
OVERALL AFTER STAGE 11
1 FROOME Christopher Sky Procycling 42:29:24
2 VALVERDE BELMONTE Alejandro Movistar Team 03:25
3 MOLLEMA Bauke Belkin Pro Cycling Team 03:37
4 CONTADOR VELASCO Alberto Team Saxo-Tinkoff 03:54
5 KREUZIGER Roman Team Saxo-Tinkoff 03:57
6 TEN DAM Laurens Belkin Pro Cycling Team 04:10
7 KWIATKOWSKI Michal Omega Pharma – Quick-Step 04:44
8 QUINTANA ROJAS Nairo Alexander Movistar Team 05:18
9 COSTA Rui Movistar Team 05:37
10 PERAUD Jean-Christophe AG2R La Mondiale 05:39
11 RODRIGUEZ OLIVER Joaquim Katusha Team 05:48
12 FUGLSANG Jakob Astana Pro Team ,,
13 MARTIN Daniel Garmin – Sharp 05:52
14 EVANS Cadel BMC Racing Team 06:54
15 NIEVE ITURALDE Mikel Euskaltel – Euskadi 08:04
16 ROGERS Michael Team Saxo-Tinkoff 08:28
17 SCHLECK Andy RadioShack – Leopard 08:32
18 MORENO FERNáNDEZ Daniel Katusha Team 09:34
19 MONFORT Maxime RadioShack – Leopard 10:16
20 ANTON HERNANDEZ Igor Euskaltel – Euskadi 10:48
21 BARDET Romain AG2R La Mondiale 11:37
22 SERPA PEREZ Jose Rodolfo Lampre – Merida 12:16
23 POELS Wout Vacansoleil – DCM 13:09
24 TALANSKY Andrew Garmin – Sharp 13:11
25 NAVARRO GARCIA Daniel Cofidis Solutions Crédits 14:50
26 CHAVANEL Sylvain Omega Pharma – Quick-Step 16:00
27 ROLLAND Pierre Team Europcar 16:38
28 MALACARNE Davide Team Europcar 17:57
29 BAKELANTS Jan RadioShack – Leopard 19:02
30 MORABITO Steve BMC Racing Team 19:59
31 PORTE Richie Sky Procycling 21:19
32 GESINK Robert Belkin Pro Cycling Team 21:32
33 GADRET John AG2R La Mondiale 23:12
34 VORGANOV Eduard Katusha Team 23:46
35 MEDEREL Maxime Sojasun 24:55:00
36 NIEMIEC Przemyslaw Lampre – Merida 24:58:00
37 ASTARLOZA CHAURREAU Mikel Euskaltel – Euskadi 25:21:00
38 CUNEGO Damiano Lampre – Merida 26:09:00
39 PLAZA MOLINA Ruben Movistar Team 28:22:00
40 ZUBELDIA AGIRRE Haimar RadioShack – Leopard 29:57:00
41 HESJEDAL Ryder Garmin – Sharp 32:38:00
42 ROCHE Nicolas Team Saxo-Tinkoff 34:13:00
43 KL̦DEN Andr̩as RadioShack РLeopard ,,
44 AMADOR BAKKAZAKOVA Andrey Movistar Team 34:42:00
45 GAUTIER Cyril Team Europcar 35:02:00
46 IMPEY Daryl Orica GreenEDGE 35:53:00
47 JEANNESSON Arnold Equipe Cycliste FDJ.fr 36:05:00
48 PINOT Thibaut Equipe Cycliste FDJ.fr 36:27:00
49 DUPONT Hubert AG2R La Mondiale 36:43:00
50 VELITS Peter Omega Pharma – Quick-Step 37:40:00
51 VAN GARDEREN Tejay BMC Racing Team 38:08:00
52 VUILLERMOZ Alexis Sojasun 40:11:00
53 TANKINK Bram Belkin Pro Cycling Team 41:24:00
54 NORDHAUG Lars Petter Belkin Pro Cycling Team 42:59:00
55 VICHOT Arthur Equipe Cycliste FDJ.fr 44:25:00
56 MOINARD Amaël BMC Racing Team 44:49:00
57 GALLOPIN Tony RadioShack – Leopard 45:46:00
58 DIDIER Laurent RadioShack – Leopard 46:06:00
59 DUMOULIN Tom Team Argos – Shimano 46:12:00
60 DANIELSON Thomas Garmin – Sharp 46:27:00
61 IZAGIRRE INSAUSTI Ion Euskaltel – Euskadi 47:28:00
62 RIBLON Christophe AG2R La Mondiale 49:48:00
63 MORI Manuele Lampre – Merida 49:59:00
64 VOIGT Jens RadioShack – Leopard 50:43:00
65 TROFIMOV Yuri Katusha Team 50:50:00
66 GENIEZ Alexandre Equipe Cycliste FDJ.fr 52:30:00
67 GERRANS Simon Orica GreenEDGE 52:32:00
68 SAGAN Peter Cannondale Pro Cycling Team 54:07:00
69 GILBERT Philippe BMC Racing Team 54:31:00
70 GASPAROTTO Enrico Astana Pro Team 54:39:00
71 FLECHA Juan Antonio Vacansoleil – DCM 54:59:00
72 EL FARES Julien Sojasun 55:06:00
73 LE MEVEL Christophe Cofidis Solutions Crédits 55:31:00
74 ALBASINI Michael Orica GreenEDGE 55:40:00
75 GAVAZZI Francesco Astana Pro Team 56:15:00
76 TAARAMäE Rein Cofidis Solutions Crédits 57:16:00
77 HERNáNDEZ BLAZQUEZ Jesús Team Saxo-Tinkoff 57:44:00
78 BOASSON HAGEN Edvald Sky Procycling 58:12:00
79 FEDRIGO Pierrick Equipe Cycliste FDJ.fr 58:59:00
80 ARASHIRO Yukiya Team Europcar 59:31:00
81 CLARKE Simon Orica GreenEDGE 59:57:00
82 BOOKWALTER Brent BMC Racing Team 01:00:23
83 KENNAUGH Peter Sky Procycling 01:00:39
84 DE CLERCQ Bart Lotto Belisol Team 01:03:31
85 CASTROVIEJO Jonathan Movistar Team 01:03:34
86 LOSADA ALGUACIL Alberto Katusha Team 01:03:56
87 TOSATTO Matteo Team Saxo-Tinkoff 01:03:57
88 DE MARCHI Alessandro Cannondale Pro Cycling Team 01:04:01
89 KOREN Kristjan Cannondale Pro Cycling Team 01:04:33
90 LAGUTIN Sergey Vacansoleil – DCM 01:06:34
91 GESCHKE Simon Team Argos – Shimano 01:07:32
92 QUINZIATO Manuel BMC Racing Team 01:08:12
93 OROZ UGALDE Juan Jos̩ Euskaltel РEuskadi 01:08:24
94 BENNATI Daniele Team Saxo-Tinkoff 01:08:29
95 VOECKLER Thomas Team Europcar 01:10:10
96 MOLARD Rudy Cofidis Solutions Crédits 01:10:31
97 HANSEN Adam Lotto Belisol Team 01:11:16
98 MILLAR David Garmin – Sharp 01:12:50
99 LEVARLET Guillaume Cofidis Solutions Crédits 01:14:11
100 BURGHARDT Marcus BMC Racing Team 01:14:44
101 BRUTT Pavel Katusha Team 01:16:47
102 FAVILLI Elia Lampre – Merida 01:16:50
103 COPPEL Jérome Cofidis Solutions Crédits 01:17:12
104 SIMON Julien Sojasun 01:17:28
105 ROJAS GIL Jose Joaquin Movistar Team 01:17:44
106 MOSER Moreno Cannondale Pro Cycling Team 01:18:06
107 SMUKULIS Gatis Katusha Team 01:18:14
108 IZAGIRRE INSAUSTI Gorka Euskaltel – Euskadi 01:18:17
109 SIUTSOU Kanstantsin Sky Procycling 01:18:18
110 MARANGONI Alan Cannondale Pro Cycling Team 01:19:45
111 LEMOINE Cyril Sojasun 01:20:05
112 MARTIN Tony Omega Pharma – Quick-Step 01:20:17
113 FEILLU Brice Sojasun 01:20:57
114 BODNAR Maciej Cannondale Pro Cycling Team 01:21:05
115 IRIZAR ARANBURU Markel RadioShack – Leopard 01:21:20
116 MARINO Jean Marc Sojasun 01:21:37
117 DE GENDT Thomas Vacansoleil – DCM 01:23:22
118 SABATINI Fabio Cannondale Pro Cycling Team 01:23:36
119 DEGENKOLB John Team Argos – Shimano 01:24:04
120 ROY Jérémy Equipe Cycliste FDJ.fr 01:27:03
121 BAK Lars Ytting Lotto Belisol Team 01:28:06
122 NAVARDAUSKAS Ramunas Garmin – Sharp 01:28:08
123 MOREIRA PAULINHO Sergio Miguel Team Saxo-Tinkoff 01:29:05
124 DELAPLACE Anthony Sojasun 01:29:16
125 MATE MARDONES Luis Angel Cofidis Solutions Crédits 01:29:58
126 CIMOLAI Davide Lampre – Merida 01:30:41
127 WYNANTS Maarten Belkin Pro Cycling Team 01:31:01
128 LUTSENKO Aleksey Astana Pro Team 01:31:11
129 BOOM Lars Belkin Pro Cycling Team 01:33:06
130 VEILLEUX David Team Europcar 01:34:34
131 KADRI Blel AG2R La Mondiale 01:34:51
132 HOOGERLAND Johnny Vacansoleil – DCM 01:36:27
133 ERVITI OLLO Imanol Movistar Team ,,
134 FROHLINGER Johannes Team Argos – Shimano 01:37:14
135 DUMOULIN Samuel AG2R La Mondiale 01:38:16
136 SICARD Romain Euskaltel – Euskadi 01:38:37
137 HIVERT Jonathan Sojasun 01:38:52
138 FISCHER Murilo Antonio Equipe Cycliste FDJ.fr 01:38:55
139 GREIPEL Andre Lotto Belisol Team 01:39:15
140 LOPEZ GARCIA David Sky Procycling 01:40:08
141 REZA Kevin Team Europcar 01:40:54
142 KRISTOFF Alexander Katusha Team 01:41:18
143 STEEGMANS Gert Omega Pharma – Quick-Step 01:41:56
144 TRENTIN Matteo Omega Pharma – Quick-Step 01:42:03
145 GARCíA ETXEGIBEL Egoitz Cofidis Solutions Crédits 01:42:18
146 CURVERS Roy Team Argos – Shimano 01:43:30
147 VAN POPPEL Danny Vacansoleil – DCM 01:44:01
148 VAN POPPEL Boy Vacansoleil – DCM 01:44:09
149 CAVENDISH Mark Omega Pharma – Quick-Step ,,
150 HENDERSON Gregory Lotto Belisol Team 01:44:18
151 PEREZ MORENO Ruben Euskaltel – Euskadi 01:44:34
152 FERRARI Roberto Lampre – Merida 01:44:59
153 SIEBERG Marcel Lotto Belisol Team 01:45:23
154 VANDBORG Brian Cannondale Pro Cycling Team 01:45:45
155 LOBATO DEL VALLE Juan Jose Euskaltel – Euskadi 01:46:15
156 TERPSTRA Niki Omega Pharma – Quick-Step 01:46:31
157 KUSCHYNSKI Aleksandr Katusha Team 01:47:06
158 MINARD Sébastien AG2R La Mondiale 01:48:18
159 LANCASTER Brett Orica GreenEDGE 01:49:34
160 GOSS Matthew Orica GreenEDGE 01:50:55
161 PINEAU J̩rome Omega Pharma РQuick-Step 01:51:04
162 VANMARCKE Sep Belkin Pro Cycling Team 01:51:05
163 LEEZER Tom Belkin Pro Cycling Team 01:51:22
164 BAUER Jack Garmin – Sharp 01:51:34
165 STANNARD Ian Sky Procycling 01:51:42
166 ROELANDTS Jurgen Lotto Belisol Team 01:51:58
167 MEYER Cameron Orica GreenEDGE 01:52:50
168 BONNET William Equipe Cycliste FDJ.fr 01:53:44
169 TIMMER Albert Team Argos – Shimano 01:54:07
170 KITTEL Marcel Team Argos – Shimano 01:55:24
171 GENE Yohann Team Europcar 01:56:15
172 THOMAS Geraint Sky Procycling 01:56:34
173 O'GRADY Stuart Orica GreenEDGE 01:56:49
174 DE KORT Koen Team Argos – Shimano 01:57:56
175 WILLEMS Frederik Lotto Belisol Team 01:58:29
176 WESTRA Lieuwe Vacansoleil – DCM 02:00:54
177 COUSIN Jérôme Team Europcar 02:01:20
178 TUFT Svein Orica GreenEDGE 02:01:30
179 BAZAYEV Assan Astana Pro Team 02:03:38
180 BOECKMANS Kris Vacansoleil – DCM 02:03:42
181 VEELERS Tom Team Argos – Shimano 02:04:10
182 MURAVYEV Dmitriy Astana Pro Team 02:06:24
---
Other Results on VeloUK (including reports containing results)

---
Other News on VeloUK