Jon Mould of Team UK Youth won the Elite Circuit Race in a three up sprint with Mike Northey (2nd) and Felix English (3rd). Ed Clancy won the bunch kick.
The PHOTO Album
Video Highlights
Report by Pictures
After a race long break, winner in a tight sprint between three very quick bike riders was Jon Mould (UK Youth) from Mike Northey and Felix English.
There was a good field racing in Beverley although teams like Madison Genesis were missed and other top riders who failed to get a ride.
Mike Northey stretches the break out during the early stages with Raleigh's Sam Witmitz doing his best to get across but couldn't bridge the gap and that meant a long hard race for Raleigh on the front of the chasers.
Team Raleigh held the gap at 30 seconds or so for most of the race, getting it down to 15 seconds at one stage before the finish got messy and the break opened the gap up again.
Jon Mould leads the break from Adam Duggleby, Felix English and Kristian House who was the last to get across with a solo effort. On the right is Mike Northey.
John Herety signals to his riders the gap to the break  is 'this much'. 
Towards the end into the last five laps, Mike Northey piles on the pressure and Kristian House is gapped and Jon Mould had to scramble across the gap before it got to big.
Watched by a great crowd, the three breakway riders battle for the top prize of £750.
Bell lap and the peloton prepare for war and the sprint for the fourth place. Note: Kristian House retired from the race after being dropped.
Ed Clancy shows he's the fastest sprinter winning the bunch kick.
Podium – Mike Northey, Jon Mould and Felix English
 The finish of the support race won by Graham Morgan
Winner Jon Mould (UK Youth) from Wales, a former GB Academy rider who was with An Post last year, he explained "it was really smooth out there and we all did equal turns which is the best way to do it. We all had our own little section on the course and kept the speed high. We all committed to the move towards the end when the gap came down with Raleigh chasing behind."
"Early on, I attacked down the right hand side and Felix, Duggleby and Mike came with us. Then Kristian jumped across and then Adam got distanced about twenty minutes in. There was no messing around in the break and that's the only reason we stayed away."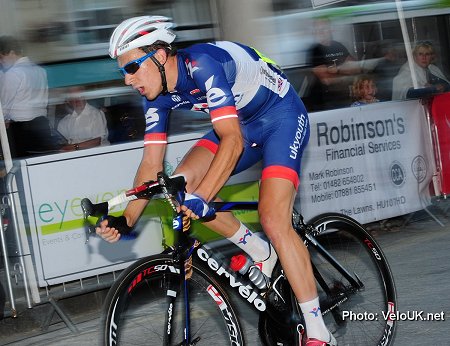 Asked if it was a worry when Kristian joined them, Jon replied, "A little bit. I thought about it with there being two Rapha but they were both working so I was wary of them but it turned out alright. Kristian swung off at the end leaving a gap for me to chase but I think Felix was waiting for Kristian but then when Kristian was out, Felix started riding again."
"On the last lap, there was a bit of messing about. We came through the cobbles (start/finish straight), turned right, and I swung off and then Felix was on the front. Mike was on my wheel, and I let a gap open to Felix to get a run at him and then he committed out of the last tight right hander and I rushed the gap."
"I knew I had to get to the cobbles first and I did and went all the way then."
The win was his second major crit after winning the Tour Series at Colchester earlier this year. "I had bit of a bad year last year and really wanted to come back and have a good year this season and with a team of twelve riders where we all get on, are great mates and racing really hard and well together, it's been awesome."
RESULT
E/1/2/3
1. Jon Mould, UK Youth
2. Mike Northey, Node 4 Giordana
3. Felix English, Rapha Condor JLT
4. Ed Clancy, Rapha Condor JLT
5. George Atkins, GB Academy
6. Andrew Hawdon, Herbalife
7. Ian Wilkinson, UK Youth
8. Tom Murray, Metaltek
9. Dan Barry, Node 4 Giordana
10. Will Bjergfelt, MG Maxifuel
11. James Lowsley-Williams, UK Youth
12. Simon Wilson, Corley Cycles
13. Mike Smith, Corley Cycles
14. Tom Scully, Raleigh
15. Will Fox, Metaltek
16. Evan Oliphant, Raleigh
17. David Lines, MG Maxifuel
18. Tom Barras, Wheelbase
19. Kit Gilham, Metaltek
20. Steven Burke, Node 4 Giordana
21. Jonathon Shuster, Corley Cycles
22. James McCallum, Rapha Condor JLT
23. Jacob Tipper, Biketreks
24. Matt Gee, Corley Cycles
25. Rob Partridge, UK Youth
26. Gruff Lewis, Metaltek
27. Alex Bottomley, Wheelbase
28. David Shackleton,Wilson Wheels
29. David McGowan, Metaltek
30. Luke Grivell-Mellor, rapha Condor JLT
31. Hugo Robinson, Ipswich BC
32. James Sampson, Herbalife
33. Daniel Smith, TS Racing Team
34. Richard Handley, rapha Condor JLT
35. Mark Christian, Raleigh
36. Michael Cuming, Rapha Condor JLT
37. Martin Ford, Herbalife
38. Sam Witmitz, Raleigh
39. Graham Briggs, Raleigh
40. Stuart reid, Wheelbase
41. Rhys Lloyd, Metaltek
42. Tom Stewart, Raleigh
Support Race
1. Graham Morgan, We Love Mountains
2. Miles Flather, Bridlington
3. Reece Wood, Aire Valley
4. Richard Baldwin, Bike Box
5. Giles Porter, London Dynamo
6. Dominic Turner, VS Cycles
7. Stuart Bannister, West Yorkshire Police
8. Damian Evington,
9. Paul Shepard, VC Beverley
10. Lee Coulson, We love mountains
11. Mike Moss,
12. Alex Fold, Dirtwheels
13. Jonathan Green, Kuota
14. Gary Trees, Wilsons Wheels
15. Lee cairns, Rossington Wheelers
16. Andrew Bates, Barnsely RC
17. Joseph Dean, Hull Thursday
18. Tom Urwin, Hull Thursday
19. Mark Scratchard, Chevin Cycles
20. Rod Towart, Freetown Sports
21. George Rounce, London Dynamo,
22. Nick nettleton Freetown Sports
23. Stephen Jarmuz, Chevin Cycles
24. Andrew Richardson, VS Cycles
25. Robert Hill,
---
Other Results on VeloUK (including reports containing results)

---
Other News on VeloUK