Luke Gray (Trek Cross Collective) out sprints Scott Chalmers (Dream CC) to win his first Wessex round of the new season.
Wessex League Rd 3 | Saturday 22nd September 2013
Graham Robins report & photos
Having had to settle for two second places Luke went one better at the lovely Cotswold Airport near Cirencester. A hard working course was laid out by the promoting club Cotswold Veldrijden using many parts of the airport including the woods and tarmac runway on what turned out to be a warm sunny day.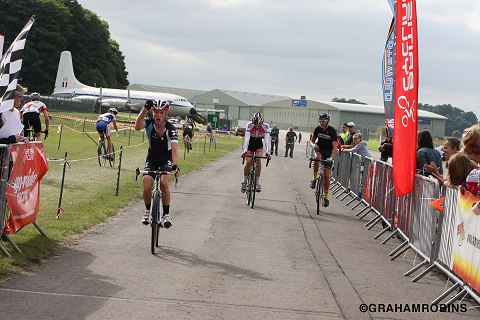 From the start Luke, Scott and rounds one and two winner Ben Sumner (Beeline Cycles) got away with Crispin Doyle not too far away. As they exited the woods close to the start line on lap one Ben hit a banking and rolled a tub which in turn shipped him from his bike. After a quick inspection and only a few yards from the pit he shouldered the bike and ran to the pits for a new bike. This allowed the two leaders to get away and he fell behind Crispin Doyle (Hargroves Cycles).
The order after a couple of laps saw Luke and Scott locked together followed by Crispin 30secs back followed by Ben one minute behind the leaders. The next few riders were together and included Dan Lewis (RAF), Matt Hargroves and Matt Woods (Hargroves Cycles) running one minute thirty back.
At the bell the two leaders could not be split and this remained and this was the same throughout the lap. As they approached the infield parallel to the finish line they were neck and neck, at the final turn onto the tarmac Luke was quicker in and exited first and slowly eased away to take the win on the line.
Earlier in the day Crispin Doyle (Hargroves Cycles) continued his 100% start to the season making it three from three rounds. This in fact Crispin's fifth win in three weeks as he has won both mid week races at the floodlight races in Swindon.
The first two laps saw Crispin just behind team mate and national vet champion Steve Davies, but whilst Steve was quicker in the technical sections Crispin was quicker on the fast flat sections. Having watched Steve's lines Crispin made his move on lap three and got away. There was a tough battle behind with Keith Sheridan (Cotswold Veldrijden) ,Mike Simpson (GS Henley), Will Girvan (North Hants RC) and David Hobbs (Cotswold Veldrijden) running very close together.
As the laps ticked away Doyle was now 32secs ahead of Davies, Sheridan was one minute down and now Will Girvan was third and clear of Sean Williams (Wightlink Offshore) in fourth. Also picking up places was Robin Wilmott (Cotswold Veldrijden).
The women's race was won for the third round running by Claire Smith (Cotswold Veldrijden who took time off from organising the race to ride. She was pushed hard by Spanish Rider Merce Pacios (Blue Motors) who was riding her first Wessex round.
The gap between the two women never got too close as Claire was able to judge her position on the open sections of the course, Anna Cipullo (MB Swindon) was third. In the youth section Joseph Andrews (Fareham Wheelers) was another 100% winner taking his third series win of the season, Cameron Thompson (Andover Wheelers) was second and Jack Saunders (Cotswold Veldrijden) was third. Zoe Sheehan was the first junior girl.
Elliott Lassiter (Cotswold Veldrijden) won the youth race after a tough battle with team mate Tom Sewell. The two mates were running close for a couple of laps until Elliott attacked and stretched his lead.
Rowan Turner (Poole Wheelers) was first in the under 12's race with Anna Wadsworth (Beeline Cycles) the first girl. Madeline Cooper (Chapel Tri Stars) was first under 10 girl and Sam Graham (NHRC) the first under 10 boy.
Results
Under 12's
1st Rowan Turner Poole Wheelers U12
2nd Anna Wadsworth Beeline Bicycles U12
3rd Jed Smithson Oxonian CC U12
4th Max Meadwell Bournemouth Jubille U12
5th Alexa Hawkins PPV U12
6th Madeline Cooper Chapel Tri U10
7th Sam Graham NHRC U10
8th Thomas Wadsworth Beeline Bicycles U10
9th Mack Mellish Zappis U8
10th Ella Shaftoe Cotswold Veldrijden U12
11th Tyler Smith Cotswold Veldrijden U12
12th Boston Sorensen 0 U12
13th Ben Fox Charlottevill Rascals U12
14th Ethan Spiers 0 U12 at 1 lap
15th Sam Yates 0 U12 at 1 lap
16th Harrison Philips Cotswold Veldrijden U12 at 1 lap
17th Ollie Walker Cotswold Veldrijden U8 at 1 lap
18th Melissa Cooper Chapel Tri U8 at 1 lap
19th Lewis Jones Swindon RC U8 at 1 lap
20th Sam Morgan Cotswold Veldrijden U10 at 1 lap
21st Marshall Thompson Andover Wheelers U8 at 1 lap
22nd William Blount Chapel Tri U8 at 1 lap
23rd Daisy Taylor Cotswold Veldrijden U8 at 1 lap
24th Oliver Hyman Bath U10 at 1 lap
25th Simon Thompson Pedalon.co.uk U10 at 1 lap
26th Andrew Loosemore Team Striking Bikes U12 at 1 lap
27th Lucy Shaftoe Cotswold Veldrijden U10 at 2 laps
28th Aidan Scott Swindon RC U8 at 2 laps
29th Oscar Hancock Cotswold Veldrijden U8 at 2 laps
30th Peterson Murphy Zappis U8 at 2 laps
31st Thomas Hancock Cotswold Veldrijden U8 at 4 laps
YOUTH
1st Elliot Lassiter Cotswold Veldrijden Y
2nd Tom Sewell Cotswold Veldrijden Y
3rd William Crofts Performance Cycles Y
4th Angus Hawkins Palmer Park Velo RT Y
5th Charlie Cooper Chapel Tri-Stars Junior Triathlon Club Y
6th Ieuan Woods Charlotteville CC Y
7th Ciara Hutchinson Cotswold Veldrijden Y
8th Jay Allen PPV Y
9th Alderney Baker Southdown Velo Y
10th Liam Sewell Cotswold Veldrijden Y
11th Harry Dridge SDV Y
12th Luke Morgan Cotswold Veldrijden Y
13th Jamie Kimber Cotswold Veldrijden Y
14th Conor Hutchinson Cotswold Veldrijden Y
15th Abbie Manley Chapel Tri-Stars Junior Triathlon Club Y at 1 lap
16th Fletcher Adams Hargroves Cycles RT-Specialized-Trant-Next-Elliott's Y at 1 lap
17th Barney Clacy Chapel Tri-Stars Junior Triathlon Club Y at 1 lap
18th Harleigh Jackson CCCC Y at 1 lap
19th Emily Blount Chapel Tri Y at 1 lap
20th Seren Jones Cotswold Veldrijden Y at 1 lap
NOVICE
1st Phil Clacy 0 Novice
2nd Fiona Hawkins PPV Novice at 1 lap
3rd Richard Robinson NHRC Novice at 1 lap
4th Elizabeth O'Connor PPV Novice at 1 lap
J/V/W
1st Crispin Doyle Hargroves Cycles RT-Specialized-Trant-Next-Elliott's Vet 40-49
2nd Steven Davies Hargroves Cycles RT-Specialized-Trant-Next-Elliott's Vet 50+
3rd Keith Sheridan Cotswold Veldrijden Vet 40-49
4th William Girvan NHRC Vet 40-49
5th Sean Williams 0 Vet 40-49
6th Robin Wilmott Cotswold Veldrijden Vet 40-49
7th Tim Carpenter 3 Sixty Performance RT Vet 40-49
8th Dave McMullen Cotswold Veldrijden Vet 50+
9th Peter Scott Cotswold Veldrijden Vet 40-49
10th Mike Simpson G.S. Henley Vet 40-49
11th Steven Dance Andover Whls Vet 40-49
12th Pat Alexander Cheltenham & County CC Vet 40-49
13th Peter Hutchinson Cotswold Veldrijden Vet 40-49
14th Martyn Dymond 0 Vet 50+
15th David Phillips Cotswold Veldrijden Vet 50+
16th Chris Hutchings Velo Club Venta Vet 40-49
17th Niel Dunnage Swindon RC Vet 40-49
18th Joseph Andrews Fareham Wheelers Junior
19th Gary Barlow Reading CC Vet 40-49
20th Cameron Thompson Andover Whls Junior
21st Ian Threadgold Cheltenham & County CC Vet 40-49
22nd Nick Walmsley Cotswold Veldrijden Vet 40-49
23rd Tim Hyde Pendragon Vet 40-49
24th TOM CLARK (SENIOR) 0 0
25th Stuart Gough VC Venta Vet 50+
26th Jason Hawkins Coventry Road Club Vet 40-49
27th Claire Smith (F) Cotswold Veldrijden Vet 40-49
28th Duncan Mellish Zappi's Cycling Club Vet 40-49
29th Robin Akers Oxonian CC Vet 50+
30th Paul Crossley Velo Club Montpellier Vet 40-49
31st Rob Carter VC Venta Vet 40-49
32nd Merce Pacios (F) 0 0
33rd Richard Moss 0 Vet 40-49
34th Jack Saunders Swindon RC Junior
35th Gareth Dridge Southdown Velo Veteran
36th Peter Langworthy I-Team Cyclists' Club Vet 40-49
37th James Pilgrim-Morris G.S. Henley Vet 40-49
38th Keith Allam Velo Club Venta Vet 50+
39th Alan Millard Westbury Wheelers Vet 40-49
40th Richard Bremner North Hampshire RC Vet 50+
41st Peter Kimber Cotswold Veldrijden 0 at 1 lap
42nd Steve Robinson NHRC Vet 40-49 at 1 lap
43rd Simon Hudson Oxford City RC Vet 40-49 at 1 lap
44th Mark Bemand Weston Wheelers Vet 40-49 at 1 lap
45th Colin Murphy North Hampshire RC Vet 40-49 at 1 lap
46th Anna Cipullo (F) MB Swindon Senior at 1 lap
47th Roger Chamberlain Dursley RC 0 at 1 lap
48th Harjinder Obhi North Hampshire RC 0 at 1 lap
49th Kieran Woods Charlotteville CC Junior at 1 lap
50th John Philips Sotonia Vet 50+ at 1 lap
51st Neal Britnell 0 Vet 40-49 at 1 lap
52nd Gareth Walker Cotswold Veldrijden Vet 40-49 at 1 lap
53rd M Allen John Ibbotson Vet 50+ at 1 lap
54th Harry Hailwood Fareham Wheelers Junior at 1 lap
55th Charlie Elsey Newbury RC Vet 50+ at 1 lap
56th Kim Lassiter Cotswold Veldrijden 0 at 1 lap
57th Paul Loosemore Team Striking Vet 40-49 at 1 lap
58th Steve Clarke 0 Vet 40-49 at 1 lap
59th Jim Wood Fareham Wheelers Vet 40-49 at 1 lap
60th Adam Gardner G.S. Henley Vet 40-49 at 1 lap
61st David Jones Oxonian CC 0 at 1 lap
62nd Tim Sluman Cheltenham & County CC Vet 40-49 at 1 lap
63rd David Linsell 0 Vet 40-49 at 1 lap
64th Tony Richardson 0 Vet 50+ at 1 lap
65th Rob Collins 0 0 at 1 lap
66th Paul Hailwood Fareham Wheelers Vet 50+ at 1 lap
67th Zoe Sheehan (F) Cotswold Veldrijden Junior at 1 lap
68th Barry Thompson 0 Vet 40-49 at 1 lap
69th Mark Adams Hargroves Cycles CC 0 at 2 laps
70th Paul Eden 0 Vet 50+ at 2 laps
71st Hannah Gibbs (F) Cotswold Veldrijden Junior at 2 laps
72nd Paula Loughlin (F) Cheltenham & County CC Vet 40-49 at 2 laps
73rd Andy Gibbs Cotswold Veldrijden Vet 50+ at 2 laps
DNF Steve Mead Dicot Phoenix Vet 40-49 DNF at 5 laps
DNF Paul Shaftoe Cotswold Veldrijden Vet 40-49 DNF at 2 laps
DNF Adama Newlove (F) Fareham Wheelers Vet 40-49 DNF at 2 laps
DNF Joseph Giret G.S. Henley Vet 50+ DNF at 1 lap
DNF Simon Meadwell Bournemouth Jubille Vet 40-49 DNF at 1 lap
DNF Paul Wood Swindon Wheelers Vet 50+ DNF at 1 lap
Women
1st Claire Smith (F) Cotswold Veldrijden Vet 40-49
2nd Merce Pacios (F) 0 0
3rd Anna Cipullo (F) MB Swindon Senior at 1 lap
4th Zoe Sheehan (F) Cotswold Veldrijden Junior at 1 lap
5th Hannah Gibbs (F) Cotswold Veldrijden Junior at 2 laps
6th Paula Loughlin (F) Cheltenham & County CC Vet 40-49 at 2 laps
Juniors
1st Joseph Andrews Fareham Wheelers Junior
2nd Cameron Thompson Andover Whls Junior
3rd Jack Saunders Swindon RC Junior
4th Kieran Woods Charlotteville CC Junior at 1 lap
5th Harry Hailwood Fareham Wheelers Junior at 1 lap
SENIORS
1st Luke Gray Trek CycloCross Collective Senior
2nd Scott Chalmers Dream Cycling Senior
3rd Crispin Doyle Hargroves Cycles Senior
4th Ben Sumner Beeline RT Senior
5th Dan Lewis RAF CC Senior
6th Matthew Hargroves Hargroves Cycles RT-Specialized-Trant-Next-Elliott's Senior
7th Daniel Bell Ellmore Factory Racing Senior
8th Richard Lewis CC Basingstoke Senior
9th Matthew Woods Hargroves Cycles RT-Specialized-Trant-Next-Elliott's Senior
10th David Barnaville Bristol CX Senior
11th Matt Steven Zappi's Cycling Club Senior
12th James Cotty Cannondale Racing Senior
13th William Corvan NHRC Senior
14th Joe Hickerton 0 Senior
15th Charles Coleman Dream RT Senior
16th Richard Doyle Team Buff UK Senior
17th Aaron Tayler Cotswold Veldrijden Senior
18th Tom Underhill Hackney G. T Senior
19th Jorge Millan Cid Vectis Roads CC Senior
20th Gavin Spiers G.S. Henley Senior
21st Martyn Green Bristol CX Senior
22nd James Britton Bristol CX Senior
23rd Karl Norfolk Pedalon.co,uk Senior
24th Mike Brunsdon VC Montpellier Senior
25th James Coleman Cadence RT Senior at 1 lap
26th Andrew Burridge 0 Senior at 1 lap
27th Rory Gilling Performance Cycles Senior at 1 lap
28th Aaron Preece Team Slinkries Bikes Senior at 1 lap
29th Callum Haseler Cotswold Veldrijden Senior at 1 lap
30th Niel Dunnage Cotswold Veldrijden Senior at 1 lap
31st Stuart Thompson Andover Whls Senior at 1 lap
32nd Michael Holborow Cotswold Veldrijden Senior at 1 lap
33rd Fraser McDonald Cotswold Veldrijden Senior at 1 lap
34th Max Hale Ystwyth Cycling Club Senior at 1 lap
35th Tim McDowell BJW Senior at 1 lap
36th Alex McIntosh Swindon RC Senior at 1 lap
37th Sam Butler Severn RC 0 at 1 lap
38th Stuart Waite 0 Senior at 1 lap
39th Peter Beisty G.S. Henley Senior at 1 lap
40th Graham Dance Southdown Velo Senior at 1 lap
41st Jason Blann Team Rose Blann Senior at 1 lap
42nd Andy Laycock Suffernova Senior at 1 lap
43rd Matthew Barker 0 Senior at 1 lap
44th Steve Stroud Reading CC 0 at 1 lap
45th Craig Scott Cotswold Veldrijden Senior at 1 lap
46th Alec Broome Wight Tri 0 at 1 lap
47th Joseph Walsh Zappi's Cycling Club Senior at 1 lap
48th Sandy Legge Zappi's Cycling Club Senior at 1 lap
49th Phillip Neale Army Senior at 2 laps
50th Peter Halliwood Fareham Wheelers Senior at 2 laps
DNF Aaron Collins Swindon RC Senior DNF at 4 laps
DNF Chris Linney 0 0 DNF at 2 laps
DNF Owen Jeffries Northern CC/Dave Kane Cycles Senior DNF at 1 lap
DNF Tom Clark 0 Senior DNF at 1 lap
DNF Tom Carlton 0 Senior DNF at 1 lap
---
Other Results on VeloUK (including reports containing results)

---
Other News on VeloUK