There were two course records last weekend, one a wopping 43 seconds beating of the previous best, for Alex Deck of RST/Trigon RT. We talk to her …
More and more women are getting involved in time trials and a name that pops up in results a lot is Alex Deck who rides for Cycle Division's RST/Trigon racing team. Alex had a very successful weekend (12/13th October) where she broke course records in addition to winning the Women's category. Her 9.16.5 on the Mam Nick hill climb was 43 seconds faster than the existing 9-59.9 which is some beating of a record.
Sportingly, Alex points out that Nicola Soden who was 2nd to Alex, also broke the record by 40 seconds, with 9.19.2. "It was a super tough race in awful conditions, made all the more exciting by how close the two first ladies were" Alex explained.
Alex then set another ladies course record in the inaugural South Pennine RC event at Crich Stand on Sunday with a 2.01.3 and explained that more women are competing in hill climbs this year than ever and more need to be encouraged to join them.
Asked how this year has been for her, Alex replied "It has been going really well with 18 wins so far! I put a bit more thought into which events I entered right from the start and tried to plan in more rest, which I'm sure has helped."
"I also started doing yoga which I'm convinced has made me stronger overall. One of my goals was to go under 2 hours for a '50', and I managed to do that at the Manchester Wheelers event (just) with 1-59.37. I've also won the JE James North Midlands TT series for the third year running and the VTTA North Mids ladies BAR, along with age records for 10, 30 and 50 miles."
"It was really great to get the ladies course records on Mam Nick (9.16.5) and Crich Stand (2.01.3) last weekend as they were both tough races in horrible conditions, as anyone who rode them will confirm. Check out Brendan Tyree's video of the Mam Nick event: http://vimeo.com/76820430
Of any cycling event, the Hill Climb is perhaps one of the hardest hence why even most of the pros avoid them. Asked if hill climbs are something that Alex targets, the RST/Trigon rider replied "Yes, I've always done them, although I get just as much enjoyment out of the rest of the season."
"I'm lucky in that I don't have to travel too far to get to some really good events – Monsal, Beeley, Long Hill, Snake Pass, Pea Royd Lane, Hardwick, Mam Nick, the new Crich Stand event, Curbar Edge and so on. I missed Monsal this year to do Bowden Hill in Wiltshire which made a change. So I wouldn't say I target them specifically. They are more a different challenge to 'normal' time trials as you push yourself in a different way."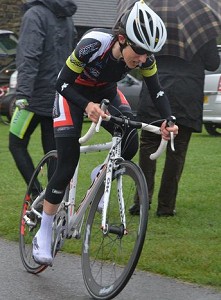 Alex says her final race is the Chesterfield Coureurs event at Beeley Moor on Sunday. "It's a 2.3 mile climb which I've managed to win for the last five years but admit I'm up against some very strong riders this year; Nicola Soden, Lou Collins, Karen Ledger."
"Tejvan Pettinger and Matt Clinton are riding too which is great – it will really raise the profile of the event. But I know that I'll be done in after that so am happy to miss the Nationals. It's an exciting line up though – Lynn Hamel, Joanne Blakeley, Helen Eborall, Lou Collins, Alice Cobb – should be interesting. More attention should be paid to the women's race – Lynn has won it for the last three (or is it four?) (four from five – Larry) years, she's amazing, but she gets very little publicity."
With such a specific effort, I asked Alex about whether she has a specific bike and training to make the best of the demands in a hill climb effort? "I use my 2006 Look 585 with 53/39 chain rings and a 12/27 cassette. I could make it lighter with a single chainring but I don't have the time to be changing things over all the time!"
"The frame is getting on a bit now and isn't as light as some of the newer ones you see people riding, but it does ok. I do put lighter wheels on for the hill climbs, a combination of 20mm rims/DT Swiss hub and a Lightweight front. Gareth Hewitt from Cycle Division has leant me his carbon saddle which I'm going to put on for Beeley – every little helps!"
"I do tailor my training according to my schedule, which was tricky this year as I had the '50' at the very end of the season just before the hill climbs started. It meant combining endurance for the 50 event with all-out efforts for the short hills. Luckily I can fit a fair bit around my commute to Sheffield every day. It seems to have worked although I still got a kicking on Snake Pass from Joanne Blakeley and Vanessa Whitfield – both ones to watch next year. I might have to retire!"
Thanks Alex for her help and good luck on the weekend.
Related Link: RTTC British Hill Climb Championship Startsheet
Related Link: Weekend Preview
---
Other Results on VeloUK (including reports containing results)

---
Other News on VeloUK