Promising Raleigh cyclo-cross rider Dylan Kerfoot-Robson rode his Raleigh RX Race bike to his first National Trophy Series win in Durham this weekend.
His write up is almost as breath-taking as his victory!
He writes: "It certainly wasn't an easy win. From the moment the whistle went, it was flat out. I knew I had to be at the front or I would write my chances off straight away. So I went really deep on the start straight which must have been about 400 metres long and I made it into 1st position from the middle of the second row on the grid. Although I went so deep here to get to the front, that was when Jack Ravenscroft attacked before the first run up the steps and I had nothing left to respond. So I had to just keep calm recover a bit and then work my way across to his wheel.
"After about half a lap in, I made it across to his wheel but then this is where the really hard work began. We took turns on the front to build up our gap on the chasing group and this lasted up until about 2 laps to go, by which time we had about a 40 second gap. This was when the games started, attacks out of every corner trying to drop each other and trying to take corners faster than each other to find a second or two of an advantage.
The RX Team was the bike to be on today. The light weight was ideal for the accelerations out of the corners and the runs where I needed to carry the bike. The Cole wheels just kept turning, the light weight again helped while accelerating. Also, the Schwalbe Rocket Rons were definitely the best tubs to be on today as they were extremely predictable. It was easy to tell when they were about to break away so I could just ease back off the power, wait a second 'til they were gripping again and then squeeze back on the power. They also have very little rolling resistance so on the long flat straights so they took no extra energy to keep them going, even at pretty lower pressures.
"Coming into the final lap, the battle continued and the attacks kept coming. I attacked Jack twice. Once I ran past him on the steps but he shut me down almost immediately. Then I attacked him again out of one of the last corners, but he pulled off a do or die move a couple of corners from the end on a hairpin, where he forced me down the back so at this point he had 10 metres on me and this was within a couple of hundred metres from the line. I had to work so hard to give myself a chance and coming into the final corner, a transition from grass to tarmac while dropping off a kerb 20 metres from the line, I was still a few metres off him so I just gave it everything and I was either going to crash hard on the finish straight or pass him in the final few metres. Luckily I stayed up right and just pipped Jack in the sprint beating him by a wheel at the line."
Other Raleigh Team News
Harry Yates was also in action in the Youth race, finishing 12th and using it as good preparation for his World Cup race in Koksijde, Belgium on the weekend. Joe Atkins and Nick Barnes were in action in the senior race but both came unstuck through crashes and tactical errors.
Joe went over his handlebars after someone crashed in front of him on the opening lap. He landed hard on the back of his head breaking his Uvex helmet in the process. Once he stopped seeing stars he made his way to the pits to swap bikes and begin a big chase back to finish 11th under 23 and 28th overall.
Meanwhile, Nick, who came fresh off the back of winning the Scunthorpe mid-week series, chose a higher tyre pressure than he'd been running for the last few weeks to cope with firmer ground at Durham but it wasn't enough. It wasn't until he swapped bikes and ran on firmer tubs halfway through that he really started motoring. In the last 20 minutes he clawed his way back to 11th overall and 5th U-23 and "salvaged a bad race to a mediocre one."
Nick joins Harry Yates in Belgium next weekend for the up-coming World Cup race.
Harry Yates.
Nick Barnes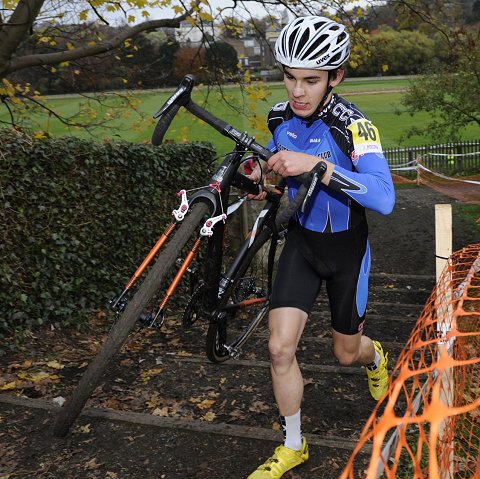 Joe Atkins
Source: Raleigh Team Blog
---
Other Results on VeloUK (including reports containing results)

---
Other News on VeloUK