Valverde extends winning streak & podium for Netapp-Endura's Tiago Machado  in the Vuelta a Murcia – 1-2 for riders wearing Endura clothing
Valverde extends winning streak
Movistar's Spaniard continues impressive campaign on home soil – five wins with an early attack into Collado Bermejo downhill plus an impressive final kick in the Castillo de Lorca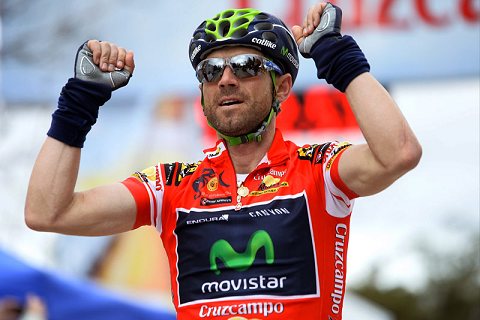 It's an unstoppable start to the 2014 season for Alejandro Valverde. The Movistar Team's leader, wearing Endura clothing, won the 34th Vuelta a Murcia, after yet another excellent performance from his team-mates on Saturday. It was Enrique Sanz in charge of protecting Movistar's chances in the early, seven-man break of the day, held close by the Worlds top team never letting their lead grow more than four minutes' advantage.
Movistar Team brought the break back and led the bunch full gas through the Alto de Espuña (Cat-1), but on the flat prior to the Collado Bermejo (Cat-1), Jérôme Coppel (COF) jumped away and opened a gap which got close to half a minute over the crest.
It was then, with 50k remaining, when Valverde jumped on the downhill and rode quickly to the Frenchman's rear wheel, later opening more than one minute's gap. However, the cross winds, the work by CCC Polsat in the main pack and the lack of cooperation from his fellow escapee ruined that initial chance.
Caught with 15k remaining, Valverde was protected by his team-mates en route to the Fortaleza del Sol, where he would end up responding to an attack by Tiago Machado (Netapp-Endura) and finishing with his classic, explosive touch for a record 4th win – three as stage race ('04, '07, '08), today's as only one-day conquest- in the Vuelta a Murcia, his fifth success of the season,
Alejandro Valverde: "I couldn't race it for some years, and I came close to winning last season – I really wanted to get a victory at home. I had the confidence from last week's racing in Andalucía, but there were some team-mates who could do well, too – we had to wait and value our chances when we were on the road."
"We still wanted to approach the climbs fast to make a selection in the group, and we succeeded. I chose to jump after Coppel to release some pressure off my team-mates' shoulders. Even though we got more than one minute, I knew it was hard for the two of us to reach the finish, because we could open a gap when the wind blew on our tail, but once we took the turn in Totana, the group would catch us – that's how it happened."
"That's why I preferred to save energy in the finale, making the others behind spend energy while our guys could sit on their wheels. When we saw how everyone was going, we decided to play my card again. Machado attacked really strong, and even though Nairo went with him in the beginning, he eventually went solo. He was making a serious gap and I decided to make a long attack."
"When I was reaching him, I took some breath to accelerate again – and it turned out well. I dedicate this victory to all my family, who were present here, and to the Murcian fans, who support me all year and were impressive on the roads today. Tomorrow in Almería, it will be time to work hard and keep this chance alive, but this time with another team-mate."
Podium place for Tiago Machado in the Vuelta a Murcia 
Today's 34th edition of the Vuelta a Murcia from Beniel to Lorca was right up Tiago Machado's street. With second place to follow his fifth in the queen stage of the Volta ao Algarve, Team NetApp-Endura's newcomer once again proved he can keep pace with the best climbers. After 190 kilometers he had to concede defeat only in the last 200 meters to Alejandro Valverde (Movistar). Third place went to Davide Rebellin from Team CCC Polsat.
"The team supported me brilliantly and I'm very grateful to them all for that. Unfortunately it wasn't quite enough for the win, but I gave it my all to finish in second, because some riders were right behind me and I really wanted to get a good result for my team", explained Tiago Machado after the race.
Tiago Machado second in Murcia. Photo: TNE/FOTOJAF
"It was a great race for us with a first-rate team performance. It was very windy during the race and Frantisek Padour, Erick Rowsell and Sam Bennett protected our climbers perfectly. On the last 25 kilometers in particular, after Valverde and Coppel had broken away, we had to close the gap. Here Erick really did an amazing job. After Tiago, Jose and Iker had been set up in a good position, the two riders supported Tiago on the last few kilometers so the good work of the team was rewarded with a second place by Tiago", reports Alex Sans Vega.
Right from the start of the race, Team NetApp-Endura appeared active and, in Cesare Benedetti, was able to immediately position a rider in the seven-man breakaway group. The leader group managed to build up a lead of up to four minutes, but was then caught by the field around 60 kilometers before the finish. Moments later, Alejandro Valverde (Movistar) and Jerome Coppel (Cofidis) attacked, and a new lead group of forty riders emerged. This group included NetApp-Endura's Tiago Machado, Jose Mendes, Erick Rowsell and Iker Camano. One kilometer before the finish, Tiago launched a spirited attack, which only Alejandro Valverde was able to follow. It was only in the last few meters that Valverde eventually triumphed and secured the win.
1. VALVERDE Alejandro Movistar Team 05:06:53
2. MACHADO Tiago Team NetApp – Endura 00:03
3. REBELLIN Davide CCC Polsat Polkowice
4. MATE MARDONES Luis Angel Cofidis, Solutions Crédits 00:05
5. ROJAS José Joaquin Movistar Team 00:07
6. FERNANDEZ Ruben Caja Rural – Seguros RGA
7. MENDES José Team NetApp – Endura 00:09
8. ARROYO DURAN David Caja Rural – Seguros RGA
9. MINGUEZ Miguel Euskadi
10. NAVARRO GARCIA Daniel Cofidis, Solutions Crédits 00:14
15. CAMANO ORTUZAR Iker Team NetApp – Endura 00:22
23. QUINTANA Nairo Movistar Team 01:08
25. ROWSELL Erick Team NetApp – Endura 01:32
---
Other Results on VeloUK (including reports containing results)

---
Other News on VeloUK