The Velo29 Croft Spring Races are a new independent racing series where riders didn't need a licence to race them!
Velo29 Croft Spring Races 
Velo29 bring us a stack of events across the year, from the Elite Crit and Grand Prix Series events at Stockton to a series of Sportives in the North East. They have this year added a new format of racing to the calendar, the Independent Croft Spring Series.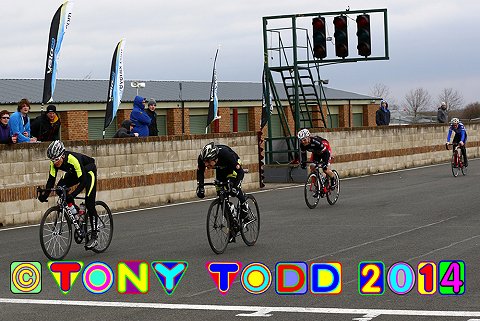 It's independent because it's not part of a governing body such as British Cycling or the TLi. Velo29 have sourced their own event insurance which means they can provide the same level as care that the BC policy gives but with reduced cost and increased flexibility.
Event Director, Richard Williamson explained "We run a lot of events in the year which have previously all been with British Cycling. Whilst this is a strong relationship, we've felt recently that placing all our eggs in the BC basket is a risk and at times frustrating experience. We are ambitious event promoters and we aim to be innovative.
We fully understand the rigid structure a governing body needs in place, especially around rules and regulations but we believe there is scope, and a market to operate outside of this.
We needed to source insurance for our Sportives as the BC cover is no longer suitable and we got a great level of cover for the year at a good price and the insurer was able to cover racing as well. A door had opened and we jumped through it, the Croft Spring Series was born!
There have been two events in the series, this year was largely a trial but there is scope to do more in the future. Both events were well attended, especially round two, and we felt the format would gain momentum and become a very popular, value for money way to race.
Feedback was good, we kept the format simple, handicapped with 3 groups. We had a stack of people who have never raced before. When we spoke to them they explained that they didn't feel they'd been ready to enter a BC event but they had ridden our Sportives, trusted our brand and wanted to try something new. They all said they had a great time and would race again, also they had gained confidence to enter a BC race, which we felt was great and pointed them on how to do so.
It's a format other organisers cold easily adopt, it's great to have carte blanche on your own event. We made it super relaxed and friendly which the riders, old and new really enjoyed. We absolutely plan to continue our BC events, in the Winter Series, Stockton Elite and support events and the exciting new Bishop Auckland Cycle Races.
Velo29 have lots in the pipeline, the Sportive App is soon to be released which will include some great features such as entry/ registration, real time updates for KOM and GC and push notifications about any dangers on the route. The guys are also working on Velo29/ Live, a new text service ran on their website bringing you on the button updates of their events. Check www.velo29events.com for all the details.
---
Other Results on VeloUK (including reports containing results)

---
Other News on VeloUK