The British Junior Road Race Championships will be held this Saturday as riders try to emulate the likes of Dan Martin, Peter Kennaugh, Stephen Cummings and many others who have gone on to make a career  out of racing their bike
Startlist – Junior Road Race Championships
NOTE: Send your results as well as club, team & event news here
National Junior Men's Championship 19th July 
The British Junior Road Race Championships will be held this Saturday minus some of the favourites such as Pearl Izumi Tour Series sensation, Matt Gibson but should see winner of two Belgian classics this year, James Shaw (Haribo Beacon) riding. He leads the Junior RR National Series from Gibson and third placed Joey Walker (RST Racing) who is also down to ride.
Joey Walker, 3rd in the National Series and down to ride the Junior RR Championships
RST Racing's Joe Fry, winner of the latest round of the National Series, is entered and obviously in good form but no Sean Noon winner of the Tom Simpson Memorial RR recently. The entry has 101 names on it and the big prize is that the winner gets to wear the champion's jersey for the rest of the season and longer if a first year junior.
Ampleforth Abbey is the host venue, and the race will make use of the same two circuits used for the Mens & Women's races on the Sunday. The Juniors will cover three large circuits and two small circuits on a course that is described as being a wearing down one, heavy roads, long drags and a worthy winner is certainly expected at the end of the 65 miles.
Previous winners of the championship include Dan McLay, Russell Hampton, George Atkins, Erick Rowsell, Dan Martin, Matt Brammeier, Stephen Cummings, Yanto Barker, Peter Kennaugh and Jeremy Hunt. A certain Mark Cavendish was second to Brammeier in 2003. Other riders who are stars now in their own right but had to settle for the minor places include Graham Briggs (3rd 2001), Geraint Thomas (3rd, 2003), Ian Stannard (3rd, 2004), Andy Fenn (2nd 2008) and Jonny McEvoy, twice 2nd (2006 & 2007).
The organiser Bob Howden, British Cycling president, is looking for marshals so anyone who can help out, email him here …
AMPLEFORTH ABBEY AND COLLEGE
HQ Address: St.Alban's Centre, Ampleforth College, Ampleforth, York, YO62 4HA
Start: 12.30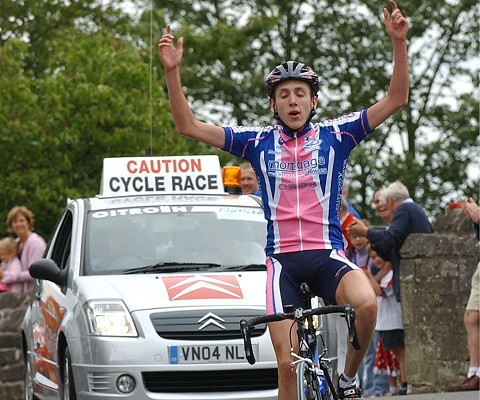 Dan Martin winning a long time before he won Leige Bastogne Leige. 2004
2006 and Russell Hampton beats some pros to be to win the stripes
A rider on the rise in European racing, Dan McLay, champion in 2011.
START LIST
1 Robert Hogg 1st Chard Whls
2 Oliver W Bates 45 Road Club
3 Charlie Tanfield Adept Precision RT/NE Healthcare
4 Joe Brindley BC Private member
5 Jake Howes BC Private member
6 Jack Mattock BH-Solidor-WAM Youth
7 Tristan Robbins BH-Solidor-WAM Youth
8 Aaron Handley Bike Box Alan/Whiston Velo
9 Cameron Jeffers Bill Nickson Cycles RT
10 Alexander Foster Border City Wheelers CC
11 Ellis Kirkbride Border City Wheelers CC
12 Jez McCann Catford CC Equipe/Banks
13 Louis Modell Catford CC Equipe/Banks
14 Luke Morgan CC Luton
15 Rian Hill Classic Racing Team
16 Elliott Reynolds Clay Cross Road Team
17 Joe Holt County Cycles Racing Team
18 Theo Doncaster Cycle Club Ashwell (CCA)
19 Cameron Woolsey Cycle Club Ashwell (CCA)
20 Charlie Renshaw Dinnington Racing Club
21 Conor Palliser East Bradford CC
22 Ruari Yeoman East Kilbride Road Club
23 Andy Brown Glasgow Cycle Team
24 Robert Tree Glasgow Cycle Team
25 Samuel Dighton Halesowen A & CC
26 Thomas Baylis HARIBO Beacon Cycling Team
27 Joe Evans HARIBO Beacon Cycling Team
28 James Shaw HARIBO Beacon Cycling Team
29 William Perrett Heanor Clarion CC
30 Greg Taylor Hetton Hawks Cycling Club
31 Kieran Savage Jackpot Racing
32 Calum Anderton Kingsnorth International Whlrs
33 Thomas Figgins Lancashire RC
34 Edward Sutton LCM Systems Cycles RT
35 Tom Marshall Leisure Lakes Bikes.com
36 Daniel Finnegan Lichfield City CC
37 Christopher Welburn Lichfield City CC
38 David Bolland Liverpool Mercury (Dolan) CC
39 Alex Copp Lyme RC
40 Matthew Bostock Manx Viking Whls CC
41 Oscar Williamson Marsh Tracks Race Team
42 Ralf Hodgson Marton Race Team
43 Ricky Parsons Mid Devon CC
44 James Ellmore Mid Shropshire Wheelers
45 George Evans Mid Shropshire Wheelers
46 James Eldridge NFTO Race Club
47 Harrison Jones NFTO Race Club
48 Ben Williams NFTO Race Club
49 Stephen Williams NFTO Race Club
50 Joseph Wiltshire NFTO Race Club
51 Sean Henderson North Devon Wheelers – South Fork
52 Callum McBrearty Nottingham Clarion CC
53 Duncan Heywood One and All Cycling
54 Max Stedman Pedal Heaven Colbornes RT
55 Karl Baillie Pedal Pushers
56 Scott Auld PH-MAS Cycling
57 Harry Craig PH-MAS Cycling
58 Oliver Payton PH-MAS Cycling
59 Max Spedding PH-MAS Cycling
60 Julian Varley PH-MAS Cycling
61 Matthew Lansley RP Racing Team
62 Tom Sefton RP Racing Team
63 Nathan Draper RST Racing Team
64 Joseph Fry RST Racing Team
65 Struan McInnes RST Racing Team
66 Joey Walker RST Racing Team
67 Hamish Carrick Speg – Project 51
68 Dan Gardner Speg – Project 51
69 Stuart Balfour Spokes Racing Team
70 Ben Forsyth Spokes Racing Team
71 Lewis Grieve Spokes Racing Team
72 Fraser Martin Spokes Racing Team
73 Alex Dalton Squadra RT
74 Charlie Bratt St Ives CC
75 Chris Jackson Strada-Sport
76 Lewis Stevens Strada-Sport
77 John Didsbury Summit Cycling
78 Matthew Mildon Sweat n Gears CC
79 Ben Chapman Team Corley Cycles
80 Zak Loney Team LFH
81 Leon Mazzone Team Manx Telecom
82 Ryan Savage Team Milton Keynes
83 Leon Gledhill Teamwallis CHH Racing Team
84 Gwyn Lovibond Teamwallis CHH Racing Team
85 Gwyn Lovibond Teamwallis CHH Racing Team
86 Sean McGovern Teamwallis CHH Racing Team
87 Jake Charlton VC Deal
88 Peter Merritt VC Deal
89 Alexander Braybrooke Velocity WD-40
90 Fabian Brennan Velocity WD-40
91 Jack Escritt Velocity WD-40
92 Matthew Gibson Velocity WD-40
93 Matthew Park VO2 Development Team
94 Jacob Booth Weaver Valley CC
95 Wilf Sargeant West Pennine RC
96 Alexander Pierce Willesden Cycling Club
97 Oliver Maxwell Windmill Wheels Cycling Club
98 James Carter Witham Wheelers Cycling Club
99 James Ireson Wolverhampton Whls
100 Benjamin Manfield-Yorke Wolverhampton Whls
101 Christopher Barnes www.zepnat.com RT/GSG Clothing
FORMER WINNERS
2013: Chris Lawless
2012: Sam Lowe (Hargroves Cycles)
2011: Dan Mclay
2010: Daniel Pearson
2009: George Atkins
2008: Erick Rowsell
2007: Peter Kennaugh
2006: Russell Hampton
2005: Adam Norris
2004: Daniel Martin
2003 Matthew Brammeier
2002 Steffan Wilson
2001 Peter Johnstone
2000 Kieran Page
1999 Stephen Cummings
1998 Yanto Barker
1997 Paul Kay
1996 Gavin Sellen
1995 Gavin Sellen
Send your results as well as club, team & event news here
---
Other Results on VeloUK (including reports containing results)

---
Other News on VeloUK