Graham Briggs won the Elite Circuit Series event in Chepstow on Wednesday in a bunch kick from last years series winner George Atkins, Raleigh. Chris Opie was 3rd.
Result – Briggs wins in Chepstow
NOTE: Send your results as well as club, team & event news here
Photos from Huw Fairclough
It was Briggs second win in the series after winning at Colne and came after an agressive race on this new circuit but like the Circuit of the Fens last weekend, breaks were never getting much of a gap and the race was settled in a bunch kick. The main drama of the race was the crash for Alex Blain of Raleigh, the series leader, who had to pick himself up quickly and fight to get back into the race which he did.
Above: Graham Briggs wins the Chepstow GP on Wednesday night.
A smaller field than other rounds for this final event in the series.
Above: Dale Appleby and Matt Cronshaw putting the hammer down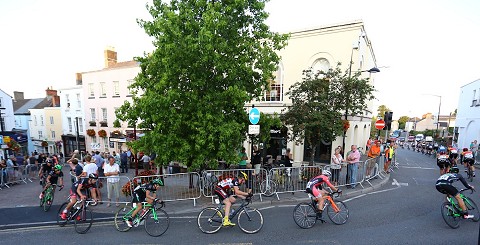 Above: The race weaving its way through Chepstow.
Above: Series winner Alex Blain of Raleigh leads the race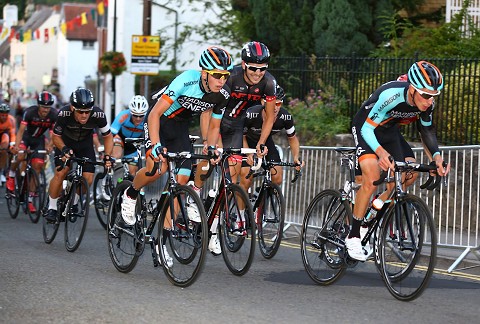 Above: Madison Genesis keeping the pace high
Above: Chris Opie, Graham Briggs and George Atkins (Raleigh)
Above: A series win for Raleigh and Alex Blain.
Results
1 Graham Briggs Rapha Condor JLT
1 Graham Briggs Rapha Condor JLT
2 George Atkins Team Raleigh
3 Chris Opie Rapha Condor JLT
4 Alex Peters Madison Genesis
5 Andrew Hawdon KTMcyclingRT
6 Matt Holmes Madison Genesis
7 Yanto Barker Team Raleigh
8 Zachery May Metaltek KUOTA RT
9 Morgan Kneisky Team Raleigh
10 William Bjergfelt Metaltek KUOTA RT
11 Gruffudd Lewis Pedal Heaven Colbornes RT
12 Liam Holohan Madison Genesis
13 Will Fox Starley Primal Pro Cycling
14 Josh Hunt NFTO Pro Cycling
15 Martin Bialobocki Node 4 Giordana
16Â  Hugh Wilson NFTO Pro Cycling
1 Lap Alex Bain Team Raleigh
1 Lap Alex Paton Pedal Heaven Colbornes RT
2 Laps Max Stedman Pedal Heaven Colbornes RT
2 Laps Rob McCarthy Pedal Heaven Colbornes RT
2 Laps Gerallt Allen The Edge Cycleworks
2 Laps Anders Christensen Pedal Heaven Colbornes RT
2 Laps Daniel Colman Forza Cycles Racing Team
3 Laps Chris Mcnamara Pedal Heaven Colbornes RT
3 Laps Steven Roach Unattached
3 Laps Ioan Smallwood Unattached
3 Laps Joseph Wiltshire NFTO Race Club
3 Laps Daniel Whitehouse Rapha Condor JLT
3 Laps Thomas Bowering VC Meudon
3 Laps Ash Hutchison VC St Raphael
3 Laps Thomas Grigson Bynea CC
PRIME 1
1 Andrew Hawdon KTMcyclingRT
2 Alex Peters Madison Genesis
3 Richard Handley Rapha Condor JLT
4 Graham Briggs Rapha Condor JLT
PRIME 2
1 George Atkins Team Raleigh
2 Richard Handley Rapha Condor JLT
3 Liam Holohan Madison Genesis
4 Chris Opie Rapha Condor JLT
Series winner: Alex Blain, Raleigh
Send your results as well as club, team & event news here
---
Other Results on VeloUK (including reports containing results)

---
Other News on VeloUK