Peter Williams won the 2015 Edition of the Eddie Soens Memorial race at Aintree today (Saturday) ahead of teammate Sam Williams and last years winner Ian Wilkinson (Raleigh GAC)Â 
---
Feature – 54th Eddie Soens Memorial
Report
L-R: Sam Williams (2nd), Pete Williams (1st) and Ian Wilkinson of Raleigh GAC, on the podium for the second time in two years.
Peter Williams won the 2015 Edition of the Eddie Soens Memorial race at Aintree today (Saturday). For the second time this year, Williams, won a race solo after he did the same in the Clayton Velo Spring Classic in February.
His victory, and second place by Sam Williams, continues their teams good run of success despite the presence of other top British teams at the race. The race, a handicap event, saw the usual format of the Juniors leading the way off the line and a break of two, young riders Thomas Pidock and Harry Hardcastle, leading the way.
The second solo win for Pete Williams in 2015.
The Scratch group, with Raleigh's twelve riders visible at the front, made great progress in bringing the race back together and that was achieved with still half the race to go. It was then up to the top teams to try and break the race up and this did but any ease up just saw the race come back together again.
Some handy looking breaks got clear but it wasn't until a break of five got established that the winning move was created. It was touch and go though. There was no way Pete Williams was taking his friend and rival Ian Wilkinson to the line and his attacks soon saw Raleigh down to one as George Pym was distanced. Then Pete Williams went solo and with JLT Condor minus a number of riders who were sick, chasing hard en mass in the peloton, it was left to last year's winner Ian Wilkinson to chase Pete Williams with Sam Williams and Tom Moses on his wheel.
Sam Williams, with coach Steve Benton pushing him hard in training and working on his sprint, defeats renowned fast man Ian Wilkinson of Raleigh GAC in his first race of 2015.
Pete Williams, on the comeback after a nasty crash last year in the Tour of Reservoir, wasn't coming back though. Sam Williams, after sitting in on Wilkinson, then attacked on the last lap but 'Superman' wasn't letting two riders go and he got back to Sam Williams with just 250 metres to go.
So whilst Pete Williams threw his arms in the air, Sam Williams behind held off the challenge from Ian Wilkinson for second whilst Tom Moses was fourth. Three time World Champion from Raleigh, Morgan Kniesky, won the bunch kick for fifth place.
Long serving volunteer Doreen with organiser Carl as the riders assemble for the start.
Pete Williams (winner) – "I felt good in the break and Sam was the sprinter for the day because he is some boy when it comes to going fast. There were some strong guys in there though, Tom Moses and Wilko, and he's probably the last guy you want with you."
"He's a mate of mine but I had to the dirty and get rid of him. It worked out well. It was about five to go and there was a little bit of messing about and the gap was coming down so I had a dig and that got rid of George which just left Wilko on his own."
"With a lap and half to go, I thought if I make Wilko and Moses chase, Sam will get an easy ride for the sprint because he'd do the best out of the two of us in that situation. So rather than me riding and getting jumped by Moses, I went and got the gap and managed to keep it and Sam did the business behind."
"It's pretty awesome."
"Early on, it was about staying safe, especially when the groups came together which can be pretty dangerous, and than after that, it was a case of having guys in the moves." Pete, a former Tour of Britain Sprints jersey winner, finished by saying he's looking to get stronger as the year goes on and getting stuck into the big races, with the first one on home roads at Chorley.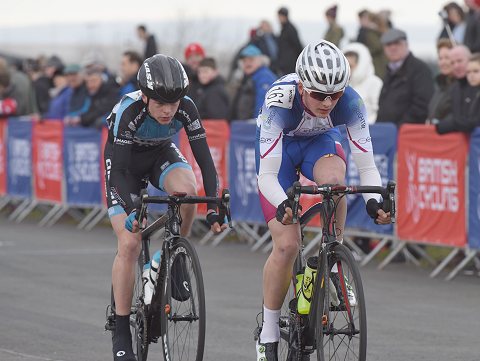 Early break from the juniors with Thomas Pidcock and  Harry Hardcastle 
Sam Williams (2nd) –admitted he was pretty pleased with his sprint. "I'm really happy for me and Pete as well. A few weeks ago, I was second to Pete (Clayton Velo) and I was saying to him, I don't mind if he attacks as he's bloody brilliant".
"When he was up the road, it was case of marking Wilkes and Tom and then on the back straight, they were looking tired and looking at each other so I hit them on the other side of the road and Wilkes caught me with 250 to go. But, I've been working really hard on my sprinting so was confident I could come around him at the end."
Hannah Barnes, a multi championship winning rider, made a rare appearance in the UK before heading to America to race for her team there. Hannah returns in June for the Friends Life Women's Tour
Ian Wilkinson (3rd) – Defending champion in the race said "It is always disappointing not to win but it was a hell of a strong break to be honest. I was just chatting with Evan Oliphant just before the move went and he was saying "it looks like Kristian is going to have a dig here and then Moses went and I know how well he goes so I said to myself, I'll have a bit of that."
"You can't expect to win them all though and I'm happy to get on the podium."
"With Tom sat on, it created a bit of chaos which was not so bad until my young teammate George, who was doing really well and came under pressure at the end. I almost got second after chasing Sam all the way down the back there and it was a good sprint finish by the youngster."
"Congrats to Pete, and Raleigh on the podium, that's good and it wasn't a bad defence." In his first race of the season, different to the year before when he'd had several races in Europe under his belt, Ian admitted he went pretty deep at the end and was chuffed with the effort. He heads to Belgium next to play on the cobbles.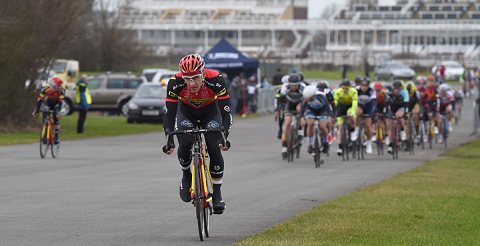 Three time world champion, Morgan Kneisky of Raleigh GAC in a move off the front
One of several moves with the big teams all well represented. It didn't stick.
David McGowan and Simon Wilson in a move to get away
Adam Duggleby of Sportgrub Kuota in his move off the front
Around ten laps to go, three riders clip off led here by George Pym from eventual winner Pete Williams and Ian Wilkinson. 
The winning break led by Thomas Moses.
John Herety's men in black (and yellow now) assemble at the front and proceed to take big chunks of time out of the break.
Then there was four as the hammer goes down, George Pym loses contact.
A then with a two laps to go, Pete Williams goes solo, to try and get rid of friend and foe Ian Wilkinson of Raleigh GAC, last years winner.
Wilkinson was left to do the chasing and despite a late attack by Williams, 'Wilkes' and Williams sprinted it out for second.
Bunch kick won by the new 2015 Madison World Champion Morgan Kneisky of Raleigh GAC.
Results
1 Peter Williams One Pro Cycling
2 Samuel Williams One Pro Cycling
3 Ian Wilkinson Raleigh GAC
4 Thomas Moses JLT Condor
5 Morgan Kneisky Raleigh GAC
6 Jonathan Mould One Pro Cycling
7 David McGowan Pedal Heaven RT
8 Adam Duggleby SportGrub KUOTA Cycling Team
9 Anthony Gibb Full Gas Racing Team
10 Sam Lowe Raleigh GAC
11 Evan Oliphant Raleigh GAC
12 Alistair Rutherford The Nab Racing
13 Joshua Hunt One Pro Cycling
14 Harry Tanfield JLT Condor
15 Jack Pullar Velosure Starley Primal
16 Dillon Byrne Champion System VCUK Racing Team
17 Richard Lang JLT Condor
18 Karol Domagalski Raleigh GAC
19 Giles Pidcock Chevin Cycles.com Trek
20 Simon Wilson Polypipe Cycling Team
21 Andrew Hawdon Raleigh GAC
22 Brad Morgan Raleigh GAC
23 William Bjergfelt SportGrub KUOTA Cycling Team
24 Richard Hepworth Giordana Racing Team
25 Chris Fallon Liverpool Mercury (Dolan) CC
26 Thomas Pidcock Chevin Cycles.com Trek
27 Martin Dainty Team Cystic Fibrosis
28 Henry Hunter Team Moda-Anon
29 David Micklethwaite 3RT
30 George Pym Raleigh GAC
31 Mathew Lythgoe Ribble Valley CRC
32 Fabian Brennan North City Velo Cycling Team
33 Ryan Perry Army Cycling Union
34 Joseph Moses JLT Condor
35 Christopher Quin Macclesfield Wheelers
36 Calvin Beneke Raleigh GAC
37 Liam Stones Raleigh GAC
38 Steve Lampier Raleigh GAC
39 Matti Manninen Raleigh GAC
40 Richard Handley JLT Condor
41 James Stewart Performance Cycles
42 George Atkins One Pro Cycling
43 Michael Ashurst Champion System VCUK Racing Team
44 Harry Hardcastle Marton Race Team
45 Ellis Kirkbride North City Velo Cycling Team
46 Matthew Draper Velocity Globalbike
47 Edward McParland All Terrain Cycles
48 Matthew Nowell Hallam Cycling
49 Richard Hughes Graham Weigh Racing
50 James Jeffers Bill Nickson Cycles
51 Marcus Willday Mid Shropshire Wheelers
52 James Claydon The Nab Racing
53 David Tudor Marsh Tracks Race Team
54 Ryan Pike High On Bikes
55 Matt Chester BC PM
56 Rhys Donnelly Edinburgh RC
57 Mark Tickle Leigh Premier RC
58 Joshua Cutler 3RT
59 Steve Johnson Chevin Trek
60 Lee Cairns Team Swift
61 Matt Hallam The Nab Racing
62 Tomos Owens Paramount CRT
63 Richard Line Pro Vision Cycle Clothing
64 Alex Harvey Marsh Tracks Race Team
65 Justin Harcourt Urban Cyclery
66 John MacLeod Spokes Racing Team
67 Rhodri Owen Velo Club UK
68 David Ogg Clay Cross Road Team
69 Ryan McGillick BC PM
70 Gary Scott Warrington RC
71 David McCarthy JLT Condor
72 Hannah Barnes Unitedhealthcare Professional Cycling Team
73 Karl Freeman Team Wheelguru
74 Paul Kay Weaver Valley CC
75 Daniel Fox Airedale Chemical RT
76 Adam Baines THR Racing
77 Stephen Robinson 3RT
78 Darren Perry Beeston RC
79 Ivan Boyes Team Cystic Fibrosis
80 Ryan Davis SportGrub KUOTA Cycling Team
81 James Gullen Velosure Starley Primal
82 Luke Grivell-Mellor JLT Condor
83 Hamish Graham Green Jersey RT
84 Oscar Williamson Marsh Tracks Race Team
85 James Dyson 3RT
86 Dan Fleeman SportGrub KUOTA Cycling Team
87 Thomas Bustard Giordana-Mitsubishi Electric RT
88 Oliver Maxwell Metaltek KUOTA RT
89 Daniel Stocchero 3RT
90 Nick Sweeting 3RT
91 Jake Whitwam 3RT
92 Steven Cartwright Graham Weigh Racing
93 Pierre Vernie Clay Cross Road Team
94 Louise Hogg BC PM
Preview of the race here on VeloUK
---
---
Send your results as well as club, team & event news here
---
Other Results on VeloUK (including reports containing results)

---
Other News on VeloUK