Matt Bottrill & Abby Mae Parkinson take a look at the time trial course for the British Championships at Cadwell park
Feature – British TT Championship Course
In six weeks, the best time trial riders in Britain, the World even, will come to Cadwell Motor Racing circuit to race against the watch in the British time trial championships. Two of the riders who will be competing is a multiple champion in time trialing and comp record holder Matt Bottrill and a junior woman who herself has broken comp records for her age group, Abby Mae Parkinson.
Matt Bottrill and Abby Mae Parkinson waiting to be let loose on the circuit
The championships will start and finish at Cadwell Park Motor Racing Circuit which is six miles south of the County town of Louth and 25 miles east of Lincoln. Cadwell Park circuit is well known for the annual British Superbike event held at the circuit and also used as a venue for the recent film Rush featuring the battle for motor racing supremacy between James Hunt and Niki Lauda in the 1976 Formula One Championships.
The event start will be from the lower paddock, completing a full lap of the 2.2 mile circuit which includes a climb aptly named The Mountain, leaving via the main entrance along the A153 to the Bluestone Heath Road. Once the outside loops have been completed the riders will return to Cadwell Park and complete just under half a lap and finish in front of the paddock after another climb of The Mountain.
The remainder of the time trial route will be held on fully closed roads continuing along the Bluestone Heath Road which runs along the top of the Lincolnshire Wolds with a long and fast descent in to the village of Ruckland and a short but sharp climb out to Oslears Lane and back to the Bluestone Heath Road. This circuit is 7 miles long and will be covered twice by the elite women and under 23 men and three times by the elite men to give total distances of 21 miles (33.6 Kms) and 28 miles (44.8 Kms) respectively.
Timing will be by transponders with intermediate timing to keep the spectators up to date via a large screen to be placed in the finish area in Cadwell Park.
Matt with a new bike on a very different type of time trial course, Cadwell Park
During a lunchtime break in the fun and games of those racing both race and road going cars on the track, Matt and Abby had half an hour to do a few laps of the twisty and up and down circuit. It was very windy and cold too but dry which is better than last years' recce I did with Matt in Wales.
The first reaction post recce came from Abby who simply said, "that's not for the fainted hearted" The talented youngster had enjoyed riding around the circuit, getting tips off Matt who has left the post office and is now a full time coach with a lot of riders on his books and more wanting his help. "Its' going to be really really hard" Abby said to me after her tough training session".
"You just set off and you have a massive hill and your legs are going to be really stinging up there and will probably affect you for the rest of the ride! It's been important to come here today to look at the circuit as it's really technical and it's good to know the lines I'll need to take. "
Event organiser Ian Emmerson talking to Matt and Abby about the course.
The motor racing circuit section of it is, however, just a small section of the overall course package. Talking to Matt Bottrill about it who is in great form already, he said of it "the Cadwell circuit has two climbs on it that are quite steep (1 in 4 one of them) but compared to last year, it's nothing."
"It's savage but nothing like last year. You'll have the adrenalin going for that first climb and the warm up will be important because of that. Being here is so important and I have an advantage over everybody already!"
Matt wasn't in race kit for the recce but was doing a few race efforts and gauging the fastest line on the hills and twisty descents. Once the circuit had been covered a few times, Matt and Abby headed out on the roads outside Cadwell following organiser Ian Emmerson. The course for the race resembled a typical circuit time trial course used week in, week out around the country.
Fast but far from flat or drag strip straight roads.
Narrow roads, which will be closed, and lumpy too making it a sporting course to decide the best against the watch in Britain and whilst I haven't heard whether World Champion Bradley Wiggins will grace the event in his rainbow stripes, it would be immense for the sport here in Britain if he did enter and ride.
"It is a good circuit" Matt explained over coffee and cake in the circuit's club house café. "It's quite fast and exposed in places. There's one descent where you will be doing fifty miles an hour plus down and then you have that major climb on the back circuit. It's just dead roads mainly."
"It is like an RTTC circuit but the Cadwell Circuit part of it is a bit different. This is a relief after last year's course. I was apprehensive about coming here and seeing it and whilst it's hard, it's not extreme. I know now what I am going to need to hit numbers wise. The main thing is to get the set up right and the gearing and that's a big advantage for me coming here and knowing what I need."
Matt explains to Abby about to get aero as her mother, a former Women's champion herself, Lisa watches.
Talking about last weekend when he broke a record of Stuart Dangerfield's, who like Matt, was a star of the British time trial scene for many a year, Matt explained "when he set that record, he was at the peak of his career so to beat it by a minute and a half is great for me, to beat these times from legends of the sport."
Last year was momentous for Matt as anyone who follows the sport will know, comp records and titles but he says his start to this year is even better! "I am surprising myself every time I race. I keep thinking can I actually top what I did last year but you need luck to do that. I am going to try though!"
"I am definitely coming here to podium. You have to believe you can win and this is a doable circuit for me. It's hard but doable so and will always be a highlight of the year. I have a national 50 and other little bits in between but when I go out training this is what I think of. I know the demands of the circuit now so know what I need to do to train for those demands."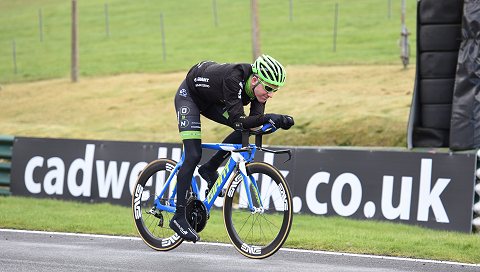 Another lap of Cadwell done, Matt gets dialed in to the circuit
Asked what he's going to do now in the weeks leading up to the race Matt replied "It's about overload, going out and destroying myself and peaking for this."
Matt has also stopped working as a postman and is now a full time coach which is a business going very well for him. Asked how that is affecting his training, Matt replied "it's great and I now have that recovery time. I am probably working more hours than I was before so it hasn't freed up more time in terms of training time, but I am not on my feet for eight hours a day and I get to relax after the training now".
A 58 chain ring, what else, on Matt's bike!
"Hopefully I'll reap the rewards of that in the race!"
Thanks to Matt, Abby, organiser Ian Emmerson and everyone else there for their help. Appreciated!
Cadwell has some short steep climbs.
Abby focuses on doing some laps of Cadwell park
More information on the race here
Send your results as well as club, team & event news here
---
Other Results on VeloUK (including reports containing results)

---
Other News on VeloUK