19 year old Chris Lawless of Team Wiggins won his first round of the Pearl Izumi Tour Series ahead of an equally delighted Will Bjergfelt (Sportgrub Kuota) and Steele Von Hoff (NFTO)
Report & Results – Tour Series Barrow
Madison Genesis took their fourth win of the 2015 Pearl Izumi Tour Series at the BAE Systems Barrow round on Friday night, but the real story was 19-year-old Chris Lawless of Team WIGGINS taking his first individual win in front of huge Cumbrian crowds.
Lawless' performance, from a two-rider breakaway in the closing laps with Series stalwart Will Bjergfelt, came the evening after he'd taken a best result of third in Durham.
19 year old Chris Lawless (Team Wiggins), who was 3rd in Durham and has been performing on the hilly circuits and in the bunch kicks, got the win he was after with an attack six laps out with Will Bjergfelt (Sportgrub Kuota)
While the individual result may have been a thriller, with Lawless and Bjergfelt escaping in the final five laps and holding off a charging peloton led home by Steele Von Hoff, the team result was a nail biter.
With all five riders from both Madison Genesis and ONE Pro Cycling in the main bunch times were close, so close in fact that when cumulative riders times were added together Madison Genesis took their fourth team victory by less than a second.
More delighted than the winner was second placed Will Bjergfelt of Sportgrub Kuota)
Having been pegged back by a point thanks to ONE Pro Cycling's victory in Durham, win number four helps Madison Genesis into a four three point lead with four rounds to go in Croydon, Canary Wharf, Peterborough and Bath.
The team's Tom Stewart did lose his Chain Reaction Cycles Points Jersey to Team Raleigh GAC rider Morgan Kneisky, who won the prize on the night and now has a five point lead over Stewart. The French triple World Track Champion also took the Costa Express Fastest Lap trophy on the way to one of this three mid-race sprint victories.
Steele Von Hoff of NFTO won the bunch kick for third
Highlights from Barrow will be shown on ITV4 at 2100 on Sunday 31 May, with a repeat at 0825 on Monday 1 June.
Next week sees two Pearl Izumi Tour Series rounds in London, as the Series visits Croydon for the first time on Tuesday 2 June before returning to Canary Wharf on Thursday 4 June for Round Eight.
Croydon in South London also sees the next round of the women's Matrix Fitness Grand Prix Series (Round Three), which gets underway at 1730, with Round Seven of the men's Pearl Izumi Tour Series off at 1930.
Bell lap and Zach May (right) (NFTO) is full gas for his team leader Steele Von Hoff who has Jonny McEvoy with him on the left.
Two laps out and the teams are lining up for the sprint. It was explained one rider, quite insane (but fun too). Instead of teams leading out a rider for the sprint, it was teams of five sprinting it out side by side.
Chris Lawless is full gas keeping the gap to the peloton behind.
One of the only other breaks I saw and it was short lived, Tom Stewart (Madison Genesis) and Marcin Bialoblocki (One Pro Cycling)
The start of the race in Barrow under sunny skies but boy was it cold!
Whilst not usual for the rider in second to get on the podium, the organisers Sweetspot made an exception for Will Bjergfelt of Sportgrub Kuota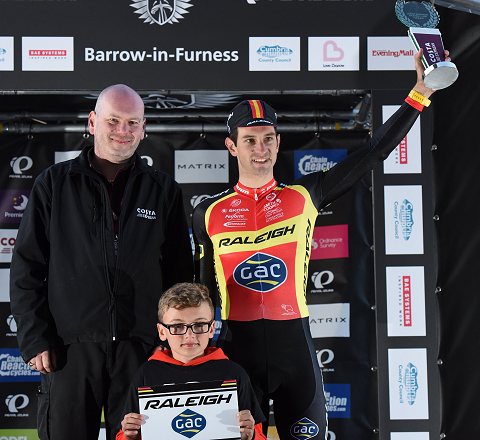 Good result for Raleigh GAC as Morgan Kneisky won the Points competition on the night and also the Costa Fastest lap.
RESULTS
Individual Classification
1 Chris Lawless Team WIGGINS 1:07:40.263 44
2 Will Bjergfelt SportGrub Kuota 1:07:43.080 44
3 Steele Von Hoff NFTO Pro Cycling 1:07:48.547 44
4 Chris Opie ONE Pro Cycling 1:07:48.753 44
5 Tom Scully Madison Genesis 1:07:48.922 44
6 Mark McNally Madison Genesis 1:07:49.270 44
7 Tom Stewart Madison Genesis 1:07:49.312 44
8 Tobyn Horton Madison Genesis 1:07:49.503 44
9 Marcin Bialoblocki ONE Pro Cycling 1:07:49.541 44
10 Yanto Barker ONE Pro Cycling 1:07:49.621 44
11 Jon Mould ONE Pro Cycling 1:07:49.802 44
12 George Atkins ONE Pro Cycling 1:07:49.897 44
13 Andrew Hawdon Team Raleigh – GAC 1:07:50.064 44
14 Matt Cronshaw Madison Genesis 1:07:50.233 44
15 Richard Hepworth SportGrub Kuota 1:07:50.277 44
16 Will Fox Pedal Heaven 1:07:50.407 44
17 David McGowan Pedal Heaven 1:07:50.411 44
18 Jack Pullar Velosure Starley Primal 1:07:50.480 44
19 Alex Paton Pedal Heaven 1:07:50.573 44
20 Ed Clancy JLT Condor presented by Mavic 1:07:50.580 44
21 Rory Townsend Pedal Heaven 1:07:50.641 44
22 Liam Stones Team Raleigh – GAC 1:07:51.356 44
23 Morgan Kneisky Team Raleigh – GAC 1:07:51.857 44
24 George Pym Team Raleigh – GAC 1:07:52.117 44
25 Jonathan McEvoy NFTO Pro Cycling 1:07:52.752 44
26 David Lines Velosure Starley Primal 1:07:53.211 44
27 Simon Holt Pedal Heaven 1:07:53.509 44
28 Tom Moses JLT Condor presented by Mavic 1:07:54.055 44
29 Harry Tanfield JLT Condor presented by Mavic 1:07:54.248 44
30 Adria Moreno Sala Velosure Starley Primal 1:07:54.579 44
31 Adam Kenway SportGrub Kuota 1:07:54.781 44
32 Ollie Maxwell SportGrub Kuota 1:07:55.089 44
33 James Gullen Velosure Starley Primal 1:07:57.230 44
34 Luc Hall Team WIGGINS 1:07:58.094 44
35 Kristian House JLT Condor presented by Mavic 1:08:00.376 44
36 James Lowsley Williams NFTO Pro Cycling 1:08:01.461 44
37 Zach May NFTO Pro Cycling 1:08:30.567 44
38 Dale Appleby NFTO Pro Cycling 1:09:14.244 44
39 Felix English JLT Condor presented by Mavic 1:09:14.306 44
40 Andy Coupe Wheelbase Altura MGD** 1:03:17.235 40
41 Stephen Bradbury Velosure Starley Primal 1:03:20.314 40
42 Ian Wilkinson Team Raleigh – GAC 1:04:27.843 40
43 Stuart Reid Wheelbase Altura MGD** 1:04:28.086 40
44 Stephen Adams SportGrub Kuota 1:03:26.281 39
DNF Ben Davis Wheelbase Altura MGD** 0:38:09.974 22
DNF Alex Turner Wheelbase Altura MGD** 0:32:33.452 20
DNF Daniel Patten Team WIGGINS 0:26:29.806 16
DNF Sam Boast Wheelbase Altura MGD** 0:25:00.829 15
DNS Steven Burke Team WIGGINS
DNS Mark Christian Team WIGGINS
Team Classification for Round 6
1 Madison Genesis 5:39:07 10
2 ONE Pro Cycling 5:39:08 9
3 Pedal Heaven 5:39:16 8
4 JLT Condor presented by Mavic 5:40:54 7
5 Velosure Starley Primal 5:41:16 6
6 NFTO Pro Cycling 5:41:28 5
7 Team Raleigh – GAC 5:42:20 4
8 SportGrub Kuota 5:42:57 3
9 Team WIGGINS 6:09:41 2
Team Overall Classification after Round 6
1 Madison Genesis 75
2 ONE Pro Cycling 72
3 Pedal Heaven 61
4 NFTO Pro Cycling 50
5 Team Raleigh – GAC 49
6 JLT Condor presented by Mavic 37
7 SportGrub Kuota 36
8 Velosure Starley Primal 36
9 Team WIGGINS 16
PODIUM
Costa Express Fastest Lap Winner: Morgan Kneisky Team Raleigh – GAC
Points Competition Round Winner: Morgan Kneisky Team Raleigh – GAC
Points Competition Overall Leader: Morgan Kneisky Team Raleigh – GAC
Individual Race Winner: Chris Lawless Team WIGGINS
Team Round Winner: Madison Genesis
Tom Scully, Mark McNally, Tom Stewart, Tobyn Horton, Matt Cronshaw,
Team Overall Leader: Madison Genesis
Chain Reaction Cycles Points Competition
Sprint 1
1 Morgan Kneisky Team Raleigh – GAC 5
2 Chris Lawless Team WIGGINS 4
3 Kristian House JLT Condor presented by Mavic 3
4 Jack Pullar Velosure Starley Primal 2
5 Liam Stones Team Raleigh – GAC 1
Sprint 2
1 Morgan Kneisky Team Raleigh – GAC 5
2 James Lowsley Williams NFTO Pro Cycling 4
3 Andrew Hawdon Team Raleigh – GAC 3
4 Ian Wilkinson Team Raleigh – GAC 2
5 Kristian House JLT Condor presented by Mavic 1
Sprint 3
1 Morgan Kneisky Team Raleigh – GAC 5
2 Andrew Hawdon Team Raleigh – GAC 4
3 Alex Paton Pedal Heaven 3
4 Tom Stewart Madison Genesis 2
5 Richard Hepworth SportGrub Kuota 1
Finish
1 Chris Lawless Team WIGGINS 5
2 Will Bjergfelt SportGrub Kuota 4
3 Steele Von Hoff NFTO Pro Cycling 3
4 Chris Opie ONE Pro Cycling 2
5 Tom Scully Madison Genesis 1
Chain Reaction Cycles Points Classification for Round 6
1 Morgan Kneisky Team Raleigh – GAC 15
2 Chris Lawless Team WIGGINS 9
3 Andrew Hawdon Team Raleigh – GAC 7
4 Will Bjergfelt SportGrub Kuota 4
5 James Lowsley Williams NFTO Pro Cycling 4
6 Kristian House JLT Condor presented by Mavic 4
7 Steele Von Hoff NFTO Pro Cycling 3
8 Alex Paton Pedal Heaven 3
9 Chris Opie ONE Pro Cycling 2
10 Tom Stewart Madison Genesis 2
11 Jack Pullar Velosure Starley Primal 2
12 Ian Wilkinson Team Raleigh – GAC 2
13 Tom Scully Madison Genesis 1
14 Richard Hepworth SportGrub Kuota 1
15 Liam Stones Team Raleigh – GAC 1
Chain Reaction Cycles Points Overall Classification after Round 6
1 Morgan Kneisky Team Raleigh – GAC 51
2 Tom Stewart Madison Genesis 46
3 Kristian House JLT Condor presented by Mavic 43
4 Jon Mould ONE Pro Cycling 28
5 Chris Lawless Team WIGGINS 28
6 Chris Opie ONE Pro Cycling 22
7 Mike Northey Madison Genesis 18
8 Richard Handley JLT Condor presented by Mavic 16
9 Tom Scully Madison Genesis 13
10 Ed Clancy JLT Condor presented by Mavic 12
11 James Lowsley Williams NFTO Pro Cycling 10
12 Will Bjergfelt SportGrub Kuota 10
13 Jonathan McEvoy NFTO Pro Cycling 9
14 Tobyn Horton Madison Genesis 9
15 Andrew Hawdon Team Raleigh – GAC 7
16 Ian Bibby NFTO Pro Cycling 7
17 Alex Paton Pedal Heaven 7
18 Steele Von Hoff NFTO Pro Cycling 6
19 Zach May NFTO Pro Cycling 5
20 Marcin Bialoblocki ONE Pro Cycling 4
21 Ian Wilkinson Team Raleigh – GAC 2
= Jack Pullar Velosure Starley Primal 2
23 Liam Stones Team Raleigh – GAC 1
= Richard Hepworth SportGrub Kuota 1
= Gruff Lewis Pedal Heaven 1
= Rory Townsend Pedal Heaven 1
= George Harper ONE Pro Cycling 1
Send your results as well as club, team & event news here
---
Other Results on VeloUK (including reports containing results)

---
Other News on VeloUK