Photo report of the Women's Tour stage 1 that saw Lizzie Armitstead sensationally win and then crashed and was taken to hospital
Aviva Women's Tour Stage 1 -Â Bury St Edmunds to Aldeburgh
Photo Report
Lizzie Armitstead showing she is one of the best in the World, if not THE best! Sad to see her crash shortly after this was taken and wish her a speedy recovery.
The day began with teams presented to the public again after a signing on ceremony on the podium. Featured here is Lizzie Armitstead's team, Boels Dolmans Cycling Team.
The teams then lined up with the dozen or so national champions near the front including Britain's Laura Trott of Matric Fitness, talking to Dani King here of Wiggle Honda.
It was a cruisey start with little action that I saw on the motorbike and no one team taking control as they raced through the lanes and the heat.
Around halfway, the race started to get lively and the way they through Ipswich was nothing short of flat stick.
Before Ipswich, Bilga tried to set the Queen of the Mountains sprint up for Sharon Laws but a lot of teams wanted to get in on the action ….
Liv Plantur then got in on the action at the front up the long but so steep drag.
But the Aussie Melissa Hoskins of Orcia GreenEdge won the sprint for the mountain points.
Then a break went clear led by United Healthcare …
The four were flat stick but ahead of two chasers and a disinterested peloton.
Katie Archibald of Pearl Izumi/Sports Tours leads the chase with another United Healthcare rider, Katie Hall I think, in tow but working to catch the leading four.
Marta Tagliaaferro attacks in the sprint at Melton
And at the second QoM, Katie Hall took the points.
But despite a level crossing incident, the race came back together for the biggest of bunch kicks which Lizzie Armitstead was bloody awesome in, winning, crashing but we hear, nothing broken. A tough cookie is Lizzie from Yorkshire!
With Lizzie being air lifted to hospital, her teammates, in tears, were presented with the trophy which they placed on the podium.
A battered and brusied Katie Archibald who crashed as well, gets  the combativity award.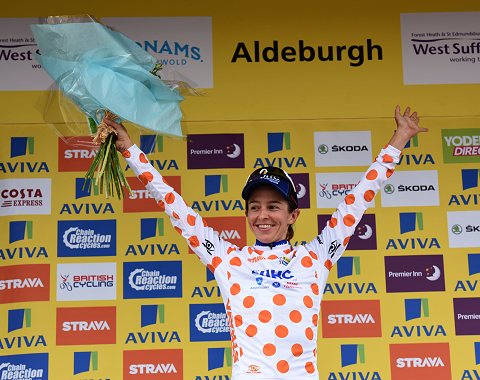 Katie Hall is in the Queen of the Mountains jersey which is being keenly contested!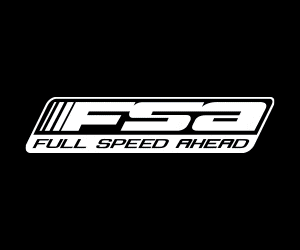 RESULT
STAGE 1
1 ARMITSTEAD Elizabeth DLT 2h39'53" B:10″
2 BRENNAUER Lisa VEL 2h39'53" B:06″
3 JOHANSSON Emma OGE 2h39'53" B:04″
4 FRAPPORTI Simona ALE 2h39'53"
5 D'HOORE Jolien WHT 2h39'53"
6 KNETEMANN Roxanne RBW 2h39'53"
7 JEULAND Pascale FUT 2h39'53"
8 * RYAN Alexis UHC 2h39'53"
9 LEPESTÖ Lotta BCT 2h39'53"
10 BIANNIC Aude FUT 2h39'53"
11 * RIVERA Coryn UHC 2h39'53" B:04″
12 JASINSKA Malgorzta ALE 2h39'53"
13 SLAPPENDEL Iris BCT 2h39'53"
14 * BARNES Hannah UHC 2h39'53"
15 ROY Sarah OGE 2h39'53"
16 ELVIN Gracie OGE 2h39'53"
17 * KOSTER Anouska RBW 2h39'53"
18 * TROTT Laura MAT 2h39'53"
19 TAGLIAFERRO Marta ALE 2h39'53" B:05″
20 *CONFALONIERI Maria Giulia ALE 2h39'53"
21 WORRACK Trixi VEL 2h39'53"
22 MUSTONEN-LICHAN Sara TLP 2h39'53"
23 MAJERUS Christine DLT 2h39'53"
24 CURTIS Katie PIS 2h39'53"
25 * GARNER Lucy TLP 2h39'53"
26 * DE JONG Thalita RBW 2h39'53"
27 * ZORZI Susanna LBL 2h39'53"
28 PAWLOWSKA Katarzyna DLT 2h39'53"
29 DECROIX Lieselot LBL 2h39'53"
30 TENNIGLO Moniek RBW 2h39'53"
31 * BARKER Elinor MAT 2h39'53" B:03″
32 WALLE Brianna OPW 2h39'53"
33 POHL Stephanie GER 2h39'53"
34 STEPHENS Lauren USA 2h39'53"
35 * KNAUER Anna RBW 2h39'53"
36 KIRCHMANN Leah OPW 2h39'53"
37 * LECHNER Corinna GER 2h39'53"
38 HALL Katie UHC 2h39'53"
39 GUARNIER Megan DLT 2h39'53"
40 KASPER Romy DLT 2h39'53"
41 MARTIN Lucy MAT 2h39'53"
42 ROSS Hannah USA 2h39'53"
43 FOURNIER Roxane FUT 2h39'53"
44 CROMWELL Tiffany VEL 2h39'53"
45 BRONZINI Giorgia WHT 2h39'53"
46 HOFFMANN Chantal LBL 2h39'53"
47 HALL Lauren USA 2h39'53"
48 RIJKES Sarah LBL 2h39'53"
49 * DUVAL Eugenie FUT 2h39'53"
50 * SHAW Gabriella PIS 2h39'53"
51 TAYLOR Carlee LBL 2h39'53"
52 SOEK Julia TLP 2h39'53"
53 *CAUZ Francesca ALE 2h39'53"
54 RIVAT Amelie FUT 2h39'53"
55 DELZENNE Elise VEL 2h39'53"
56 * KÃœLLMER Lisa GER 2h39'53"
57 ROWNEY Loren VEL 2h39'53"
58 HEADLEY Sara USA 2h39'53"
59 * EWART Annie OPW 2h39'53"
60 FISCHER Heather USA 2h39'53"
61 * WEAVER Molly TLP 2h39'53"
62 LONGO BORGHINI Elisa WHT 2h39'53"
63 HOSKINS Melissa OGE 2h39'53"
64 CORDON Audrey WHT 2h39'53"
65 MCCONVILLE Chloe OGE 2h39'53"
66 LAWS Sharon BCT 2h39'53"
67 HANSELMANN Nicole BCT 2h39'53"
68 BUCHANAN Rushlee UHC 2h39'53"
69 * DIDERIKSEN Amalie DLT 2h39'53"
70 VILLUMSEN Linda UHC 2h39'53"
71 *LE COURT DE BILLOT Kimberley MAT 2h39'53"
72 AUBRY Emilie BCT 2h39'53"
73 FERNANDES SOUSA Uenia ALE 2h39'53"
74 * STULTIENS Sabrina TLP 2h39'53"
75 KOMANSKI Lauren USA 2h39'53"
76 KING Dani WHT 2h39'53"
77 ALBRECHT Lex OPW 2h39'53"
78 GUARISCHI Barbara VEL 2h39'53"
79 KINSELLA Maura OPW 2h39'53"
80 HAMMES Kathrin GER 2h39'53"
81 KOEDOODER Vera BCT 2h39'53"
82 LICHTENBERG Claudia TLP 2h39'53"
83 * LOWTHER Melissa MAT 2h39'53"
84 HORNE Ciara PIS 2h39'53"
85 EDMONDSON Annette WHT 2h40'04"
86 WYMAN Helen MAT 2h40'56"
87 * HORBACH Ariane OPW 2h40'56"
88 * RIJFF Anouk LBL 2h41'43"
89 STOREY Dame Sarah PIS 2h42'00"
90 * ARCHIBALD Katie PIS 2h42'03"
91 * MANLY Alexandra OGE 2h42'03"
92 ROWSELL Joanna PIS 2h57'35"
93 * ORTMÃœLLER Madeleine GER 2h57'36"
* STOCK Gudrun GER
OVERALL
1 ARMITSTEAD Elizabeth DLT 2h39'43" @00″
2 BRENNAUER Lisa VEL 2h39'47" @04″
3 TAGLIAFERRO Marta ALE 2h39'48" @05″
4 JOHANSSON Emma OGE 2h39'49" @06″
5 * RIVERA Coryn UHC ' '
6 * BARKER Elinor MAT 2h39'50" @07″
7 FRAPPORTI Simona ALE 2h39'53" @10″
8 D'HOORE Jolien WHT ' '
9 KNETEMANN Roxanne RBW ' '
10 JEULAND Pascale FUT ' '
11 * RYAN Alexis UHC ' '
12 LEPESTÖ Lotta BCT ' '
13 BIANNIC Aude FUT ' '
14 JASINSKA Malgorzta ALE ' '
15 SLAPPENDEL Iris BCT ' '
16 * BARNES Hannah UHC ' '
17 ROY Sarah OGE ' '
18 ELVIN Gracie OGE ' '
19 * KOSTER Anouska RBW ' '
20 * TROTT Laura MAT ' '
21 *CONFALONIERI Maria Giulia ALE ' '
22 WORRACK Trixi VEL ' '
23 MUSTONEN-LICHAN Sara TLP ' '
24 MAJERUS Christine DLT ' '
25 CURTIS Katie PIS ' '
26 * GARNER Lucy TLP ' '
27 * DE JONG Thalita RBW ' '
28 * ZORZI Susanna LBL ' '
29 PAWLOWSKA Katarzyna DLT ' '
30 DECROIX Lieselot LBL ' '
31 TENNIGLO Moniek RBW ' '
32 WALLE Brianna OPW ' '
33 POHL Stephanie GER ' '
34 STEPHENS Lauren USA ' '
35 * KNAUER Anna RBW ' '
36 KIRCHMANN Leah OPW ' '
37 * LECHNER Corinna GER ' '
38 HALL Katie UHC ' '
39 GUARNIER Megan DLT ' '
40 KASPER Romy DLT ' '
41 MARTIN Lucy MAT ' '
42 ROSS Hannah USA ' '
43 FOURNIER Roxane FUT ' '
44 CROMWELL Tiffany VEL ' '
45 BRONZINI Giorgia WHT ' '
46 HOFFMANN Chantal LBL ' '
47 HALL Lauren USA ' '
48 RIJKES Sarah LBL ' '
49 * DUVAL Eugenie FUT ' '
50 * SHAW Gabriella PIS ' '
51 TAYLOR Carlee LBL ' '
52 SOEK Julia TLP ' '
53 *CAUZ Francesca ALE ' '
54 RIVAT Amelie FUT ' '
55 DELZENNE Elise VEL ' '
56 * KÃœLLMER Lisa GER ' '
57 ROWNEY Loren VEL ' '
58 HEADLEY Sara USA ' '
59 * EWART Annie OPW ' '
60 FISCHER Heather USA ' '
61 * WEAVER Molly TLP ' '
62 LONGO BORGHINI Elisa WHT ' '
63 HOSKINS Melissa OGE ' '
64 CORDON Audrey WHT ' '
65 MCCONVILLE Chloe OGE ' '
66 LAWS Sharon BCT ' '
67 HANSELMANN Nicole BCT ' '
68 BUCHANAN Rushlee UHC ' '
69 * DIDERIKSEN Amalie DLT ' '
70 VILLUMSEN Linda UHC ' '
71 *LE COURT DE BILLOT Kimberley MAT ' '
72 AUBRY Emilie BCT ' '
73 FERNANDES SOUSA Uenia ALE ' '
74 * STULTIENS Sabrina TLP ' '
75 KOMANSKI Lauren USA ' '
76 KING Dani WHT ' '
77 ALBRECHT Lex OPW ' '
78 GUARISCHI Barbara VEL ' '
79 KINSELLA Maura OPW ' '
80 HAMMES Kathrin GER ' '
81 KOEDOODER Vera BCT ' '
82 LICHTENBERG Claudia TLP ' '
83 * LOWTHER Melissa MAT ' '
84 HORNE Ciara PIS ' '
85 EDMONDSON Annette WHT 2h40'04" @21″
86 WYMAN Helen MAT 2h40'56" @01'13"
87 * HORBACH Ariane OPW ' '
88 * RIJFF Anouk LBL 2h41'43" @02'00"
89 STOREY Dame Sarah PIS 2h42'00" @02'17"
90 * ARCHIBALD Katie PIS 2h42'03" @02'20"
91 * MANLY Alexandra OGE ' '
92 ROWSELL Joanna PIS 2h57'35" @17'52"
93 * ORTMÃœLLER Madeleine GER 2h57'36" @17'53"
POINTS
1 ARMITSTEAD Elizabeth DLT 15
2 BRENNAUER Lisa VEL 12
3 JOHANSSON Emma OGE 9
4 FRAPPORTI Simona ALE 7
5 D'HOORE Jolien WHT 6
6 TAGLIAFERRO Marta ALE 5
7 KNETEMANN Roxanne RBW 5
8 RIVERA Coryn UHC 4
9 JEULAND Pascale FUT 4
10 BARKER Elinor MAT 3
11 RYAN Alexis UHC 3
12 LEPESTÖ Lotta BCT 2
13 BIANNIC Aude FUT 1
MOUNTAINS
1 HALL Katie UHC 6
2 HOSKINS Melissa OGE 6
3 RIVERA Coryn UHC 5
4 KOSTER Anouska RBW 5
5 TAGLIAFERRO Marta ALE 4
6 JASINSKA Malgorzta ALE 4
7 LAWS Sharon BCT 4
8 BARKER Elinor MAT 3
9 TENNIGLO Moniek RBW 2
10 ARCHIBALD Katie PIS 2
11 GUARNIER Megan DLT 1
TEAMS
1 UnitedHealthcare Professional Cycling 7h59'39" 00″
2 Orica AIS 7h59'39" ' '
3 Ale Cipollini 7h59'39" ' '
4 Rabo Liv Womens Cycling Team 7h59'39" ' '
5 Boels Dolmans Cycling Team 7h59'39" ' '
6 Poitou-Charentes.Futuroscope.86 7h59'39" ' '
7 Velocio SRAM 7h59'39" ' '
8 Bigla Pro Cycling Team 7h59'39" ' '
9 Matrix Fitness 7h59'39" ' '
10 Team Liv Plantur 7h59'39" ' '
11 Lotto Soudal Ladies 7h59'39" ' '
12 Wiggle Honda 7h59'39" ' '
13 USA 7h59'39" ' '
14 Germany 7h59'39" ' '
15 Optum p/b Kelly Benefit Strategies 7h59'39" ' '
16 Pearl Izumi Sports Tours International 7h59'39" ' '
Send your results as well as club, team & event news here
---
Other Results on VeloUK (including reports containing results)

---
Other News on VeloUK