The 2016 Giro d'Italia starts in the Netherlands on Friday – Here's a guide to stages and riders plus what the stars are saying
Giro d'Italia – Starts May 6 (Friday)
The Stars Speak …
Marcel Kittel
---
Vincenzo Nibali: "I struggled a bit at the Giro del Trentino, where I was recovering from my previous race, Liège-Bastogne-Liège. I've prepared for the Giro d'Italia as best I could. Looking back at the past two years, the most improved young rider has been Mikel Landa. He's one of my main rivals for this Giro, and there are also good young riders in Tom Dumoulin and Esteban Chaves.
There will undoubtedly be surprises along the race route too, so concentration will be key. The first big day will be the time trial in Chianti, with very fast downhill sections and changes of rhythm uphill. The stage to Arezzo includes some sections of dirt road and will be very hard too. The Chianti time trial could favour me over Landa, who is a rider we know very well.
Time trialling has always been a weakness fo rhim, although he's a great climber and he'll be the man to beat in the mountains. He descends well, although he isn't a real specialist. However, we can't focus on him alone when there are riders like [Alejandro] Valverde and Dumoulin in the race."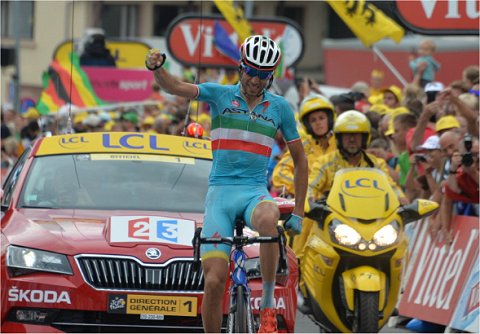 Mikel Landa: "I resumed racing only a little while ago so I don't think I peaked too early at the Giro del Trentino. I believe I can still improve. It's not a problem to have a sprinter in the team(Elia Viviani) because, if he wins, he can create a good feeling in the team, and it will keep us concetrated in the sprint stages, so I think it'll play in my favour. It's a great opportunity for me to lead Team Sky at the Giro d'Italia d'Italia, after a spell riding with Vincenzo Nibali at Astana. He's very strong, uphill as much as downhill. He's got real power and he'll be hard to beat."
Tom Dumoulin: "The big start in the Netherlands, with the opening time trial, is one of the reasons I wanted to ride the Giro. I didn't go to altitude for a pre-race training camp, which is necessary these days if you want to target the overall classification in a Grand Tour. The main goal of my season is the time trial at the Olympic Games in Rio, so at the Giro d'Italia I'll be targetting the time trials on Day 1 and Day 9.
The mountain time trial should suit me too. I think that I'm a bit more relaxed than I was last year when the Tour de France had it Dtuch start in Utrecht. I've learnt from experience. On Friday I believe my biggest rivals will be Fabian Cancellara, Jos van Emden and Vassil Kiryienka. At Tirreno-Adriatico Cancellara won the final time trial in a time that I'll probably never be able to match so if he's in the same form now, he'll be very hard to beat".
Rigoberto Uran: "I've been riding as a pro for ten years. I've kept great memories of my previous participations to the Giro. Like every year, I'm motivated and I'm here to win. I believe the decision will come in the third week in the mountains.
We have a pretty young team in which I feel good and you'll see, the revelation of the Giro will be Davide Formolo! We're six Colombians racing [with Esteban Chaves, Carlos Betancur, Sebastian Henao, Darwin Atapuma and Daniel Martinez]. It'll make a lot to talk about but it's a pity there's no more Colombian team participating and operating in Europe. We've lost that".
Jean-Christophe Péraud: "The two key words for me here are pleasure and sporting goals. I've ridden the Vuelta and finished second in the Tour de France, and I wanted to discover the Giro d'Italia because I know cycling has a huge following in Italy. I had good sensations at the Giro del Trentino. I'm not here only to take part but also to perform. The team has two captains (the other is Domenico Pozzovivo). I'm aiming for a top 10 spot and if I can do better, I won't hold back. Your last season of racing is different. There's less tension and I want to profit from every moment".
André Greipel: "I foresee six or seven opportunities for sprint finishes and I'll take every chance I get to try and win a stage, as I have in every Giro I've taken part in. There are nine or ten top sprinters here, with a new generation coming through.
Caleb Ewan has already won a stage at the Vuelta a España, and I got to know Jakub Mareczko at the Tour of Turkey last week. It'll be a different story for him at the Giro but those two young sprinters have a bright future. I've had my worst Spring ever since I became a bike rider. Now my condition is OK. I won a stage in Turkey. Now I just need luck to stay off the ground".
Cancellera – not well before the race but one of the favourites for the opening prologue
THE STAGES
3.463,1 km Total Route
164,9 km each day average
3 individual time trial
7 stages for sprinters
7 medium mountain stages
4 high mountain stages
KEY STAGES
Stage 6 – Summit Finish (2nd cat)
Stage 10 – Summit Finish (3rd cat)
Stage 15 – Mountain time trial (1st cat)
Stage 16 – Summit Finish(ish)
Stage 19 – Summit Finish (1st cat)
Stage 20 – Summit Finish (3rd cat)
THE ROUTE
1 May 6 Apeldoorn 9.8 km 6 miles Time trial
2 May 7 Arnhem – Nijmegen 190 km 118 miles
3 May 8 Nijmegen – Arnhem 189 km 117 miles
May 9 travel day
4 May 10 Catanzaro – Praia a Mare 191 km 119 miles
5 May 11 Praia a Mare – Benevento 233 km 145 miles
6 May 12 Ponte – Roccaraso 165 km 103 miles
7 May 13 Sulmona – Foligno 210 km 130 miles
8 May 14 Foligno – Arezzo 169 km 105 miles
9 May 15 40.4 km 25 miles time trial
May 16 Rest day
10 May 17 Campi Bisenzio – Sestola 216 km 134 miles
11 May 18 Modena – Asolo 212 km 132 miles
12 May 19 Noale – Bibione 168 km 104 miles
13 May 20 Palmanova – Cividale del Friuli 161 km 100 miles
14 May 21 Alpago Farra) – Corvara Alta Badia) 210 km 130 miles
15 May 22 Alpe di Siusi 10.8 km 7 miles time trial
May 23 Rest day
16 May 24 Bressanone/Brixen – Andalo 133 km 83 miles
17 May 25 Molveno – Cassano d'Adda 196 km 122 miles
18 May 26 Muggio Switzerland – Pinerolo 234 km 145 miles
19 May 27 Pinerolo – Risoul France 161 km 100 miles
20 May 28 Guillestre France – Sant'Anna di Vinadio 134 km 83 miles
21 May 29 Cuneo – Torino 150 km 93 miles
… (… continued after advert)
START SHEET
1 POZZOVIVO Domenico ITA ALM
2 BONNAFOND Guillaume FRA ALM
3 DOMONT Axel FRA ALM
4 DUPONT Hubert FRA ALM
5 GRETSCH Patrick GER ALM
6 HOULE Hugo CAN ALM
7 KADRI Blel FRA ALM
8 MONTAGUTI Matteo ITA ALM
9 PERAUD Jean Christophe FRA ALM
11 NIBALI Vincenzo ITA Astana
12 AGNOLI Valerio ITA Astana
13 CAPECCHI Eros ITA Astana
14 FUGLSANG Jakob DEN Astana
15 KANGERT Tanel EST Astana
16 KOZHATAYEV Bakhtiyar G KAZ Astana
17 MALACARNE Davide ITA Astana
18 SCARPONI Michele ITA Astana
19 ZEITS Andrey KAZ Astana
21 PIRAZZI Stefano ITA BAR
22 ANDREETTA Simone G ITA BAR
23 SIMION Paolo G ITA BAR
24 BOEM Nicola ITA BAR
25 BONGIORNO Francesco Manuel ITA BAR
26 CICCONE Giulio G ITA BAR
27 COLBRELLI Sonny ITA BAR
28 MAESTRI Mirco G ITA BAR
29 RUFFONI Nicola ITA BAR
31 SENNI Manuel G ITA BMC
32 ATAPUMA Darwin COL BMC
33 DE MARCHI Alessandro ITA BMC
34 DILLIER Silvan SUI BMC
35 KUNG Stefan G SUI BMC
36 OSS Daniel ITA BMC
37 QUINZIATO Manuel ITA BMC
39 ZABEL Rick G GER BMC
41 URAN URAN Rigoberto COL CPT
42 CARDOSO Andre Fernando S POR CPT
43 CLARKE Simon AUS CPT
44 DOMBROWSKI Joseph Lloyd G USA CPT
45 FORMOLO Davide G ITA CPT
46 MOSER Moreno ITA CPT
47 NAVARDAUSKAS Ramunas LTU CPT
48 BETTIOL Alberto G ITA CPT
49 BROWN Nathan G USA CPT
51 ANTON HERNANDEZ Igor ESP Dimension Data
52 FRAILE MATARRANZ Omar ESP Dimension Data
53 JIM Songezo RSA Dimension Data
54 KUDUS GHEBREMEDHIN Merha G ERI DDD
55 SBARAGLI Kristian ITA Dimension Data
56 SIUTSOU Kanstantsin BLR DDD
57 THOMSON Jay Robert RSA Dimension Data
58 VAN ZYL Johann G RSA Dimension Data
59 VENTER Jacobus RSA Dimension Data
61 KITTEL Marcel GER Etixx Quickstep
62 BRAMBILLA Gianluca ITA Etixx Quickstep
63 DE LA CRUZ David ESP EQS
64 JUNGELS Bob G LUX Etixx Quickstep
65 SABATINI Fabio ITA Etixx Quickstep
66 SERRY Pieter BEL Etixx Quickstep
67 TRENTIN Matteo ITA Etixx Quickstep
68 VERONA Carlos G ESP EQS
69 WISNIOWSKI Lukasz G POL Etixx Quickstep
71 DEMARE Arnaud G FRA FDJ
72 COURTEILLE Arnaud FRA FDJ
73 DELAGE Mickael FRA FDJ
74 FISCHER Murilo Antonio BRA FDJ
75 GENIEZ Alexandre FRA FDJ
76 KONOVALOVAS Ignatas LTU FDJ
77 LE GAC Olivier G FRA FDJ
78 SARREAU Marc G FRA FDJ
79 VAUGRENARD Benoit FRA FDJ
81 KOLOBNEV Alexandr RUS GAZ
82 RYBALKIN Aleksey G RUS GAZ
83 ERSHOV Artur RUS GAZ
84 FIRSANOV Sergey RUS GAZ
85 FOLIFOROV Alexander G RUS GAZ
86 OVECHKIN Artem RUS GAZ
87 SAVITSKIY Ivan G RUS GAZ
88 SEROV Alexander RUS GAZ
89 SOLOMENNIKOV Andrey RUS GAZ
91 HAUSSLER Heinrich AUS IAM
92 BRANDLE Matthias AUT IAM
93 HOWARD Leigh AUS IAM
94 KLUGE Roger GER IAM
95 PELUCCHI Matteo ITA IAM
96 DENIFL Stefan AUT IAM
97 WARBASSE Lawrence USA IAM
98 WYSS Marcel SUI IAM
99 LAENGEN Vegard Stake NOR IAM
100 ULISSI Diego ITA Lampre Merida
101 CONTI Valerio G ITA Lampre Merida
102 FERRARI Roberto ITA Lampre Merida
103 KOSHEVOY Ilia G BLR Lampre Merida
104 MODOLO Sacha ITA Lampre Merida
105 MOHORIC Matej G SLO Lampre Merida
106 MORI Manuele ITA Lampre Merida
107 NIEMIEC Przemyslaw POL Lampre Merida
109 PETILLI Simone G ITA Lampre Merida
111 WELLENS Tim G BEL Lotto Soudal
112 BAK Lars Ytting DEN Lotto Soudal
113 DE BIE Sean G BEL Lotto Soudal
114 GREIPEL André GER Lotto Soudal
115 HANSEN Adam AUS Lotto Soudal
116 LIGTHART Pim NED Lotto Soudal
117 MONFORT Maxime BEL Lotto Soudal
118 ROELANDTS Jurgen BEL Lotto Soudal
119 VANENDERT Jelle BEL Lotto Soudal
121 VALVERDE Alejandro ESP Movistar
122 AMADOR Andrey CRC Movistar
123 BETANCUR Carlos A. COL Movistar
124 HERRADA LOPEZ José ESP Movistar
125 MORENO Javier ESP Movistar
126 ROJAS GIL Jose Joaquin ESP Movistar
127 SUTHERLAND Rory AUS Movistar
128 SÃœTTERLIN Jasha G GER Movistar
129 VISCONTI Giovanni ITA Movistar
131 CUNEGO Damiano ITA NIP
132 BERLATO Giacomo G ITA NIP
133 BISOLTI Alessandro ITA NIP
134 BOLE Grega SLO NIP
135 STACCHIOTTI Riccardo G ITA NIP
136 FILOSI Iuri G ITA NIP
137 GROSU Eduard Michael G ROU NIP
138 YAMAMOTO Genki G JPN NIP
139 ZILIOLI Gianfranco ITA NIP
141 CHAVES Esteban COL Orica GreenEdge
142 BEWLEY Sam NZL Orica GreenEdge
143 EWAN Caleb G AUS Orica GreenEdge
144 HEPBURN Michael G AUS Orica GreenEdge
145 HOWSON Damien G AUS Orica GreenEdge
146 MEZGEC Luka SLO Orica GreenEdge
147 PLAZA MOLINA Ruben ESP Orica GreenEdge
148 TUFT Svein CAN Orica GreenEdge
149 TXURRUKA Amets ESP Orica GreenEdge
151 DUMOULIN Tom NED Giant Alpecin
152 ARNDT Nikias G GER Giant Alpecin
153 DE BACKER Bert BEL Giant Alpecin
154 HAGA Chad USA Giant Alpecin
155 JI Cheng CHN Giant Alpecin
156 LUDVIGSSON Tobias G SWE Giant Alpecin
157 PREIDLER Georg AUT Giant Alpecin
158 STAMSNIJDER Tom NED Giant Alpecin
159 TIMMER Albert NED Giant Alpecin
161 ZAKARIN Ilnur RUS Katusha
162 BELKOV Maxim RUS Katusha
163 KOCHETKOV Pavel RUS Katusha
164 KUZNETSOV Viacheslav RUS Katusha
165 VOROBYEV Anton RUS Katusha
166 PORSEV Alexander RUS Katusha
167 SILIN Egor RUS Katusha
168 TAARAMAE Rein EST Katusha
169 TCATEVITCH Alexey RUS Katusha
171 KRUIJSWIJK Steven NED TLJ
172 BATTAGLIN Enrico ITA TLJ
173 HOFLAND Moreno G NED TLJ
174 CASTELIJNS Twan NED TLJ
175 KEIZER Martijn NED TLJ 15.
176 ROGLIC Primoz SLO TLJ
177 TANKINK Bram NED TLJ
178 TJALLINGII Maarten NED TLJ
179 VAN EMDEN Jos NED TLJ
181 LANDA Mikel ESP SKY
182 BOSWELL Ian G USA SKY
183 DEIGNAN Philip IRL SKY
184 HENAO Sebastian G COL SKY
185 NIEVE Mikel ESP SKY
186 KNEES Christian GER
187 LOPEZ GARCIA David ESP
188 ROCHE Nicholas IRL SKY
189 VIVIANI Elia ITA SKY
191 MAJKA Rafal POL TNK
192 BOARO Manuele ITA TNK
193 BRUTT Pavel RUS TNK
194 HERNANDEZ Jesus ESP
195 MCCARTHY Jay G AUS TNK
196 POLJANSKI Pawel POL TNK
197 ROVNY Ivan RUS TNK
198 PETROV Evgeny RUS TNK
199 TOSATTO Matteo ITA TNK
201 HESJEDAL Ryder CAN TFS
202 ALAFACI Eugenio ITA TFS
203 BOBRIDGE Jack AUS TFS
204 CANCELLARA Fabian SUI TFS
205 COLEDAN Marco ITA TFS
206 DIDIER Laurent LUX TFS
207 NIZZOLO Giacomo ITA TFS
208 VAN POPPEL Boy NED TFS
209 ZOIDL Riccardo AUT TFS
211 POZZATO Filippo ITA STH
212 AMEZQUETA Julen G ESP STH
213 BELLETTI Manuel ITA STH
214 BERTAZZO Liam G ITA STH
215 BUSATO Matteo ITA STH
216 RODRIGUEZ Cristian G ESP STH
217 MARECZKO Jakub G ITA STH
218 MARTINEZ Daniel G COL STH
219 ZHUPA Eugert ALB STH
Send your results as well as club, team & event news here
---
Other Results on VeloUK (including reports containing results)

---
Other News on VeloUK