Britain's Matt Gittings finished a fine fifth in the European Derny Championships in Hannover last weekend
Report: European Derny Championships
(Photos: Christian Passenheim)
Germany's Achim Burkart won the European Derny Championships in Hannover at the weekend as Britain's Matt Gittings finished a fine fifth in a 40km final run off at a ferocious pace.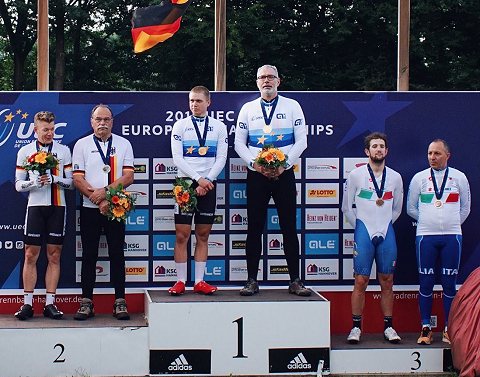 The 25-year-old Burkart was a silver medallist behind Denmark's Jesper Morkov in 2014, but with experienced pacer Christian Ertel, went one better to take the victory from compatriot Christoph Schweizer (Christian Dippel).
"It's great to win the title in Germany, I was really motivated," said the RSV Oberhausen team rider. Italy's Riccardo Minali, paced by Cordiano Dagnoni, emerged as the biggest threat to Burkart, but the Astana rider faded in the closing stages and had to settle for bronze. The nine-up final, over 120 laps of the outdoor wooden track, started fast, with a succession of sub 19-second laps seeing all but four of the field distanced.
Gittings, paced by Hannover local Carsten Strassmann, hung on to the back of the eventual medallists as a group of four pulled well clear of the rest of the field by quarter distance. The two-time national derny champion, who is now based out of Indianapolis in the USA, dropped back off the medal positions, but was still in a comfortable fourth place when the race was halted with 53 laps remaining because of a loose board on the racing line.
The restart saw Burkart and the leading trio go clear again. "We were travelling around 68kph," said the eventual winner. At that pace something had to give and it was Burkart himself who cracked first, losing the wheel and allowing Minali to take the lead. "I made a small mistake," he admitted.
Burkart overtaking Minali.
With Schweizer also distanced, it looked like dreams of a home victory in the final major meeting on the Hannover track before it is closed were over, but Burkart quickly recovered and reined in Minali.
The pair battled it out again until the Italian himself lost the wheel of his derny and quickly dropped over a lap behind, passed by Schweizer and others as his challenge faded. The third German, Justin Wolf, paced by Peter Bauerlein, rode strongly from the restart and overhauled and distanced Gittings to take fourth, the young Briton holding off a determined challenge by Czech Denis Rugovac (Ralph Schumacher) to seal his result. "I had set myself a realistic goal of top six, so obviously I'm delighted," he said.
Since Bradley Wiggins claimed the title at Newport in 2003, British riders have struggled to make any impression in the European Derny Championships, but last year reigning two-time national champion Olly Moors achieved a psychological breakthrough by taking sixth in a star-studded field in Copenhagen. Moors, paced by George Gilbert, had high hopes this time around, but after a hard season of road racing in Belgium, could not respond to the early moves and was classified eighth. "I just had an off day," he admitted.
He will be defending his national title at Lea Valley next month (Sunday September 17) in what promises to be a closely-fought domestic battle.
Matt Gittings
Send your results as well as club, team & event news here
---
Other Results on VeloUK (including reports containing results)

---
Other News on VeloUK