Lars Boom showed he's ready to win the Tour of Britain again after winning the Time Trial in Clacton
Tour of Britain: Stage 5 TT
Lars Boom took the lead of the Tour of Britain with the stage win in the stage 5 16-kilometre individual time trial.
The Dutchman, who won two stages and the overall of the race in 2011, averaged over 51kph to head home teammate and European Time Trial Champion Victor Campenaerts by six seconds, with former World Time Trial Champion Vasil Kiryienka a further second in arrears.
Boom now leads overall by eight-seconds from his teammate, with Kiryienka another second behind. Twelve riders lie within 30-seconds of the race lead, include Team Sky's Welsh duo Geraint Thomas and Owain Doull, the former of whom is now the Best British rider overall in ninth place.
Afterwards Boom was pleased with his victory, highlighting the quality of the top 10, all of whom had World, European or National Time Trial championships to their name.
"I know, I always go out hard," commented Boom on his fast start that saw him lead through all of the time checks, "So I knew already in my mind that if it's headwind in the last few kilometres I'm going to drop some seconds, but in the end I could keep it on 45, 48 [kph], so it was quite OK and my team director was telling me that at one-kilometre out I was still 10 seconds faster, so I knew it was OK."
"The week before we came to Britain I had some illness and so I was looking a little bit funny for the shape, but the feeling now was pretty good on the TT bike."
"There's a really strong field here, that's why I'm also really pleased with the win. We have to make a plan for the next few days. We need to see because it can be difficult with only six riders in the team, so it makes the racing also a little bit more difficult, but that's quite nice about this race. And 20-seconds is not much so we have to look… I don't know yet."
The 31-year-old was very happy. "This time trial confirms my good form of recent weeks", the Dutch rider alluded to his victory in the BinckBank Tour. "Tonight we can have a beer. I've been discussing that with Dylan Groenewegen for a few days now."
Second was Boom's teammate, European champion, Victor Campenaerts
There are still a number of difficult stages to come. For Boom, winning the GC is the goal. "The focus is on defending the leadership jersey until Cardiff, coming Sunday. But I'm not afraid to keep working for Dylan."
Orica Scott's Luke Durbridge was the early leader, overtaking Harry Tanfield's early pace setting time, before 2015 World Time Trial Champion Kiryienka went quicker with a time that home favourites Thomas and Alex Dowsett couldn't match.
Team Lotto NL Jumbo then took the lead with Campenaerts, before Boom usurped him going eighth from last, threatening to go under the 19-minute mark, finishing on 19.02". The Dutch team now hold three of the top five positions on General Classification, with Jos Van Emden fifth having scored the same position on the stage.
There was no change in the other classifications, with Elia Viviani holding the Points Jersey, Graham Briggs the Sprints jersey and Jacob Scott the King of the Mountains jersey.
Geraint Thomas, leading Brit in 8th place in the time trial
No sprints today so Graham Briggs still leads – good luck on Friday Brigga!
16th for Edvald Boasson Hagen
Jacob Scott too didn't have to worry and KoM points in the TT and he still leads
Alex Dowsett had said it was going to be a class field and a top 10 a challenge, he was 9th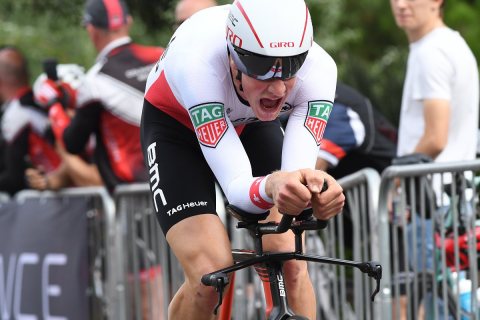 4th for Stefan Kung
6th for World Champion Tony Martin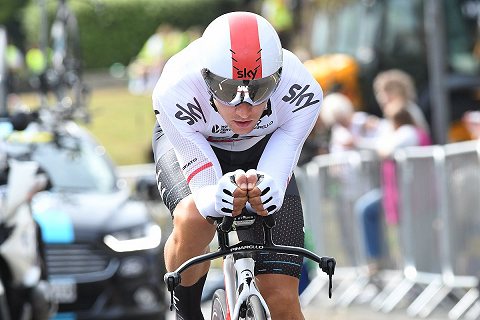 7th for Michal Kwiatkowski
5th for Van Emden, giving his team three riders in the top five.
Third for former world champion Vasil Kiriyienka
Points jersey for Viviani 
Stage 5 Time Trial
1 BOOM Lars TLJ NED 19'02"
2 CAMPENAERTS Victor TLJ BEL 19'08″53 06″
3 KIRYIENKA Vasil SKY BLR 19'09″72 07″
4 KÜNG Stefan BMC SUI 19'10″36 08″
5 VAN EMDEN Jos TLJ NED 19'13″35 11″
6 MARTIN Tony KAT GER 19'14″97 12″
7 KWIATKOWSKI Michal SKY POL 19'19″09 17″
8 THOMAS Geraint SKY GBR 19'19″83
9 DOWSETT Alex MOV GBR 19'23″18 21″
10 DURBRIDGE Luke ORS AUS 19'23″79
11 *MULLEN Ryan CDT IRL 19'27″16 25″
12 ROGLIC Primoz TLJ SLO 19'27″65
13 DOULL Owain SKY GBR 19'28″21 26″
14 *TANFIELD Harry BIK GBR 19'28″36
15 HEPBURN Michael ORS AUS 19'31″65 29″
16 BOASSON HAGEN Edvald DDD NOR 19'32″74 30″
17 BIALOBLOCKI Marcin CCC POL 19'34″40 32″
18 VAN BAARLE Dylan CDT NED 19'42″35 40″
19 ROSSKOPF Joseph BMC USA 19'43″13 41″
20 *SCHMIDT Mads Würtz KAT DEN 19'43″42
21 CASTROVIEJO Jonathan MOV ESP 19'43″88
22 *POLITT Nils KAT GER 19'45″30 43″
23 IZAGIRRE Gorka MOV ESP 19'48″86 46″
24 GULLEN James JLT GBR 19'50″02 48″
25 *GEOGHEGAN HART Tao SKY GBR 19'50″97
26 TRATNIK Jan CCC SLO 19'51″40 49″
27 BEVIN Patrick CDT NZL 19'54″03 52″
28 *DE PLUS Laurens QST BEL 19'55″71 53″
29 DILLIER Silvan BMC SUI 19'59″38 57″
30 KLUGE Roger ORS GER 20'02″47 01'00"
31 GRADEK Kamil ONE POL 20'02″48
32 ERVITI Imanol MOV ESP 20'02″60
33 VAN HOECKE Gijs TLJ BEL 20'04″33 01'02"
34 HOLLENSTEIN Reto KAT SUI 20'04″74
35 HERMANS Ben BMC BEL 20'09″55 01'07"
36 ORAM James ONE NZL 20'11″74 01'09"
37 MACHADO Tiago KAT POR 20'12″55 01'10"
38 KRISTOFF Alexander KAT NOR 20'12″97
39 *MCCORMICK Hayden ONE NZL 20'14″64 01'12"
40 *CARTHY Hugh CDT GBR 20'15″42 01'13"
41 SUTHERLAND Rory MOV AUS 20'21″04 01'19"
42 MEURISSE Xandro WGG BEL 20'21″10
43 *SWIFT Connor MGT GBR 20'22″75 01'20"
44 DOMAGALSKI Karol ONE POL 20'23″04 01'21"
45 MARTIN Daniel QST IRL 20'25″02 01'23"
46 VIVIANI Elia SKY ITA 20'25″43
47 OWSIAN Lukasz CCC POL 20'27″64 01'25"
48 RICHEZE Ariel Maximiliano QST ARG 20'28″58 01'26"
49 SIEBERG Marcel LTS GER 20'28″85
50 *SHAW James LTS GBR 20'30″08 01'28"
51 *LAWLESS Christopher GBR GBR 20'30″29
52 *LEYSEN Senne LTS BEL 20'31″20 01'29"
53 BENNATI Daniele MOV ITA 20'31″55
54 *STEWART Mark SKT GBR 20'32″72 01'30"
55 GILBERT Philippe QST BEL 20'33″80 01'31"
56 SMITH Dion WGG NZL 20'34″36 01'32"
57 PATERSKI Maciej CCC POL 20'37″53 01'35"
58 KOCH Jonas CCC GER 20'38″99 01'36"
59 *HAYTER Ethan GBR GBR 20'39″66 01'37"
60 *WOOD Oliver GBR GBR 20'44″33 01'42"
61 CAVENDISH Mark DDD GBR 20'44″36
62 *GOUGH Regan SKT NZL 20'44″36
63 GERTS Floris BMC NED 20'48″14 01'46"
64 STYBAR Zdenek QST CZE 20'49″74 01'47"
65 THOMPSON Jay DDD RSA 20'50″76 01'48"
66 HOLMES Matthew MGT GBR 20'54″11 01'52"
67 FORMOLO Davide CDT ITA 20'54″82
68 TONELLI Alessandro BAR ITA 20'55″53 01'53"
69 *POWER Robert ORS AUS 20'57″94 01'55"
70 GUNMAN Taylor MGT NZL 20'59″50 01'57"
71 DOWNING Russell JLT GBR 21'04″12 02'02"
72 JONES Brenton JLT AUS 21'04″17
73 *KNOX James GBR GBR 21'10″88 02'08"
74 MEZGEC Luka ORS SLO 21'15″41 02'13"
75 WILLIAMS Peter ONE GBR 21'17″36 02'15"
76 BIBBY Ian JLT GBR 21'17″72
77 *GAVIRIA Fernando QST COL 21'18″06 02'16"
78 RENSHAW Mark DDD AUS 21'19″65 02'17"
79 BRIGGS Graham JLT GBR 21'21″16 02'19"
80 GIBBONS Thomas WGG USA 21'27″05 02'25"
81 MCNALLY Mark WGG GBR 21'28″49 02'26"
82 SLATER Alistair JLT GBR 21'30″32 02'28"
83 PARTRIDGE Robert BIK GBR 21'30″99
84 BARBIN Enrico BAR ITA 21'31″19 02'29"
85 *WOUTERS Enzo LTS BEL 21'31″76
86 MAES Nikolas LTS BEL 21'33″35 02'31"
87 PASQUALON Andrea WGG ITA 21'33″84
88 MCEVOY Jonathan MGT GBR 21'35″64 02'33"
89 *HENNESSY Jacob GBR GBR 21'35″92
90 BOECKMANS Kris LTS BEL 21'37″41 02'35"
91 *SCOTT Jacob SKT GBR 21'39″53 02'37"
92 *ALBANESE Vincenzo BAR ITA 21'39″63
93 *TOWNSEND Rory BIK GBR 21'40″35 02'38"
94 *TEGGART Matthew SKT IRL 21'40″53
95 OPIE Chris BIK GBR 21'40″81
96 MARCOTTE Eric CPC USA 21'41″41 02'39"
97 HANDLEY Richard MGT GBR 21'43″34 02'41"
98 GARDIAS Dexter BIK GBR 21'47″15 02'45"
99 GROENEWEGEN Dylan TLJ NED 21'47″38
100 BLAIN Alexandre MGT FRA 21'49″20 02'47"
101 VON HOFF Steele ONE AUS 21'49″37
102 SHAW Damien SKT IRL 21'49″59
103 MURPHY Kyle CPC USA 21'51″33 02'49"
104 ANDREETTA Simone BAR ITA 21'52″22 02'50"
105 *MCKENNA Sean SKT IRL 21'55″15 02'53"
106 *HARTLEY Adam GBR GBR 21'55″60
107 *CICCONE Giulio BAR ITA 21'57″19 02'55"
108 DIAZ Andres CPC COL 22'09″30 03'07"
109 EISEL Bernhard DDD AUT 22'13″60 03'11"
110 *BANASZEK Alan CCC POL 22'40″08 03'38"
111 THWAITES Scott DDD GBR 22'58″15 03'56"
112 GARIBAY Orlando CPC MEX 22'58″95
113 *EWAN Caleb ORS AUS 22'59″15 03'57"
114 SIMION Paolo BAR ITA 23'06″96 04'04"
… continued after advert
Overall
1 BOOM Lars TLJ NED 17h57'25" 00″
2 CAMPENAERTS Victor TLJ BEL 17h57'33" 08″
3 KIRYIENKA Vasil SKY BLR 17h57'34" 09″
4 KÜNG Stefan BMC SUI 17h57'35" 10″
5 VAN EMDEN Jos TLJ NED 17h57'38" 13″
6 MARTIN Tony KAT GER 17h57'39" 14″
7 KWIATKOWSKI Michal SKY POL 17h57'44" 19″
8 BOASSON HAGEN Edvald DDD NOR
9 THOMAS Geraint SKY GBR
10 DOWSETT Alex MOV GBR 17h57'48" 23″
11 *MULLEN Ryan CDT IRL 17h57'52" 27″
12 ROGLIC Primoz TLJ SLO
13 DOULL Owain SKY GBR 17h57'53" 28″
14 HEPBURN Michael ORS AUS 17h57'56" 31″
15 VAN BAARLE Dylan CDT NED 17h58'07" 42″
16 ROSSKOPF Joseph BMC USA 17h58'08" 43″
17 *SCHMIDT Mads Würtz KAT DEN
18 CASTROVIEJO Jonathan MOV ESP
19 *POLITT Nils KAT GER 17h58'10" 45″
20 IZAGIRRE Gorka MOV ESP 17h58'13" 48″
21 BEVIN Patrick CDT NZL 17h58'19" 54″
22 DILLIER Silvan BMC SUI
23 *DE PLUS Laurens QST BEL 17h58'20" 55″
24 GRADEK Kamil ONE POL 17h58'22" 57″
25 ERVITI Imanol MOV ESP 17h58'27" 01'02"
26 VAN HOECKE Gijs TLJ BEL 17h58'29" 01'04"
27 HOLLENSTEIN Reto KAT SUI
28 KRISTOFF Alexander KAT NOR
29 VIVIANI Elia SKY ITA 17h58'30" 01'05"
30 ORAM James ONE NZL 17h58'36" 01'11"
31 MACHADO Tiago KAT POR 17h58'37" 01'12"
32 *MCCORMICK Hayden ONE NZL 17h58'39" 01'14"
33 *CARTHY Hugh CDT GBR 17h58'40" 01'15"
34 DOMAGALSKI Karol ONE POL 17h58'42" 01'17"
35 SUTHERLAND Rory MOV AUS 17h58'46" 01'21"
36 MEURISSE Xandro WGG BEL
37 MARTIN Daniel QST IRL 17h58'50" 01'25"
38 RICHEZE Ariel Maximiliano QST ARG 17h58'53" 01'28"
39 SIEBERG Marcel LTS GER
40 *SHAW James LTS GBR 17h58'55" 01'30"
41 *LAWLESS Christopher GBR GBR
42 BENNATI Daniele MOV ITA 17h58'56" 01'31"
43 *STEWART Mark SKT GBR 17h58'57" 01'32"
44 GILBERT Philippe QST BEL 17h58'58" 01'33"
45 SMITH Dion WGG NZL 17h58'59" 01'34"
46 PATERSKI Maciej CCC POL 17h59'02" 01'37"
47 GERTS Floris BMC NED 17h59'13" 01'48"
48 STYBAR Zdenek QST CZE 17h59'14" 01'49"
49 TONELLI Alessandro BAR ITA 17h59'20" 01'55"
50 *WOOD Oliver GBR GBR 17h59'24" 01'59"
51 *GAVIRIA Fernando QST COL 17h59'29" 02'04"
52 DOWNING Russell JLT GBR
53 JONES Brenton JLT AUS
54 *KNOX James GBR GBR 17h59'35" 02'10"
55 MEZGEC Luka ORS SLO 17h59'40" 02'15"
56 BARBIN Enrico BAR ITA 17h59'56" 02'31"
57 MAES Nikolas LTS BEL 17h59'58" 02'33"
58 PASQUALON Andrea WGG ITA
59 *TEGGART Matthew SKT IRL 18h00'05" 02'40"
60 HANDLEY Richard MGT GBR 18h00'07" 02'42"
61 GARDIAS Dexter BIK GBR 18h00'12" 02'47"
62 *CICCONE Giulio BAR ITA 18h00'22" 02'57"
63 OWSIAN Lukasz CCC POL 18h00'40" 03'15"
64 KLUGE Roger ORS GER 18h00'52" 03'27"
65 *GOUGH Regan SKT NZL 18h00'59" 03'34"
66 RENSHAW Mark DDD AUS 18h01'03" 03'38"
67 *EWAN Caleb ORS AUS 18h01'04" 03'39"
68 GULLEN James JLT GBR 18h01'10" 03'45"
69 TRATNIK Jan CCC SLO 18h01'11" 03'46"
70 HERMANS Ben BMC BEL 18h01'15" 03'50"
71 GROENEWEGEN Dylan TLJ NED 18h01'56" 04'31"
72 MARCOTTE Eric CPC USA
73 FORMOLO Davide CDT ITA 18h02'00" 04'35"
74 KOCH Jonas CCC GER
75 DURBRIDGE Luke ORS AUS 18h02'01" 04'36"
76 VON HOFF Steele ONE AUS 18h02'04" 04'39"
77 THOMPSON Jay DDD RSA 18h02'10" 04'45"
78 *TOWNSEND Rory BIK GBR 18h03'27" 06'02"
79 SLATER Alistair JLT GBR 18h04'39" 07'14"
80 *SWIFT Connor MGT GBR 18h05'13" 07'48"
81 *TANFIELD Harry BIK GBR 18h05'21" 07'56"
82 *LEYSEN Senne LTS BEL 18h05'22" 07'57"
83 THWAITES Scott DDD GBR 18h05'47" 08'22"
84 *ALBANESE Vincenzo BAR ITA 18h06'30" 09'05"
85 GUNMAN Taylor MGT NZL 18h06'55" 09'30"
86 BOECKMANS Kris LTS BEL 18h06'58" 09'33"
87 GIBBONS Thomas WGG USA 18h07'06" 09'41"
88 MCNALLY Mark WGG GBR 18h07'10" 09'45"
89 WILLIAMS Peter ONE GBR 18h07'13" 09'48"
90 *WOUTERS Enzo LTS BEL 18h07'27" 10'02"
91 MCEVOY Jonathan MGT GBR 18h07'31" 10'06"
92 BLAIN Alexandre MGT FRA 18h07'42" 10'17"
93 CAVENDISH Mark DDD GBR 18h07'44" 10'19"
94 SHAW Damien SKT IRL 18h07'45" 10'20"
95 *MCKENNA Sean SKT IRL 18h07'51" 10'26"
96 DIAZ Andres CPC COL 18h08'05" 10'40"
97 *HAYTER Ethan GBR GBR 18h08'20" 10'55"
98 SIMION Paolo BAR ITA 18h08'45" 11'20"
99 MURPHY Kyle CPC USA 18h08'47" 11'22"
100 *HENNESSY Jacob GBR GBR 18h09'34" 12'09"
101 *SCOTT Jacob SKT GBR 18h10'27" 13'02"
102 ANDREETTA Simone BAR ITA 18h10'46" 13'21"
103 *GEOGHEGAN HART Tao SKY GBR 18h10'50" 13'25"
104 BIBBY Ian JLT GBR 18h11'54" 14'29"
105 *POWER Robert ORS AUS 18h11'56" 14'31"
106 BIALOBLOCKI Marcin CCC POL 18h13'02" 15'37"
107 EISEL Bernhard DDD AUT
108 *BANASZEK Alan CCC POL 18h13'03" 15'38"
109 HOLMES Matthew MGT GBR 18h13'16" 15'51"
110 PARTRIDGE Robert BIK GBR 18h14'42" 17'17"
111 OPIE Chris BIK GBR 18h16'10" 18'45"
112 GARIBAY Orlando CPC MEX 18h16'26" 19'01"
113 *HARTLEY Adam GBR GBR 18h17'23" 19'58"
114 BRIGGS Graham JLT GBR 18h29'06" 31'41"
… continued after advert
Best of British
Stage
1 THOMAS Geraint SKY GBR 19'19″83 00″
2 DOWSETT Alex MOV GBR 19'23″18 04″
3 DOULL Owain SKY GBR 19'28″21 09″
4 TANFIELD Harry BIK GBR 19'28″36
5 GULLEN James JLT GBR 19'50″02 31″
6 GEOGHEGAN HART Tao SKY GBR 19'50″97
7 CARTHY Hugh CDT GBR 20'15″42 56″
8 SWIFT Connor MGT GBR 20'22″75 01'03"
9 SHAW James LTS GBR 20'30″08 01'11"
10 LAWLESS Christopher GBR GBR 20'30″29
11 STEWART Mark SKT GBR 20'32″72 01'13"
12 HAYTER Ethan GBR GBR 20'39″66 01'20"
13 WOOD Oliver GBR GBR 20'44″33 01'25"
14 CAVENDISH Mark DDD GBR 20'44″36
15 HOLMES Matthew MGT GBR 20'54″11 01'35"
16 DOWNING Russell JLT GBR 21'04″12 01'45"
17 KNOX James GBR GBR 21'10″88 01'51"
18 WILLIAMS Peter ONE GBR 21'17″36 01'58"
19 BIBBY Ian JLT GBR 21'17″72
20 BRIGGS Graham JLT GBR 21'21″16 02'02"
21 MCNALLY Mark WGG GBR 21'28″49 02'09"
22 SLATER Alistair JLT GBR 21'30″32 02'11"
23 PARTRIDGE Robert BIK GBR 21'30″99
24 MCEVOY Jonathan MGT GBR 21'35″64 02'16"
25 HENNESSY Jacob GBR GBR 21'35″92
26 SCOTT Jacob SKT GBR 21'39″53 02'20"
27 TOWNSEND Rory BIK GBR 21'40″35 02'21"
28 OPIE Chris BIK GBR 21'40″81
29 HANDLEY Richard MGT GBR 21'43″34 02'24"
30 GARDIAS Dexter BIK GBR 21'47″15 02'28"
31 HARTLEY Adam GBR GBR 21'55″60 02'36"
32 THWAITES Scott DDD GBR 22'58″15 03'39"
Overall
1 THOMAS Geraint SKY GBR 17h57'44" 00″
2 DOWSETT Alex MOV GBR 17h57'48" 04″
3 DOULL Owain SKY GBR 17h57'53" 09″
4 CARTHY Hugh CDT GBR 17h58'40" 56″
5 SHAW James LTS GBR 17h58'55" 01'11"
6 LAWLESS Christopher GBR GBR 17h58'55"
7 STEWART Mark SKT GBR 17h58'57" 01'13"
8 WOOD Oliver GBR GBR 17h59'24" 01'40"
9 DOWNING Russell JLT GBR 17h59'29" 01'45"
10 KNOX James GBR GBR 17h59'35" 01'51"
11 HANDLEY Richard MGT GBR 18h00'07" 02'23"
12 GARDIAS Dexter BIK GBR 18h00'12" 02'28"
13 GULLEN James JLT GBR 18h01'10" 03'26"
14 TOWNSEND Rory BIK GBR 18h03'27" 05'43"
15 SLATER Alistair JLT GBR 18h04'39" 06'55"
16 SWIFT Connor MGT GBR 18h05'13" 07'29"
17 TANFIELD Harry BIK GBR 18h05'21" 07'37"
18 THWAITES Scott DDD GBR 18h05'47" 08'03"
19 MCNALLY Mark WGG GBR 18h07'10" 09'26"
20 WILLIAMS Peter ONE GBR 18h07'13" 09'29"
21 MCEVOY Jonathan MGT GBR 18h07'31" 09'47"
22 CAVENDISH Mark DDD GBR 18h07'44" 10'00"
23 HAYTER Ethan GBR GBR 18h08'20" 10'36"
24 HENNESSY Jacob GBR GBR 18h09'34" 11'50"
25 SCOTT Jacob SKT GBR 18h10'27" 12'43"
26 GEOGHEGAN HART Tao SKY GBR 18h10'50" 13'06"
27 BIBBY Ian JLT GBR 18h11'54" 14'10"
28 HOLMES Matthew MGT GBR 18h13'16" 15'32"
29 PARTRIDGE Robert BIK GBR 18h14'42" 16'58"
30 OPIE Chris BIK GBR 18h16'10" 18'26"
31 HARTLEY Adam GBR GBR 18h17'23" 19'39"
32 BRIGGS Graham JLT GBR 18h29'06" 31'22"
Send your results as well as club, team & event news here
---
Other Results on VeloUK (including reports containing results)

---
Other News on VeloUK