Good day out for Hargroves Ridley Montezuma's at the Wessex Cyclo-Cross League last weekend
Team News: Hargroves Ridley Montezuma's
Wessex CX League Round 5 Reading | Team Press Release
Despite the promise of weather unusually warm for October, the day started as a classic autumnal day with that tricky choice of tyres and the usual tyre pressure chat being heard in huddled groups of riders and parents.
The Junior and Vet 40 race got off to a storming start with Callum McCloed (Pedal On), Dan Guest (Cotswold Veldrijdren) and Barney Clacy (Hargroves Ridley Montezuma's) speeding ahead to strong lead, this leading group was hotly chased by Hargroves riders of Crispin Doyle, Will Cooper, Harry Dridge, Fletcher Adams and Joel Hawkins, the demanding course continued to take its toil and as the race went on with positions changing initially with Crispin and Harry trying to latch on to Will Cooper who despite a poor start was chasing hard to get on to the leading three. The leading three stayed away and Barney Clacy took an excellent 3rd overall and second Junior. Will Cooper came in 6th Overall, Crispin Doyle 10th, Harry Dridge 12th, Joel Hawkins 22nd and an ill Fletcher Adams 29th.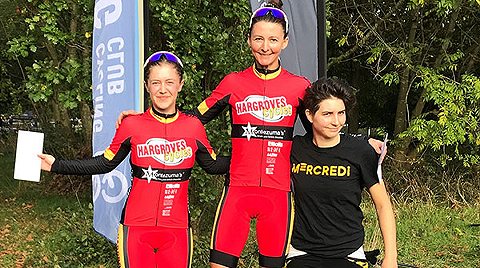 Women/Vet Women/Junior Women: With a strong contingent of Hargroves Ridley Montezuma's riders racing today, it was always going to be a battle royal! Straight out of the start the "red army" charged into strong positions where the climb and descents were always going to be a significant feature in the outcome of the race.
Graham Robbins description perfectly describes: Helen Pattinson (Hargroves Ridley Montezuma's) followed up last week's podium at the Derby National Trophy race won the combined women's race but she was closely followed by a quartet of team mates. In the early stages of the race junior Abbie Manley led team mates Amy Perryman and sister Kara whilst Pattinson was waiting her time. Riding well within the Hargroves Ridley Montezuma's train was Alderney Baker (Team Empella) along with visiting rider Clare Ross (Brixton CC) who caught everyone out by winning the senior race.
The course parcour meant there were many gaps throughout the race and with three different groups there were limited opportunity to see riders racing together. Helen Pattinson 1st overall, Abbie Manley 2rd overall and 1st Junior, Amy Perryman 5th overall and 3rd Junior, Kara Perryman 7th overall and 3rd Senior Women, Katie Scott 8th overall and 4th Junior, both Kara and Katie are both on the comeback trail and provided great racing. Charlotte Sampson rounded off the Senior women at 21st.
Senior Men: In a race that was on Pedal On home ground, it was always going to be a challenge to manage the large group of senior men and in a fast and drying course the continued attacks was always going to be difficult, the senior race was a hot race both in speed and temperature! The heat and finally arrived and the senior race was an attack fest at all levels, wherever there were groups of riders there was an attack! Despite some valiant racing Charlie Cooper finished 12th and James Cotty finished 29th .
Send your results as well as club, team & event news here
---
Other Results on VeloUK (including reports containing results)

---
Other News on VeloUK