Former team manager at Team GB and owner of bike shops, we talk to race organiser and Three Peaks competitor, Dave Mellor about the discipline of CX
Feature: Dave Mellor Talks Cross
Prior to the weekend racing at National Trophy Shrewsbury, I spoke to Dave Mellor who owns two cycles shops in Shrewsbury and also competes in cyclo-cross as well as having two sons, Ewan and Luke who have both competed at the sharp end of cross racing.
This was my first visit to a cross race this year so curious about whether riders should have one or two bikes for a race, I asked the question to which Dave explained that until that point of the season we spoke, he'd been able to race on the one bike and so having one really good bike was a good choice for new riders. Knowing how the weather could change though, he adding they should also try and cobble a back up providing they have a pit crew to keep both clean during a race!
The next question was Gravel Bikes versus Cross bikes? To this Dave replied "I was contemplating riding my Specialized Diverge gravel bike in the Three Peaks but when it came down to it, the weight of my cross bike swung it in favour of the cross bike. The Gravel bike scene is really good and my Diverge is my go to bike because we tour on it, go on Sunday club runs on it and use it on gravel."
"But there still are cyclo-cross ones to consider. Lower down the range, it probably doesn't matter as much but for the purists, my gravel bike has mounts for panniers and mud guards and practical things like that whereas the cross bike has none of that and has the geometry for racing on".
Dave's son Ewan was riding a smart looking Genesis CX bike with Di2 and disc brakes for the National Trophy
Race Rubber
Tyre choice is becoming more and more complicated. In my day it was tubulars only, then clinchers became lighter and worthy of racing on but now there are also tubeless clinchers! So I asked Dave – for 'cross, is it tubulars or clinchers?
"Top end has to be tubulars at the moment" he says "but I have been running tubeless on all of my bikes. I ran tubeless in Three Peaks on some file tread Specialized tyres and had no punctures. I've had no hassle at all with tubeless. I think all the problems have gone with them and lots and lots of bikes from Giant this year, even hybrids, have had tubeless tyres already on them."
And tyre pressures, I asked? "That tends to be down to the rider" Dave replied. "Some riders stick to a regular pressure but once you're at a level in the sport, you start to notice the difference in changing tyre pressures depending on the conditions and can choose the one best for you".
Another area on cross bikes that is changing, is the switch from double chain-rings to single? Asked where he thought the trend was going, Dave replied "For Ewan, we have gone double and I've got a double chain ring but that's because my bike is a few years old now. The youngsters are going for single chain rings now and that seems to be the way forward."
The single chain ring very popular now in CX
We then moved onto special clothing for cross and Dave, almost jealously so, spoke about one item he'd like. "There are some nifty zip off leg warmers I love and the kids have and I don't! You don't have to take your shoes off, just a unzip and they're off".
Next question, what about canti brakes I asked? I saw they were still in use on bikes in the National Trophy and Dave has them on his but he doesn't seem to be a fan saying that at the end of the Three Peaks his hands were hurting from holding on to the levers all race. "I lost so much time not having confidence in my brakes where as on the Diverage (disc based bike) you know you are going to stop; they're fantastic".
And changing disc brake pads I asked? Is that something consumers can do themselves? "It is a simple thing to do" he replied. "Get the manual out first though – it normally involves undoing a clip or screw. Maybe ease the piston back into the calliper if the pads are down to the metal and put the new pads in."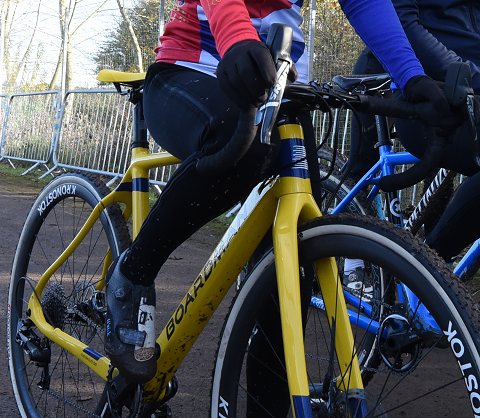 The leggings with a zip the whole way up to make for quick removal before the whistle is blown to go!
Maintenance
The sport of cyclo-cross is one where riders expect their bikes to get muddy which is hard on equipment. So when it comes to bike maintenance, Dave says "as long as you are looking after it, cleaning the chain and stuff like that, you are probably not going to get too many problems."
"When we've done a race and go home, the bikes have been jet washed so much so we get the wheels out and check the hubs and the frame. The sealed bearings soon seize up and so will need replacing from time to time because they are sealed units and you can't do a lot with them. The key is to check hubs, bottom brackets and headsets after the racing and well before you leave for the next one!"
Mechanical versus Electronic Groupsets?
"We put Di2 on Ewan's bike so there's no problem with braking as its hydraulic disc brakes and no problem with the gears as there are no cables binding and the changes are bang on all the time. It may seem extravagant but it does really work and it would be the way I would go even though I don't have it on any of my bikes but the kids do!!"
Finally, as well as an owner of a bike shop or two, Dave is also out there with his club at skills sessions for young and not so young riders. So what would be the key skills for a new cross rider to learn?
The answer was the getting on and off the bike. "Mounting and dismounting and keeping the speed going is one of the key things. Last night (Tuesday) we had a group of under 12s running, dismounting and getting back on the bike and clipping in quickly, keeping the speed going and learning the basic stuff. If you think how many times you have to get on and off in a cross race, you could be a minute clear if you do it well…"
Above: British champion Ian Field shows his way of getting off the bike
Above: British champion Ian Field showing his way of getting back on the bike
Which begged the question, what type of pedals does he use for all this getting on and off bikes? "Never had a problem with the Shimano XT or XTR" he replied.
Others skills he says include getting up those little pesky grassy banks on a cx course explaining "riders soon realise you just can't ride up them but have to be a bit punchy up it".
Anyone who has watched even high level racing like the Euros will see what he means when so many riders 'stall' on these little mini bergs, having to unclip (put a foot down) and losing time to those who have the skill nailed.
Our thanks to Dave for taking time out of his day working on the course for the National Trophy and sharing his experience from the bike shop and the cyclo-cross races…

Send your results as well as club, team & event news here
---
Other Results on VeloUK (including reports containing results)

---
Other News on VeloUK