VeloUK's visits VanillaBikes in Carnforth in Lancashire to see some high performance cycling kit in the flesh
Feature: VanillaBikes – In shop or Online
Where: 9-11 New Street, Carnforth, Lancashire, LA5 9BU | Website: vanillabikes.com/
The name VanillaBikes has long been established in the sport of cycling and it wasn't that long ago the brand was seen in bike races up and down the country in their unique looking black and white kit. They have for a long time been supporters of VeloUK and helping us serve the sport and I was looking forward to seeing their shop which was established two years ago.
Well worth a visit!
So, a few weeks ago I did just that and popped up the M6 to Carnforth and was pleasantly surprised to find not only was it easy and quick getting to the shop from the M6 but also found a car park a few minutes walk from the shop. Perfect!
When I came inside the shop to meet with Tracy and Paolo, I looked around and saw the high performance kit all well presented, nicely spread out and it was the type of kit that was well worth the visit. Very bling and the type many cyclists would want on their bikes for that special feel good factor.
The VanillaBikes business began online in 2009 on a part time basis and was the realisation of a long journey in the sport for Kevin Hodgson who's passion for the sport began many years ago at school. There, he went to school with Fred Whitton's son Paul. If the name Fred Whitton is familiar, it's because of a popular sportive named in honour of Fred who was a great advocate for cycle sport in Cumbria and North Lancashire who sadly died in the 90s of cancer aged 50.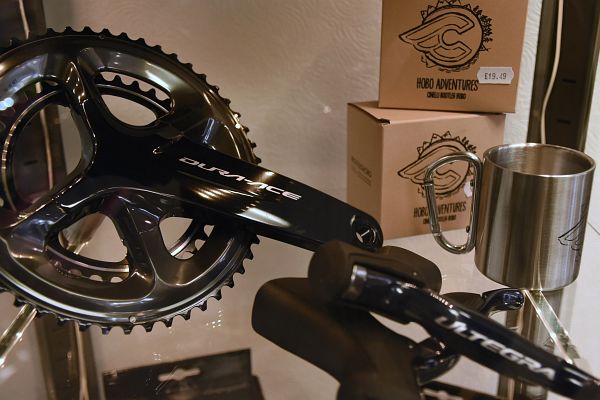 DuraAce or Ultegra – whats your choice as VanillaBikes have both!
So, while Greg Lemond was winning the Tour de France, Kevin was out on his first few club runs with Paul and Fred Whitton and got started in racing and riding his bike. During that time, Kevin made lots of friends in the sport and even though work took over his life, he stayed in touch with cycling.
A move to Lancaster saw him join a well known club, the Lune, and there he met Ben Greenwood and father Brian and when Kevin had his team many years later, Ben would race with the brand VanillaBikes on his kit.
With a mantra of offering good customer service and advice, the online business flourished and then two years ago, the local bike shop was established showcasing the same high end kit that was on the shop's website. Customers could now visit the local bike shop and see and touch the equipment that for many always remains a picture on a computer screen and lacks the buzz you get seeing and feeling quality kit in a local bike shop.
VanillaBikes in Carnforth gives customers that chance to see the kit, get a good appreciation of whether it is what they are looking for and also get advice from those in the shop who know what it is like to race a bike. The shop is also looking to move up a gear or three in 2018 with bikes in the shop from Kuota and Lapierre as well as the Dedacciai frames.
The all black Lapierre retails as well at £6999 and is the Aircode SL 900 Ultimate featuring a full Shimano Dura Ace Di2 groupset, Mavic Cosmic Pro Carbon Sl C Wheels, Zipp aero handlebars and is a bike to go fast on.
Kevin also explained they will have a workshop too where custom bikes can be built for customers, and other bikes cleaned and/or serviced as well. All the sort of things that an online merchant can't do unless they have a bike shop which VanillaBikes does which enhances their online service beyond what others can offer.
And whilst the look and feel is high performance, the type of customer that cater for is much more of a cross section of the cycling community. With Kevin and Tracy still finding time to get out on café rides with all types of cyclists, it is a great opportunity to keep the finger on the pulse, to see what is trending and of course, enjoying their passion for cycling to the max.
Asked why he feels the business has done so well, Kevin simply replies "if you give good service, people will come back" and this is a philosophy covers the shop in Carnforth as well as the already well established online service.
Chatting to Kevin about trends in what customers are buying these days, he explained that electronic group sets are popular as riders upgrade their bikes and Shimano Di2 and SRAM eTap are the leading sellers. Kevin added they prefer to sell what they trust because they want the customer experience from day one to be a good one. So when it comes to wheels, they do good business with the Campagnolo Bora's as used by the JLT Condor Team in Britain for instance.
Pumps, tools and lots more on the walls of the shop at Carnforth (Lancashire)
"We sell as many Campagnolo Bora's with a Shimano freehub as Campagnolo free hub and they are pretty well bomb proof" Kevin explained. He went on to add that in 2018, they will also be looking to broaden their wheel range.
Another trend is for riders getting disc brake groupsets and wheels and Kevin explained how whilst they do a lot of performance kit which is light weight and fast, they also know there is a demand for more robust kit that will be durable and they do that too.
And speaking of durable, when it comes to rubber on the road, Kevin says that Continental tend to be the biggest seller and tyres like the tried and test GP4000 are great for all year use whether it's training or racing. Another part of the business that is growing are women's specific items like clothing and saddles for instance.
The business of keeping cyclists happy is what VanillaBikes is about, providing service and advice as well as the opportunity for cyclists to move away from their computers or phones and see the best kit in the business up close and personal whether it's something as simple as nutrition products, tyres, brake blocks, cleaning products and pumps to high spec items like groupsets, power meters, wheels and more.
The photos hopefully give a little idea of how special the shop looks and it is well recommended for a visit, not just because it's a great bike shop but a great area as well too and one worth spending some time in either on or off the bike.
Thanks to Kevin, Tracy and Palo for the opportunity to explore the shop… I look forward to a return visit asap!
The blue & white Lapierre retails at £6999 and is the XELIUS SL 900 PINOT Ultimate featuring the latest Shimano Dura Ace Di2 groupset, Mavic Ksyrium Pro Carbon SL C 25 UST wheels, Zipp finishing kit topped with a Fizik carbon saddle a quality off the peg build with not a weak link in the specification. Super light, a climbers dream bike.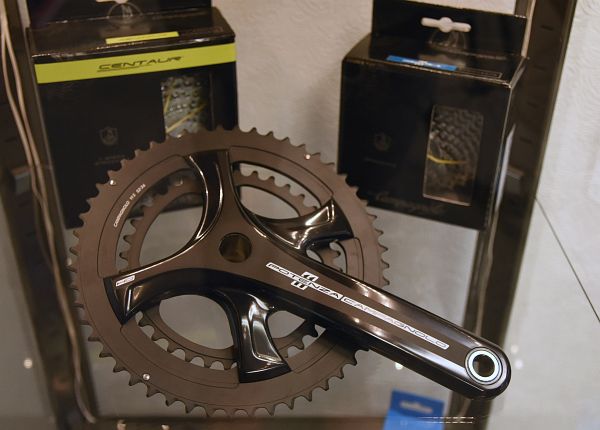 Campagnolo on show for customers too at VanillaBikes
Gadgets! Powerpod (power meter)  or Garmin ….
Handlebar tap with pictures of the team in action from years gone by on the walls
With the gritty conditions now in Winter, you may need to pop in for some of this …
Everything is very well presented!
Brake blocks … a must have spare!
Where: 9-11 New Street, Carnforth, Lancashire, LA5 9BU | Website: vanillabikes.com/

---
Cycle Division's New Shop
---
Send your results as well as club, team & event news here
---
Other Results on VeloUK (including reports containing results)

---
Other News on VeloUK