We got in touch with one of our sponsors, Velotech Services in Stratford upon Ave, distributor for Rotor & C-Bear products in the UK for a quick Q&A
Q & A: Velotech Services (Rotor UK)
Websites: Velotech Services | Rotor UK
Q: How have sales been during the lockdown and the subsequent months?
Velotech: Sales picked up in early March 2020 and have been strong right through the lockdown period.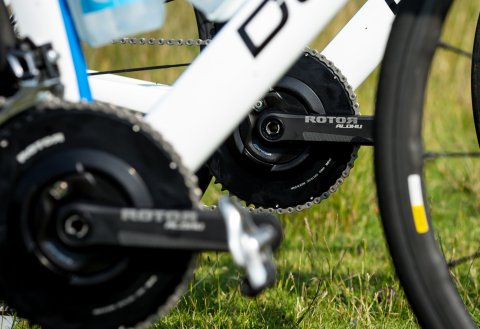 Q: How have supplies been effected?
Velotech: Both our major brands are European – ROTOR & C-Bear – so the supply chain wasn't difficult to maintain. Rotor had a factory closure of a week but managed the lockdown well. We had pretty much most of what we have ordered since May from both suppliers. We are Agents for USA brand Parlee who saw high demand for bikes through March /April but the state of Massachusetts forced factories to lockdown for six weeks so they are playing catch up now.
Q:What have been the most popular products during this period?
Velotech: Our Rotor Inspider power cranks have been in high demand reflecting the increase in indoor training. C-Bear Bottom bracket sales lifted significantly which matches the demand for serviceable bikes coming out of the shed.
Q: How is the focus on Qrings now?
Velotech: Rotor consider themselves a drivetrain supplier of which the rings are a part of and so design everything with Q rings also in mind. MTB sales are predominantly Qrings but on the road, its pretty even with all products being made in Qrings and NoQ (normal).
Q: Any new products released during lockdown?
Velotech: The lockdown caused many shows to be cancelled so we didn't get chance to launch the Time Trial version of the 1×12/13 groupset. So Trigger shift is in stock which patches into the hydraulic rear mech and can be an upgrade to any rider wanting to go to a single chainring set up.
Q: Last time we spoke you guys were very actively promoting the MTB offering from ROTOR; how is that going?
Velotech: Yes, we have drilled down the offering to Carbon or Alloy Arms which are modular and can be bought with Oval or Round 'Narrow wide' rings. It's all modular and can be put together with our new inspider power meter. The MTB Trigger shifters and rear mech are active and selling so it's an exciting time and certainly lifting our MTB/Road ratio.
Q: C-Bear ceramics are pushing quite a high profile out there, how has that been affected?
Velotech: C-Bear is a success story really through the quality and price. Bike/Crank specific housings makes it easy to choose and install and when it's a great match, it helps with longevity and performance. A new range of Larger Original Cage maximum (OCM) Jockey wheels have also been very successful as well.
Q: What have the staff at Velotech missed in the last few months?
Velotech: I think we all miss the racing and the Rotor Race Team collective we have. The team days out at events were great fun with good times. At least a number of us got to race the Volcano 4 days MTB race in Lanzorote before lockdown. It's all been a bit sad for the racing community since then.
Q: We posted some items from you about the your sponsorship of the Welsh Cycling Academy riders. How is that going?
Velotech: Its early days yet but this depends on end users to choose ROTOR for their next power crank and we will donate AT LEAST £70 of each sale to the Academy. The whole academy need to move forward with a power product that's dependable and modular across the academy disciplines. Cranks and power spiders can be swapped across riders between bikes. It's a 2 year deal and gives the public a chance to provide support while also getting half price Chainrings, and free fitting from one of the welsh Acadamy partner stores. Link: https://rotoruk.co.uk/p1.asp?cat=1085
Q: Thanks for the chat; where can we follow you?
Velotech: You can follow us at: Facebook: Velotechservices  | C-bear  | Rotor Bike Components
& Instagram: velotech_uk | @cbearcycling & @rotorbike |
---
Cycle Division's Shop
---
Send your results as well as club, team & event news here
---
Other Results on VeloUK (including reports containing results)

---
Other News on VeloUK