On Friday, Scotland's John Archibald will line up with Eolo Kometa at the Vuelta a Asturias – we chat about his racing so far in the pro peloton after a year of time trials in 2020
Feature: John Archibald (Eolo Kometa)
This time last year, Scotland's John Archibald was racing for Ribble Weldtite and facing a year of time trials with no road racing allowed on mainland UK. Then, Sean Yates from ProConti team Eolo Kometa got in touch with John who this year has already been thrust into the pro peloton in WorldTour events.
John in the breakaway on stage 2 of Tirreno – Adriatico.  Photo: PhotoGomezSport
We chatted about how he has found the transition from domestic time trials to full on WorldTour stage racing of the highest order.
John explained how, since his Italian Block of racing, he has been back in the UK supporting his partner Emily Meakin, who's dad sadly lost his fight with cancer (our condolences to Emily). John was also using the time with Emily to be put through the ringer by his team coach with his training and be prepared and ready for his next block of racing.
"It has been quite an intense block of two weeks that the coach has given me leading up to the Vuelta Asturius in Spain" John explained. "The other guys as well have had a block of racing and training so everyone has been pretty fully on and I don't think any of the team have had a break yet".
After such a long period away from road racing, how did John find it back in the peloton? "There were a lot of riders in the peloton who were nervous" John explained. "I did the Clasica de Almeria race at the end of February and it was very, very nervous, not just from my point of view but the whole peloton seemed to be on edge. There were a lot of crashes on straight roads which you wouldn't expect and lots of fighting and jostling which kind of calmed down in the races that I did later on."
Getting that first race out of the way was nice says John as it allowed him to see what these races he is now riding were going to be like speed wise. "When people talk about race speed, there are things you don't usually do in training, like every roundabout you do or every junction in a race, having to accelerate out of it and then chase attacks and follow moves. It's those high spike efforts in training you don't really repeat as often as you do in a race."
"That many minutes above 600 or 700 watts is not often something you do in training so it's getting that back in the legs and getting familiar with it all." To help him get used to that level of racing, John has had nine days of racing with Eolo Kometa in 2021, seven days in a WorldTour classic stage race, Tirreno – Adriatico, and the other two in 1.Pro level one day races.
The racing was certainly a step up from Prems in the UK. "In the British racing scene, I was more active and able to produce an effort at the back end of a race or be in a position to win the race with a similar type of output I'm having to do in the races this year. In these (WorldTour) races though, you're just trying to fight for position and giving it everything you have got but you don't get the same result as here."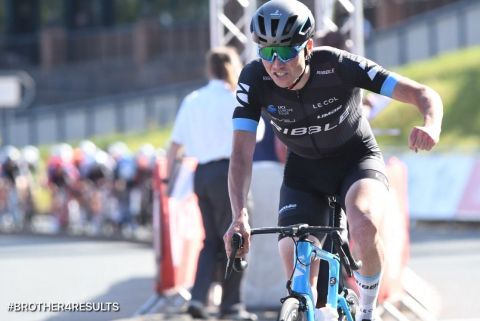 "Another difference is the race length. In the week long stage race Tirreno- Adriatico, there were two days over five hours and that's different to here. So it is different to the UK racing, has a different style to it and you are learning and picking up things along the way."
In 2020, John's racing consisted of short time trials and during the winter that followed, his training was done on a turbo mainly. Was he able to prepare for such demanding events he has now?
"The way I approached training was about the outright kilojoule expenditure. So you have the power meters telling you your watts per second and you're working out the energy requirements for the races that you are going to do, and generally, if you are going to train your aerobic engine as such to be able to work more efficiently at burning fat per kilo, you should be able to last longer. And also being conservative with your efforts in the race and not be doing anything daft".
"Generally, the fitter you are, the longer you will last. You don't necessarily need to be out doing enormous long rides. I did do some four, five & six hours rides but when it's a short condensed period on the turbo over Christmas, you just go 'well, it's only a four week block, let's just get it done'."
"Then, when I got the chance to go to Spain and get some training in there and longer hours on the bike, it helped prepare me for the racing. If you're really looking to condition yourself for that sort of racing, a whole season of it will be the best training and that is where the experience of someone who has been a WorldTour pro for a few years kind of shows."
"They get to not just the back end of a race in good condition, but the back end of six or seven stages of racing, and are still able to be conservative with their energy in the right places whilst also able to put out those repeated attacks and efforts and that is what separates everyone I guess. That 'race hardening' effort is really what you need."
John then explained his training for 2021 has been quite different to that in 2020 when the racing was so much different. "I think I am still learning the process really. For the time trials, what you are looking at is wanting to arrive fresh on the day and put out a one all-time best effort where as in these roads races, you are looking to show up and be able to resist the fatigue for the stage race and still have energy in your legs in the last few days of the race. Or, you want to arrive at a one day race and have the ability to work hard at the end of four or five hours so there is lot of fatigue riding where as from a TT perspective, you are showing up thinking I want to be fresh and have the legs absolutely pinging on the day to put out the best possible power I can do for 20 to 40 minutes or however long it is."
"In this scenario racing WorldTour, you know you are going to have to ride for four hours, attack, sprint, follow moves and then you have got to make your real moves in the finale, so it's a very different training process and something I am still kind of finding my feet with at the moment."
Before he was a winner of a Prem (Stockton GP) and made a name on the road as he had on the track, John came down to England from Scotland to learn the ropes of road racing at the British National A Level. Now he's having to do the same at WorldTour level.
"It is that exact same perspective when I did my first prem. You feel like you are dropped in at the deep end, totally out of your depth and looking at them thinking, I don't know how these guys are doing it. The first year I did the prems, I was chundering around in the main bunch and getting to the finish and the whole thing was a scary experience going so fast for so long. There was no way I could have gone with any moves, and then two years later I find out I can win the races!"
"So it's the same thing here. Dropped in for a WorldTour stage race (Tirreno) and you're sitting mid pack or at the back and thinking this is crazy. How am I going to feature in this race and I am holding out that with more experience and the perspective that with more racing in the legs, and finding my feet, maybe I'll have that turn of events where I am arriving at these races not just as a participant but someone who can do something useful."
An example of how John did get involved in a stage was on stage 2 of Tirreno-Adriatico. "I got in the break with around six others and my teammate Vincenzo Albanese who had the GPM jersey and so we were looking to get to the GPM point of the day still in the break and fight for that jersey but Bernal and the other GC riders had a different idea and caught us before the GPN so it was a long day out but a good experience."
How did John find the process of getting in the breakaway? "It can really vary getting into the break" John explains "Some days there was more of a fight than others. That particular day, I'd call it a medium fight to get in the break and the hardest bit is circulating in the top 20 or 30 riders."
"There are 175 riders in the peloton but only 20 or 30 of them want to get in that breakaway. So you are fighting that select group to get in there and the WorldTour teams are judge and jury on whether or not that they will allow a breakaway".
"So lots of breaks will form, but whether or not it is allowed to stick depends on who is in it. So you are fighting at the front, circulating though the group and if the first break you're in is brought back, you have to make sure you're still circulating in that top 20 or 30 so you don't miss the next one. And that is the hardest bit. Once the elastic snaps between you and the peloton, it's more of a case of them letting you go and not the case you are forcing the pace so hard, nobody can follow. So the hard bit is circulating in that top 20 or 30 as the pace is quick, really quick!"
One thing teams, especially UCI Conti ones, find hard is getting space on the road when they want to move up in a WorldTour race. John's team is a new one in 2021 at ProConti level after being a UCI Conti one in 2020, so I asked how he found moving around the peloton?
"I would say our team is well accepted but there are WorldTour riders, not teams in particular, but a crop of riders that I came across during the week and every time I wanted to go somewhere, I found they made my life difficult and that is an inevitable part of being in a ProConti team or not being well known."
"We did though have a sprint lead out on day one for example, and we were at the front with 10k to go which turns out was too early but we were at the front and allowed to be there, so we can be at the front but there are times when I'll try and move up and someone will make my life particularly difficult".
So is racing the WorldTour a new learning curve for him? "They are not new lessons to me" John replied. "It's the same old story of being in the right position, using your energy well, following the right wheels, doing the right things at the right time. The frustrating thing is you are aware of what needs to be done but not quite able to do anything about it at times so there are different levels of learning and understanding and I'm at that stage where I can see where things are going wrong, and sometimes I am able to fix it and sometimes I am not".
"At this level, it is definitely a step up, but there is no lesson I haven't already learnt. It's just seeing it on a bigger stage. For example, you get caught out of position in a certain section of a race and you get penalized for it more than you would at the races at home."
"Everyone here is as strong as each other and if they decide to line it out and there is a split somewhere, it doesn't matter who you are, like Ganna sitting last man, you're not bridging that gap all the way to the front again. You have to be in the right place and respond to these attacks."
Tirreno-Adriatico did have a time trial on day seven and with the nickname 'Chronoman', John was looking forward to it but it didn't go as well as he hoped. "Having looked at the course, it really suited me so I felt happy to give it everything I had. I just arrived there on day seven and could not produce the numbers I hoped to produce".
"Some of the top riders there like Wout van Aert, they were still putting out the kind of numbers they would put out if they were still fresh and I wasn't at that stage. I was totally on my knees and couldn't really compete so that was a hard lesson to learn. I came down the start ramp and immediately knew it wasn't in my legs. It wasn't as if I went out too hot and died or was too ambitious; from the ramp onwards, it was never there. Had I been fresh, I think that would have made a big difference".
Having been there and done it, John explained Sean Yates is very understanding and gets it that John doesn't have the experience and the depth of that racing behind him. But John is also aware it is a big chance he needs to take with both hands. "I am aware how privileged I am to have such a racing programme so regardless of not having that depth of fitness, I have to look at it knowing I am 30 years old, I am not going to get many chances at this so regardless of the lack of depth and experience, I know I have to make these opportunities count."
As mentioned early on, John has been training in the UK to get ready for his next racing which starts on Friday. He's been based in Staffordshire and says that has been really good for the training. He's had to learn the roads and where to do the efforts he needs to do but the weather has been really good and he's been able to ride a lot out doors. He's also ridden the TT bike a bit and says hopefully, it's been a productive few weeks. On the subject of the split between training on the TT bike to the Road bike, John explained "last year I spent a lot of time on the TT bike. Not as much Dan (Bigham) but last year it was like three or four times week and did my interval sessions on it where as this year, I have been focused on the road bike."
"It is only since I have been back from Italy, I have been riding the time trial bike two or three times a week but over the winter, it was once every two or three weeks. Now, I am doing more structured sessions on it and feeling more confident on it".
John had hoped to make his team for the Giro d'Italia but sadly for him, that didn't happen. "It's disappointing. I was in the fight but they have gone with other options" he told the Miln Gavie Herald. "It's been tough going, finding your feet in a new level of racing." John's last race was in Asturias last week. "That was seriously hilly," he gasped. "I knew going there there was no time trial, it was just three hilly stages and I would have a job to do for the team, getting in breakaways or helping GC riders. I knew it was going to be tough – for example stage two was over 200 kilometres, six hours of riding and 4,500 metres of climbing and it just went on and on, it was so hard".
Thanks to John for the chat and good luck this weekend for his next racing in the pro peloton… We wish John lots of luck and hope the racing in Italy has helped give him the depth he needs to get back in the mix of these races and at the sharp end.
---
---
Cycle Division's Shop
---
Send your results as well as club, team & event news here
---
Other Results on VeloUK (including reports containing results)

---
Other News on VeloUK