VeloUK asked Noze from Cycling Holiday Spain for seven reasons why you, the cycling fans, should go to his resort for your holiday – here is what Noze said…
7 Reasons for going to Cycling Holiday Spain
The Cycling Holiday Spain Website Here
1. Treat yourself to the luxury of a cycling resort: A reason for choosing Cycling Holiday Spain for a cycling holiday is the excellent accommodation. The resort is nestled in the mountains of the Costa Blanca near Calpe which is a mecca for pro cyclists and cycling enthusiasts. The CHS retreat offers a truly stunning cycling experience with incredible facilities and breathtaking views of the mighty Sierra Bernia and Mediterranean Sea.
Away from the busy roads where most hotels are located, at CHS you are right in the heart of all the major climbs in the area. Right out of the front door, you can access routes to the Col de Rates and famous Tudons and Aitana regular featured climbs in La Vuelta, the Spanish Grand Tour. The retreat itself has everything you could want in a cycling holiday. Beautiful accommodation and rooms. Wonderful food, awesome facilities and a spa zone second to none including commercial sized state of the art steam room and wood burning Finish sauna, jacuzzi and pool.
Then there's the fantastic 150m2 fully equipped gym, beautiful gardens with tennis and basketball at your finger tips and countless chill out zones. An outdoor cinema for viewing cycling videos or action films and other entertainment areas. The CHS retreat is unique. You will feel like you are in your own resort away from the crowds and lucky to be in such a peaceful and beautiful location with simply the best cycling about!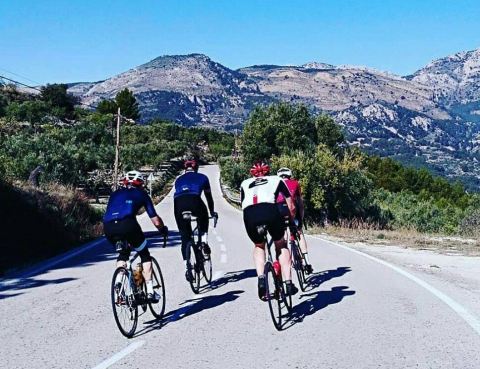 2. The riding and mountains. The cols of the Costa Blanca test the best during the hardest racing in cycling's La Vuelta Grand Tour. There are so many famous climbs here you will see every time you leave the retreat. Most of the climbs average around 6% and around are 6 to 12km in length which is just perfect for training sessions, touring and site seeing. Within a stones throw from the retreat, we can embark upon one of the loveliest rides in the area; Guadalest, an ancient moorish castle. There are too many epic routes to choose from to mention here but all have a few things in common. Little or no traffic, smooth perfect roads, incredible views, it just does not get any better. Compared to Majorca, there is so much more cycling here and the climbs here are just epic. You could spend two months in this region and not exhaust your route possibilities. Routes such as Tudons, Val d'Ebo Cumbre Del Sol, Col de rates are but a few but all have been ridden by every pro rider out there and all have been seen by millions watching their favourite pros attack on climbs during the Spanish Grand Tour time.
3. Daily massage and relaxation. At CHS, a daily massage is complimentary for all guests. What better way to finish a ride than to hop onto a massage table and relax the aching legs away! We also use hot stone therapy to get that deep down heat into the muscles and now we have air socks for those really looking to rejuvenate their legs ready for the days next ride!
4. Spa time at the retreat is a real reward after the days training. Commercial sized facilities give our retreat the winning edge. A full size 10 person state of the art steam room. A 15kw Finish wood burning sauna for real heat and jacuzzi and swimming pool add to the resort style vibe at the retreat. Rest days really are reset days at CHS!
5. Guided riding and support. We like to treat you like a pro here at CHS. Car support with video and photographs of your rides. On board nutrition to keep you fuelled and spares all give you the confidence and 5 star service only CHS deliver. Guided riding and route knowledge to keep your day ride trouble free and full of fun!
6. Food and nutrition. One of the most important parts of your stay is covered by us to the max here at CHS. We provide hearty breakfasts, post ride lunches and recovery shakes, three course meals and drinks. You will not go hungry here and indeed may go back slightly heavier but hey, it's all muscle! All food is cooked on site and organically sourced as much as possible. Health home cooked food and delicious deserts will keep your spirits high and your body happy!
7. Entertainment. BBQs, outdoor cinema, trips out, games room and lots more. You will have so much to do in your down time here at our retreat from simply relaxing by the pool or spa, or watching a blockbuster on the 5m wide outdoor cinema. There are plenty of fab things to do here!
So there you have it. Check out the testimonals page on the website to see how others viewed their stay at CHS – its popular so get ready for the best cycling holiday ever! The resort is open until next June …
---
---
Cycle Division's Shop
---
Send your results as well as club, team & event news here
---
Other Results on VeloUK (including reports containing results)

---
Other News on VeloUK