Tom Scully solos to a great victory in Ipswich as Team UK Youth are crowned Tour Series Champions 2013 after the most comprehensive victory since the series began
Photo Report
The BIG Photo Album – 286 pictures of the day in Ipswich
Team UK Youth wrapped up The Pearl Izumi Tour Series 2013 in style, winning the final round of the season for an incredible nine team wins from twelve races.
The team of 1992 Formula One World Champion Nigel Mansell, who raise awareness for the 102-year-old UK Youth charity, added victory in the final round to Team Time Trial success earlier in the day at a packed Ipswich venue.
As members of Team UK Youth including team boss Nigel Mansell hug and drown each other in champagne as the confetti fills the air, Jon Mould celebrates his first overall team win in the series, not the last if they continue to improve after eclipsing the team wins by Endura Racing (2012) in a series -9 in all!
Crowds lined the circuit throughout the day to see Team UK Youth and the other stars of the SweetSpot Group organised Pearl Izumi Tour Series, compete in three events, including the non-championships Suffolk – Most Active County – Sprint Challenge, won by Richard Lang.
Lang's Raleigh teammate Tom Scully once again soloed to victory in the final round of the season, making up for the bad luck in the Team Time Trial that saw Russell Hampton crash, dealing Raleigh's hopes of second overall a massive blow.
While Team UK Youth were undoubtedly the team of the series, a strong candidate for rider of the series (along with Ed Clancy, Chris Opie & others) was Tom Scully, winner of two rounds along with the IG Sprint's jersey. 
That crash meant UK Youth entered the final race of the season already confirmed as champions, and with Tobyn Horton, Yanto Barker and Ian Wilkinson all finishing in the top ten, it was enough for another team victory for the team in the red Pearl Izumi leaders' jerseys.
An initial four rider break, which grew to nine as Ed Clancy, Barker and Liam Holohan helped a move bridge the gap, looked set to contest the finish. Holohan had spent a lengthy period alone out front, but was reeled in with Scully then making his move.
The Scud, who ended the season in the IG Sprint Jersey and also took the evening's Costa Express Fastest Lap award, was once again in imperious form, lappping a large proportion of the field on the 1.2 kilometre Suffolk circuit.
Still sweating after having only just crossed the finishing line to win the final round of this year's Tour Series, Tom Scully said to Gordon Wiseman: "That's completed the first half of my season but I'm really happy with that."
"For the first few laps tonight I was just trying to pan out how the race was going to go. I was feeling good so I gave it a nudge and so I'm really happy to come away with the win. I got across to the break, thought I'd test them out to see how they were going. No one seemed interested so you've got to take these opportunities when you can so I rolled with it".
Commenting about his own performance over the whole of the Tour Series where he took two race wins and won the Series long IG Sprints jersey: "I'm pretty happy with my first Tour Series. It's 11 rounds, a long series. But I'll come back for more for sure".
Winner of the Sprints on the night was Kristian House
As well as the race win, overall IG Sprints win, Tom Scully also had the fastest lap of the night!
The day began with a Team Challenge where teams that haven't had the best of series showed how quick they can be like IG Sigma Sport who were fourth, their highest team result of the series whilst Node 4-Giordana (below) were in the hot seat right up until UK Youth added to their long list of team wins in the series.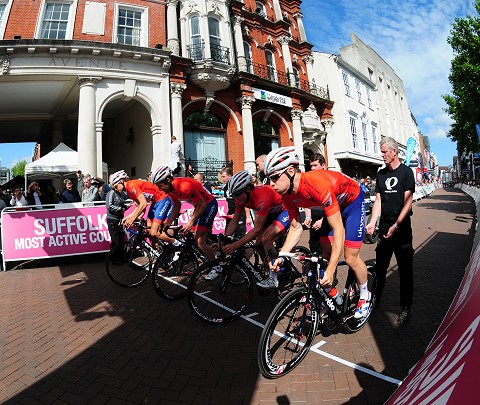 Team UK Youth started the day in winning form in the two lap Team Time Trial.
And so the tale of woe continued… Team Raleigh have to sit up in the TTT to wait for Russell Hampton who crashed but was okay to continue. With the team's time taken on the fifth rider, they had no choice but to wait and finish last in the event. This dropped them to fourth in the team rankings from second.
The final crit of the series
As the mayor watches, the riders head into the sun for the start of the final race of the series and what a great race it was!
It didn't take long for a break to go clear and from that small group, Liam Holohan decided to go solo for a quite a few laps.
The rider with the most wins in the series since it began, Olympic Champion Ed Clancy, missed the first move but showed he had his legs back by crossing to the break with Yanto Barker and Tom Scully. He also suffered a nose bleed and is covered in blood. It didn't slow him down!
Nine laps from the end, Tom Scully attacked the break, lapped the peloton in front of him and carried on to another scintillating victory where for four of five laps, the chasers were holding him very close before the elastic broke and he carried on to win, adding to all the other wins he's had in 2013… a rider who deserves a pro contract in Europe.
One of the most experienced pros in cycling is Team UK Youth's Yanto Barker (above) who works closely with Nigel Mansell and manager Dave Povall and for him, the win was a very proud moment. Asked what it felt like being on the podium where like everyone, he was drowned in champagne, he replied with a big smile "warm and wet with all the champagne that has been flowing!"
"It feels amazing. Words that sum up our series are discipline and commitment to each other as well as leadership because Nigel is such a leader, such an inspiration."
We have all been inspired to achieve beyond what we've done before, each and everyone of us and I'm including management in that as well. What you see in the team is true professionalism. Everyone riding their bike should be aspiring to be and do what we have done. Like the values that Nigel applies to the team and his philosophy on how to succeed. It is achievable to anyone who is dedicated to working hard and the team is phenomenal."
"It is nice to see that true hard work does pay off".
Talking about the race, Yanto explained how his went saying "I have only missed one round and it caught up with me a bit tonight. I really had to stretch myself to get to the move when I went across with Ed (Clancy). I was taking big deep breathes into the corners and giving it everything."
"When we got there, the front group was going a bit slower than we had in the chase so we had a chance take a breath and while we knew we had the team win overall, we wanted to go out and apply ourselves in the same way we have in every single round and we won again tonight."
"I don't want to just keep doing this for the rest of the season; I want to keep doing this for next year and the year after… it's a real privilege to be part of."
When asked how felt to be part of a line-up that has dominated the series in a way no other team has in the history of the series, Yanto replied "extremely proud and that is something I personally will take with me. I don't know how many years I have left as a full time bike rider but I am riding better than ever with the support of the team and the infra-structure we have."
Finally, asked for a personal memory of the series, Yanto picked his win in Stoke. "I'd put myself into a good position by winning in Kirkcaldy by being in the break and being the strongest on the night. Stoke however was a bit of a surprise because I'm not a bunch sprinter but the way the boys rode, the win was more of a group effort and I finished it off."
"It was more of surprise to me as well. To beat Dean (Downing) who is some one I respect and seen win rounds and was second, it was phenomenal. When you look at the faces on the finish straight, I am so proud to have won that one!"
A young rider going places, Alex Peters (right) leads the chase for Scully along with Tobyn Horton (UK Youth), Dan Barry, Ed Clancy and Yanto Barker (UK Youth). Other members of the break, Mike Northey Liam Holohan &  Kristian House were dropped from the original break due to the chase for Tom Scully (Raleigh)
Tom Scully (Raleigh) celebrates a wonderful solo in the final round of the Tour Series organised by Sweetspot
Ed Clancy adds another podium finish to his great record in the Tour Series winning the sprint for second.
What does this Sweetspot run series mean to the teams and riders – a legend around the World in F1, Nigel Mansell, kisses the trophy after an emotional night for him and his team. First watching son Greg come so close to winning the Sprint Challenge and then watching as his team were crowned Tour Series champions – boss, Nigel Mansell.
"Everybody who is in this game knows how tough it is and we have been on the road a long time. Teams like Rapha Condor and Raleigh; and people like Ed Clancy who is an Olympic Gold medallist and Kristian House; and Tom Scully – what a ride he rode tonight – there is just an enormous amount of talent and great teams out there so to be able to win the series is just a tremendous success for the team and the boys."
Sweetspots Mick Bennett gatecrashes the Team UK Youth party and gives the win the thumbs up.
Manager Dave Povall 'drowns' Greg Mansell in champagne with the approval of  Greg's dad Nigel. Greg had just done the same to his dad!
The 'Sweetspot Crewe' who put on the best series yet and showed them to be the best organisation at putting on bike races in the country.
Suffolk – Most Active County – Sprint Challenge
A new and exciting extra event, not counting to the overall in the series, was the two lap sprint competition won by a tyre or so by Raleigh's Aussie Richard Lang from Greg Mansell (right) and James Williams.
In the final of the sprint challenge, this is how close the result was for the winners cheque… Richard Lang (Raleigh) just getting the better of Greg Mansell (UK Youth)
The Pearl Izumi Tour Series, Round Eleven Ipswich
Round Eleven Criterium Ipswich, Individual Result
1. Thomas Scully Team Raleigh
2. Edward Clancy MBE Rapha Condor JLT
3. Alex Peters Madison Genesis
4. Dan Barry Node4 – Giordana Racing
5. Tobyn Horton Team UK Youth (UCI Team)
6. Yanto Barker Team UK Youth (UCI Team)
7. Mike Northey Node4 – Giordana Racing
8. Liam Holohan Madison Genesis
9. Kristian House Rapha Condor JLT
10. Ian Wilkinson Team UK Youth (UCI Team)
11. Felix English Rapha Condor JLT
12. Roman Van Uden Node4 – Giordana Racing
13. Ian Bibby Madison Genesis
14. Lachlan Norris Team Raleigh
15. Dean Downing Madison Genesis
16. James McCallum Rapha Condor JLT
17. Samuel Witmitz Team Raleigh
18. Chris Opie Team UK Youth (UCI Team)
19. Matt Cronshaw Team IG – Sigma Sport
20. Tom Murray Metaltek – Knights of Old Raci…
Round Eleven Criterium, Ipswich, Team Result
1. Team UK Youth
2. Rapha Condor JLT
3. Node4 Giordana Racing
4. Madison Genesis
5. Team Raleigh
6. Team IG Sigma Sport
7. Metaltek – Knights of Old
8. MG Maxifuel
9. Team Hope Factory Racing
10. Spin Rotor – Primal – C-Originals
Round Eleven Team Time Trial, Ipswich, Team Result
1. Team UK Youth, 3:15.506
2. Node4 Giordana Racing, 3:16:908
3. Rapha Condor JLT, 3:17.802
4. Team IG Sigma Sport, 3:18.107
5. Madison Genesis, 3:18.467
6. MG Maxifuel, 3:22.175
7. Metaltek – Knights of Old, 3:22.780
8. Team Hope Factory Racing, 3:24.824
9. Spin Rotor – Primal – C-Originals, 3:27.119
10. Team Raleigh, 3:32.706
Final Team Standings, post-Round Eleven
1. Team UK Youth, 113pts
2. Madison Genesis, 89pts
3. Rapha Condor JLT, 89pts
4. Team Raleigh, 85pts
5. Node4 Giordana Racing, 84pts
6. Metaltek – Knights of Old, 65pts
7. MG Maxifuel, 50pts
8.Team IG Sigma Sport, 38pts
9. Team Hope Factory Racing, 32pts
10. Spin Rotor – Primal – C-Originals, 16pts
IG Sprints winner Round Eleven Ipswich: Kristian House, GBR, Rapha Condor JLT
Costa Express Fastest Lap Ipswich: Tom Scully, NZL, Team Raleigh, 1:34
Final IG Sprints standings, post-Round Eleven
1) Tom Scully, NZL, Team Raleigh, 93pts
2) Kristian House, GBR, Rapha Condor JLT, 66pts
3) Alexandre Blain, FRA, Team Raleigh, 37pts
Suffolk – Most Active County – Sprint Challenge
1) Richard Lang, AUS, Team Raleigh
2) Greg Mansell, GBR, Team UK Youth
3) James Williams, GBR, Spin Rotor – Primal – C-Originals
Live Photos (internet permitting)
As we do at all events we attend, photos will be uploaded live during the race and you can see them in the slideshow below. The latest photos will be at the end of the slideshow … thumbnails at the bottom if you want to speed up finding the latest images of the action!
Results
Coming …
Live Text Updates

The Pearl Izumi Tour Series takes place at the following dates & locations:
1 – Round One Tuesday 14th May Kirkcaldy, Fife
2 – Round Two Thursday 16th May Durham, County Durham
3 -Round Three Tuesday 21st May Stoke-on-Trent, Staffordshire
(includes women's Johnson Health Tech GP Series)
4 -Round Four Friday 24th May Aberystwyth, Ceredigion
5 -Round Five Tuesday 28th May Torquay, Devon
6 -Round Six Thursday 30th May Colchester, Essex
(includes women's Johnson Health Tech GP Series)
7 -Round Seven Tuesday 4th June Redditch, Worcestershire
(includes women's Johnson Health Tech GP Series)
8 -Round Eight Thursday 6th June Canary Wharf, London
9 -Round Nine Tuesday 11th June Woking, Surrey
(includes women's Johnson Health Tech GP Series)
10 – Round Ten Thursday 13th June Aylsham, Norfolk
(includes women's Johnson Health Tech GP Series)
11. Round Eleven Friday 14th June Ipswich, Suffolk


The Teams for 2013 doing all ten rounds are: (click for rider list)
— Rapha Condor JLT,
— Team UK Youth,
— Team Raleigh,
— NODE 4 Giordana Racing,
— MG – Maxifuel Pro Cycling,
— IG Sigma Sport,
— Metaltek – Knights of Old Racing Team,
— Team Hope Factory Racing,
— Madison Genesis,
— Spin Rotor – Primal – Coriginals
Note: each round will have a guest team or two. (click for rider list)
Past winners of this unique competition include Team Halfords Bikehut (2009), Motorpoint Marshalls Pasta (2010), Rapha Condor Sharp (2011) and Endura Racing (2012).
Related Link: A look back at the 2012 Tour Series here
---
Other Results on VeloUK (including reports containing results)

---
Other News on VeloUK