Orica-GreenEDGE announces its nine man Vuelta a España team including two Tour of Spain stage winners alongside two riders making their Grand Tour debut
"We've put together a dynamic team that will target stage wins in Spain," said Sport Director Neil Stephens. "Our objectives are very much like last year. Many of the stages suit our style of racing, and we're capable of doing very well here."
"In addition to our stage win goals, we have a couple of Australia's strongest riders racing with us in preparation for the World Championships in Florence," Stephens continued. "The World Championships circuit is a very difficult one, and we tend to think the preparation for Worlds will come out of the Vuelta. The riders have spoken to the national team selectors, and they've put their hand up to race with us in Spain to help them get ready for Worlds."
The nine riders who will zip up their skinsuits and pull on their time trial helmets in Vilanova de Arousa to kick-start their three week Tour of Spain include: Simon Gerrans, Simon Clarke, Michael Matthews, Leigh Howard, Mitch Docker, Baden Cooke, Christian Meier and Sam Bewley.
"Our objectives are very much like last year. Many of the stages suit our style of racing, and we're capable of doing very well here."
"This is a group that is capable of pulling off a stage win on a number of different days," noted Stephens. "We have guys for the sprints, guys for the punchy little uphill finishes, guys that can win from a break and guys eager to help out all three groups. We won one stage and the mountain classification jersey last year with Simon Clarke. We hope to leave our mark on the race again this year."
Fresh off two wins and two days in yellow at the Tour de France, Simon Gerrans is eager to stage hunt in Spain as part of his final preparations for the World Championships in late September. The Victorian is the second Australian to win stages of all three Grand Tours and has five Grand Tour stage wins to his name. Gerrans earmarks stages that suit his ability to survive lumpy days with hard finishes contested by a reduced bunch.
"Simon is a stand-out rider who has had two fantastic years with the team," said Stephens. "He finished off the Tour in great shape and is now doing a block of training at altitude in preparation for his final goals of the season, which include the Vuelta and the World Championships. I see several stages that suit Simon, and he will certainly look to win one of them."
Simon Clarke made his Grand Tour debut with ORICA-GreenEDGE at the Vuelta a España last year. Where other riders merely survive their first Grand Tour, Clarke thrived, earning a stage win and the polka dot jersey. It was a transforming experience for Clarke who has emerged as a leader within the Australian outfit. His improvement earned him a Tour de France debut this year.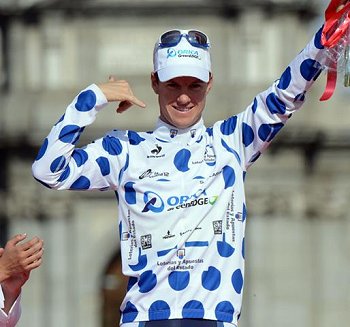 "Simon (above) came a long way in terms of development last year," said Stephens. "He furthered his progression at the Tour in July. Having won a stage and the mountain classification here last year, Simon obviously has some really good memories from his first Vuelta. Like Gerro, Clarkey is going for stage wins as he continues to mature into a leadership role within the team."
Beyond the opportunists, there is a core group of sprinters looking to leave their mark in the fast finishes. Leigh Howard and Michael Matthews have both won bunch kicks this year, and they've done so with crucial support from key lead-out men Mitch Docker and Baden Cooke.
Howard took early season wins at the Challenge Mallorca and recorded two additional podiums in the first half of the season. Forced to rethink his race schedule after crashing out of the Giro d'Italia in early May, Howard returned to racing in Poland last month and has enjoyed a steady return of form and speed in his build-up to the Spanish Grand Tour.
"Leigh was a major part of both of Jens Keukeleire's wins at Burgos last week," noted Stephens. "He's used both Poland and Burgos as a bit of a strength block and an opportunity to fine-tune his sprint. With Matthews, Leigh is part of our two-pronged approach to the sprints."
Matthews recently scored two stunning wins at the Tour of Utah, along with the points jersey. His victories came on the heels of five second place finishes sprinkled throughout the first seven months of the season. The Vuelta a España will be Matthews's first Grand Tour.
"Michael has been a very exciting young rider to work with this year," said Stephens. "He's shone throughout this season, and the wins in Utah should give him a big confidence boost. The way he was able to handle some of the hillier terrain opens up additional possibilities for him at the Vuelta."
"Michael and Leigh approach the sprints differently, so it's great that we're bringing riders that can cover all sorts of sprint scenarios," added Stephens. "We have a team to support them both."
Green Jersey Winner in line up
No stranger to achieving personal results, Cooke won the green jersey at the Tour de France in 2003, claiming a stage win along the way. He now relishes his role as lead-out man, supporting his younger, less-experienced teammates in their dash to the line.
"Cookie is the veteran amongst this group," said Stephens. "He is older, stronger and very experienced. He's become adept at piloting his teammates into position in the finish. I expect him to play a major leadership role in Spain."
Docker will take on a similar role as Cooke. Integral to several key wins the team has secured this year, Docker has an uncanny knack for positioning and has been well-praised for taking lengthy pulls ahead of his sprinter.
"Mitch is an upcoming lead-out guy, and we've seen him become even stronger in that role this year," said Stephens. "He did a great job at the Vuelta last year, and he's played an important role in a lot of the team's wins this year. I'm hoping there's a bit of an opportunity for Mitch to go for a personal result. If not, he thrives on his work for the team."
Wesley Sulzberger has honed some of the best form of his life this season, and although he has yet to secure the result to show for his improved form, he's been knocking on the door for months.
"Wes is in fantastic shape," said Stephens. "It's clear he really trained well throughout July. He's a great helper in nearly every race situation, and I expect he'll be especially important in the harder stages that suit Gerro and Clarkey. Wes also has the ability to finish off a stage from a breakaway, and we'd love to see him get the result he's gone after all season."
Sam Bewley is the second Grand Tour debutant amongst the nine-rider squad. Like Howard, Bewley's season was disrupted by a broken collarbone, and his race program has been lighter than anticipated. He proved he used his training time well, coming off a mid-summer break with a strong performance at Tour of Utah where he supported Matthews to two wins and had some of the best climbing legs of his career.
"Sam is a very important element in our team time trial squad for the World Championships," said Stephens. "At this stage, we plan to race Sam for the first two weeks where he will do some essential support work for the team. We hope the racing gives him that final edge for the TTT in mid-September."
Mr. Dependable rounds out the roster. Racing his second Grand Tour of the season, Christian Meier will fall into a familiar role in Spain as he gets into breakaways, fetches bottles, shields his teammates from the wind and takes long turns on the front.
"Many of the races we've won are thanks to guys like Christian," said Stephens. "If we're lucky enough to pull off a stage win in Spain, we know that Christian will have put his heart into that result. He's the kind of guy that we can always count on to do his work. I have told him that we'd really like to find a way to pay him back for the support he provides. We'd like to give him a little help to chase a result. He tells us not to worry about it. He loves for riding for the team."
ORICA-GreenEDGE for Vuelta a España:
Baden Cooke
Christian Meier
Leigh Howard
Michael Matthews
Mitch Docker
Sam Bewley
Simon Clarke
Simon Gerrans
Wesley Sulzberger
---
Other Results on VeloUK (including reports containing results)

---
Other News on VeloUK