This road season is pretty much over so our resident star gazer Krystal Balls looks ahead to the 2014 season and what we may see in terms of teams and racing in Britain
If there is one thing we can be sure of for 2014, it's that there will be a lot of changes as well as a lot the same. I know, what's new?
It's the same most years after all but next season will see more changes than usual. Rumours abound as always and one that was confirmed last week was the existence of a new UCI team sponsored by KTM. A few names have been linked with the team but as yet nothing confirmed although I am sure their mailbox has been red hot since they went public.
Perhaps the biggest victory for NFTO (Hugh Wilson) in 2013 but with the step up to UCI in 2014, bigger ones yet are expected! 
More Teams or not in 2014
As well as KTM, we for sure know that the NFTO Pro Cycling team will step up to UCI level with perhaps the strongest line up of any squad. The names already announced shows the team to be full of winners like the Downing brothers Dean and Russell along with Sam Harrison, Matt Rowe, Dale Appleby, James McCallum, Hugh Wilson, James Lewis, Sam Williams, Jon Mould,  Ryan Bevis, James Lowsley Williams and Joshua Hunt.
The signing of director sportif Sean Yates was certainly a coupe for the NFTO team as well. Sean has ridden at the very top, and been a DS to Tour de France winning riders. It will certainly be interesting to see how Sean finds being a DS in the British scene. Sean is said to be joined by Jon Sharples from Trainsharp, a leading coaching firm in the country and a valuable sponsor of VeloUK.net.
At last, we'll see this jersey in action with British circuit race champion Russell Downing joining NFTO.
Jon's work with the team is not surprising. Many squads have taken on board the value of a coach. John Herety has a coach for his young riders and IG Sigma Sport had a coach for their team this season as did the very successful UK Youth. I'd go as far as saying that some teams are realising that it may be better for them to cut the number of riders and invest in support staff to create a winning unit like Dave Povall did at UK Youth in 2013.
As for other teams, Raleigh are going through some changes which will see their line up take on a new look with some riders retained whilst others have signed for other squads. Madison-Genesis is reported to have got the cheque book out and made some signings, or at least one key I'm aware of, to replace Dean Downing who has gone to NFTO.
Another thing that has changed quite a lot in recent years is the size of the pay packet being demanded. A rider starts to win big races here in Britain and pretty soon he's being offered more money by another team and so moves on. It's the nature of the business and how the merry go round works in some respects. But the amount of money being asked for is getting way beyond most teams.
One rider has reportedly signed for a team for 40k which is enough to fund a whole team. I've known teams that have a budget far far less than that so the gulf between the haves and the have nots is seemingly growing.
It's not just the stars that are asking for a lot of money. Youngsters too have reportedly asked for a wage that in some ways may be appropriate to make a living as a full time athlete (£15k) but in other respects, is the same money that some star names were getting only a year or three ago. The wages cost to teams has got a point to where some who have been in the sport a while are waiting for the bubble to burst.
Of course, its not a lot compared to what a world tour ride would be on (six figures) but in a sport where the full time pros are out numbered by full time workers, shows what a successful rider can get here in Britain.
As for the bubble, perhaps it has already burst. UK Youth, a team that achieved so much in 2013, is on the verge of disappearing. That will be a huge blow. IG are reportedly leaving (or thinking of doing so) the sport (unconfirmed) or at least the sponsorship of a team and that too is a big blow for the sport.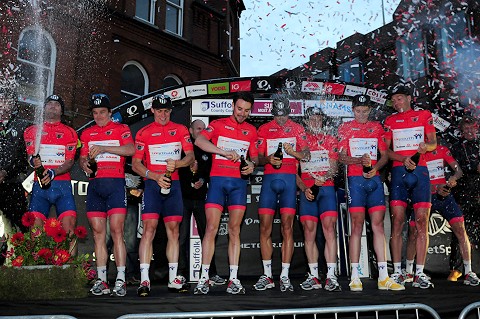 Success in the Tour Series does add value to a rider's worth if the money being asked for in 2014 is anything to go by … success as a team though doesn't always ensure surival as Team UK Youth know only too well. Fingers crossed they find a sponsor so they can continue in 2014.
It's also that time of the year when many managers spoken to are unsure whether their colours seen on the road in 2013 will again be around in 2014. It's part of the fragile eco system that is pro cycling in Britain. It's no fun being a pro biker at this time of year unless you're winning a lot of races!
For all the bad news, there is plenty of good news but the scale of the good may or may not match the bad. Several teams are talking about getting bigger in 2014 and if that is the case, the impact of losing one or two teams, just as we did in 2013 when Endura Racing ceased racing here, will not be as great as it could be.
Thankfully there will be the 'rocks' that the sport has grown used to being around. Like the men in black managed by John Herety. He's kept a team on the road for many many years and his for 2014 will be strengthened with the arrival of Graham Briggs to race alongside Kristian House and the youngsters that Herety will be taking to Australia again to help in their development process. There may also be one or more other riders added to bolster their winning potential.
Looking after the development of under 23 riders is such an important aspect of the sport here now though. When you look at how the riders in John Herety's care have grown as bike riders in the last two years, it's a no brainer that this it is something that needs to be carried on.
There are small teams looking at continuing that development of British talent and at least one manager of a UCI team has talked of also getting involved in it. At the end of every season, young riders who have been part of the GB development system are left to fend for themselves and have the option of staying here or going to a club in Europe. Others who were outside of the GB team have the same decisions to make.
The British Race Programme
Changes to teams is not the only thing that will be different in 2014. The race programme will change in some respects at the top end. For most, the diet of racing will be the same National and Regional B/C/D/E/F etc races for the grass roots. For the pros though, the change made this year of putting the road races either side of the crits will take another step forward or back depending on your view of BC's way of running the sport.
VeloUK is not sure if it's a forward step getting rid of the name Premier Calendar. It was the Star Trophy for so many years and the winner still gets that trophy so why not go back to calling it Star Trophy if there is going to be a change. Instead, it would appear from sources we've spoken to that next season will see a Spring series of 'Prems' and then another road race series that will follow all the crits such as the Tour Series.
This should give teams road races in July/August and the spread of races is expected to be from the Salisbury area to Ipswich and include a Kermesse in Staffordshire as well as existing events like the one in Stockton and new ones like the Tour of the Fens. The Beaumont Trophy has gone UCI and so not part of that series.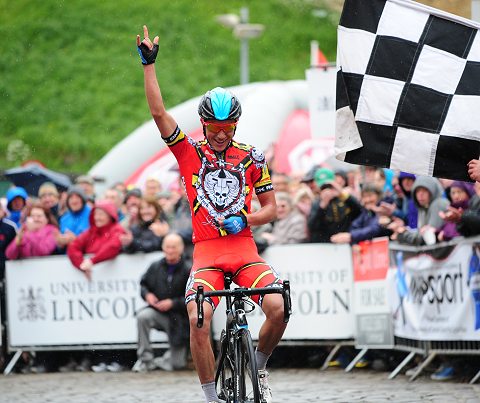 Win for Peter Kennaugh in the British Classic, the Lincoln Grand Prix. News on possible changes to the event coming soon from the organiser. Next year its the final event in the Spring road race series which we understand BC will require UCI teams to ride.
An announcement on the changes to confirm or deny these rumours re the race programme for 2014 Â is said to be imminent from BC.Lets hope so!
Other news for 2014 includes the National Championship week in Abergavenny and the Women's UCI Tour organised by Sweetspot where the final day will clash with the Lincoln Grand Prix but with both having very different audiences, that should not effect the publicity either gets or the success of the event.
With still over three months before the early season classics are upon us, and we start to see the new line-ups roll out, there is plenty of time for lots more news where rumours will be confirmed or shown to be what many may well be, a lot of hot air… Watch this space!
---
Other Results on VeloUK (including reports containing results)

---
Other News on VeloUK