Live photos from Day 2 of the 2014 British Cyclo-Cross Championships at Derby on Saturday (Jan 12)
Preview of the Championships here:Â 
LIVE PHOTOS
VeloUK is at the 2014 British Cyclo-Cross Championships in Derby and sending out Live pictures from the event. Click the Play button to see a slideshow of the action, or click here to see a Wall of Photos from the racing so far.
Note: This is dependent on there being internet at the event and all gadgets working correctly! We'll do our best to make sure it happens.
To get updates on the event, visit the VeloUK Twitter feed … https://twitter.com/VeloUK
Ian Field (Hargroves Cycles), with a crowd lining the whole finish straight, celebrates his third title.
REPORT
What a championship! Not only did the organisers John Holmes and Mary Gill do the event proud with a title winning job, the racing was top drawer.
Title winners on the second day were Grant Ferguson, Thomas Craig, Helen Wyman and Ian Field but there were plenty of stories behind every rider's performance. An example of how slippery the course was came for me when I stood bolt upright on the grass to take some pictures and started slipping down a very gradual slope. Madness!
The battle for the Men's title was a long time between Paul Oldham leading and Ian Field …
… but Paul Oldham ended up in the tape and the tape won … title race over.
Whilst the pits was a popular area for the muddy pics, the whole course was very slippery and after a dry weekend, one can only wonder what it would have been like had it been wet!
The final event of the day was the Men's Elite race and like magic, the course was lined with people as befits a British Championship. Jody Crawforth got off to a flyer but it was soon the two favourites Ian Field (Hargroves Cycles) and Paul Oldham (Hope FR) who were duelling it out clear of the rest. The fight for third was closeish between four or five riders but it was the battle for Gold that was the talking point.
After two laps at the pits and watching them go through the mud trap together, I walked to the sandtrap and saw them come past on the tarmac together. They were inseparable! Then, only Ian Field appeared and Oldham was on foot, the rear of his bike wrapped in tape. In most cases, riders get away with going into the tape but not Paul and it happened a long way from the pits.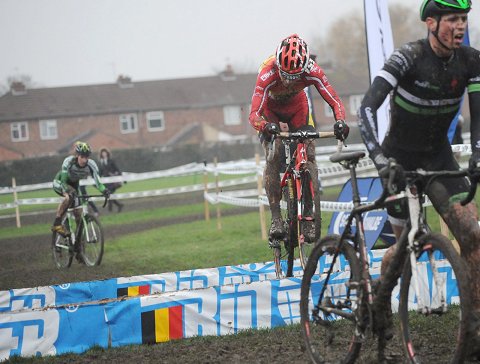 Not Jody Crawforth's year but the Hargroves Cycles rider  showed he can still bunny hop those planks!
The title race was over but Oldham recovered to finish fourth and there is little doubt without that mishap, we would have seen the best battle for the jersey for a long time between him and Field. Class acts both.
Speaking of class acts, David Fletcher (Orange Monkey) raised his game for the event to finish second and Nick Craig (Scott UK), winner of the vets, held off Oldham to finish third. It was a great day for the Craig family after his son Thomas had won the juniors but only after a race long battle with Dylan Kerfoot-Robson (Marsh Tracks).
It came down to a sprint won easily by Thomas (below) after getting to the final corner first but another example of how great the Junior racing has been this winter.
In the Women's race, the body language at the start said it all and a close exciting race was expected. In the end however, it was like the 'old' days with Helen Wyman (Kona) winning easily. Her and Nikki Harris battled it out early on but Wyman soon drew clear and despite a fall in the mud, was never in any danger of losing the race. Harris finished second.
The battle for third though was awesome. Two very talented juniors went head to head and it was a win for Ffion James. Not only did she get to stand on the podium with Wyman and Harris as the bronze medal winner, she got a champions jersey as first Junior.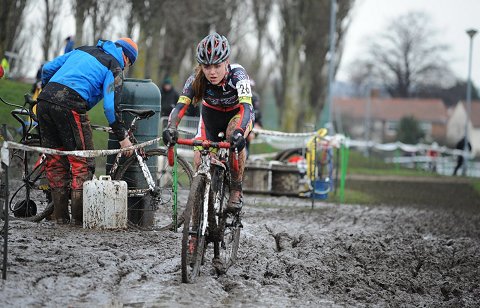 Above, Abby Mae Parkinson (RST/NFTO) is, as you can see, well clear in third but was caught with a lap to go and was unable to prevent her rival Ffion James (Abergavenny RC) from finishing ahead of her.
There was though one very disappointed rider who lost out in that battle and I am sure this defeat will only make her more hungry in the future. Abby Mae Parkinson (RST/NFTO). The Yorkshire rider had third place to herself for three quarters of the race and it seemed sewn up but James came back on the final lap to grab the Junior title from Abby's grasp and that third spot in the senior race.
Another Junior was in fifth, Amira Mellor , showing there is some great talent coming through.
Local girl, Nikki Harris (2nd), Helen Wyman (1st) and Ffion James (3rd)
In the first race of the day, there were surprises aplenty. Whilst Grant Ferguson showed well in Shrewsbury with third, the performance by Kenta Gallagher was a surprise. The teammates in the Superior-Brentjens MTB Racing Team rode away from the rest early on and for most of the race tested each other until Ferguson went clear on the final lap.
He got to get his hands in the air whilst Gallagher did his 'swimming' impression as he crossed the line to put a smile on the crowd. Third, after a great battle, was Ben Sumner who came from down the field to pick off his rivals and get that final medal and show yet again he's a future star in 'cross.
Kenta Gallagher put in a swimmingly good performance to finish second in the Under 23s.
The cyclo-cross season now continues with many leagues having events during the rest of January and the Worlds of course in a few weeks. My abiding memory will be talking to some riders whilst the course was still iced up at 8am in the morning about how luck plays its part in any race. There will be those who had some good luck during the day, those who had neither bad or good but one rider had his title challenge cruelly taken from his grasp, Paul Oldham. It will be the talking point for years to come.
Another championship weekend has come and gone… roll in 2015.
Photo Album from Ray Stuart
MORE PHOTOS FROM VELOUK
Nikki Harris ploughs through the mud watched by her dad Pete.
Ian with a trophy his name will now appear on three times.
Only minutes before this was taken, Ian was in a tussel with Paul Oldham for the title.
David Fletcher (2nd), Ian Field (1st) and Nick Craig (3rd)
Top team in the Men's race, Hope Factory Racing
RESULTS
MEN'S CHAMPIONSHIP
Ian Field with the man who helps him live the dream, Pete Hargroves, boss of Hargroves Cycles.
1 Ian Field Hargroves Cycles/Specialized/Trant 0 55 44 0 0
2 David Fletcher Orange Monkey Pro Team 5 0 21
3 Nick Craig Team Scott UK 21 0 37
4 Paul Oldham Team Hope Factory Racing 25 0 41
5 Lewis Craven Wheelbase Altura MGD 33 0 49
6 Ian Bibby Madison Genesis 41 1 57
7 Alex Paton Pedal Heaven Colbornes RT 8 2 24
8 Jody Crawforth Hargroves Cycles/Specialized/Trant 22 2 38
9 Robert Jebb Team Hope Factory Racing 29 2 45
10 Dave Collins Team Hope Factory Racing 28 3 44
11 Tony Fawcett Team Scott UK 24 4 40
12 William Bjergfelt Metaltek – Knights of Old RT 11 5 27
13 David Lines MG-Maxifuel Pro Cycling 14 5 30
14 Daniel Booth Team Hope Factory Racing 34 5 50
15 Keith Murray Team Scott UK 37 5 53
16 Paul Cox Team Pedal Power 41 5 57
17 Stuart Bowers Hargroves Cycles/Specialized/Trant 1 6 17
18 Michael Butler Activ Cycles Folkestone 1 7 17
19 Robert Watson Paul Milnes Cycles/Bradford Olympic RC 38 7 54
20 Rob Partridge Velosure-Giordana 53 8 9
21 Lee Shunburne Fossa Racing 4 8 20
22 Chris Metcalfe Charge Bikes 41 8 57
23 Ross Tricker X RT/Elmy Cycles 54 9 10
24 Tom Payton Islabikes 14 9 30
25 Simon Maudsley Team Vertex 23 9 39
26 Robert Wardell Orange Monkey Pro Team 27 9 43
27 Scott Chalmers Felt-Colbornes – Hargroves RT 57 10 13
28 James Thompson Langsett Cycles RT 13 10 29
29 Gareth Whittall Clay Cross RT 42 10 58
30 Jonathan Harper Mansfield RC at 1 lap
31 Simon Forster Tyne & Wear Fire and Rescue CC at 1 lap
32 Neil Ellison WDMBC Beyond Mountainbikes/Spec. at 1 lap
33 Jeremy Hicks Rugby Velo at 1 lap
34 Gavin Hardwicke Fossa Racing at 2 laps
35 Benjamin Lees Hackney GT at 2 laps
36 Alan Nixon Blackhawkbikes.com at 2 laps
37 Matthew Lawton Macclesfield Wheelers at 2 laps
38 Paul Sheers Vicious Velo at 2 laps
39 Matthew Webber Hackney GT at 2 laps
40 Scot Easter Felt-Colbornes – Hargroves RT at 2 laps
41 James Dalton Pedalsport CC at 2 laps
42 Chris Pedder AW Cycles at 2 laps
43 Andrew Naylor Fossa Racing at 2 laps
44 Ben Spurrier Vicious Velo at 2 laps
45 Andrew Waterman Vicious Velo at 3 laps
46 Colin Miller Coventry RC at 3 laps
47 Simon Jones Leicester Forest CC at 3 laps
1 Team Hope Factory Racing
2 Hargroves
3 Team Scott
4 Fossa Racing
5 Vicious Velo
WOMENS CHAMPIONSHIP
Junior Women podium, Abby Mae Parkinson (2nd), Ffion James (1st) and  Amira Mellor (3rd).
1 Helen Wyman Kona FSA Factory Team 41 14 0 0
2 Nikki Harris Young Telenet Fidea Cycling Team 1 14
3 Ffion James (J) Abergavenny RC/Lane/Govilon 5 37
4 Abby-Mae Parkinson (J) RST Racing Team 5 54
5 Amira Mellor (J) Paul Milnes/Bradford Olympic RC 6 32
6 Diane Lee Team Mulebar Girl – Sigma Sport 6 58
7 Alice Barnes Scott Contessa Epic 8 24
8 Bethany Crumpton Hargroves Cycles/Specialized/Trant 9 2
9 Delia Beddis Vicious Velo 9 8
10 Tracy Moseley Malvern Cycle Sport 9 28
11 Claire Beaumont Vicious Velo 10 11
12 Hannah Payton The Kinesis Morvelo Project 10 30
13 Sarah Murray www.cxmagazine.com 12 56
14 Sarah Lomas (J) Scott Contessa Epic 13 15
15 Tamina Oliver Team CTC 14 2
16 Isla Short (J) Team Thomsons Cycles at 1 lap
17 Rachel Fenton Trek Bicycle Coventry at 1 lap
18 Rebecca Womersley Scott Contessa Epic at 1 lap
19 Anna Cipullo Hargroves Cycles/Specialized/Trant at 1 lap
20 Jessica Wilkinson (J) Birkenhead North End CC at 1 lap
21 Elanor Cadzow Bonito Squadra Corse at 1 lap
22 Verity Appleyard Brotherton Cycles at 1 lap
23 Phoebe Sneddon Team Mulebar Girl – Sigma Sport at 1 lap
24 Hannah Saville (J) North Midlands Youth Squad at 1 lap
25 Masie Duckworth (J) Wolverhampton Wheelers at 1 lap
26 Sian Botteley (J) Squadra Donne-Shutt VR at 1 lap
27 Amy O'Halloran PH-MAS Cycling at 1 lap
28 Jennifer McAndrew (J) Witham Wheelers CC at 1 lap
29 Francesca Morgans-Slader (J) Lee Valley Velo at 1 lap
JUNIOR CHAMPIONSHIP
Dylan Kerfoot-Robson (2nd), Thomas Craig (1st) and Jack Ravenscroft (3rd)
1 Thomas Craig Team Scott UK 45 47 0 0
2 Dylan Kerfoot-Robson Marsh Tracks RT 0 2
3 Jack Ravenscroft Team Thomsons Cycles 0 27
4 Sean Dunlea Ciclos Uno 0 38
5 Christopher Barnes www.Zepnat.com RT/Kuota/GSG 1 16
6 Mark McGuire Team Bicycles 1 36
7 Jake Poole S2 Cycles/Raleigh 2 35
8 Tom Seaman Nutcracker Racing 3 13
9 James Edmond Ferryhill Whs CC 3 20
10 James Flury Vicious Velo 4 13
11 Robert Rogers Birkenhead North End CC 4 40
12 Matthew Worton Blackhawk Bikes 5 39
13 Billy Harding Orange Monkey Pro Team 6 0
14 Calum Magowan Peebles CC 6 14
15 David Creber Malvern Cycle Sport 6 28
16 James Garratt Welland Valley CC 7 9
17 Henry Thompson Sleaford Wheelers CC/Chandlers/Solo 8 11
18 George Baker Kings Cliffe Flyers CC 8 33
19 Anthony Neave Stourbridge CC 9 0
20 Jake Hubbard Welland Valley CC 9 24
21 Jake Charlton VC Deal/Hammond/Rowland/SIS 10 29
22 Oliver Payton PH-MAS Cycling 11 13
23 Matthew Clements Cyclelab at 1 lap
24 James Fawcett Hetton Hawks CC at 1 lap
25 James Madgwick Lee Valley Velo at 1 lap
26 Joshua Brooks Malvern Cycle Sport at 1 lap
27 Brandon Stock Clifton CC at 1 lap
UNDER 23 CHAMPIONSHIP
1 Grant Ferguson Superior-Brentjens MTB Racing Team 46 38 0 0
2 Kenta Gallagher Superior-Brentjens MTB Racing Team 0 10
3 Ben Sumner Beeline Bicycles RT 1 1
4 Jack Clarkson Team Hope Factory Racing 1 28
5 Steven James Hargroves Cycles/Specialized/Trant 1 39
6 Michael Thompson Team Hope Factory Racing 1 46
7 Nicholas Barnes www.Zepnat.com RT/Kuota/GSG 1 52
8 Hugo Robinson Neon-Velo.com 1 55
9 Jake Womersley Team Haribo-Beacon 3 13
10 Adam Martin Metaltek – Knights of Old RT 4 6
11 Iain Paton Ben Wyvis CC 4 22
12 Matthew Hargroves Hargroves Cycles/Specialized/Trant 4 40
13 Adam King Cardiff J.I.F. Cyclopaedia 5 21
14 Jack Humphreys Wheelbase.Altura/MGD 5 53
15 George Thompson Sleaford Whs CC/Chandlers/Solo 6 21
16 Luke Gray Trek Cross Collective 6 41
17 Luke Markham Rugby Velo 8 26
18 Thomas Armstrong Wheelbase Altura MGD 9 16
19 Chris McGovern Team Novonordisk 0 0
20 Martin Woffindin Cycle Sport Pendle 0 0
21 Joe Atkins Coventry RC 0 0
22 James Garrett Rugby Velo 0 0
23 Bruce Dalton The Kinesis Morvelo Project 0 0
24 Edwyn Oliver-Evans www.cxmagazine.com 0 0
 Kenta Gallagher (2nd), Grant Ferguson (1st) and Ben Sumner (3rd)
Top team of the weekend, Hargroves Cycles led by Mens winner Ian Field.
---
Other Results on VeloUK (including reports containing results)

---
Other News on VeloUK