After helping a break escape after ten minutes, Tom Bustard attacked them with a lap to go and with a handful of seconds, held on over 22k to win the Roy Thame Cup
Roy Thame Cup Road Race
The peloton is string out after an active few miles on the circuit with Simon Holt leading from very impressive paracycling rider Jozef Metalka who was 5th. Look closely and you will see one leg is carbon!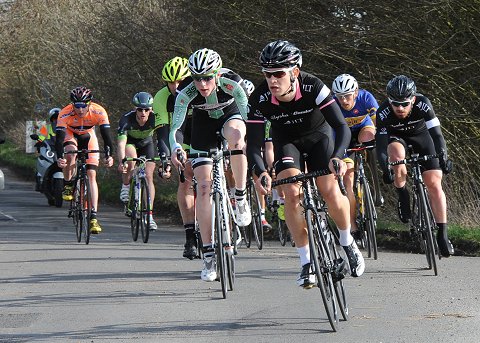 Chris Opie leads a ten rider break which Tom Bustard said later worked very well indeed.
A lap later and Simon Holt is driving the break along and behind the break … carnage .
Velosure Giordana look to get more riders at the front as Steve Lampier spots me and starts cracking the whipping LoL
Behind, more splits…
Russell Hampton (left) in his new Bioracer kit as a lone rider.
And behind, yet more smaller groups. Who says you need hills to destroy a field …
Half a lap later, Steve Lampier goes on the attack in the tailwind section.
Alistair Rutherford smiling or grimacing as the chase group comes into Boldolph Claydon full of chocolate box cottages.
A later to go and Ed Clancy, in a small chase group behind the leaders, gets out a gel.
An attack with a lap to go is a brave move, especially when it only gets ten or so seconds but no-one crossed to him or brought Tom Bustard back and he wins!
Tight sprint for second won by Wheelbase rider Adam Duggleby.
Tom Bustard said afterwards, "This is very unexpected! I work full time now so I was like I don't know how I am going to go. I train on my own now pretty much so that win was really unexpected. I felt really good. I have lost some weight because I'm not training as much so I thought I had better lose some weight to compensate and it feels good."
"I think the break went within about ten minutes. I attacked and we all started working, Tom Moses, Felix English, Chris Opie, Nathan Edmondson and Marcin Bialoblocki and with three from each team, we were working really well."
"To be honest  at the end, where I got away was the first attack."
Having moved to Velosure Giordana, Tom says "I think this is the best team in the UK. People like Griffo always putting money into the sport. The Pinarello Dogma is unbelievable and the Corima wheels ridiculous."
Asked about the course, Tom said "it was Mint, pot holes everywhere but it was like Belgium and absolutely spot on." Asked if it was his biggest win to date, Tom said yes adding "The Sheffrec one was a big one too, tough and I like those hard courses."
Roy Thame Cup Road Race
1 Thomas Bustard Velosure – Giordana RT
2 Adam Duggleby Wheelbase Altura MGD
3 Marcin Bialoblocki Velosure – Giordana RT
4 Chris Opie Rapha Condor JLT
5 Jozef Metelka Beeline Bicycles RT
6 Simon Holt Felt-Colbornes-Hargroves RT
7 Nick Noble BH-Solidor-WAM Youth
8 Thomas Moses Rapha Condor JLT
9 Nathan Edmondson Velosure – Giordana RT
10 George Harper Velosure – Giordana RT
11 Alistair Rutherford Wheelbase Altura MGD
12 Steve Lampier Velosure – Giordana RT
13 Tom Neale Team Corley Cycles
14 Douglas Coleman CC Luton
15 Edward Clancy MBE Rapha Condor JLT
16 Christopher Dredge Spirit Bikes Racing Team
17 Will Stephenson Rapha Condor JLT
18 Roy Chamberlain Team Corley Cycles
19 Andrew Griffiths Richardsons-Trek RT
20 Ashley Cox CC Luton
21 Richard Wood Arbis – Colbert Cycles RT
22 Benjamin Peacock Paisley Velo Race Team
23 Silas Goldsworthy Sandy Wallace Cycles
24 Julian Pearson Team Hoppers Rollers
25 Russell Hampton Athlonsport – Cloud Nine Telec…
26 Ashley Proctor Bike Box Alan/Whiston Velo
27 Robert Partridge Velosure – Giordana RT
28 Anthony Moye KTM road-and-trail.com
29 Kristian House Rapha Condor JLT
30 James Fox CC Luton
31 Ben Stockdale Metaltek Cycling
32 Edward Clemens Spirit Bikes Racing Team
33 Connor Swift Bike Box Alan/Whiston Velo
34 Joe Giggins Richardsons-Trek RT
35 Joseph Donohue Fareham Wheelers Cycling Club
Spring Chicken RR
1 Callum Grieve www.twenty3c.co.uk
2 Chris Limberger Mercia CC – Lloyds Cycles
3 Michael Burke Welland Valley CC
4 Will Hayter London Dynamo
5 Will Houghton Hillingdon Cycling Club
6 James Stewart Bonito Squadra Corse
7 Matthew Cryer Army Cycling Union
8 James Archibald G.S. Henley
9 Christopher Bennett Club Corley Cycles
10 Tom Bolton Oxford University Cycling Club
11 Steven Hubbard CC Sudbury
12 Sean Dines CC Luton
13 Jordan Mooney Welwyn Wheelers CC
14 Gavin Spiers G.S. Henley
15 Ben Chuilon
16 Daniel Maynard Welwyn Wheelers CC
17 Alexander Woods Club Corley Cycles
18 Andrew Lowe Team Milton Keynes
19 Andrew Daniels Zappi's Cycling Club
20 Callum Oliver Rapha Condor Cycling Club
21 Paul Bird Virgin Active
22 Pierre Scrase
23 Nicolas Stagg Hounslow & District Wheele…
24 Stuart Sargeant Arbis – Colbert Cycles RT
25 Jonny Revis Cowley Road Condors
26 Robert Jones Army Cycling Union
27 Michael Fuller Team Quest – The Bike Shop
28 Giles Haley Hemel Hempstead CC
29 Ben Nichol Amersham Road Cycling Club
30 Robin Basford WyndyMilla
31 Richard John Spirit Bikes Racing Team
32 Tim Beaven Bicester Millennium CC
33 Neil Heffernan Inverse/ Cycling Components RT
34 Steven Douglas Cult Racing
35 Steffen Verbist London Phoenix CC
36 Tony Ball Team Swift
37 Paul Hamblett G.S. Henley
38 Alasdair Morrison Oxford University Cycling Club
39 Michael Miach Pretorius Bikes
40 Ian Loades Team Dassi
41 Thomas Leach Gloucester City CC
42 Luke Dixon Personal Best Cycling Services
44 Adam Baker Oxford University Cycling Club
45 Stuart Tillbrook Spirit Bikes Racing Team
46 Andy Sykes Team Quest – The Bike Shop
47 Robert Mosley Thames Velo
48 Robert Abbey Hemel Hempstead CC
49 Tim Clark Personal Best Cycling Services
50 Brett Kamino Cowley Road Condors
51 Richard Carr
52 Neal Garside North Cotswold CC
53 Kurt Austin Cowley Road Condors
LIVE PHOTOS
REPORT
Coming …
RESULTS
Coming …
PREVIEW: click here for the preview of the race
---
Other Results on VeloUK (including reports containing results)

---
Other News on VeloUK