James Shaw continued his 100% win rate in the National Junior Series by taking victory in the Junior CiCLE Classic, and also winning the KOM jersey
Report & Results – James Shaw wins Junior CiCLE Classic
(Team Press Release)
The 17-year-old took victory at the end of the 58-mile race in Rutland, continuing his perfect start to the Series following victory in the first two rounds, the Cadence Road Race and the Tour of the Mendips.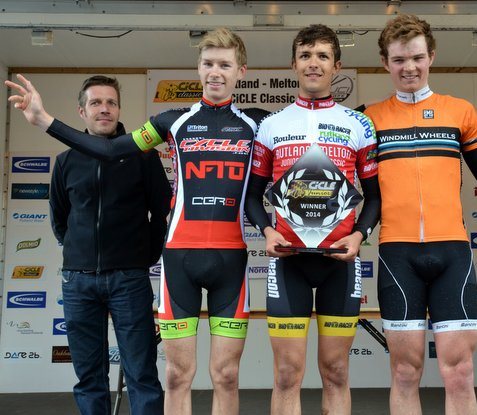 Photo: Ray Stuart  Joey Walker, James Shaw and Oliver Maxwel
Despite the forecasts of wet weather for the inaugural Junior CiCLE Classic, the rain held off and the sun even poked its head out on a couple of occasions – although there was still plenty of mud and puddles on the rough 'Barrowberg' section.
In the early stages there were a number of attempts to break the race up with Joseph Donohue of Southern Planning Practice, Gwyn Lovibond of Team Wallis CHH and Sean Noon of Edinburgh Road Club getting a couple of seconds on the bunch through Thistleton. But it was James Shaw of HARIBO-Beacon who led the field through the Barrowberg section on the first run through – essentially single file for most of the semi-paved section – as the race started to break apart.
But it was Leon Mazzone (3LC.tv Europcars) who led the race through the Barrowberg next time round, and the unpaved section proved it has no regard for reputation with British Cycling Junior Road Series leader Shaw suffering a front wheel puncture second time through and losing 40 seconds before chasing back on.
On the run in the 40 remaining riders from 90 starters were still together, but it was Shaw who broke free in the closing stages to take his third win in a row. Oliver Maxwell of Windmill Wheels CC won the gallop for a couple of seconds back from Joey Walker of RST Racing with Jack Escritt of Velocity WD-40, John Didsbury of Lune RCC and Mazzone.
Scot Gamble, Ashfield Road Club, winner of the first ever Melton-Rutland Classic presents the winners trophy to James Shaw , winner of the first ever Junior Race at the 10th Anniversary Event. Photo: Ray Stuart
Shaw – who also wrapped up the King of the Hills competition – spoke to Guy Swarbrick working for British Cycling after the event and revealed that he had an extra incentive to win his third consecutive round of the Series. "I came in to this race knowing that I wanted to win for my best mate Levi Moody who's not been well this week."
"So I came here today and I said myself or Tom (Baylis) we'd go out there and race for him and put all our effort in for him. I really wanted to give him something to feel happy about, something to put him back on his feet."
In the first two rounds Shaw was very generous in his praise of his team mates who had ridden as a unit to help him to victory. Today he only had Baylis with him; had that changed the way he rode the race? "It definitely made it harder," he said. "We had to approach the race slightly differently. We had to go into it and perform to a plan – we had to save when we had to save and expend when we had to expend and go for it when we had to go for it. Obviously we only had two pairs of legs when he normally have four but me and Tom both knew that and we talked about it before and we knew what we had to do. And in the end we performed it well and pulled it off."
How big an impact did the puncture have? "I was about 40 seconds down. I was in the gravel section, just before the left-hander and I thought 'Ay up! What's going on here?" and my front tyre went down. So I pulled over, got a change from the mechanics – nice and fast – and back on the tarmac".
"I didn't panic too much – obviously there was a lot of racing still to go – and I didn't want to expend myself over a 3km period and not have anything left. And once I got back in the bunch and got the recovery drink down my neck and a bit of a gel and got back on my feet, then I spoke with Tom and said 'Right, we're both here' – Tom had had a puncture previously, before the gravel."
And what about the fast run-in? "I didn't think I was going to do it, to be honest. I kept looking back and they were rapidly pulling me back. I was absolutely on my knees, I was digging deep – really going for it. And obviously the guys were really chasing me and really pulling me back I just had to put my head down and go for it."
Results:
1 James Shaw HARIBO Beacon Cycling Team
2 Oliver Maxwell Windmill Wheels Cycling Club 2.163
3 Joey Walker RST Racing Team 2.389
4 Jack Escritt Velocity WD-40 2.517
5 John Didsbury Lune RCC 2.69
6 Leon Mazzone 3LC.tv/ Europcars (IOM) 2.792
7 Max Stedman Pedal Heaven Colbornes RT 3.668
8 Karl Baillie Pedal Pushers 3.694
9 Gwyn Lovibond Teamwallis CHH Racing Team 3.833
10 Sean McGovern Teamwallis CHH Racing Team 4.064
11 Ethan Lee NFTO Race Club 4.398
12 Lewis Stevens Strada-Sport 4.806
13 Luke Morgan CC Luton 4.86
14 Fabian Brennan Velocity WD-40 4.95
15 Alexander Braybrooke Velocity WD-40 5.098
16 George Jary VC Londres 5.122
17 Preslav Dimitrov MJS Racing 5.324
18 Stuart Balfour Spokes Racing Team 5.712
19 Aaron Handley Bike Box Alan/Whiston Velo 5.785
20 Zak Loney Team LFH 5.841
21 Cameron Woolsey Cycle Club Ashwell (CCA) 5.987
22 Tom Yiangou Neon-Velo.com 6.015
23 Alex Dalton Squadra RT 6.223
24 Charlie Tanfield Adept Precision RT/NE Healthcare 6.229
25 Charles Walker Halesowen A & CC 6.445
26 Christopher Welburn Lichfield City CC 6.718
27 Hamish Carrick Speg – Project 51 6.973
28 Matthew Mildon Mud Sweat Gears 7.215
29 Theo Doncaster Cycle Club Ashwell (CCA) 7.433
30 Oliver Payton PH-MAS Cycling 7.606
31 Daniel Finnegan Lichfield City CC 7.748
32 William Perrett Heanor Clarion CC 8.122
33 Matt Clements Cycle Lab. 8.445
34 Joseph Donohue Fareham Wheelers Cycling Club 8.77
35 Oscar Williamson Marsh Tracks Race Team 8.973
36 Ralf Hodgson Marton Race Team 9.177
37 Rian Hill Classic Racing Team 9.187
38 Nicholas Jones County Cycles Racing Team 9.219
39 Oliver Cliff VC Londres 9.906
40 Elliott Reynolds Clay Cross Road Team 10.963
41 Ricky Parsons Mid Devon CC 10.976
42 Sean Noon Edinburgh RC 11.147
43 Jack Mattock BH-Solidor-WAM Youth 11.617
44 Alexander Foster Border City Wheelers CC 11.756
45 Thomas Baylis HARIBO Beacon Cycling Team 12.013
46 Sean Dunlea Ciclos Uno 12.15
47 Stephen Williams NFTO Race Club 13.547
48 Jez McCann Catford CC Equipe/Banks 14.885
49 Joseph Wiltshire NFTO Race Club 18.24
50 Nathan Draper RST Racing Team 21.149
51 Benjamin Manfield-Yorke Wolverhampton Whls 02:25.4
52 Ben Forsyth Spokes Racing Team 02:56.1
53 Nathan Hereward Kingston Whls CC 07:37.5
54 Max Spedding Birkenhead North End CC 11:47.3
55 Andy Brown Glasgow Cycle Team 11:48.4
56 David Bolland Clay Cross Road Team 11:49.3
57 Ben Chapman Team Corley Cycles 12:27.8
58 Harry Thompson Leicestershire Road Club 14:37.0
59 Jake Coward VCW Jong Wielers 15:41.4
60 Harry Shackleton Teamwallis CHH Racing Team 15:41.5
61 Jamie Dudley 3LC.tv/ Europcars (IOM) 16:00.7
62 Matt Thorne Paul Milnes/ Bradford Olympic
63 Fraser Martin Spokes Racing Team
64 Joseph Sutton PMR@Toachim House
65 Lewis Grieve Spokes Racing Team
66 Tristan Robbins BH-Solidor-WAM Youth
67 Mike Lear Velo Club Rutland
68 Jonathan Chapman Cycle Club Ashwell (CCA)
69 Harry Craig PH-MAS Cycling
70 Jake Charlton VC Deal
71 Chris Richards 4T+Velo Club
King of the Hills:
1 James Shaw HARIBO Beacon Cycling Team
2 Alexander Braybrooke Velocity WD-40
3 Stuart Balfour Spokes Racing Team
4 Joey Walker RST Racing Team
---
Other Results on VeloUK (including reports containing results)

---
Other News on VeloUK