Britain's Adam Yates to ride Vuelta to get a taste of riding a Grand Tour – may not go all the way says Orica GreenEdge
News – Adam Yates to ride Vuelta
NOTE: Send your results as well as club, team & event news here
Opportunists and first ever GC consideration for ORICA-GreenEDGE at Vuelta a Espana
An opportunistic roster will start the Vuelta a España for ORICA-GreenEDGE this Saturday targeting stage wins and, in a first for the team, an interest in general classification proceedings.
Two-time 2013 stage winner Michael Matthews and 2012 King of the Mountain Simon Clarke feature amongst the versatile line up for individual opportunities, whilst debutant Esteban Chaves will focus his first grand tour efforts on an overall performance.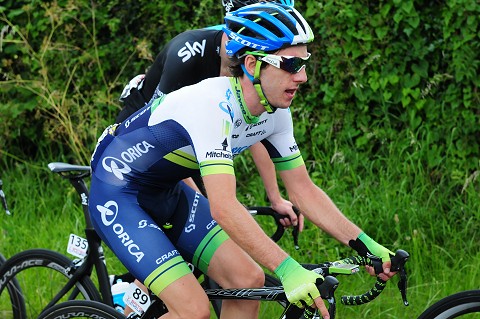 Adam Yates to get his chance at riding a Grand Tour like his twin brother Simon did in the Tour de France.
The nine riders for the Vuelta a España are: Adam Yates, Brett Lancaster, Cameron Meyer, Esteban Chaves, Ivan Santaromita, Michael Matthews, Mitch Docker, Sam Bewley and Simon Clarke.
Sport director Neil Stephens is confident that the roster for this year's Tour of Spain ensures the team's options are plentiful. "This year we are going in with a multi-task team," Stephens said. "There have been times when we have just targeted stages with one or a couple of riders but this year the whole team is basically all opportunists.
"I think that anyone who looks at our line up for the Tour of Spain will see that there are some great standout stage winners there and we will be trying to give some attention to the general classification with Esteban Chaves too."
Matthews and British neo-pro Adam Yates are amongst those stand outs, the former with two 2014 Giro d'Italia stage wins to go with last year's Vuelta double and the latter with a recent win at the GP Industria and Artigianato in the lead up to his debut grand tour. "Matthews has come here with some great assistance and on the harder sprint stages where there may be a little bit of a reduced field he is going to be a real challenger," Stephens said.
"We are not going to be a team with eight guys dedicated to one certain sprinter, but we have a little pocket of guys including Mitch Docker, Brett Lancaster and Sam Bewley, that will be looking after Michael on certain days. And then we have the fire power of Adam Yates who perhaps might not do the whole Tour of Spain but certainly he is in great shape."
"He had a little bit of a set back at the Clásica San Sebastián, he knocked himself around a fair bit, but we are hoping Adam is going to be able to target certain stages."
In his first year with the ORICA-GreenEDGE team, Chaves, a promising young Columbian rider, will become the team's first grand tour general classification consideration. "It's a bit of a test, a bit of a step up for the future of Esteban, and our team as such, to go into a major tour with thoughts of general classification," Stephens said of the 24-year-old.
"It is a big ask to say let's go off to the Tour of Spain and try to race in the general classification. But by the same token we will get to the end of the second week and we'll reassess. If it is working, great, but if it's not the year to be able to do that properly, then we will just try to refocus on winning a stage win in the mountains in the last week".
"2014 was going to be a bit of a come back year for Esteban. He had a pretty serious injury last year and we were conscious of that and didn't want to put any great pressure on him. He has surpassed our goals and has kicked goals in all areas, culminating in a mountain top win at the Tour of Switzerland."
Whilst the engine capacity of Clarke, Cameron Meyer and Ivan Santaromita will offer support to Chaves, Stephens said it would not restrict their own opportunities. "Sometimes the best form of defence is attack so those guys can take breakaway chances," Stephens explained. "They are all opportunists so we will give him support but we will be using those three guys to get off and try their own luck as well."
The 2014 Vuelta a España starts this Saturday, 23 August with a team time trial in Jerez de la Frontera in the south of Spain and finish on Sunday, 14 September in Santiago de Compostela. The three-week tour features five flat stages, 13 hilly and mountain stages, two individual time trials and the initial team time trial.
ORICA-GreenEDGE at the Vuelta a España:
Adam Yates
Brett Lancaster
Cameron Meyer
Esteban Chaves
Ivan Santaromita
Michael Matthews
Mitch Docker
Sam Bewley
Simon Clarke
Send your results as well as club, team & event news here
---
Other Results on VeloUK (including reports containing results)

---
Other News on VeloUK