Mark Cavendish confirmed for RideLondon in August won last year by NFTO's Adam Blythe and Brompton World Championship added to event list
News – Prudential RideLondon Returns in August
• Cavendish confirmed for Prudential RideLondon-Surrey Classic
• Record prize money for a one-day Classic
• Race to start at Horse Guards Parade
• Brompton World Championship added to Grand Prix
• More than 95,000 riders expected in five events in world's greatest festival of cycling
• An extensive community engagement programme is underway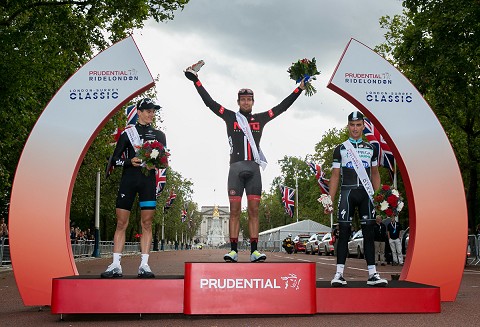 Prudential RideLondon, the world's greatest festival of cycling, returns on 1-2 August with more than 95,000 riders expected to participate in five events over the weekend in the Mayor of London's annual event.
Mark Cavendish, winner of many races so far in 2015 will race in the Prudential RideLondon-Surrey Classic on Sunday 2 August. He will ride with his Etixx – Quick-Step team, who are the first big name signings for the men's pro race, which will feature 25 teams of six riders. Now in its third year, the race (Category 1.HC on the UCI Europe Tour) offers the highest prize money pool of any one-day Classic and will be televised live by BBC Sport with coverage distributed worldwide.
Cavendish said today: "I can't wait to ride this year. After only two years, this race is already an event every rider wants to win and you can't beat racing in front of British crowds. After missing out in 2014 I was determined to ride in 2015. "
This year the 200km race starts at the iconic location of Horse Guards Parade in central London before going out through the capital to Kingston upon Thames into Surrey and the climb of Staple Lane in the Surrey Hills Area of Outstanding Natural Beauty. The peloton then races through Dorking before taking the southern loop and the ascent of Leith Hill, the highest point in Surrey.
Bradley Wiggins shares a joke with Ron Keeble and race director Mick Bennett in last years race.
With three circuits of the northern loop (one more than 2014) through Dorking and up the testing climb to Ranmore Common, this year's race is set to be a true Classic. The race then heads to the famous zigzags of Box Hill then through Leatherhead, Oxshott and Esher before the riders race back through Kingston upon Thames to central London, through Raynes Park, Wimbledon, over Putney Bridge and alongside the River Thames through Chelsea.
The closing stages of the race go through Parliament Square and up Whitehall to the famous 1km to go marker before Trafalgar Square, through Admiralty Arch and the final sprint along The Mall towards Buckingham Palace and the finish line. See the 2015 route and profile here.
Mick Bennett, Prudential RideLondon-Surrey Classic Race Director said: "We're delighted to have Mark Cavendish in this year's field. He's not just a great sprinter but he's also a very good climber on this type of terrain and this route should suit him very well. The extra circuit of the climb to Ranmore Common that we've added to the route this year brings a whole new dimension to a great race. That's where Team Sky and BMC shook up the race last year and I'm sure teams will do the same again this year. We are set for something very special on 2 August."
The Mayor of London, Boris Johnson, said: "Once again the capital's streets will be packed with roaring crowds as they cheer on some of the world's top cyclists, including our very own Mark Cavendish, who will no doubt race up The Mall faster than a rocket. London has consistently proved that it can host world-leading sporting and cultural events and Prudential RideLondon is another showcase piece for the capital, helping to boost tourism, drive economic benefit and inspire more and more people out onto their bikes. It is a weekend festival of cycling offering something for everyone from the uber-competitive professionals, to the committed daily commuter, to families looking for a fun day out."
Mark Cavendish's team Quickstep rode last year and were very active in the race.
Earlier on Sunday 2 August, more than 25,000 riders (an increase of 25 per cent from 2014) will take on the challenge of the third Prudential RideLondon-Surrey 100, starting from Queen Elizabeth Olympic Park and cycling through the capital out into the beautiful countryside and testing hills of Surrey, before returning to the capital to finish on The Mall. In 2014, 20,709 riders raised more than £10 million for charity, breaking the UK fundraising record for a one-day cycling event that was set in the inaugural year. See the 2015 route and profile here.
Helyn Clack, Surrey County Council's Cabinet Member for Community Services, said: "Not only did thousands of cyclists defy everything the weather threw at them last year, they also turned pedal power into a record-breaking sum for good causes in Surrey and the rest of the country and perhaps the next Sir Bradley Wiggins or Lizzie Armitstead will be participating when we welcome the event again this year."
The organisers will deliver an extensive community engagement programme with the support of the London boroughs on the route and Surrey County Council to help residents and businesses along the route plan ahead. This will include a leaflet drop in July to 1 million+ residents and businesses along the route, drop-in session for local people and community access plans.
In 2015, the Mayor of London's cycling festival will host the 10th Brompton World Championship as part of the Prudential RideLondon Grand Prix races in St James's Park on Saturday 1 August.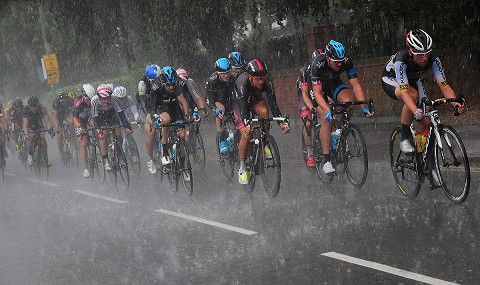 One of the most viewed images of the race was this rain storm during the early part of the race.
It's the first time that the Brompton World Championship will be held in London giving Brompton riders the chance to race on a world-famous circuit that starts on The Mall, takes in Horse Guards Parade, passing Buckingham Palace before finishing on The Mall. The Brompton World Championship will take place at 17:00 on Saturday 1 August, immediately after Prudential RideLondon FreeCycle, when 70,000 riders are expected to enjoy the freedom of cycling on traffic-free roads through Westminster, Camden and the City.
This unique and hugely enjoyable Brompton event takes the form of a Le Mans-style start as 575 smartly-dressed competitors from around the world make a mad dash to unfold their bikes before setting off on the circuit. Previous winners include Roberto Heras, the three-time winner of the Vuelta a España. The rules require smart dress and no lycra is permitted.
The 2015 Brompton World Championship is open to all, with places limited to 575. Registration is now open at www.Prudential RideLondon.co.uk and will close after 1500 entries have been received or at 17:00 on Tuesday 7 April (whichever is earlier). The entry fee is £40.00. A ballot will be drawn after the closing date and successful riders will be notified by 14 April.
Brompton Bikes have been made in London since 1975 and are made for cities, making the Prudential RideLondon Grand Prix route the perfect backdrop to showcase this iconic British brand.
Stephen Loftus, Chief Sales and Marketing Officer for Brompton Bicycle, says: "We are delighted to be bringing our World Championship final to central London in partnership with Prudential RideLondon – it will be a fantastic spectacle, showcasing what is great about our bikes and lots of fun for all of those involved."
Hugh Brasher, Event Director for Prudential RideLondon, said: "In just two years, Prudential RideLondon is now internationally recognised as the world's greatest and largest festival of cycling and 95,000+ riders will cycle more than 3 million miles over the weekend of 1-2 August. It is all about inspiring a new generation of cyclists and riders such as Mark Cavendish will do that."
Highlights of the 2014 Prudential RideLondon festival of cycling can be seen here.
Send your results as well as club, team & event news here
---
Other Results on VeloUK (including reports containing results)

---
Other News on VeloUK