Rider chat with Liverpool's Mark McNally who has just finished his training camp with new team Wanty-Groupe Gobert
Feature – Mark McNally Q & A
Photos from Kristof Ramon for Wanty-Groupe Gobert
1. Was this the first training camp for you with your new team?
Mark: It was the first training camp but we had a meeting in Charleroi last November
2. Tell us about the training at a training camp!
Mark: The more experienced riders in the team planned the training for the week which consisted of mostly long rides with the odd specific block from my coach Jon Sharples (Trainsharp) thrown in on a few long climbs
3. Where was the camp and how many days was the camp and was there a typical day (all the same or varied)?
Mark: The team camp was from the 11th-23rd Feb in Benidorm but I went out a week early and stayed with some people I know just in the hills above Alicante so in total I was away for roughly three weeks.
4. Is it broken up into blocks of easy and hard days or just bloody hard all the time!
Mark: We were working with three day training blocks with an easy day in-between so I did one four day block before I went to the team camp then 3 x 3 day blocks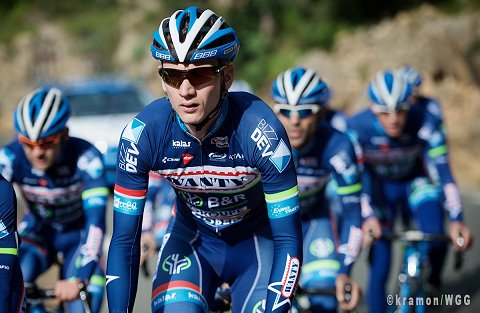 5. What was the longest day on the bike? (number of hours/miles/flat or mountains)
Mark: The longest day we did was around 6hrs 20 and 190km with 3325m of altitude gain (all the rides are uploaded on my Strava!)
6. What was the hardest day (or bit) of the training camp and why was it the hardest?
Mark: The last day was the hardest to be honest. We did 2,500m climbing in the first 2hrs 30 of the ride and I think the accumulation of fatigue started to catch up with me. We started out the door and up a well known climb. It was hard to go uphill out of the blocks when you were already pretty puffed but once we got over that first climb, I sort of settled into it.
7. How did it differ to the other training camps with An Post and Madison Genesis?
Mark: It was similar in certain ways with just a few of the more experienced guys giving us some words of wisdom like when to ride steady and when and how to ride hard as apposed to me being the 'elder statesman' in Madison or AN Post! I saw both my old managers out training too; Roger Hammond and Kurt Bogaerts which is always strange to see as you're both wearing different kits now!
8. Tell us about your weapon (bike) for 2016?
Marl: It's a Cube C68 Lightening. It's all completely new set up to me but and feels like it goes up hill faster for this time of year than most of my other bikes but I think that's more to do with keeping my waistline under control over the Christmas holidays!
9. Have you got your schedule for the first half of the season?
Mark: I start in Qatar and Oman before I then come back and there's two one day races in France with Drome Classic and Sud Ardeche. After that starts the cobbled classics but no definitive teams yet but I hope to get a look in with a few of them.
10. Having lived in Belgium, has it been easy to feel at home in a Belgian team?!
Mark: I think I'm quite good at adapting to changing environments like most bike riders but they seem like a good group of lads with a mix of experience and hard work. Some times they struggle to understand my accent but I struggle to understand some West Flemish accents too so its all a learning curve. I've already been given a few new nick names of 'Liverpool' and 'Nally' to name the ones suitable for a pre watershed audience!
Send your results as well as club, team & event news here
---
Other Results on VeloUK (including reports containing results)

---
Other News on VeloUK