A team almost unbeatable in circuit races in 2016, JLT Condor will go into next week's Tour of Britain with three big goals
Tour of Britain: 3 Goals for JLT Condor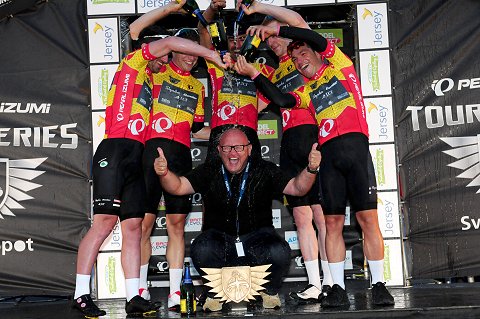 Yet another win for John Herety in the Tour Series – the one above in 2014
Note: During this article, John mentions Chris Lawless is a key rider for the team in the Tour of Britain. Sadly, Chris became injured (nothing broken) and so the team were unable to select him for the race. Hence, the JLT Condor for Tour of Britain is, Connor Dunne, Russell Downing, Steve Lampier, Tom Moses, Graham Briggs and Ali Slater
Back in May, the news from races was all about the men in black when they dominated the Tour Series with Jon Mould proving to be a real winner over and over, and backed up by his team, they won the overall too.
It has been their best season yet, something the guiding hand for the men in black for many many years, former pro John Herety agrees with. "For sure, we have had one of our best seasons ever. Our sponsor JLT upped the budget for this year with the remit that they wanted us to win the Tour Series."
"So we signed the appropriate riders to try make that happen which we did. On the back of that, we did well in the Circuit Race series as well so I'm happy with their performances in the circuit races.
"From an international point of view, we have done okay but perhaps not as well as we have in previous years. We've had a little bad luck with some riders getting sick as well but overall, I'm happy with the season".
It's in the crits the team has had its most success including a national title for Chris Lawless but there were other highlights and whilst their road race results don't match the crit ones, a win in the CiCLE Classic was a big highlight for the rider Conor Dunne and his team as was the 1-2-3 in the Staffordshire Kermesse won by Chris Lawless.
A second place for four time winner Rus Downing in the Lincoln Grand Prix and a handful of top fives in other major British races for the team's riders show they have the firepower on the road. Chatting to their manager and DS John Herety, he says of the Tour of Britain "we've done a few recces already and it's very tough".
Chris Lawless winning the British crit champs
"The racing will be dictated by the WorldTour teams as it always is but we'll be more ambitious this year. It's always been the same for domestic teams who try and get in breakaways in the past, and that won't change for us".
"We also have a sprinter in Chris Lawless who has shown that he is good enough to get up there in some of the short stages at the back end of the Tour (Bristol & London). So our team will be based around Chris because he's also climbing very well. It depends on how the race is ridden but he could even be our GC guy along with Steve Lampier. So three big goals for us there and why not after the year we have had."
John then explained that the preparation has varied for them but included staying home and training. "We have a full time coach in Tim Kennaugh who is looking after the riders and he's done a fantastic job. So he's set them up with programmes leading up to the Tour of Britain. We're also going to do some races abroad, then a few recces and that will be it."
One final parting word though is on the team's Ed Clancy who at the time John and I spoke, had not re-signed but after many years with the team, is expected to do so. "All being well, he will be with us next season and his contract just needs to be signed" his trade team manager explained.
"He's keen to get back to enjoying his racing with our race programme and get away from the structured programme with GB that they have to have. He's one of the easiest riders to work with and he'll be like a new rider after the Games. But he'll have a shock as it's been a while since he's done a full road season but we'll be happy to have him back."
"Ed is very under rated for what he does and been a fantastic asset for this team".
Send your results as well as club, team & event news here
---
Other Results on VeloUK (including reports containing results)

---
Other News on VeloUK