Ian Lee and Emily Ashwood winners at VC Norwich GT Cressingham Road Races on Saturday
Report: VC Norwich GT Cressingham Road Races
by Fergus Muir
Ian Lee (RAF CC) won the 67 mile Great Cressingham Men's Road Race promoted by VC Norwich on a 7.5 mile circuit of West Norfolk lanes in warm, mostly overcast conditions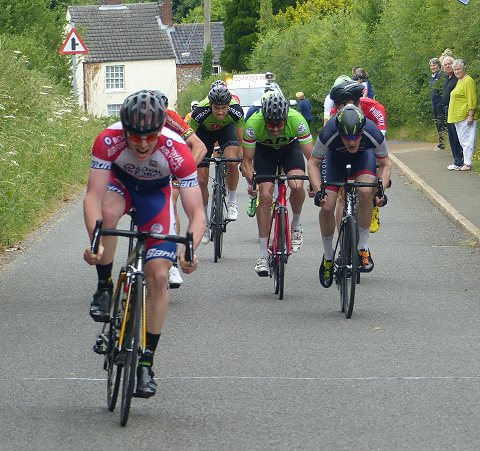 With a tailwind on the main – if modest – hill, the race was fast with few breakaway attempts lasting long
Sam Toy of Velo Schils took the mid-race prime, then with one lap to go Jack Hardwicke (Strada Sport) attacked over the top of the climb. Strada teammates immediately blocked and those that succeeded in getting passed them formed a leading group of ten.
Entering Gt Cressingham with one to go Hardwicke and Harley Matthews (DAP CC) were bidding to escape (photo …696a) but the break was together entering the village for the last time.
Tom Elwood (London Phoenix), winner of the CC Hackney RR in April, attacked from a long way out and held on to his lead until Lee, a 25 year-old aircraft technician from nearby RAF Marham, came to the front as the break came in sight of the finish.
Lee held on to win from Elwood and Toy, with Mike Auger (API) taking fourth and the prize for best Third Cat.
WOMEN
In the women's race over 52 miles there was a second lap attack by Elizabeth Hughes of CC London. A lap later Emily Meakin (Mammoth Lifestyle) led the race past Gt Cressingham Wood.
The mid race prime was taken by European Junior MTB Champion Sophie Wright (Strada Sport) and this effort split the field with a first group of about 15 riders opening a gap which soon widened to a minute, and then to over two minutes. The remainder of the field contested a sprint for the minor placings one lap early, while the break forged ahead with Lindsey Hamilton (Cambridge CC) leading into Gt Cressingham with twolaps to go.
Suffolk rider Rebecca Johnson (Aprire/HSS) attacked with one to go, but the break was together as they approached the finish with Jessica Woodworth (CT OnForm) coming up the left hand side of the finish climb and teammate Emily Ashwood coming by to take the win, from Elizabeth Hughes (CC London) and Elena Spanou (OnForm)
Ashwood, from Sutton in Surrey, additionally took the prize for first Junior while Nicole Oh (Les Filles, 4th) was first veteran.
… continued after advert
MEN
1 Ian Lee Royal Air Force CA
2 Tom Elwood CC London
3 Sam Toy Velo Schils – Interbike RT
4 Michael Auger API-Metrow/Bodyby JR
5 Martin Smith London Phoenix CC
6 Jack Hardwicke Strada-Sport
7 Harley Matthews DAP Cycling Club
8 Ross Fawcett Pedal Power Cycles Ipswich
9 Ian Perry Velo Schils – Interbike RT
10 Vincent Christan East London Velo
11 Spencer Laborde Iceni Velo
12 Fabian Horrocks Team Vision Innovative Leisure
13 Morris Bacon Strada-Sport
14 Charlie Wright Strada-Sport
15 David Warwick Orwell Velo
16 Mark Richards Velo Club Baracchi
17 Benedict Thompson CC London
18 Seb Herrod Strada-Sport
19 Thomas Beasley East London Velo
20 Michael Bell Fast Test Racing Team
21 Mike Smith Rapha Cycling Club
22 Mark Powell Stowmarket & District CC
23 Elliot Fullerton Bloodwise QSW
24 Douglas Allen Velo Schils – Interbike RT
25 Thomas Heal NO CLUB
26 Wayne Crombie East London Velo
27 Hector Corey Catford CC Equipe/Banks
28 Valentino Fontana Gemini BC
29 Gavin Moore Pro Cycle Hire UK Racing Team
30 Ben Howell Strada-Sport
31 Lubomir Belak St Ives CC
32 Dan Gray VC Norwich
33 Tim Guy DAP Cycling Club
34 Ben Smith Welwyn Wheelers CC
35 Paul Groombridge Push Sport / Barford Van Hire
36 Stephen Fuller Cambridge CC
37 Dale Johnston VC Norwich
38 Gavin Carter Stowmarket & District CC
39 Bradley Nelson Bloodwise QSW
40 Jack Steven East London Velo
42 Thomas Rowson Velo Schils – Interbike RT
43 Chris Guy Iceni Velo
WOMEN
1 Emily Ashwood Cycle Team OnForm
2 Elizabeth Hughes CC London
3 Elena Spanou Cycle Team OnForm
4 Nicole Oh Les Filles Queen of the Mountains RT
5 Susan Freeburn Les Filles Queen of the Mountains RT
6 Gemma Melton Pedal Power Cycles Ipswich
7 Emily Meakin Mammoth Lifestyle Racing Team
8 Sophie Wright Strada Sport
9 Jennie Tillott GB Cycles.co.uk
10 Rebecca Johnson Aprire Bicycles/HSS Hire
11 Lindsay Atkinson-Wright Albarosa Cycling Club
12 Jessica Woodworth Cycle Team OnForm
13 Jenni Lake Lovelo
14 Cindy Berry BowlPhish Racing
15 Emma Jane Hornsby VC Londres
16 Kitty Pemberton-Platt Rapha Cycling Club
17 Lindsey Hamilton Cambridge CC
18 Olivia Campbell Sigma Sport WRT
19 Georgia Bullard Team Jadan-Weldtite
20 Francesca Hall Clay Cross Road Team
21 Polly Mason Iceni Velo
22 Sharon Calton West Suffolk Wheelers
23 Catherine Pearce Iceni Velo
24 Claire Wilson St Neots CC
25 Mandy Bunn CC Sudbury
26 Katerina Byrtusova Cambridge CC
27 Isabella Torrie LIV AWOL
28 Jennifer Andrews Cycle Club Ashwell (CCA)
29 Ann Knights St Ives CC
Send your results as well as club, team & event news here
---
Other Results on VeloUK (including reports containing results)

---
Other News on VeloUK