Vanilla Bikes who have a online shop as well as one in Carnforth in the North West (just off the M6) have given us some gift ideas for Christmas
Xmas Gifts: Vanilla Bikes (shop and online)
Gifts less than £10
Giftcards from £5
Shopping for someone else but not sure what to give them? Give them the gift of choice with a Vanillabikes Gift Card. Gift cards are delivered by email and contain instructions to redeem them at checkout. You can email the gift card to friends & family or print it out to give them personally.
Science in Sport Performance Box £8.79
The Performance Box is the ultimate introduction to the Science in Sport great range of products. It contains:
1x GO Energy + Caffeine Gel – Double Espresso
2x GO Energy + Caffeine Gel – Citrus
1x GO Isotonic Energy – Blackcurrant
2x GO Isotonic Energy – Orange
2x GO Isotonic Energy – Lemon & Lime
2x GO Energy Bar – Apple & Blackcurrant
2x GO Energy Bar – Espresso
---
Gifts between £10-£20
DeFeet- E-Touch Dura Glove £15.99
The Duraglove ET is the "Electronic Touch" model of Defeet's glove made for cyclists and runners. Riding or running with a touch screened smart phone is all good until you try to use one while wearing long-fingered gloves. That's when smart phones become dumb. That's why on the tips of the middle finger, index finger and thumb of the Duraglove ET Defeet have added yarn that allows you to operate your device as well as you could without wearing gloves at all. Now you can tap away without removing your gloves. Problem solved.
Knog Milkman Combination Rectractable Cable Lock £18.99
The Milkman combo lock is a retractable, keyless, steel cable lock with a 10,000 combination lock barrel. It'll loop around your bike frame and any bolted-down fat-ass post, locking simply and swiftly but compact enough to fit in your back pocket.
Muc-Off Chamois Cream £13.99
– Use the Muc-Off Chamois Cream to avoid chafing whether your cycling or running.
– Look after your bum with the new Muc-Off chamois cream.
– Also useful for runners and other athlete to prevent chaffing.
Key Information:
– Extreme Skin Lubricant naturally reduces the friction of your skin
– Free from Parabens and formaldehyde
– Luxury formulation, deeply moisturising for total riding comfort
– Enriched with natural Aloe Vera, Witch Hazel, Shea Butter and Sunflower Oil
– Contains Pro-Vitamins
– Anti Bacterial – Kills 99% of germs
– Has a mild cooling function
Socks From £16.49
Everyone loves SAKO7 socks for Xmas! SAKO7 is a range of socks and cycling apparel created by Sean Sakinofsky, a road cyclist originally from Cape Town, South Africa. The name SAKO7 comes from his nickname, Sako, and his lucky number 7.
---
Gifts between £40-£50
Muc-Off Ambassador Cleaning Kit £44.99
Great value Muc-Off Cleaning Kit but thus bundle and save £££'
Contents:
1 x Bike Cleaner 1L (£9)
1 x Sponge (£3)
1 x Chain Cleaner 400ml (£9)
1 x Claw Brush (£6)
1 x Bike Protect 500ml (£10)
1 x C3 Wet Lube120ml (£12)
Combined: £49 (Kit MSRP: £45)
PLUS FREE TOOLBOX WORTH £15
Secret Training Race Day Personal Care Kit £44.99
No facilities, no time, no space, this handy pack keeps everything together even if you're not. Filled with the complete Strip system, it's fully loaded and race ready.
9 Pieces includes;
– Anti-Chafing cream
– Start Oil
– Micro Fibre Body Cloths
– Post Race Wash
– Lip Balm
– Pins in a Tin
– Sun Screen
– Hand Sanitiser
– Hygiene Wipes
Gripgrab Race Thermo Hi-Vis Overshoes
The RaceThermo incorporate the EUROBIKE Award winning technology; IntelliSeal™. An ingenious technology that greatly enhances the durability, fit and water resistance of shoe covers.
The RaceThermo is made from 4 mm waterproof neoprene It protects your feet from dirt and sprays when riding in wet and cold conditions. The RaceThermo shoe cover is featuring the new zipperless shoe cover design, that gives a perfect and snug fit around the shoe and calf, so water is kept out from the top and preventing water from penetrating through a zipper. The RaceThermo shoe cover gives that racing look while effectively shielding your feet and shoes from the elements.
Recommended for road shoes. Compatible with most types of pedal systems.
– High visibility
– Comfort zone 0 °C ~ 10 °C
– IntelliSeal™
– 4 mm waterproof neoprene
– Welded and taped seams
– Adjustable bottom Velcro strap
– Reflective graphics
– Windproof
– Safety light attachment
– Kevlar® reinforcements
– Heavy rain protection
– Kevlar® reinforcements
– Zipper less design:
The new zipper-less shoe covers goes on before putting on the shoe, this has several advantages:
– Application on the shoe will greatly be improved
– Better fitting on a wider array of shoes
– No zipper mean no irritation and more minimalistic feel
– Better waterproofing at the top and bottom
Gifts £50 plus
Garmin Edge 520 GPS Cycle Computer with HRM and Cadence Bundle £225.00
Here's the competitive edge you've been waiting for – the Edge 520 is the first device with Strava live segment challenges. This aerodynamic GPS bike computer is packed with advanced analysis features.
Connected features include live tracking, smart notifications and automatic uploads to Garmin Connect
Edge 520 integrates with compatible Shimano Di2 electronic shifting systems and additional ANT sensors. It's compatible with GPS and GLONASS satellites, so you benefit from more signal options, wherever your ride takes you. Offers in-ride challenges through live Strava segments
Reports cycling-specific VO2 max and recovery time when used with power and heart rate. Pairs with compatible ANT® turbo trainers for data display and control
Tracks Functional Threshold Power (FTP), watts/kg and cycling dynamics when used with Vector or Vector 2 power meter. Connected features: automatic uploads, live tracking, smart notifications, send/receive courses, social media sharing, weather
Includes: Edge 520, heart rate monitor, cadence sensor, speed sensor, extended out-front mount, standard mount, tether, USB cable, manuals
Ravemen PR1200 Rechargeable Front Light £99.00
Ravemen is derived from their passion for bike riding and concern for bike riders as well as others' safety. Coming from different areas of the bicycle industry and being biking enthusiasts, engaging in night riding is quite normal for us. To our regret, most of the high-output bike lights on the market have no anti-glare capability, which is dangerous to oncoming traffic, and as a result places them at great risk.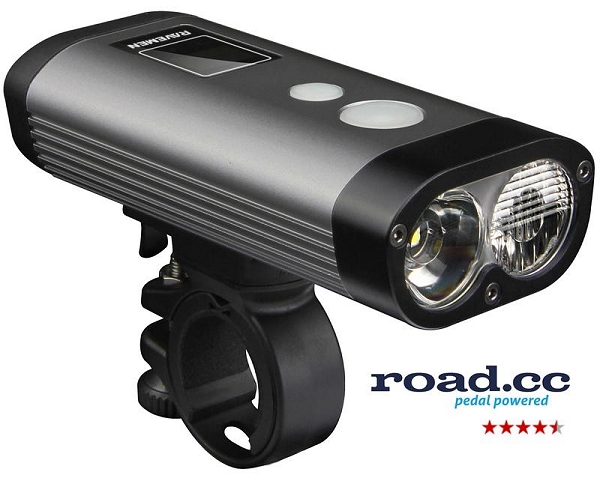 In fact, many people have had the experience of being dazzled by high lumen bike lights, and Ravemen believe that every rider also tries not to disturb others while enjoying the fun of riding. Based on such perception and being inspired by automotive headlights, the idea of applying a similar design to bike lights came into their minds. Through the entire process of conceiving, designing, proofing, testing and adjusting, they finally made it! That means the world's first bike light with a simulation of the design of automotive headlights is available.
Combining high quality and durable material with innovative design, along with the concern for riders and others' safety which has been fused into their genes, Ravemen promise their products will be not only reliable and easy-to-use to improve your riding experience, but also a trusted companion that will earn you respect from others.
– DuaLens Optical Design for road biking mode, providing broad closed range flood light with anti-glare low beam for commuting, no dazzle and glare for oncoming traffic
– HiLo Beam System for Mountain Biking and Emergency Modes, providing illuminating light similar to automotive headlight with far reaching high beam and low beam
– Intelligent Memory circuit remembers the last used brightness level and mode when turned on again
– LED real-time display to show remaining runtime in each brightness level
– Micro USB charging port, compatible with most phone chargers
– USB output port to charge other USB-powered digital devices
– Intelligent thermal management circuit to prevent overheat of LEDs
– Quick release design for easily slide in and out
– Compatible with handlebar from 22.2mm to 31.8mm diameter
– 21 hours run time
– Max 1200 lumens, 3 modes and 8 brightness levels for various riding environments
Technical Spec
– LED: 2*CREE XM-L2 with a lifespan of 50000 hours
– Battery: 5200mAh/3.7V rechargeable Lithium-ion battery
– Dimensions (Headlight): 100mm (L)*48mm (W)*27mm (H);
– Weight (Headlight): 213g
– Materials: The front and main body is made by aluminum with Mil Type III Hard Coat Anodizing; the rear part and the handlebar mount are made by durable plastic
Park Tool PK2 – Professional Tool Kit £598.99
Designed as a do it all kit for the home mechanic or as a solid starter kit for the professional shop mechanic, the PK-2 is a very special collection of our very finest shop tools. While it includes the tools needed to perform almost any basic repair or adjustment on the bike, the PK-2 also includes the specialty tools to perform many advanced repair tasks. These include installing and removing headset races, installing crown races, cutting fork steerer tubes, straightening derailleur hangers, tapping threaded frame braze-ons and more
Karcher OC3 Mobike Outdoor Washer £129.99
Whether you're a mountain biker, a dog walker, a camper or simply love spending time in the great outdoors, trailing mud into your car, tent or caravan is never a happy end to the day. What's more, leaving dried-on dirt on your outdoor equipment doesn't do it any favours – it's much better to rinse it off as soon as possible. That's where the Kärcher Portable WASHER comes in – a simple and lightweight solution for cleaning on the go. The Portable WASHER is easy to store in your car boot or caravan, with a 4 litre water tank and a 5 bar pressure that's perfect for rinsing off your bike, wellies, dog or pushchair at the end of a muddy day. When you're finished, the spray gun and hose stores away tidily, with extra accessory kits available for efficient aid thorough cleaning of bikes, pets and outdoor equipment. This machine comes with a 2 year warranty.
Casual Clothing with Legendary Reynolds Branding – From £24.00
---
---
Send your results as well as club, team & event news here
Other Results on VeloUK (including reports containing results)

---
Other News on VeloUK