At the forthcoming British CycloCross Championships at Hetton Lyons near Sunderland, one of the riders will feel right at home, former Hetton Hawks youngster, Anna Kay – we had a chat!
Feature Interview: Anna Kay (Edco Continental)
On Saturday morning, whilst she was on her way to an international race in Belgium (Waaslandcross Sint-Niklaas) we spoke to a young lady whose been in the mix fighting out for the win in the National Trophy, the North East's Anna Kay (Edco Continental).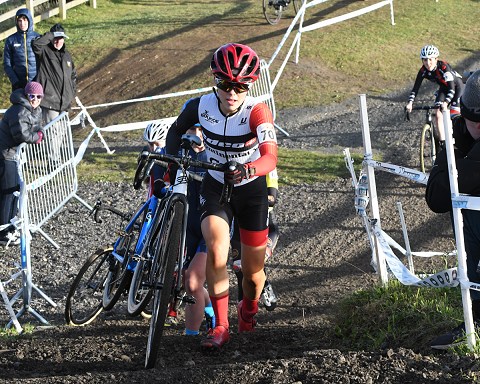 Anna finished her A levels this year and whilst she has a place at University lined up, Anna has deferred that for a year (gap year) and then potentially will go to Uni to do her course or join the RAF. She is quite the feisty ambitious young lady and her taking herself off to Belgium is an example of that.
Anna is spending the Christmas period in Belgium, racing for her country and her trade team (Edco Continental) and being a North East young lady, is looking forward to racing the British Under 23 Women's championship at Hetton Lyons on Sunday morning (January 14) where she will be racing against the likes of former World Champion and CycloCross sensation, Evie Richards.
In Belgium, Anna explained she came there with the GB team and has then stayed on as there are cyclo-cross races on all the time and she will be trying to do as many of them as possible. Already, Anna has done three races with GB in her latest stay in Belgium, a week of training and then raced Sint-Niklaas on Saturday. Anna will then race the Boxing Day World Cup and then it's race on all the way to the British Championships, there in Belgium and here in the UK including the National Trophy at Ipswich.
… continued after advert
In the National Trophy Series, Anna is in 4th place overall (3rd U23) and will be returning for the round at Ipswich prior to heading back to the North East and the championship at her home venue.
Hetton Hawks are the promoting club for the British CycloCross Championships in 2018 and they were Anna's first club which she was part of for three or four years. "They really helped develop me as a rider and I probably would not be where I am now if it wasn't for the Hetton club who coached us and selected us for RSRs, and race stuff" Anna explained.
"I was initially a mountain biker but now race more road and cyclo-cross. I used that track at Hetton Lyons all the time and still do now."
Anna comes from a place only 20 minutes from the Hetton Lyons country park where the championships will be held and this season especially has been in the spotlight of Women's cyclocross, not just racing at the front of the races in the National Trophy but also representing her country in World Cups.
… continued after advert
So why the jump into the spotlight now I asked? "I did a lot of road racing this year when I joined a new road team (Edco Continental) so that brought on my strength loads and I have always been good technically from my time on the mountain bike."
"So putting that together just helped me and brought me along. It's been a privilege to race for my country too. I just want to keep doing what I am doing and raise my profile in the sport in Europe and the UK. My aim is to do both road and cyclo-cross. I wasn't planning on doing a full cyclocross season but it has been so great and I have enjoyed it so much that I have even come out to Belgium to race in Europe so road and cyclo-cross definitely."
Asked if the National Trophy was good preparation for the international racing and her results gave her confidence before heading to Belgium, Anna replied "definitely. It was quite cool being at the front in the National Trophy races".
I then asked Anna, what her biggest highlight has been racing for her country to which Anna replied "the first time I raced a World Cup in Koksijde. That was on sand which I had never done before and just being there, and seeing all the riders that I normally only ever watch on TV, and I was standing next to them on the start line. That has probably been the biggest highlight so far".
Racing in the home of cyclo-cross also brings other rewards like learning from the best so what will Anna bring back from her time in Belgium? "In Belgium, the riders are more aggressive, so from a learning perspective, probably learning to fight and stand my ground a bit more and be more aggressive myself and race harder. I think I'll be taking that back to the UK."
Finally, looking ahead to the big one, when asked what it will be like to ride the British Championships on a circuit that she knows so well, Anna replied "It will be so good. The National Trophy there last year was great , knowing everyone and the course, so to have the National Championships there will be amazing. I really like the course, there are hills, and technical descents and corners, off camber, it just has everything."
And Anna added that having raced in Belgium over Christmas, it will give her confidence going into the British championships and help her progress as a rider. Anna added that she would also like to follow that up with a place at the World Championships but knows that the championship race on the home course at Hetton Lyons will be a selection race so a lot will be riding on it.
Looking even further ahead, post cyclo-cross season, Anna also has a road season with Storey racing to look forward to so she is one busy young lady on her bike right now and we thank her for the chat and look forward to seeing her at Ipswich and then on her home course at Hetton Lyones.
British Championship Preview Here on VeloUK
Send your results as well as club, team & event news here
---
Other Results on VeloUK (including reports containing results)

---
Other News on VeloUK