Luke Norris fastest in the PDQ Cycle Coaching 10m time trial on June 6 near Cirencester; Liffey Daniels was fastest woman
Result: PDQ Cycle Coaching 10m TT
PDQ Cycle Coaching Open 10 Mile TT 6th June 2021
Lauren Booth
The inaugural PDQ Cycle Coaching Open 10 Mile TT was held on the 6th June 2021 on course U44 in Poulton, Nr Cirencester. The weather forecast was for rain in the morning and it certainly put off the early starters as we saw several DNS's in the first 20 riders. However, the rain held off for the whole event, and 54 riders of the 68 starters set off. It seemed to be good conditions for a time trial, being a reasonably still and warm morning. This was reflected in the times posted, with many riders going faster than they did on the same course 2 weeks previous and the course record being smashed!
The overall win went to Luke Norris of Banbury Star CC in a blistering time and new course record of 20.14. There was just 1 second between 2nd and 3rd place riders, Anthony Turner of Mickey Cranks CC and Nick Livermore of Bristol South CC in times of 20.58 and 20.59 respectively. There was a tie in the women's race, Jayme Fraioli of Salt and Sham CC and Liffey Daniels of 360VRT both posting a time of 26.46. Lauren Booth of PDQ Cycle Coaching took third in a time of 27.17.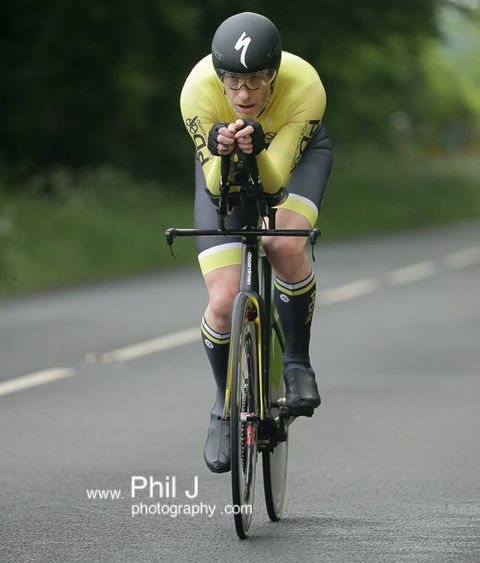 Kev Garland
There were road bike categories for both male and female and the winners of these categories were Fraser Joyce and Jo Spencer. Both riders posted very respectable times compared to their aero-clad compatriots, Fraser Joyce even coming in 7th overall in a time of 21.44. Both these riders were also part of winning teams, so very well done to both.
The team prizes were dominated by Swindon Wheelers. With 3 male riders in the top 10 placings overall it was hard for anyone to rival them. The winning team was made up of 5th, 7th and 9th overall placed riders, Matt Boulton, Fraser Joyce (road bike) and Ben Parker. The mixed team prize also went to Swindon Wheelers with Matt Boulton and Jo Spencer (road bike).
The Vet40 men's prize went to Ben Parker, who was 10th overall and posted a time of 21.59.
The Vet50 men's prize went to David Bolton, who was 11th overall and posted a time of 22.04.
The Vet60 men's prize went to Stephen Parfitt, who posted a time of 24.34.
The Vet40 women's prize went to Caroline Fishlock in a time of 28.10.
The Vet50 and Vet60 women's prizes are unclaimed.
As a club we are proud to support equal opportunities and encourage participation in the women's sector by awarding equal categories and prize money for both male and women participants. A huge thank you to the organiser, Niel Dunnage, and to the time keepers, Chris Broad-Drake and Marianne Streather. Thank you to the invaluable marshalls on the day, Ian White, Tim May and Danny Goggin. Without the assistance from volunteers these events could not happen, so thank you.
Jon Wiggins
RESULT
1 Luke Norris Banbury Star Cyclists' Club 20:14 Male Senior
2 Anthony Turner Mickey Cranks Cycling Club 20:58 Male Vet
3 Nick Livermore Bristol South Cycling Club 20:59 Male Senior
4 Rory Gilling RE VO LTN 21:05 Male Senior
5 Matt Boulton Swindon Wheelers 21:11 Male Senior
6 William Lewis RE VO LTN 21:28 Male Senior
7 Fraser Joyce Swindon Wheelers 21:44 Male Senior
8 Matt Hermon Mickey Cranks Cycling Club 21:56 Male Senior
8 Ben Parker Swindon Wheelers 21:56 Male Vet
10 David Bolton Bristol South Cycling Club 22:04 Male Vet
11 Ben Jones Portishead Cycling Club 22:06 Male Senior
12 Ollie Hanks Ride 24/7 22:13 Male Espoir
13 Gary Paddon Swindon Wheelers 22:17 Male Senior
14 Tony Costello Team Swindon Cycles 22:24 Male Vet
15 Frank Kilsby Velo Club St Raphael 22:25 Male Senior
16 Jordan Wintle Cheltenham & County Cycling Club 22:31 Male Senior
17 Jeff Lawrence FTP (Fulfil The Potential) Racing 22:37 Male Vet
17 Kevin Garland PDQ Cycle Coaching 22:37 Male Vet
19 Luke Smith Bristol South Cycling Club 22:50 Male Vet
20 Matthew Russell Team Swindon Cycles 22:53 Male Senior
21 Roy Carless Swindon Road Club 22:59 Male Vet
22 Matt Norris Banbury Star Cyclists' Club 23:01 Male Vet
23 Nick James Mickey Cranks Cycling Club 23:12 Male Vet
23 Jon Wiggins PDQ Cycle Coaching 23:12 Male Senior
25 Ross Mahoney Swindon Road Club 23:20 Male Senior
26 Christian Norris Mercedes AMG Petronas CC 23:23 Male Senior
27 Dave Roper Ride 24/7 23:28 Male Senior
28 Peter Garnett Swindon Road Club 23:37 Male Vet
29 Trevor Hodges Corinium Cycle Club 24:22:00 Male Vet
30 Tim Strong Team Swindon Cycles 24:32:00 Male Vet
31 Stephen Parfitt Oxonian CC 24:34:00 Male Vet
32 Mike Anderson CC Moncontour 24:36:00 Male Vet
32 Adrian Rowley Gloucester City Cycling Club 24:36:00 Male Vet
34 Daniel Andres FTP (Fulfil The Potential) Racing 24:41:00 Male
35 Andy Kelly Bristol South Cycling Club 24:53:00 Male Vet
36 Maris Brugis Bristol Road Club 24:54:00 Male Senior
37 Paul Rogoll Salt and Sham Cycle Club 25:12:00 Male Vet
38 Edric Hobbs VTTA West Group 25:16:00 Male Vet
39 Rob Merrison 360VRT 25:19:00 Male Vet
40 Mark Evans Chippenham & District Wheelers 25:32:00 Male Vet
41 Chris Lowe Swindon Road Club 25:38:00 Male Vet
42 Michael Spencer Swindon Wheelers 25:54:00 Male Senior
43 Jeffrey Rees Virtual Cycling Club 26:08:00 Male Vet
44 Marc Allen Swindon Road Club 26:16:00 Male Vet
45 Steven Buckley Ride 24/7 26:25:00 Male Vet
46 Liffey Daniels 360VRT 26:46:00 Female Senior
46 Jayme Fraioli Salt and Sham Cycle Club 26:46:00 Female Senior
48 Robert Tucker PDQ Cycle Coaching 27:10:00 Male Vet
49 Lauren Booth PDQ Cycle Coaching 27:17:00 Female Espoir
50 Bob Symons PDQ Cycle Coaching 28:03:00 Male Vet
51 Jo Spencer Swindon Wheelers 28:04:00 Female Senior
52 Caroline Fishlock Swindon Wheelers 28:10:00 Female Vet
53 Graham Hewson PDQ Cycle Coaching 29:22:00 Male Vet
54 Adrian Brooks PDQ Cycle Coaching 31:33:00 Male Vet
XXXXXXXXXXXXXXXXXXXXXXXXXXXXX
---
---
Cycle Division's Shop
---
Send your results as well as club, team & event news here
---
Other Results on VeloUK (including reports containing results)

---
Other News on VeloUK