Latest results from Revolution 44 at the National Cycling Centre in Manchester where the cream of Britain's track riders are entertaining a big crowd
PHOTOS LIVE FROM MANCHESTER
Pete Kennaugh wins Points Race, Ben Swift takes the Scratch Race for Sky & Kenny the quiet assassin reigns in Sprint  - On-form Laura Trott scores three race wins out of three for Wiggle-Honda
Rudy Project RT stayed ahead in the Elite Championship, Team Sky won Round 4 thanks to Ben Swift and Pete Kennaugh – while Laura Trott scored a superb hat-trick of wins in Manchester on Saturday night.
On his way to gaining five laps, Peter Kennaugh was again one of the stars of the Revolution.
The penultimate Revolution Series round left things poised for the season finale in London on 14th-15th March: Sky hauled themselves into third, while German team Rudy Project RT will take a 35-point lead to the Lee Valley VeloPark.
Another fearsomely strong sprint and endurance line-up was assembled with countless Olympic, world and national champions riding for Elite Championship and UCI rankings points.
Laura Trott was on exceptional form with a hat-trick of victories – Points Race, Elimination Race and Scratch Race – along with Jason Kenny, who won the UCI Sprint and the Keirin.
Swift and Kennaugh joined forces at Team Sky – Kennaugh starring in the Points Race again while Swift got his win in the Scratch Race. The afternoon session saw the biggest crowd of the season so far, and featured two Elite Championship races.
After surgery in September 2013, Ben Swift hasn't raced  for six months but with Challenge Majorca coming up, he showed at Revolution the speed is coming back. 
As usual Ed Clancy (Rapha Condor JLT) won the Flying Lap, before Kennaugh took on the field again in the Points Race. Clancy's Flying Lap victories have become a fixture of Revolution Series meets – while Kennaugh is making a habit of collecting laps on the field with apparently little effort.
This time Kennaugh took five laps from his rivals, another accomplished win which bodes well for the road season and his hopes of making Sky's line-up for this summer's Tour de France.
Trott won the Points Race – outsprinting Scottish rider Katie Archibald with help from another great lead-out by her team-mates Dani King and Elinor Barker. By 7pm the venue was packed for the evening session and more world-class racing – and Britain's Olympic hero Trott soon added another win in the Elimination Race.
Two of the Women stars, Laura Trott (winner of three events) and Lizzie Armitstead full gas on the Manchester boards
Clancy's awesome speed allowed Rapha Condor JLT to take another victory in the 1km Madison TT, following on from their world's best mark at Round 3. Clancy teamed up with George Atkins this time, their time of 54.446″ took the 10 points.
Telegraph All Stars (Sam Harrison and Jon Dibben) were second in 55.480″ with Rudy Project RT (Grasmann and Imhof) third in 56.982″, adding a very useful 8 Elite Championship points to their tally.
Jess Varnish returned to action at Revolution Series, beating Vicky Williamson in the final to win the UCI Sprint. Becky James defeated Danni Khan in the Minor Final to take third place.
After the presentations – Team Sky accepting the awards for winning overall on the night – James won the Women's Keirin while three-time Olympic champion Kenny won the Men's.
Jon Mould winning the Devil take the Hindmost from Ben Swift, no mean feat after the way Swifty won his races.
You could say the place was packed!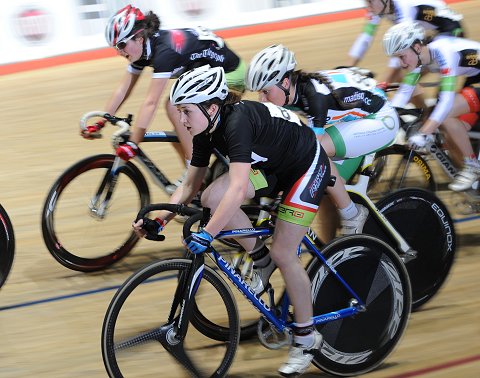 Grace Garner (RST/NFTO) was in good form in the Future Stars Girls competition leading by a point from Sophie Capewell.
New Raleigh signing George Atkins helped Ed Clancy to yet another win in the Madison Kilo
The quiet assassin Jason Kenny, was again the dominant sprinter, beating Matt Crampton in the semi finals.
Becky James, doing the Rainbow stripes justice, wins the Women's Keirin.
Abby-Mae Parkinson (RST/NFTO) looks back to see where the chasers are during a break in a Future Stars race.
Joe Holt on the outside making yet another run to win an event in the Future Stars boys competition.
'The lads' all relaxed having a chat before competition started on the track. In their new colours were Owain Doull (An Post) and Sam Harrison (NFTO) along with Olympic Champion Steven Burke (Haribo/HMT)
Night began with the team introductions … no prizes for guessing which team this is!
RESULTS
Women's Sprint
Qualifying
1. VARNISH, Jess GBR 05.509 (1) 05.668 (1) 11.177 64.418 km/h
2. WILIAMSON, Vicky GBR 05.541 (3) 05.675 (2) 11.216 64.194 km/h
3. KHAN, Dani GBR 05.514 (2) 05.722 (4) 11.236 64.079 km/h
4. JAMES, Becky GBR 05.556 (4) 05.750 (5) 11.306 63.683 km/h
5. LIGTLEE, Elis NED 05.614 (5) 05.714 (3) 11.328 63.559 km/h
6. MARCHANT, Katy GBR 05.634 (7) 05.775 (6) 11.409 63.108 km/h
7. BRASPENNINCX, Shanne NED 05.618 (6) 05.804 (7) 11.422 63.036 km/h
8. RIJKHOFF, Yesna NED 05.805 (8) 05.911 (8) 11.716 61.454 km/h
9. DEGRENDELE, Nicky BEL 05.897 (9) 05.961 (9) 11.858 60.718 km/h
10. DAVIS, Jenny GBR 05.833 (0) 06.034 (0) 11.867 60.672 km/h
11. BLOUNT, Rosie GBR 05.839 (0) 06.085 (0) 11.924 60.382 km/h
12. BAIRD, Emma GBR 06.054 (0) 06.328 (0) 12.382 58.148 km/h
13. AGURRE, Gudane Araiz ESP 06.327 (0) 06.571 (0) 12.898 55.822 km/h
Men's Sprint Qualifying
1 SKINNER, Callum GBR 04.980 (2) 05.024 (2) 10.004 71.971 km/h
2 KENNY, Jason GBR 04.979 (1) 05.074 (3) 10.053 71.620 km/h
3 CRAMPTON, Matt GBR 04.985 (3) 05.087 (4) 10.072 71.485 km/h
4 EMADI, Kian GBR 05.055 (5) 05.115 (5) 10.170 70.796 km/h
5 HINDES, Phil GBR 05.038 (4) 05.133 (6) 10.171 70.789 km/h
6 HOOGLAND, Jeffrey NED 05.121 (6) 05.232 (7) 10.353 69.545 km/h
7 PRITCHARD, Chris GBR 05.127 (7) 05.312 (8) 10.439 68.972 km/h
8 ROTHERHAM, Matt GBR 05.159 (8) 05.327 (9) 10.486 68.662 km/h
9 VAN'T HOENDERDAAL, Nils NED 05.202 (9) 05.328 (10) 10.530 68.376 km/h
10 MITCHELL, Jonathan GBR 05.598 (12) 05.000 (1) 10.598 67.937 km/h
11 AYRE, Kenny GBR 05.299 (10) 05.367 (11) 10.666 67.504 km/h
12 ESPINA, Jaime Vega ESP 05.406 (11) 05.478 (12) 10.884 66.152 km/h
MEN'S ENDURANCE FLYING LAP
1 CLANCY, Ed RCJ 2.656 (1) 7.916 (1) 13.250
2 BURKE, Steven HSC 2.689 (2) 7.986 (2) 13.354
3 HARRISON, Sam TMG 2.706 (3) 8.084 (3) 13.549
4 TENNANT, Andy MGE 2.732 (4) 8.156 (4) 13.668
5 MOULD, Jon USN 2.791 (6) 8.302 (5) 13.887
6 SWIFT, Ben SKY 2.757 (5) 8.340 (6) 14.040
7 HAVIK, Yoeri WD4 2.836 (7) 8.526 (7) 14.304
8 IMHOF, Claudio RPR 2.997 (9) 8.714 (9) 14.340
9 STEWART, Mark ROU 2.861 (8) 8.558 (8) 14.348
10 GIBSON, Matt CSY 2.807 (0) 8.520 (0) 14.368
WOMEN'S SPRINT ROUND 1
1
1 JAMES, Becky GBR 11.800
2 LIGTLEE, Elis NED 61.016 km/h
2
1 KHAN, Dani GBR 11.808
2 MARCHANT, Katy GBR 60.975 km/h
3
1 WILIAMSON, Vicky GBR 11.631
2 BRASPENNINCX, Shanne NED 61.903 km/h
4
1 VARNISH, Jess GBR 11.664
2 RIJKHOFF, Yesna NED 61.728 km/h
MEN'S SPRINT ROUND 1
1
1 HINDES, Phil GBR 10.443
2 EMADI, Kian GBR 68.945 km/h
2
1 CRAMPTON, Matt GBR 10.594
2 HOOGLAND, Jeffrey NED 67.962 km/h
3
1 KENNY, Jason GBR 10.491
2 PRITCHARD, Chris GBR 68.630 km/h
4
1 SKINNER, Callum GBR 10.956
2 ROTHERHAM, Matt GBR 65.717 km/h
WOMENS POINTS RACE
1 TROTT, Laura GBR 72
2 ARCHIBALD, Katie GBR 53
3 KING, Dani GBR 53
4 ARMITSTEAD, Lizzie GBR 39
5 BARKER, Elinor GBR 35
6 JONES, Hayley GBR 7
7 SPOOR, Winander NED 7
8 CURTIS, Katie GBR 3
9 NELSON, Emily GBR 1
10 ARTEAGA, Ainara Elbusto ESP0
11 HAYWARD, Bethany GBR0
12 LLOYD, Manon GBR0
13 BROGAN, Kayleigh GBR
WOMENS KEIRIN
Heat 1
1 KHAN, Dani GBR
2 BRASPENNINCX, Shanne NED
3 LIGTLEE, Elis NED 4 153 BLOUNT, Rosie GBR
5 VARNISH, Jess GBR
6 DEGRENDELE, Nicky BEL
7 AGURRE, Gudane Araiz ESP
Heat 2
1 JAMES, Becky GBR
2 MARCHANT, Katy GBR
3 WILIAMSON, Vicky GBR
4 RIJKHOFF, Yesna NED 5 157 BAIRD, Emma GBR
6 DAVIS, Jenny GBR REL
MEN' KIERIN
Heat 1
1 Â CRAMPTON, Matt GBR
2 SKINNER, Callum GBR
3 VAN'T HOENDERDAAL, Nils NED
4 Â HINDES, Phil GBR
5 Â PRITCHARD, Chris GBR
6 AYRE, Kenny GBR
Heat 2
1 Â EMADI, Kian GBR
2 Â KENNY, Jason GBR
3 Â ROTHERHAM, Matt GBR
4 Â ESPINA, Jaime Vega ESP
5 Â HOOGLAND, Jeffrey NED
6 Â MITCHELL, Jonathan GBR
UNIVERSITY PURSUIT
1 MANCHESTER METROPOLITAN UNIVERSITY MET 02:37.946
2 UNIVERSITY OF SALFORD SAL 02:39.126
MENS POINTS
1 KENNAUGH, Peter GBR 147
2 STEWART, Mark GBR 82
3 ATKINS, George GBR 69
4 HAVIK, Yoeri NED 69
5 MOULD, Jon GBR 66
6 IMHOF, Claudio SUI 65
7 OLIPHANT, Evan GBR 52
8 GIBSON, Matt GBR 52
9 JAMES, Owen GBR 45
10 GRASMANN, Christian GER 45
11 SWIFT, Ben GBR 10
12 DIBBEN, Jon GBR 8
13 CULLAIGH, Gabriel GBR 5
14 BURKE, Steven GBR 4
15 DOULL, Owain GBR
16 HARRISON, Sam GBR
17 CLANCY, Ed GBR
WOMENS SPRINT SEMI FINAL
Heat 1
1 VARNISH, Jess GBR 11.773
2 JAMES, Becky GBR
Heat 2
1 WILIAMSON, Vicky GBR 11.805
2 KHAN, Dani GBR
MEN'S SPRINT SEMI FINAL
HINDES, Phil GBR BEAT SKINNER, Callum GBR
KENNY, Jason GBR BEAT CRAMPTON, Matt GBR
WOMEN'S DEVIL TAKE THE HINDMOST
1 TROTT, Laura WIG
2 ARCHIBALD, Katie TTC
3 KING, Dani WIG
4 JONES, Hayley USN
5 ARTEAGA, Ainara Elbusto REY
6 ARMITSTEAD, Lizzie BDO
7 NELSON, Emily ABR
8 CURTIS, Katie JIF
9 LLOYD, Manon ABR
10 BARKER, Elinor WIG
11 HAYWARD, Bethany MFR
12 BROGAN, Kayleigh SCO
13 SPOOR, Winander NED
WOMEN'S SPRINT MINOR FINAL
1 MARCHANT, Katy GBR 11.910
2 RIJKHOFF, Yesna NED
3 BRASPENNINCX, Shanne NED
4 LIGTLEE, Elis NED
FUTURE STARS WOMENS POINTS RACE
1 GARNER, Grace SKY 30
2 BARKER, Megan USN 25
3 SHAW, Lucy RPR 23
4 PARKINSON, Abby-Mae SKY 22
5 DICKINSON, Eleanor CSY 21
6 WILLIAMS, Sophie TMG 20
7 HAYCOX, Emily ROU 19
8 CAPEWELL, Sophie HSC 18
9 BROUGHTON, Charlotte MGE 17
10 ROBERTS, Jessica USN 16
11 DEW, Monica MGE 15
12 BIRCHALL, Sallie RCJ 14
13 TAYLOR, Bethany RCJ 13
14 CAPEWELL, Emily HSC 12
15 HARPER, Lucy ROU 11
16 MILWARD, Paige WD4 10
17 BATE-LOWE, Lauren WD4 9
18 CHARD, Megan TMG 8
19 ANSELL, Jessie RPR 7
20 COLBORNE, Henrietta CSY 6
MEN'S DEVIL TAKE THE HINDMOST
1 MOULD, Jon USN 2
2 SWIFT, Ben SKY
3 DOULL, Owain WD4
4 GRASMANN, Christian RPR
5 HAVIK, Yoeri WD4
6 IMHOF, Claudio RPR 7 52 SCOTT, Jacob HSC
8 AYALA MUSSARD, Cesar REY
9 BURKE, Steven HSC 10 91 HARRISON, Sam TMG
11 GIBSON, Matt CSY
12 GAUDILLAT, Antoine MGE
13 CULLAIGH, Gabriel CSY
14 TENNANT, Andy MGE 15 71 STEWART, Mark ROU
16 OLIPHANT, Evan ROU 17 22 ATKINS, George RCJ 18 42 JAMES, Owen USN
19 CLANCY, Ed RCJ 20 1 KENNAUGH, Peter SKY
21 DIBBEN, Jon TMG
FUTURE STARS BOYS SCRATCH RACE
1 HOLT, Joe USN 30
2 WALLS, Matt CSY 25
3 BAILLIE, Karl SKY 23
4 ROTHERHAM, Tom ROU 22
5 WOOD, Reece HSC 21
6 PAYNE, Jack ROU 20
7 BRENNAN, Fabian WD4 19
8 ENGLAND, Tom RPR 18
9 LONGSTAFF, Frank MGE 17
10 ESCRITT, Jack WD4 16
11 AL-RAMAH, Hisham MGE 15
12 TRUMAN, Joe RCJ 14
13 BALFOUR, Stuart TMG 13
14 WALKER, Joey HSC 12
15 CARLIN, Jack RPR 11
16 PARTINGTON, Joel SKY 10
17 IRESON, James TMG 9
18 NETHALL, Brett USN 8
19 KIRKBRIDE, Ellis CSY 7
WOMEN'S KIERIN MINOR FINAL
7 RIJKHOFF, Yesna NED
8 DEGRENDELE, Nicky BEL 9 153 BLOUNT, Rosie GBR
10 BAIRD, Emma GBR
11 VARNISH, Jess GBR
12 DAVIS, Jenny GBR
13 AGURRE, Gudane Araiz ESP
MEN'S KEIRIN MINOR FINAL
7 PRITCHARD, Chris GBR
8 ESPINA, Jaime Vega ESP
9 HOOGLAND, Jeffrey NED
10 HINDES, Phil GBR
11 AYRE, Kenny GBR
12 MITCHELL, Jonathan GBR
WOMEN'S SCRATCH RACE
1 TROTT, Laura GBR
2 KING, Dani GBR
3 BARKER, Elinor GBR
4 BROGAN, Kayleigh GBR
5 ARCHIBALD, Katie GBR
6 NELSON, Emily GBR
7 ARMITSTEAD, Lizzie GBR
8 CURTIS, Katie GBR
9 JONES, Hayley GBR
10 HAYWARD, Bethany GBR
11 SPOOR, Winander NED
12 LLOYD, Manon GBR
13 ARTEAGA, Ainara Elbusto ESP
FUTURE STARS SIX LAP DASH GIRLS
1 SHAW, Lucy RPR 30
2 ROBERTS, Jessica USN 25
3 CAPEWELL, Sophie HSC 23
4 BARKER, Megan USN 22
5 GARNER, Grace SKY 21
6 DEW, Monica MGE 20
7 MILWARD, Paige WD4 19
8 BROUGHTON, Charlotte MGE 18
9 PARKINSON, Abby-Mae SKY 17
10 HAYCOX, Emily ROU 16
11 DICKINSON, Eleanor CSY 15
12 BATE-LOWE, Lauren WD4 14
13 WILLIAMS, Sophie TMG 13
14 HARPER, Lucy ROU 12
15 CAPEWELL, Emily HSC 11
16 CHARD, Megan TMG 10
17 ANSELL, Jessie RPR 9
18 TAYLOR, Bethany RCJ 8
19 BIRCHALL, Sallie RCJ 7
FUTURE STARS BOYS POINTS RACE
1 HOLT, Joe USN 5 3 18 0 8 30
2 ENGLAND, Tom RPR 1 3 2 12 0 6 25
3 WALLS, Matt CSY 5 1 0 5 23
4 ROTHERHAM, Tom ROU 5 19 0 5 22
5 WOOD, Reece HSC 5 14 0 5 21
6 BAILLIE, Karl SKY 3 1 17 0 4 20
7 LONGSTAFF, Frank MGE 3 2 0 3 19
8 IRESON, James TMG 2 1 4 0 3 18
9 PAYNE, Jack ROU 2 3 0 2 17
10 TRUMAN, Joe RCJ 2 5 0 2 16
11 CARLIN, Jack RPR 1 6 0 1 15
12 PARTINGTON, Joel SKY 7 0 0 14
13 AL-RAMAH, Hisham MGE 9 0 0 13
14 NETHALL, Brett USN 16 0 0 12
15 WALKER, Joey HSC 15 0 0 11
16 KIRKBRIDE, Ellis CSY 13 0 0 10
17 BRENNAN, Fabian WD4 10 0 0 9
18 ESCRITT, Jack WD4 11 0 0 8
19 BALFOUR, Stuart TMG 8 0 0 7
20 MORGAN, Luke RCJ 20 0 0 0
FUTURE STARS GIRLS RACE
1 SHAW, Lucy RPR 30
2 CAPEWELL, Sophie HSC 25
3 WILLIAMS, Sophie TMG 23
4 DICKINSON, Eleanor CSY 22
5 GARNER, Grace SKY 21
6 ROBERTS, Jessica USN 20
7 BROUGHTON, Charlotte MGE 19
8 BARKER, Megan USN 18
9 HAYCOX, Emily ROU 17
10 TAYLOR, Bethany RCJ 16
11 DEW, Monica MGE 15
12 MILWARD, Paige WD4 14
13 BATE-LOWE, Lauren WD4 13
14 CHARD, Megan TMG 12
15 PARKINSON, Abby-Mae SKY 11
16 BIRCHALL, Sallie RCJ 10
17 HARPER, Lucy ROU 9
18 CAPEWELL, Emily HSC 8
19 ANSELL, Jessie RPR 7
WOMENS SPRINT FINALS
1 4 VARNISH, Jess GBR
2 WILIAMSON, Vicky GBR
3 JAMES, Becky GBR
4 KHAN, Dani GBR
MEN'S SPRINT FINALS
1 KENNY, Jason GBR
2 HINDES, Phil GBR
3 SKINNER, Callum GBR
4 CRAMPTON, Matt GBR
FUTURE STARS BOYS SIX LAP DASH
1 HOLT, Joe USN 30
2 NETHALL, Brett USN 25
3 CARLIN, Jack RPR 23
4 TRUMAN, Joe RCJ 22
5 IRESON, James TMG 21
6 WALKER, Joey HSC 20
7 WALLS, Matt CSY 19
8 BAILLIE, Karl SKY 18
9 ROTHERHAM, Tom ROU 17
10 LONGSTAFF, Frank MGE 16
11 ENGLAND, Tom RPR 15
12 WOOD, Reece HSC 14
13 ESCRITT, Jack WD4 13
14 BALFOUR, Stuart TMG 12
15 PARTINGTON, Joel SKY 11
16 AL-RAMAH, Hisham MGE 10
17 BRENNAN, Fabian WD4 9
18 PAYNE, Jack ROU 8
19 KIRKBRIDE, Ellis CSY 7
MEN'S MADISON KILO
1 RAPHA CONDOR JLT RCJ 00:13.010 00:26.552 00:40.845
CLANCY Ed, ATKINS George
2 TELEGRAPH ALLSTARS TMG 00:13.309 00:27.465 00:41.399
HARRISON Sam/DIBBEN Jon
3 RUDY PROJECT RT RPR 00:13.284 00:27.842 00:42.767
GRASMANN Christian/IMHOF Claudio
4 WD40 WD4 00:13.717 00:28.580 00:43.515
HAVIK Yoeri / DOULL Owain
5 TEAM SKY SKY 00:13.980 00:28.802 00:43.721
KENNAUGH Peter/SWIFT Ben
6 TEAM USN 00:14.180 00:29.360 00:44.365
MOULD Jon/JAMES Owen
7 HMT SPORTSCOVER TSC 00:13.908 00:28.432 00:43.746
BURKE Steven / SCOTT Jacob
8 ROULEUR ROU 00:14.303 00:29.507 00:45.400
STEWART Mark / OLIPHANT Evan
9 CHAMPION SYSTEM CSY 00:14.236 00:29.437 00:44.864
GIBSON Matt / CULLAIGH Gabriel
10 MADISON GENESIS MGE 00:15.174 00:31.615 00:47.378
TENNANT Andy / GAUDILLAT Antoine
MEN'S SCRATCH RACE
1 SWIFT, Ben GBR
2 OLIPHANT, Evan GBR
3 IMHOF, Claudio SUI
4 MOULD, Jon GBR
5 JAMES, Owen GBR
6 STEWART, Mark GBR 7 81 HAVIK, Yoeri NED
8 AYALA MUSSARD, Cesar ESP -1 Lap
9 GRASMANN, Christian GER -1 Lap
10 KENNAUGH, Peter GBR -1 Lap
11 CULLAIGH, Gabriel GBR -1 Lap
12 BURKE, Steven GBR -1 Lap
13 SCOTT, Jacob GBR -1 Lap
14 CLANCY, Ed GBR -1 Lap
15 GIBSON, Matt GBR -1 Lap
16 DOULL, Owain GBR -1 Lap
17 TENNANT, Andy GBR -1 Lap
18 DIBBEN, Jon GBR -1 Lap
19 HARRISON, Sam GBR -1 Lap
20 ATKINS, George GBR -1 Lap
WOMEN'S KEIRIN
1 JAMES, Becky GBR
2 BRASPENNINCX, Shanne NED
3 KHAN, Dani GBR 4 159 LIGTLEE, Elis NED
5 151 MARCHANT, Katy GBR
6 WILIAMSON, Vicky GBR
MEN'S KEIRIN
1 KENNY, Jason GBR
2 CRAMPTON, Matt GBR
3 EMADI, Kian GBR
4 SKINNER, Callum GBR
5 VAN'T HOENDERDAAL, Nils NED
6 ROTHERHAM, Matt GBR
---
Other Results on VeloUK (including reports containing results)

---
Other News on VeloUK