The road seasons started proper in the North West at the Clayton Spring Classic as the pros came out to play with Simon Wilson winning solo
Clayton Spring Classic (preview here)
A last lap attack by Simon Wilson saw him hold off a strong group of chasers and win the Clayton Spring Classic solo.
David McGowan was second after he too took flight, this time from a select chase group on the final climb and managed to hold on in the headwind finish. Third was decided in a two up sprint where Richard Handley just edged out Tom Barras to clinch the last spot on the podium. Bex Rimmington was first woman and John Didsbury was first Junior. All provisional!
Good win for Simon Wilson in the North West classic, the Clayton Velo Spring Classic. Almost a lap on his own in that wind is the sign of a great ride!
 The scratch group get under way with the Juniors almost a lap up.
The big group of Juniors & Women etc was split on the first lap and the WD40 led group was at the front of the race for all but two of the 14 laps with the Juniors picking up all but one of the Primes.
Within four or so laps, the scratch group had split with last years winner Richard Handley in it along with Nathan Edmondson, David McGowan, Tom Barras and others.
Ian Bibby leads the chase after the first part of the scratch group.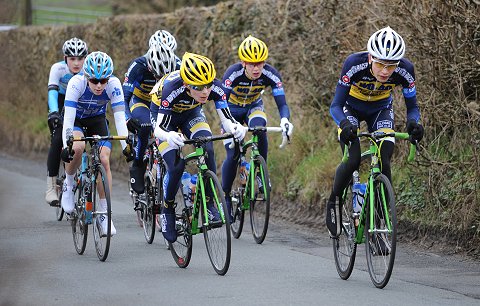 The Junior group was small in numbers, ultra agressive and came away with the majority of the primes.
Slowly but surely the gap between the scratch groups was getting smaller as the groups splintered with the original scratch group in pieces by the end. This is the front group chasing the leaders but aware they were being caught.
Luke Grivell-Mellor leading a chase group just behind the leading scratch group.
Luke and others then caught the front group which had split with last years winner Handley now chasing. The race was all over the place and turned on its head! 
Rob Partridge leads the chase group which got to the front on the last lap but by that time, Wilson had already gone!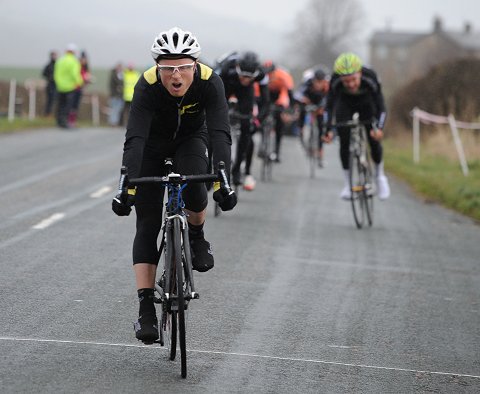 David McGowan crosses the line in second after a late attack
Richard Handley gets the better of Tom Barras for third.
Live Photos
RESULTS
1 Simon Wilson Wheelbase Altura MGD
2 David McGowan Metaltek – Knights of Old Racing Team @16 sec
3 Richard Handley Rapha Condor JLT @30 sec
4 Tom Barras Wheelbase Altura MGD st
5 Matt Cronshaw Velosure – Giordana RT @43 sec
6 Liam Holohan Madison Genesis st
7 Robert Partridge Velosure – Giordana RT st
8 Declan Byrne Baguet-MIBA Poorten st
9 Luke Grivell-Mellor Rapha Condor JLT st
10 Philip West VC St Raphael st
11 Hugh Carthy Rapha Condor JLT @49 sec
12 John Didsbury Summit Cycling team    st Jun
13 Jack Escritt Velocity WD-40Â Â  st Jun
14 James Gullen Velosure – Giordana RT st
15 Nathan Edmondson Velosure – Giordana RT @1:12
16 Matthew Bulmer All Terrain Cycles st
17 Andy Leigh Terra saftey shoes @1:24
18 Ian Bibby Madison Genesis @2:00
19 Richard Hepworth Velosure – Giordana RT st
20 Joshua Hunt NFTO (UCI Team) st
21 Sam Boast Wheelbase Altura MGD st
22 Thomas Bustard Velosure – Giordana RT st
23 Matthew Holmes Madison Genesis st
24 Fabian Brennan Velocity WD-40 @2:10 Jun
25 Martin Woffindin Cycle Sport Pendle @2:14
26 Ben Aldred Team Chronomaster @2:22
27 Jack Pullar Starley Primal Pro Cycling @2:49
28 Alexander Braybrooke Velocity WD-40 st Jun
29 Aidan Holgate North Lancashire RC st
30 Lewis Mulholland Glasgow Cycle Team st Jun
31 Hamish Graham BC Private member @3:00
32 sam Dobson green jersey st
33 Karl Freeman Team Wheelguru st
34 Paul Brady I-Ride.co.uk st
35 Mark Westwood BC Private member st
36 Craig Battersby Team Chronomaster st
37 Andy Brown Glasgow Cycle Team st Jun
38 Julian Varley PH-MAS Cycling  st Jun
39 Matthew Winston VC St Raphael st
40 James Claydon Bill Nickson Cycles RT st
41 Alastair Wareham Team Swift st
42 Warren Gell Coveryourcar.co.uk RT st
43 Rory Mellis Bicycle Works st Jun
44 Stephen Abbott Team Hoppers Rollers st
45 Oliver Payton PH-MAS Cycling @9:00 Jun
46 Rebecca Rimmington Team CTC st
---
Other Results on VeloUK (including reports containing results)

---
Other News on VeloUK