George Harper wins the Severn Bridge Road Race from Yanto Barker and Eddie Dunbar (NFTO) after a hilly battle on a new course
---
Report-Result-Photos: Severn Bridge Road Race
George Harper wins the Severn Bridge Road Race from Yanto Barker and Eddie Dunbar (NFTO)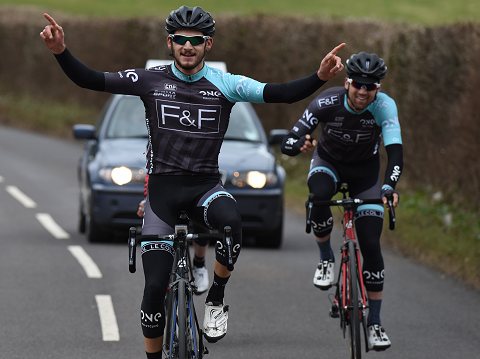 George Harper showed just how good his form is right now to win the Severn Bridge Road Race. On a hilly circuit to be covered ten times, a small lead group soon formed and from that first Eddie Dunbar (NFTO) and George Harper and then Eddie and George's teammate Yanto Barker took flight.
It was the latter two up break that saw the race shook up as Harper and Will Bjergfelt (SportGrub KUOTA Cycling Team) joined them to make four leaders. Behind, NFTO had two more riders (Rhys Lloyd and Rob Partridge) with Marcin Bialoblocki.
The last lap saw Yanto Barker attack and force the pace to the top before Eddie Dunbar went over the top with Harper on his wheel. Barker and Harper were not going to shake the young Irishman and it came to a sprint at the foot of the climb where Harper triumphed from Barker and Dunbar. Fourth was Will Bjergfelt.
A few laps to go and there were four leaders  led here by Will Bjergfelt and George Harper
George Harper: "I had to ride into the race as at first and I was a bit worried. We were just concentrating on making sure we had riders in every move. Just constantly trying to put people up the road. I went off with Eddie who's bloody strong a few laps in and we were away for a lap. Then Yanto and Eddie went and Marcin and I were just judging our effort behind, wondering if they were going to come back or not."
"On the drag, on the far side of the circuit, I got the thumbs up from Marcin and tried to get over and after a long hard effort we (with Will Bjergfelt) got over. It was all go from then on and Yanto did a bloody good job helping me out. Eddie was outnumbered and we worked him over a bit."
"I was happy with the sprint, and it was a good day. It is the first time I have worked with a team that works so hard to get someone across the line to win. I learn a fair bit about what groups to go with and when to ride hard and when not to ride hard and I am getting a hell of a lot of help from the guys on the team as we have a very experienced riders."
After a lap away with George Harper, Eddie Dunbar of NFTO then went away for a few laps witrh Yanto Barker before two more riders caught them.
Yanto Barker: "I'm happy with that. These are not the biggest races in the country but we'll take them seriously and we're all motivated and I think that shows in the way everybody in the team conducts themselves in key phases in the race."
" They are like hard club runs because the groups are not big enough to get a race rhythm going. You end up with a split quite quickly and then there is six or ten of you doing through and off which we do in training all the time".
"I wanted to whittle down the variables and Will is a strong guy and I respect him but I'd rather the sprint was straight forward. I put in a dig in here and went all the way to the top and Eddie attacked over the top of me and went pretty hard but George was on him and I stayed there with the two of them."
Rob Partridge of NFTO, keen to get racing
"He's a talented boy that Eddie. I'm going to look forward to watching him progress and he could definitely benefit from a bit more calculation in the way he rides. He'd do well in this team LoL! He's a good kid and really wants to race and that's good to see."
Rob Partridge leads the break which dominated the race
A great debut by the young Irishman
"It was a good race" said Dunbar who had impressed his rivals in the race. "I'm happy with where I am at the moment even though not fully 100 per cent. It was a good day out, I really enjoyed it and fair play to the One boys there, they rode a good race and they came out on top but hopefully in a few weeks, it will be us on top. "
"They attacked me and after a 100 metres, I counter attacked and that quietened them a bit and they didn't attack me again. I wouldn't class myself as a sprinter but if the race had finished at the top, it might have been a different result but I'm happy with third place."
Rob Partridge crossed to what was left of the break, Dunbar and Barker were up the road as were Harper and Bjerfgelt.
George Harper with Will Bjergfelt crossing to the break of Dunbar and Barker
A few riders from clubs and smaller teams made it into the break with the pros
Lap 1 and George Harper is feeling his way into the race at the front
1. George Harper (One Pro Cycling) 2-46-45
2. Yanto Barker (One Pro Cycling)
3. Eddie Dunbar (NFTO) all same time
4. Will Bjergfelt (SportGrub KUOTA) at 41sec
5 .Marcin Bialoblocki (One Pro Cycling) at 1-23
6. Rob Partridge (NFTO) at 1-34
7. Rhys Lloyd (NFTO) at 2-07
8. Rory Townsend (Pedal Heaven RT) at 2-55
9. Lee Frost (Tri UK) at 3-00
10. Gunther Zechmann (London Phoenix CC) at 3-50
11. Joseph Clarke (Team Envelopemaster/Bikeboxalan) at 5-34
12. Colin Parry (Ride 24/7)
13. Ben Davis (Wheelbase Altura MGD)
14. Joshua Jones (Bikeshed – Exeter Uni) all same time
15. Richard Harris (Cwmcarn Paragon Cycle Club) at 5-42
16. Thomas Baylis (One Pro Cycling) at 6-04
17. Andrew Syme (Primera-Sports.Com) at 6-32
18. Ashley Proctor (Team Envelopemaster/Bikeboxalan)
19. Oliver Maxwell (SportGrub KUOTA)
20. Andrew Williams (Cwmcarn Paragon Cycle Club) all same time
KoM, Eddie Dunbar
1st Local Rider, Will Bjergfelt
FULL RESULT
1st George HARPER ONE Pro Cycling
2nd Yanto BARKER ONE Pro Cycling
3rd Eddie DUNBAR NFTO
4th Will BJERGFELT Team Envelopemaster/Bikeboxalan
5th Marcin BIALOBLOCKI ONE Pro Cycling
6th Rob PARTRIDGE NFTO
7th Rhys LLOYD NFTO
8th Rory TOWNSEND Pedal Heaven RT
9th Lee FROST Tri UK
10th Gunther ZECHMANN London Phoenix CC
11th Joseph CLARK Team Envelopemaster/Bikeboxalan
12th Colin PARRY Ride 24/7
13th Ben DAVIS British Cycling Private Member – South
14th Joshua JONES Bikeshed- Exeter Uni
15th Richard HARRIS Cwmcarn Paragon Cycle Club
16th Thomas BAYLIS ONE Pro Cycling
17th Andrew SYME Primera-Sports.com
18th Ashley PROCTOR Team Envelopemaster/Bikeboxalan
19th Oliver MAXWELL SportGrub KUOTA Cycling Team
20th Andrew WILLIAMS Cwmcarn Paragon Cycle Club
21st Anthony MOYE Easton Ritte
22nd Jack BEEZER Spirit Bikes Racing Team
23rd Russell FALDER Team Envelopemaster/Bikeboxalan
24th Dion BLACK Kenilworth Wheelers CC
25th Graham COLLINS Tanks Direct
26th Robert MOORE Pedal Heaven RT
27th Tom BOWERING Ride 24/7
28th David BILLINGS VC St Raphaël / Waite Contracts / Hewitt Cycles
29th Joe ATKINS Ride Coventry
30th Liam WALSH VC St Raphaël / Waite Contracts / Hewitt Cycles
31st Robert WARD Danny Shane-Storck Racing
32nd James ELDRIDGE NFTO
33rd Kris KASPER British Cycling Private Member – South West
34th Tom STRINGER Army Cycling Union
35th George CLARK High Wycombe Cycling Club
36th Harry VEALE Cycleworks.co.uk
37th Jordan FRAMPTON Primera-Sports.com
38th Callum CROFT Primera-Sports.com
39th Oscar HUTCHINGS Bikeshed- Exeter Uni
40th Ross EVANS Live2Ride Sunwise
41st Mark PERRY Ride 24/7
42nd George FOWLER Easton Ritte
43rd Steve THOMAS Dream Cycling Race Team
44th John SPANAPOLOUS Easton Ritte
45th Daniel McQUILLAN Tri UK
46th Thomas LEACH Felt
47th Ryan BRAIN Cwmcarn Paragon Cycle Club
48th Callum LISTER Cotswold Verdjiden
49th Niel DUNNAGE Cotswold Verdjiden
50th Thomas GRIGSON Radeon Cycle Coaching
51st Nicholas BUCK British Cycling Private Member – South
52nd Frederick CORETH British Cycling Private Member – South
Send your results as well as club, team & event news here
---
Other Results on VeloUK (including reports containing results)

---
Other News on VeloUK