Australian Rohan Dennis (BMC) did what he does best on the opening stage of this year's Vuelta a España today, time trialling to victory and into the first red leader's jersey of the race
Team News: Dennis Leads Vuelta after TT
Rohan Dennis (BMC) did what he does best on the opening stage of this year's Vuelta a España today, time trialling to victory and into the first red leader's jersey of the race after an impressive performance on the streets of Malaga.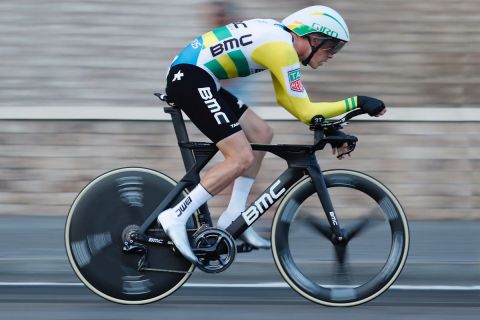 Pic: @lavuelta
Dennis was the fourth-to-last rider to roll off the ramp on stage 1 and as he started his 8km effort, he was chasing the benchmark of 9'46" set by Michal Kwiatkowski (Team Sky).
The reigning Australian national time trial champion proved why he was one of the pre-race favorites, settling into his rhythm quickly and powering around the first half of the course to knock five seconds off the best time at the intermediate checkpoint.
Dennis left everything out on the road on the fast run into the finish before powering across the line in an impressively strong time of 9'40" which proved more than enough to take the stage win and the first leader's jersey of the race for a second consecutive year.
… continued after advert
BMC Racing Team also proved the strength and depth of the team's Vuelta a España roster today with Alessandro De Marchi putting in a determined effort in Malaga to secure seventh at the end of the stage, 21 seconds behind Dennis. While, Dylan Teuns and Brent Bookwalter put in solid rides to finish 11th and 14th respectively.
Richie Porte, who is making his return to racing at the third and final Grand Tour of the year, posted a time of 10'30" which was comparable to a number of the General Classification contenders in the race.
The Winner's Interview with Rohan Dennis
Congratulations Rohan! How were you feeling before you rolled off the ramp today?
"Kwiatkowski definitely piled on a lot of pressure and honestly I was hoping the time would be a little slower so there would obviously be less stress going into it but in the end, you can only do what you can do and I just put everything out there and hoped for the win."
"It's great to now have individual stage wins at all three Grand Tours but that wasn't in my mind today. It was really just about making sure I achieved my first goal which was to get the stage win here."
Where do you think today's time trial was won?
"I think the finish today was really at the top of the climb. You couldn't lose too much time on the downhill so, it was really all about the first 5.5km and after that I just tried to get to the finish as fast as possible."
"There was a bit of pressure and I saw Kwiatkowski's time after my warm up and I won't lie, I was saying I was going to beat it but in my mind, there was still a little bit of doubt. But, you stick to the plan and if you're feeling good you can go a little bit harder and really it was only a 6'30" effort to the top of the hill and from there if you were in front it was hard to lose."
How does it feel to be back in the red leader's jersey?
"It feels pretty good. Part of my goal coming into the Vuelta was to get a stage win and it's nice to do that on the first day again and also get the jersey. I think after today it would have been pretty hard to get the red jersey so this was really my only chance to get it and we succeeded."
"To be honest, it's not a big deal if I lose the jersey tomorrow. My Vuelta is primarily to prepare for the UCI World Championships and the team has other goals with other riders so if I have to help, I have to help. I'm not here for the GC so while of course it would be nice to keep it, it's not the end of the world if I lose it."
How were you able to deal with the pressure of today's stage?
"It's taken years to work out but basically it's about believing in what you can do, the work you have already done and the support group around you and for me, that has always been great with BMC Racing Team. Everyone believes in me and does everything possible to make the day go as smooth as possible and I really appreciate that."
What are your next goals for this Vuelta a España?
"I would love to help some of the other guys to go for a stage win and that really starts tomorrow as it's going to be a hard finish. They are saying it's too hard for the sprinters but it could be good for Dylan. For me, my role from now on is about helping the team and then we get to my next target which is the stage 16 time trial."
… continued after advert
Other Quotes
Alessandro De Marchi: "I am happy with my performance. I was looking to do a good time trial today and I think I did that. I have been working with my BMC Racing Team coach, Marco Pinotti a lot and I am happy with my effort and for me, the result doesn't matter too much. It was more about how I felt. It was hot today but we're at the Vuelta a España so it was nothing strange for us. It was a long day for everyone as we trained this morning and then warmed up once we arrived in Malaga so for an 8km effort, we maybe trained for two to three hours before it but overall for me, it was a good start to a race I enjoy."
Dylan Teuns: "I felt good today. I was really strong on the climb and that definitely gives me confidence at the start of this Vuelta. It was a good time trial for me. I'm not really a specialist on day's like this but I think I can be happy with this peformance. It was good for me that there was a climb on the parcours as that always puts me in a better position. I already knew coming into the race that I could do well on longer time trials but on a short one like today it's a surprise for me to do as well as I did."
Brent Bookwalter: "I think I strung together a pretty good ride today. It was a high speed course with a few tricky parts but nothing too difficult. There was only a couple of moments when you had to be on the brakes and the climb was only short. Going into a Grand Tour that starts with a time trial is always daunting as you know the percentage of racing is small so you don't want to spend too much energy for no reason but at the same time, we have all arrived here fit and ready and doing an effort that you can be proud of is good for your confidence, morale and motivation going into the next few days."
Richie Porte: "I think the lead up to a Grand Tour is always a little stressful and mine definitely hasn't been ideal so I am just glad to start the race really. It was a pretty straightforward course with a couple of corners where you had to be a little more careful and it was a little bit slippery as there is obviously a lot of traffic on these roads normally. The climb wasn't much to worry about either."
"I didn't feel great today but I knew that I wasn't coming into the race in my best form. The Tour de France was bitterly disappointing and it's not been a straightforward run in for me but I look forward to building on my form especially for the UCI World Championships over the next three weeks."
"I know I am going to take a bit of a kicking over the first two weeks but I think I should be better in the last week. Mentally, it was hard to get over the crash in July and it wasn't easy to restart or find my momentum but I have still done some good training. I am definitely not as good as I was at the Tour but hopefully by the end, I can be in good shape. I would love to be able to take a stage win in the final week. It looks really hard on paper and that's my big motivation."
Kwiatkowski of Team Sky admitted he was disappointed, but looking forward to the race. He explained: "It was a good ride from me but at the end of the day not good enough to win. Congratulations to Rohan Dennis for such an impressive ride."
"He was unbeatable today I would say. I gave it my best and I was trying to win the stage, having the split times of Castroviejo and the other guys. I was happy with my ride but at the end of the day chapeau to Rohan. We are racing to win the races so of course when you are there on the hot seat you have to feel disappointment. It's in our genes to try to win. But the Vuelta is three weeks long so I'm looking forward to the next days," he told Eurosport.
Stage 1 / ITT: Malaga > Malaga, 8km
Top 3:
1. Rohan Dennis (BMC Racing Team)
2. Michal Kwiatkowski (Team Sky)
3. Victor Campenaerts (Lotto-Soudal)
Others:
18. Tao Geoghegan Hart at 24 secs,
29. Stevo Cummings at 29 secs
30. Simon Yates .
34. Nairo Quintana
57. Dan Martin
64. Adam Yates
97. Richie Porte
---
Cycle Division's Shop
---
Send your results as well as club, team & event news here
---
Other Results on VeloUK (including reports containing results)

---
Other News on VeloUK