In the second Q & A with the all-round women's champion Emily Meakin, we quiz her on her road racing here and abroad ahead of a season with UCI team Drops cycling – a superb read – thanks Doris! 
Q & A: Emily Meakin (Drops)
In the second Q & A with the all-round women's champion Emily Meakin, we quiz her on her road racing here and abroad ahead of a season with UCI team Drops cycling. Read the first Q&A on her time trialling here on VeloUK:
Emily says she's so happy to be riding for a UCI team in 2020 adding its mega exciting! Emily will join a rider who she rode with when racing for the Independent Pedaler team in time trial events, Joss Lowden. Emily, who has ridden under 50 minutes for 25 miles, says going to a team with Joss definitely helps her. "Joss and I are really close and we have been Time Trialling for The Independent Pedaler this year, but never on the road together, so that is super exciting. It'll be really nice having a friend whilst making a mega step up!"
– Which discipline, road, track or TT was your first one into cycling?
Emily: Road Racing – my first race was Pimbo 2016! This was after a getting in to triathlon; Ironman 70.3 in 2015. Seems like a long time ago, but I basically learnt how to ride a bike in 2015 – I was into horses as kid, so we never had bikes, then at Uni I played rugby so Triathlon or Cycling was never really an option, so I really started from scratch!
– You are known for your time trial victory's but is road racing becoming more of your mainstream discipline or has it always been so?
Emily: Not a straight forward answer – as I got into cycling after doing a year of triathlon – so you could say that TTing came first, but I was only riding a road bike and a very basic one at that, so I'd hardly call it time trialling!
Road Racing then came from that, and that's where I started in 2016. I had always been told I'd be good at time trialling but it seemed like a mad world. I had no idea where to start and it seemed mega expensive, so after getting a bonus with work, I took the plunge in July 2018, with the help of Dan Bigham, brought some essentials: Pyramid Chain Rings, Parcour Wheels, and a very basic JAVA TT frame, and that's when I started TTing. First proper race was the National 25 in London in 2018 after a few local 10's! Now, I love road racing and still love TTing, but don't want to be a one trick pony. I want to do both and excel at both!
Being a road rider  takes a lot of endurance and on a stage of the Tour of Britain 'Day Ahead' charity ride with Brother UK's MC Phil Jones and James Golding in 2018, Emily showed she had that as she joined Laura Winter, Phil and James on a very very long day on the road that day from Nottingham to Mansfield.
– You have ridden for a Belgian team? How was that experience?
Emily: Incredible!! I don't think you're a proper racer until you've survived a year racing in Belgium! I was offered the opportunity with Isorex back in Jan 2019 and I'm so glad I took it! Isorex No Aqua, is a Belgium club tem, with a great reputation so we got entries to a lot of really prestigious UCI races! I can't recommend it enough – it was definitely a baptism of fire, but I wouldn't change it for the world!
I spent most of the races just in awe of who I was riding with! I learnt the hard way about so many things; how crucial positioning is, what a real crosswind is, and how to hang on! I started with two DNF's: Omloop Het Nieuwsblad UCI 1.1 & Omloop van het Hageland UCI 1.1 and then got round my third classic, Le Samyn des Dames UCI 1.2. They were brutal but incredible. those first couple of races were like tour series that lasted for 4 hours, in the space of 4days too! We were lucky to have such an awesome race calendar so loads of opportunity to line up with the best in the world!
… continued after advert
– Riding cobbles – have you managed to master that and if so, what are your tips!
Emily: I'd never actually ridden a cobbled berg until the first classics so as you can imagine that was a pretty big shock to the system. My first encounter was in Hageland, and I remember going up a cobbled berg, and it got steeper and steeper, with cobbles the size of rugby balls, with massive ruts! I couldn't feel my legs, and everything was rattling. I had no idea how to change gear or what gear I was even in or where to put my hands.
You can't breathe and its excruciating trying to hang on, yet the atmosphere was electric with so many crowds lining the steep verges, it was unreal! I'll never forget that! Now, I'd like to think I'm a lot better at it after a season of cobbles. I actually love them now! I was being coached by Sean Yates last year and he knows every iconic berg or climb around Europe (probably the world too) if it's been in a proper race, so he would send me to specific cobble sections in my training, which was awesome!
The favourite was Oude Oude Kruisberg just outside of Ronse. I'd get such a buzz knowing Flanders went up there, and how hard they went! My advice is get in a big gear, hands on the tops and float them (if possible) the steeper they get I like to spin so would choose a smaller gear. Some of the girls ride them on the drops, but I'm not a fan, each to their own I guess!
Emily on the cobbles of Lincoln in 2018
– I think it's fair to say there is more strength in depth rider wise to the races abroad – what effect does that have on a race?
Emily: Yes that's a mega fair comment. It's a completely different level. Everyone at the top is so strong, just surviving those races is hard enough. It lifts the entire race, and makes it so much worthwhile, it's a real survival of the fittest and you're normally left with a selection.
There is so much race craft and positioning involved though. Like I've had races ended early not because I'm not strong enough, but if you're in the wrong position at vital point then its game over, that's when your experience comes in, and you need a good race head, or a team to teach you this.
– Time trials are so controlled effort wise – do you enjoy the freedom of the effort in a road race?
Emily: I love how unpredictable road races are – you can make plans, but you never quite know what will happen, so it's having a few plans, and adapting! I love how you deep you dig as well. There were so many times this year when I thought I was done, I'd get dropped in some of the bigger UCI races, then somehow survive and get back in! You're never done, that's what I love about road racing!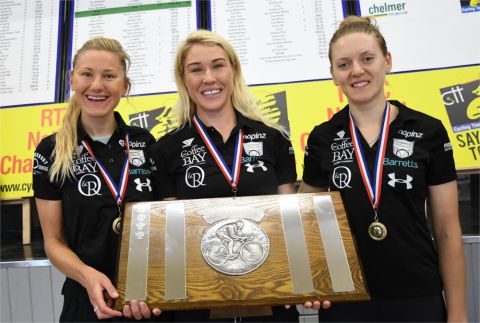 Emily (centre) with Drops teammate in 2020 Joss Lowden (left) and Emma Lewis after winning the team award at the 10 champs in 2019 for Independent Pedaler
– Does the training for time trials differ to that of road racing?
Emily: Yes and No – I think you can mix the two in nicely, and they complement each other. Longer efforts for the TTing, with a mix of short sharp intervals.
– What has been the highlight (performance and/or result) so far for you in a road racing?
Emily: I loved a kermesse win that I had – 70km solo was pretty mad, but with my TTing – I loved it! I started off with a Thai rider, but I had to leave her quite soon, as it wasn't hard enough, so took my chance on my own, so pretty much did it all alone.
The Belgium Lotto Tour was my favourite race this season. Four days of racing with a load of hitters, as lot of the World Tour riders rode for their nations for a hit out before the Worlds, so the calibre of riders was real high!
We had an awesome prologue, savage cross winds which made the race a kermesse style stage, and then finished on The Muur which we went up four times! It was incredible. As I said before, I really thrive on doing a famous berg, or racing somewhere that is so prestigious. Nikki Juniper and I always made front group, so we'd look after each other. She taught me loads, and we had so much fun! I finished just outside the Top 30 which doesn't sound amazing but with such a high profile field, loads of World Tour girls in the mix, and plenty of DNF's, I was mega happy!
– What has been the toughest day on the bike in a road race?
Emily: Probably that last stage of the Lotto Belgium Tour – The Muur that many times was horrific. I took a can of coke off a local at the end, and I remember saying that was the hardest day of my life! The first QoM was brutal and I was positioned a little too well, (I shouldn't have made that so hard) then we went straight into a crazy cobbled section, so half the field had gone before we even got to The Muur the first time!
Grand Prix International d'Isbergues – Pas de Calais Féminin was mega hard too – but I made that hard for myself as I was pretty exhausted before I even got there. I was mega surprised to make the final front group as I was thought I was dropped so many times in that race, then finished really well!
… continued after advert
– What does being a top time trialist bring to you for a road race – ie, the breakaway, working for teammates etc?
Emily: I'd say it makes me a mega lead out domestic – to be there at the end, and really stringing it out for your sprinter, or delivering someone to the bottom of a climb, which is what I'm looking forward to at Drops! It also means if you can get away, you've definitely got a great chance of staying away compared to the average road rider and a solo win is pretty special way to win!
– The atmosphere of races in Belgium etc – a lot different to here?
Emily: HELL YES! Even from the sign on, which is usually in a random bar, quite hilarious but certainly adds to the atmosphere! The way the entire town shuts down for the race is pretty special, and there are so many avid fans and supporters, it's a real way of life over there!
However the UK does put on some pretty mega races like Lincoln and town centre races like Newport Nocturne and Ikley etc. It's just the lack of the races that differs. In Belgium there are anything from 2 -6 races a week! In the summer, you could race every day if you wanted, and the hype of each would still be the same at them all!
– Is there a type of road race you enjoy more? Kermesse/crit or endurance effort in long road race.
Emily: I do love a kermesse and how relentless they are, so punchy and everyone is up for a hard race which is great, but the hard longer UCI races are second to none. like Brabantse Pijl or the early classics which are about just under four hours long!
Emily getting some Kermesse training in at the Wembley round of the Tour Series in 2018
– Will you be aiming to compete in the 10/25 champs again in 2020?
Emily: Yes – but I think there are a lot of calendar clashes, so I will have to see what it clashes with and if I'm selected for those races.
– How has the winter training been for you with such bloody miserable weather in Britain!
Emily: I am currently sat on a plane to Alicante so right now it's going pretty well! I've actually been really lucky, as I've done a lot of track until the end of November so I wasn't doing much volume so didn't have to brave the cold too much!
I had a good endurance block before Christmas in Calpe, and I'm fitting in one last block before the Track nationals at the end of January. I am lucky enough to stay with Pete Murdock from Blanca Bikes in Xabia, near Calpe, which has been amazing for training. Although I love riding in Spain, I have also been converted to loving the Turbo; I love the quality of the riding you do whilst on it compared to the road, and you can really empty yourself in a real deep way, which you can't do on the road!
– Its cold, its wet, how do you cope with the weather?
Emily: I am slightly fair weather now – being abroad to Xabia, lots has made me soft! HA HA! I love group rides in awful weather as there is a special sense of morale, and as long as the weather is fine when you start, I don't mind what the elements throw at me, as there is a sense of survival if the weather changes! However – I would opt for the turbo more lately! There's no point being a hero then ending your season because you went out when it's icy or gale force winds!
– Will you still be looking to do the track in January and if so, what events will you target?
Emily: I am really looking forward to the Track Nationals – I am riding the Individual Pursuit and the Point's race! The IP, I'm mega excited for, as I've loved training for it with the specificity of the track efforts, and how hard it is. It's a no brainer too after all the tandem piloting I did with GB! I've entered the Points race, with the ethos of 'why not?' it'll be my first Points race but I've done quite a bit of bunch training at Derby, so I'm really excited to get amongst it!
– Do you get any track time for training – Derby?
Emily: YES – I've not had any special treatment, but it's a really friendly and easy accessible track. They have special pursuit sessions so you can do your own efforts and whatever you need really! They have sessions on mega early if you need to fit in before work, as well as day time specific pursuit sessions. It's great, I love it! The coaches are mega friendly and helpful too!
– Finally, do you know what you will be doing in 2020 in road races – abroad, here or both?
Emily: The Drops calendar is mostly abroad but if there's an opportunity to the race in the UK, we will as it's important to support the UK scene I think!
Thank you Emily and good luck in 2020!
---
Cycle Division's Shop
---
Send your results as well as club, team & event news here
---
Other Results on VeloUK (including reports containing results)

---
Other News on VeloUK