After a successful career in domestic racing in both the Junior and Senior ranks, Matt Holmes realized the dream of a racing cyclist and that is to ride at the highest level, WorldTour. We chat about racing a Grand Tour …
Interview: Matt Holmes (Lotto Soudal)
After a successful career in domestic racing in both the Junior and Senior ranks, Matt Holmes realized the dream of a racing cyclist and that is to ride at the highest level, WorldTour. We chat about racing a Grand Tour …
Back in 2019, Matt's team Lotto Soudal announced him signing for the team and Matt quickly repaid them with a significant stage victory in the Tour Down Under. He's followed that up with a podium (3rd) on a Grand Tour stage (Giro d'Italia, stage 8 won by Alex Dowsett).
It's all a far cry from his racing in Britain where he had some great results like the Manx International victory and second in Ryedale to name but two. The pathway to WorldTour for Matt was a mix of who you know, luck and making something happen.
Matt explained another Matt, Matt Bottrill, who works with his coach and his new team Lotto Soudal, helped him get the ball rolling. "From then on it was me pushing to make it happen because Madison Genesis were stopping so I had to really sort it out. Madison Genesis stopping forced me to make it happen. Like, because the Worlds were in Yorkshire (2019) and they (Lotto Soudal) were over for that, I was able to say to them 'I'll come and see you' and that helped when I went to see them as they had a few options rider wise and I got lucky."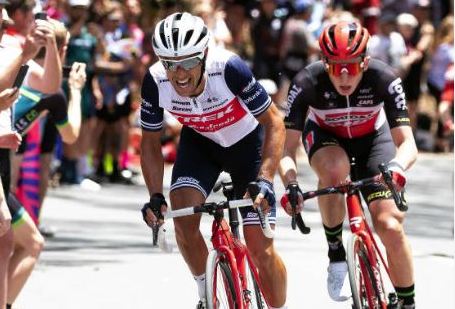 Matt on the wheel of a rider who later finished third in the Tour de France, Richie Porte. Matt famously jumped Ritchie in the run to the finish and won his first WorldTour stage.
Did Matt envisage racing at the highest level when a Junior I asked? "Back then, I thought I would make it to the higher level but it then took so long, I was thinking maybe I won't. When I was a junior, I was sure I'd do it but it turned out to be a lot harder than I thought."
"It's worked out well for me though to join that level of racing at the point when I can actually compete and get through it where as if I'd done it as an under 23, it would have been demoralizing for me any earlier."
2020
The year has seen him race a lot of stage and one day races, 43 race days in all, including the Tour Down Under, Cadel Road Race, Vuelta Andalucia (Ruta del Sol), Strade Bianche, European Road Champs, Tirreno Adriatico, Coppa Sabatini, Giro della Toscana and then to finish off, the Giro d'Italia.
Matt Holmes and Alex Dowsett in the breakaway on stage 8 of the Giro. Getty Images
When we spoke, Matt was in the throws of finishing off moving house that began a week before his first Grand Tour (Giro) and he's now dealing with the issues everyone has trying to buy things during lockdown when so many shops are closed. Just one of the many challenges Matt and everyone has faced this year but at least, unlike the domestic pros, he's been able to race his bike.
Asked about his 2020 season, Matt replied it's been good even though there was very much less racing for the WorldTour than normal, something which helped him find his legs at a new higher level. "There was still way more racing than I've ever done and more travelling too so it's probably been a good transition year for me after my time racing in Britain and better than having gone straight into a full WorldTour racing season".
When Matt went into the WorldTour, I guess like many a rookie at that level, he did have doubts about whether it was right for him but his victory in the Tour Down Under certainly helped change those thoughts and his performances in the Giro many months later such as getting in breakaways and finishing third on a stage, showed he does have what it takes.
(Interview with Matt after his Tour Down Under Stage win)
Looking back at those times early season, Matt explained "In Australia, I was unfit and even though I won, I wasn't my usual self. So I went back to my old coach and how my training was and now WorldTour is much more doable. At the start of the season, especially after Ruta del Sol, I thought 'what is wrong with me', I just can't do it, I've lost it'. But it was just the training and I'd changed too much so I went back to what I would normally do."
Winning the final stage of the Manx International and the overall in 2019
As an outsider, the WorldTour racing looks a whole lot different to the racing domestically so when asked if his training is different to what he did for the races here in Britain, Matt replied "it's been just the same. Much less hours than most people and much more intense, so shorter, harder rides which works much better for me than long steady rides."
It's easy to talk about doing intense race efforts in training but not everyone is able to do that without having some help from the adrenalin of having others around them pushing them to their limit. For Matt, he explained doing those efforts is just something he can do most days. "It's about planning the training so it is doable."
"If you did it without thinking about it, it would be impossible so you need to do the right amount and working with a coach makes it easier to try harder when doing those efforts. You never do too much and are doing the 'right' amount of suffering".
…. continued after the advert.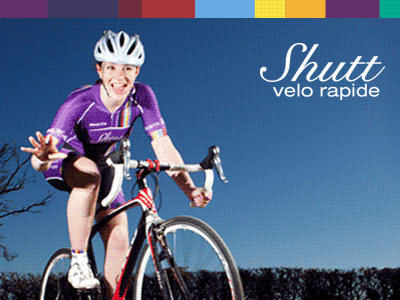 Grand Tour Suffering
When I spoke to Matt about the suffering he went through in a Grand Tour (Giro), and talking about the chat I'd had with his former Madison Genesis teammate Connor Swift about the fatigue he'd gone through in the Tour de France, Matt replied "I think the Tour de France is a different level to the Giro." (Connor Swift Interview Here)
"I think the Tour de France was probably harder but in the Giro, you'd have good days and bad days. It wasn't too bad. I felt fine and just had to accept I was going to feel different in that last week and know everyone is feeling the same. It's not like you can't get on your bike in the morning, or walk up the stairs. You just feel a bit rough and push on through".
Matt sprinting for second (Alex Dowsett won solo) and Matt was third (second in the sprint). Getty Images
Despite any fatigue he may have been feeling, Matt got himself into breakaways like the one on stage 8. Matt was part of quite a few breakaways during the Giro which had people comparing him to a famous teammate of his, Thomas de Gendt. When I mentioned this to Matt, he replied "We were rooming together for the whole race so were taking it in turns to get the breakaways!"
Looking back at stage 8 and his third place, I asked was not winning a big disappointment? "It was and it wasn't" replied Matt. "I can't be annoyed at myself too much because it was my first attempt but I also know that opportunities that good, won't come very often. So it was a shame I never made the most of it."
Matt though did finish the Grand Tour which is a major achievement for a rider and says of that "it is pretty good and I think I quite like having done that. I'd like to have a go at the Tour de France one day but I know it will be difficult to make selection but hopefully the team are happy with how I am riding."
"It would also be good to go and do the Tour de France with a rider like Caleb and be part of a winning team and not just go for breakaways; having a definite goal. So I think I like the Grand Tours. I still felt strong in the last week so it could be good for me if I can do one again when I maybe a bit better."
Matt giving some gas at the front of a breakaway in the Giro. Getty Images
Climbing Mountains
Matt has always been known when racing here for his prowess on the climbs but when you go back and look at the climbs the 2020 Giro d'Italia encompassed, it was quite an epic parcour for a rookie rider like Matt.
Speaking about the course for the race, Matt says "It was epic for sure. It started off really easy and I couldn't believe how short the days were in Sicily when we were doing 140/150k and I was thinking it wasn't going to be too hard but the finish of the race was ridiculously hard with the amount of climbing and how long the stages were."
"So it started easy and got more and more ridiculous until the day we went on strike because it felt they were being cruel to the riders." One of the riders who 'got the blame' for leading the rider strike on stage 19 was Aussie Grand Tour specialist Adam Hansen, a very experienced rider who spoke up for all the riders and is a teammate of Matts.
It was reported on the internet that the riders had very early starts, seven hour stages and the usual transfers and because of this, everyone was on their knees.
Matt explained the consequences of the protest however were that the fans were showing their anger and that there were plenty of fans on the road side to see the Giro. Asked about how he found the climbing element of the race, "they were really hard and they are something you can't re-create here. If I lived in Spain or France, I'm still not sure if I could train right for it. I just think you need to do it because they go so fast up the climbs".
"It was torture for the first few mountains until I got into it. I was either going in the breakaway or riding to the finish and you quickly realised the riders who know exactly what they are doing like Demare and Sagan and as soon as they sat up, you could relax. But if you're suffering before they sit up, then you really need to dig in and keep going."
There is a saying in cycling that riders can finish a Grand Tour flying or in a box. When I put that to Matt, he replied "I felt fine when it was all over. I am normally more tired after the Tour of Britain but I came back here and went straight back into house moving stuff. I look forward to seeing how it has affected me and whether it's made me better. Everyone is saying the next time I do a Grand Tour it will be a lot easier so hopefully that is the case."
Enjoyable days on a Grand Tour
Besides the stage he was third, (stage 8), when asked what other days he enjoyed during the Giro, Matt replied "the Stelvio pass day was pretty good; racing up there. I felt really good that day and rode across to the break with a few others and had a teammate in there too so it was good fun even though we got caught before the top of the Stelvio. It was just good to be the mix."
"The stage 15 start with the Italian red arrows (Frecce Tricolori) was cool and that was a highlight of the race, to have our own air show! And the cross winds day in the second week when it was quite a short stage (7). We had a rider in the white jersey* and we thought we had to look after him in the cross winds and that was pretty good because we did get all eight of us together and working well together and got through without losing any time. I enjoyed that stage more than any other I think because we had a job and the whole team was there and even though I crashed, I quite enjoyed it!"
* (Matt's teammate Harm Vanhoucke, 2nd in the young rider classification was in the White jersey as the actual best young rider (João Almeida) was the race leader in Pink)
In the mix …
Asked how it felt to be in the mix and part of a Grand Tour, Matt explained it was good and not that much harder than his time in the UCI races in Britain and that the riders are human like everyone else.
"When you're part of a WorldTour team, you're allowed to be at the front which makes it a hell of a lot easier. You quickly get up to speed and there is not much difference between the WorldTour and the good riders in Britain who just don't have the calendar to bring them on."
"There are definitely riders in Britain who are better suited to the WorldTour but don't get the chance unfortunately with so few UCI races in Britain to get noticed."
Speaking of racing, there hasn't been a lot during the year for Matt to get used to working with his teammates and on the subject of how he felt working with riders like Adam Hansen and Thomas de Gendt who have raced with each other for a long time. Matt says "we have our been in our 'bubble' since the season restarted so it's been mostly the same people I've been with since we started racing again in Strade Bianche".
"It was a really good group of riders to be part of in the Giro. I'm sure there are some groups where you'd never have a laugh and it would be very boring but it was a really good group at Lotto Soudal; everyone got on and we had fun for three weeks."
Other races
Matt's season after lockdown consisted of many household names like Tirreno-Adriatico. "I enjoyed that one as we went through some amazing places as we went across the mountains in the middle. It was much the same as the Giro but there were some really rough roads in that region, and that is my main memory. It was like riding in Belgium riding over cracks in the road for a week."
Another big event was Vuelta a Andalucia Ruta Ciclista Del Sol before lockdown and Matt says of it, "that was a hard race as I was so unfit and not over the jet leg from Australia." Then came lockdown for Matt and it was a blessing for him as it turned out. "That was a second winter for me giving me time to reset and get fit as fit as I should be. It worked perfectly for me."
Matt testing himself out in the Tour de Yorkshire on the climbs with the leading GC riders
Asked how different he's found WorldTour to the domestic racing that was part of his racing programme for so long, Matt explains "I like how you can generally read the World Tour races a lot easier. You aren't just having to attack, attack, attack and go with breakaways. In the World Tour, you generally know when the break is going to go and you also know when you have no chance and you should sit up. The racing is just more organised at that level".
So is racing an event like the Tour of Reservoir, part of the National Series, as hard as racing one or two day Pro events? "I think the Tour of Reservoir is harder! If I wanted to win the Tour of Reservoir, it can be much harder than a pro race because in the Reservoir, you have to do it all yourself. You are basically riding two days on your own in the wind or through and off in a break and then sprinting and attacking. So for me that racing can be a lot harder".
Asked what job role he's been used to in his new team, Matt replied "nothing so far really. In Australia, we had Caleb and helped him in the sprints but then he doesn't need much help. Then, in every other race I have done, it has been 'see how you feel for the GC' from the team and if that isn't on, then go for breakaways. It's been much the same as it would have been for me in Madison Genesis really. Doing my thing and trying to get results".
With a big gap between the Tour Down Under and the resumption of racing, did his fellow pros remember him being a winner at the Tour Down Under? "They did" matt replied. "They wouldn't have if it hadn't been the Willunga Hill stage as everyone remembers that stage so it's quite nice everyone knows who I am!"
Matt's post lock down season was dominated by stage races and when asked if he'd have preferred the classics say, Matt replied "Ideally, I want to try everything really. They alsmost sent me to the Ardennes classics this year but decided as I'd done so much racing in Italy, there was no point as I was in the bubble of stage racing and I may as well stick to it. But next year I'd like to ride some one day races."
Looking ahead to the winter, with the early season races in Australia cancelled, his programme is still to be decided and he says he'll spend a month of not riding much with general exercise like running and gym in the garage. "I'll probably end up riding a lot after a few weeks but nothing from the coach at that point" adds Matt.
Goals for 2021 include doing either the Giro or the Tour de France and some classics too with Matt adding that Strade Bianche was good in 2020 but far too hot. "My SRM said it said 47 degrees when I pulled the pin!" says Matt.
No chance of that happening in the coming weeks and months LoL as Matt resumes training and prepares for what will hopefully be a fairly normal season for the pros as well as the domestic pros. Sadly, there won't be the Tour de Yorkshire which was going to be a goal of his but who knows, we may well see him back for the Tour of Britain.
Thanks to Matt for the chat. Was awesome to catch up again and get his insights …
---
---
Cycle Division's Shop
---
Send your results as well as club, team & event news here
---
Other Results on VeloUK (including reports containing results)

---
Other News on VeloUK