Talking to the King of the Mountains in the 2014 Tour of Britain, Mark McNally of Madison Genesis
Tour of Britain – Macca's Recce
King of the Mountains in 2014, Mark McNally (Madison Genesis), has looked at four stages of the Tour of Britain so far and his verdict? "It's going to be grippy, I don't think there will be many sprint days!"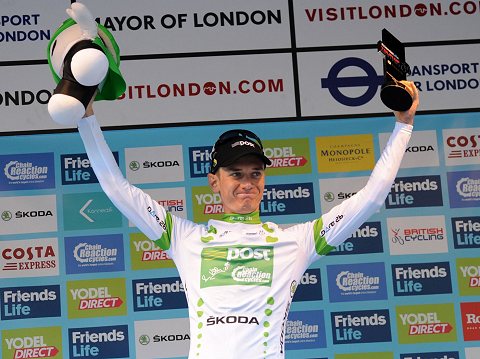 Winner! KoM in 2014, Mark McNally who races for Madison Genesis
Mark has ridden a quite a few Tour of Britains in his career and seen the race get tougher and tougher but this will be his first for Madison Genesis.
Last year, it was in the colours of An Post that he got himself into breaks day after day in a race where many riders fail to get in any despite trying hard to make the right move.
The Tour of Britain has, he says, turned into a massive race in its own right, attracting the best riders in the world and whilst the race doesn't have the Alps or Pyrenees to take riders over, the hilly course makes the event a tough one, hard enough to help riders go on and win world championships.
It, like a lot of stage races, also suits the ambitions of riders who aim to get in breaks and see what they can make of that. That is what happened last year in his home city of Liverpool (stage 1). With family and friends watching, 'Macca' came away from the stage with the KoM jersey and he then dug deep each day to make the break and continue winning more and more points and doing enough to win it outright despite a crash later in the race.
Digging deep on a wet and cold Constitution Hill in 2010
Speaking of mountains, Mark and some teammates from Madison Genesis have just completed a spell in some proper mountains in France and before that, invested time and money into a recce of stages 1, 2, 5 and 6. The hard work seems to be paying off and in their latest race, they were all over the Leicester Castle Road Race on Sunday resulting in a win for the team's Matt Cronshaw.
During that race, Mark McNally was very active indeed showing good form a few weeks out from the 2015 edition of the Tour of Britain where, like he was with AN Post, Mark and his teammates are expected to be all over the front of the race in the opening miles trying to get in a move.
Talking to him about the country's biggest pro race, he says "It's frightening it's a year ago! It seems like yesterday and yet so much has changed in the last year". Asked to sum up what he has seen so far of the course, the former European track champion when on the GB academy replied "It would be easy for me to look through last year's race with rose tinted spectacles but I know last year was hard as well and this years route is not easy by any means".
As mentioned above, in 2014, the race started from his home city of Liverpool and in 2015, stage 1 again will be over roads he knows including the final climb which comes 30k from the finish. Stage 1 is 110 miles from Beaumaris to Wrexham, crossing the famous Menai Bridge at the start before heading into the heart of Snowdonia and a lumpy stage before finishing in Wrexham.
Having a dig in the Pearl Izumi Tour Series which his team, Madison Genesis won.
"I know the roads from when I was younger and riding with the Liverpool Century" Mark explained. "They are all hard roads, hilly and dead and should make for good racing".
Whilst the beginning of the stage is tough, the last climb, Bwlch (Bulk), a second category climb 2 or 3 miles long used in the Bikeline 2 day in the past, comes with 30k to go giving teams time to bring the race together. The finish however in Wrexham is really technical so that's a difficult one to call says Mark.
The Bwlch, which has no real descent after it, may or may not be decisive but the technical run to the finish through a narrow pedestrianised section (see google streetview) will make it hard for sprint trains and a late attack may well snatch the stage from the fast men. Who knows, may be a break will have just enough rope to hang on?
The next day doesn't get any easier. Stage 2, Clitheroe to Colne is over 99 miles and will probably be even tougher than day 1, racing around the lanes of Lancashire taking in a climb used in the National Championships (Nick o'Pendle) won by Geraint Thomas who will, sadly, be in the Tour of Spain.
"That stage is uphill, down dale with no flat" says Mark. "Even the finish straight used in the Colne GP (stage finishes a hundred or so metres before the Colne GP finish) is a long drag to the finish for the last K or so."
Liam Holohan and Mark McNally (Madison Genesis), both experienced riders at the Tour of Britain
The next stage Mark had a look at is the much talked about summit finish at Hartside on stage 5. Prudhoe to Hartside Fell over a distance of 103 miles. Another rider who knows the climb said it could be a 'big ring' race to the summit finish.
Mark however says it will depend on the weather conditions. "I think the conditions could play more of a part than the actual hardness of the climb but it's easy to say that standing here. It's long (8k), not that steep and will be fast. But, it's open and windy over the top so there'll be no shelter and if a team puts it into a gutter there, it could split to bits."
As others have explained, the stage also has some long climbs at the start, ones those who have driven back from the North East classics towards Carlisle may know when heading west. They are, says Mark, long enough that riders won't just be able to blast up them and steep enough that their legs will most definitely notice them!
'Macca' fighting through the crowd in last years Tour of Britain
Comparing the stage courses from a recce in a small group to them in a race situation is difficult says Mark because there are so many different variations of what might happen. "Sometimes, the break will go from the flag and it will then be controlled while other times it might be 50k of hell for leather before everyone gets tired and lets a group go."
"It's a hard one to call but I think there will be a degree of control with the big teams there."
The degree of control however could change in the blink of an eye. As we saw last year, if everything goes to plan, a stage will be controlled to a certain extent but it only takes a large group to get away and teams to suddenly lose control for the race to become a free for all and then become very grippy indeed.
It is one of the reasons the race organisation has limited teams to six riders in the hope that no one team can control the race which is what happened in the latter stages of RideLondon.
The final stage Mark looked at with his Madison Genesis teammates is Stoke-on-Trent to Nottingham, 119 miles in the Derbyshire hills going through places like Bakewell, Matlock, Buxton and many other household names.
"The Stoke to Nottingham stage (6) is always a hard one because of the hills and the wind so I expect both the terrain and the conditions to do some damage" says Mark.
Anyone who has ridden in the Derbyshire hills will know how relentless they are and how the stage pans out will depend a lot on how hard its raced and controlled or not as the case may be. Small group finishes or a break staying away may make the stage race very interesting indeed.
Etixx Quickstep controlling the race in the hills in 2014. Can they do that again in 2015?
Looking ahead to the Tour, the obvious question is does Mark want to repeat the strategy of getting into breaks day after day like he did in 2014 which is no mean feat. "I think Erick (Rowsell) may go for a GC position but the rest of us will probably go for the breaks, as well as look after Erick." (Note: After this interview in a race in Belgium, Erick fell and broke his arm and is out of the race).
"It's a good race where if you take your chances, you can get results like Tom Stewart was third on a stage last year."
To repeat what Mark did last year and other British riders have done in the past, ie, getting on the podium for a jersey, will take a lot of luck too and persistence in going with the early moves until one sticks."
The time out front on some of the stages will be long and arduous as well because one of the changes in the Tour over the years is the stages have become longer. In 2015, three are longer than 200k and another one close to that mark.
How do the British pros fare with such long stages I asked Mark? "As long as you get the eating right and fuel well, we'll be alright relying on the work we have done before hand to get through it".
And finally, will the recce help him in the race? "I've never done a recce before so I don't know. On one hand you get to know the courses but on the other you know what's coming and can dread it for that little bit longer!"
One thing is for sure, Madison Genesis will have a strong team for the race and their colours will be flying high whether it's in breaks on or GC if the likes of Erick Rowsell can repeat his performance in the Tour of Yorkshire.
After their time in the mountains at a training camp, their manager, a multiple stage winner in the Tour of Britain – Roger Hammond – will be working them hard in UCI races in Belgium to get them in the best shape possible to do themselves proud come September 6. Good luck to them all, see you there!
Send your results as well as club, team & event news here
---
Other Results on VeloUK (including reports containing results)

---
Other News on VeloUK