Charles Coleman winner of the VC Walcot Hill Climb on the UH35 (October 1st)
Result: VC Walcot Hill Climb
VC. Walcot Hill Climb 2017 (UH35), Claverton Hill, Bath | Sunday 1st October
Photo credits: Nic Delves-Broughton and Ant Grimley
After numerous near misses and podiums Charles Coleman was finally king of Claverton Hill edging out Joe Norledge by just 0.5secs who in turn was only 0.4secs ahead of Jacob Pilkington.
Close times amongst the other categories was a real feature of the day as Becky Dodds of organising club VC. Walcot beat last year's winner Kate Baker by 1 second with Emily Slavin 0.5secs behind.
The ever improving Morgan Curle won the Junior/Juvenile category with a time good enough to place him 12th overall. Phil Stonelake put in a top 10 ride to win the Vets and Bristol South CC capped off a strong overall performance, 4 riders in the top 25, to take the team prize.
As is customary there was vociferous support all along the roadside for the riders in one of the West DC's best hill climbs. Thanks to all the riders, organisers, supporters and timekeepers (Paul Arayan and Dennis Davis).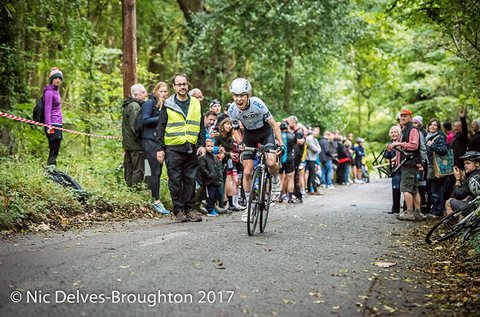 Men's Seniors and Espoirs: 1. Charles Coleman, 2. Joe Norledge, 3. Jacob Pilkington.
Women's Seniors and Espoirs: 1. Becky Dodds, 2. Kate Baker 3. Emily Slavin.
Vets (40+): 1. Phil Stonelake, 2. Justin Gage, 3. Gordon Markus.
15-18yrs: 1. Morgan Curle, 2. Harry Tucker, 3. Ben Wainwright.
Team prize: Bristol South CC (6mins 56.7)
Angus Mckendrick Trophy went to Rob Grover as the fastest VC.Walcot rider.
1 Charles Coleman DRK Racing 02:08.0
2 Joe Norledge Bristol South Cycling Club 02:08.5
3 Jacob Pilkington Velo Club Montpellier 02:08.9
4 Adam Whitehead Bristol South Cycling Club 02:14.0
5 Josh Coyne Okehampton CC 02:15.5
6 George Jones Velo Club St Raphael 02:16.6
7 Fred Cook University of Bristol Cycling Club (UOBCC) 02:18.8
8 Russell Peace Dursley Road Club 02:19.8
9 Phil Stonelake BikeRadar 02:20.3
9 Chris Parker Velo Club St Raphael 02:20.3
11 Euan Davies University of Bath Cycling Club 02:21.1
12 Nick Tyrie University of Bath Cycling Club 02:21.4
12 Morgan Curle Bristol Cycling Development Squad 02:21.4
14 Joe Hawksworth Bristol South Cycling Club 02:23.3
15 Matt Griffin Cycology Bikes 02:26.3
16 Robert Grover Velo Club Walcot 02:28.9
17 Reuben Bakker-Dyos BikeRadar 02:31.1
18 Harry Tucker Trowbridge Cycling Club 02:32.1
19 Ben Wainwright Team Tor 2000 (Kalas) 02:32.4
20 Jack Phillips Salt and Sham Cycle Club 02:32.6
21 Daniel Alford Bristol South Cycling Club 02:34.2
22 Adam Whittaker Salt and Sham Cycle Club 02:34.3
23 James Coleman DRK Racing 02:34.6
24 Andrew Lockwood Lockwood Southampton University Road Cycling 02:35.3
25 Ted Cross University of Bristol Cycling Club (UOBCC) 02:35.5
26 Thomas Saminaden Gregarios Superclub Ciclista 02:37.5
27 Tavis Walker DRK Racing 02:38.1
28 Justin Gage Velo Club Walcot 02:38.3
29 Gordon Markus Severn Road Club 02:38.5
30 John Grenfell Bath Cycling Club 02:39.8
31 Callum Middleton Lewes Wanderers CC 02:40.2
32 Andrew Turner Bristol South Cycling Club 02:41.0
32 Dan Martin University of Bath Cycling Club 02:41.0
34 Txema Garcia Trowbridge Cycling Club 02:41.6
35 Steven Cottington Bath Cycling Club 02:42.9
35 Jim Beales Dursley Road Club 02:42.0
37 JAMES WOOTTON North Hampshire RC 02:43.4
38 Luke Voss University of Bath Cycling Club 02:44.4
39 Jack Luke BikeRadar 02:44.5
40 David Cullen Bristol South Cycling Club 02:45.1
41 Andy Butler University of Bath Cycling Club 02:45.2
42 Mark Jerzak Chew Valley Cycling Club 02:46.0
43 Ben Jones University of Bath Cycling Club 02:46.2
44 James Barber University of Bath Cycling Club 02:47.5
45 Tom Moffat University of Bath Cycling Club 02:49.0
46 John Benjamin Velo Club Walcot 02:51.4
47 Ryan Oldam University of Bath Cycling Club 02:56.7
48 Harry Woodman Velo Club Walcot 02:57.0
49 Edward Gray University of Bath Cycling Club 03:00.6
50 Becky Dodds Velo Club Walcot 03:02.5
51 Kate Baker University of Bath Cycling Club 03:03.5
52 Emily Slavin University of Bath Cycling Club 03:03.8
53 Frances Bromley Buxton CC/Sett Valley Cycles 03:09.7
53 Jim Kay University of Bath Cycling Club 03:09.7
55 Ashia Fenwick Velo Club Venta 03:21.6
56 Alice Thomson DRK Racing 03:22.2
57 Tom Allport University of Bath Cycling Club 03:30.2
58 Heidi Blunden Sodbury Cycle Sport 03:37.5
59 Harry Edmund Trowbridge Cycling Club 03:40.9
60 Abby Easter Velo Club Venta 03:44.1
61 Molly Hodges University of Bath Cycling Club 04:06.2
… continued after advert
XXXXXXXXXXXXXXXXXXXXXXXXXXXXXXXXXXX
… continued after advert
XXXXXXXXXXXXXXXXXXXXXXXXXXXXX
Send your results as well as club, team & event news here
---
Other Results on VeloUK (including reports containing results)

---
Other News on VeloUK