Not only did Connor Swift of Madison Genesis win the British RR title but in 12 major domestic road races, he was in the top 10 in ten of them …
Feature: The British Based Winners in 2018
Whilst on the international scene, British riders dominated the Grand Tours with wins for Chris Froome, Geraint Thomas and Simon Yates ()ranked second in the world after this season), the focus of this feature is the movers and shakers of riders based in Britain and/or with British based teams.
The biggest winner of the season was Connor Swift (above) of Madison Genesis after winning the most sought after win of the season, the British Road Race Championship.
In the other major British road races (excluding UCI stage races), Gabriel Cullaigh and Matt Gibson both had two race victories whilst Tom Moses had a stage and GC win at the Tour of Reservoir. The other events were won by Graham Briggs, Ian Bibby, Alexandar Richardson, Tom Pidcock and Karol Domagalski.
Podiums
When it came to podiums in these major British road races, British Champion Connor Swift visited it no less than four times with a win, a second and two thirds. Tom Moses had three visits to the podium with a stage and GC win at Reservoir and a second place too.
Gabriel Cullaigh, Alexandar Richardson, Karol Domagalski, Jonathan McEvoy, Ian Bibby and Matthew Gibson all had two podiums during a season where no one rider dominated the results although Connor Swift's performances are pretty special.
Gabz Cullaigh won two of the 12 major British road races in 2018
The other riders who got themselves a podium place in 2018 were Richard Handley, Thomas Pidcock, Andrew Tennant, Alistair Slater, Ethan Hayter, Adam Blythe, Robert Scott, Chris Latham, Graham Briggs, Max Stedman, Jack Pullar, Matthew Walls and Owain Doull.
Top 10s
When it comes to top 10s, and disregarding the placings (for a ranking of them), the rider with the most top 10s by some margin was again, the British Champion Connor Swift, showing just what a remarkable rider he is. Connor had no less than ten in just twelve races! Runner up was Gabriel Cullaigh with six out of twelve events and in third are two riders with five top 10s; Tom Moses and Tom Pidcock.
Riders with four top 10s are Ian Bibby, Jonny McEvoy, Jack Pullar and Max Stedman. When it came to three top 10s, Dan Tulett showed he's got good form for the road along with Karol Domagalski, Andrew Tennant, Edmund Bradbury, Ethan Hayter, Robert Scott, George Pym and Isaac Mundy.
Matt Gibson was in winning form both domestically and abroad
In the list of riders with two top 10s, Matt Gibson with two wins is one of the riders along with Alexandar Richardson, Joey Walker, Erick Rowsell, Peter Williams, Chris Latham, Richard Handley, Steve Lampier, Fred Wright, and Mark Donovan. A further 17 or so riders made the top 10 in the major British road races.
* based on prems/cicle classic/British RR Champs
Below is also a list of special mentions like Harry Tanfield for his Tour of Yorkshire stage win and Tom Stewart who won the Tour of Normandy. The list has many more names of riders with wins or top performances in international overseas races.
Looking ahead to 2019, there are some above who the last I knew, do not have teams for 2019 showing how tough it is when teams fold like three did after this year's season and we wish the riders luck in finding a ride for 2019 and improving on their 2018 performances.
Whilst next year is sure to see new riders getting their names in the leading results, we can only hope that along with new races that look like being part of the major race calendar, that the races from this year also return because 12 major road races for a whole season is not a lot.
Tom Stewart, winner of the Tour of Normandy in 2018 will be in new team colours in 2019 but which team has managed to get his signature … all will be revealed in a few weeks.
Winners in 2018
British RR Champs: Connor Swift (Madison Genesis)
UCI CiCLE Classic: Gabriel Cullaigh – Team Wiggins
Prems
Ryedale GP: Graham Briggs – JLT Condor
Leicester Castle: Gabriel Cullaigh – Wiggins
Stockton GP: Matthew Gibson – JLT Condor
Bristol GP: Matthew Gibson – JLT Condor
Reservoir GC: Thomas Moses – JLT Condor
Reservoir Stage 1: Ian Bibby – JLT Condor
Reservoir Stage 2: Thomas Moses – JLT Condor
Lincoln GP: Alexandar Richardson
Klondike GP: Tom Pidcock – Team Wiggins
Chorley GP: Karol Domagalski – One Pro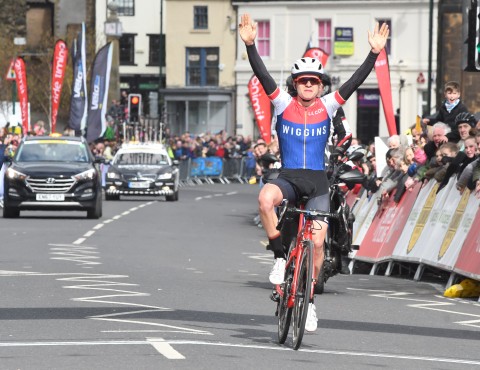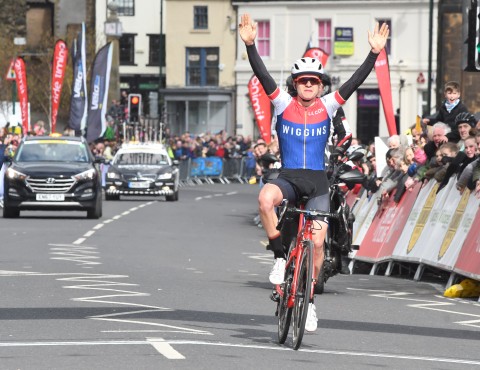 A rider many expect to be a British winner in years to come is already winning as a senior – this was his victory in the Klondike GP – the one and only Tim Pidcock.
PODIUMS
British Road Race Championships
1 Connor Swift Madison Genesis
2 Adam Blythe Aqua Blue Sport
3 Owain Doull MBE Team Sky
CiCLE Classic
1 Gabriel Cullaigh Team Wiggins
2 Karol Domagalski
3 Koos-Jeroen Kers
Chorley Grand Prix
1 Karol Domagalski
2 Jonathan McEvoy Madison Genesis
3 Richard Handley Madison Genesis
Klondike Grand Prix
1 Thomas Pidcock Team Wiggins
2 Thomas Moses JLT Condor
3 Jonathan McEvoy Madison Genesis
Lincoln Grand Prix
1 Alexandar Richardson
2 Andrew Tennant Canyon Eisberg
3 Alistair Slater JLT Condor
Tour of Reservoir
Overall
1 Thomas Moses JLT Condor
2 Hayden McCormick One Pro Cycling
3 Ian Bibby JLT Condor
Stage 1
1 Ian Bibby JLT Condor
2 Connor Swift Madison Genesis
3 Ethan Hayter 100% ME
Stage 2
1 Thomas Moses JLT Condor
2 Hayden McCormick One Pro Cycling
3 Alexandar Richardson
Bristol Grand Prix
1 Matthew Gibson JLT Condor
2 Jack Pullar Canyon Eisberg
3 Connor Swift Madison Genesis
Stockton Grand Prix
1 Matthew Gibson JLT Condor
2 Matthew Walls 100% ME
3 Emils Liepins
Leicester Castle Classic
1 Gabriel Cullaigh Team Wiggins
2 Robert Scott Team Wiggins
3 Christopher Latham One Pro Cycling
Ryedale Grand Prix
1 Graham Briggs JLT Condor
2 Maximilian Stedman Canyon Eisberg
3 Connor Swift Madison Genesis
Special Mentions for International performances:
— Harry Tanfield (Canyon Eisberg) stage winner Tour of Yorkshire
— Tom Stewart (JLT Condor) Tour of Normandy overall
— Alistair Slater (JLT Condor) Kreiz Breizh Elites Stage 4 winner
— Ian Bibby (JLT Condor) 6th on GC, Tour of Yorkshire, 3rd final stage
— Jon Mould: Second Commonwealth Games | GP des Marbriers winner
— Gabz Cullaigh (Wiggins) Volta ao Alentejo stage 1 winner
— Ethan Hayter (Wiggins) Tour of Britain Points (2nd), U23 Worlds 8th
— Jacob Tipper (Memil) Stage 11 winner | Tour du Maroc Stage 6 winner
— Max Stedman (Canyon Esiberg) Tour Alsace, 3rd stage 1 | 2nd KoM overall, Tour of Yorkshire
— Stevie Williams: Giro Ciclistico d'Italia, Stage 7 winner, 5th overall | Ronde de l'Isard GC & 2 stage wins
— Matt Gibson (JLT Condor) Tour de l'Avenir Stage 5 winner | Loir et Cher Stage 5 winner | Tour de Normandie Stage 6 winner
— Fred Wright: Ronde de l'Oise Stage 3 winner & 2nd on GC
— Mark Donovan: Giro Ciclistico della Valle d'Aosta Mont Blanc Stage 2 winner
— Matt Walls: Trophee Paris-Arras Tour – stage 3 winner | Flèche du Sud (1st Points, 1st stage 1)
— Gruff Lewis (Ribble Pro Cycling) GP de la Pharmacie de Tunisie – winner
— Julian Varley: Irish Rás stage 7 winner
— Mike Cumming: 3rd KoM GC Tour of Yorkshire
World Tour Rankings
2. Simon Yates
6. Geraint Thomas
15. Chris Froome
46. Adam Yates
Missed someone? Go to https://twitter.com/VeloUK and let us know who you think deserves a mention and why?
… continued after advert
Full Results of Major British Road Races (Men)
British Road Race Championships
1 Connor Swift Madison Genesis
2 Adam Blythe Aqua Blue Sport
3 Owain Doull MBE Team Sky
4 Robert Scott Team Wiggins
5 Fred Wright 100% ME
6 Ben Hetherington MEMIL
7 Gabriel Cullaigh Team Wiggins
8 Ben Swift UAE Team Emirates
9 Joey Walker Team Wiggins
10 Dexter Gardias Canyon Eisberg
11 Mark Christian Aqua Blue Sport
12 Alistair Slater JLT Condor
13 George Pym Madison Genesis
14 Daniel Bigham Ribble Cycling
15 Matthew Holmes Madison Genesis
16 Charlie Tanfield Canyon Eisberg
17 Thomas Stewart JLT Condor
18 Mark Donovan Team Wiggins
19 Ian Stannard Team Sky
20 Alexandar Richardson
21 Andrew Tennant Canyon Eisberg
22 Dylan Kerfoot-Robson Team Wiggins
23 Peter Williams One Pro Cycling
24 Matthew Bostock 100% ME
25 Julian Varley Team KTM UK
26 Ben Turner Corendon-Circus
27 Michael Mottram Morvelo Basso RT
28 Joshua Hunt Vitus Pro Cycling
29 Matthew Nowell Canyon Eisberg
30 Christopher Latham One Pro Cycling
31 Zeb Kyffin Ribble Cycling
32 Maximilian Stedman Canyon Eisberg
33 Mark McNally Wanty – Groupe Gobert
34 Thomas Moses JLT Condor
35 James Shaw Lotto Soudal
36 Richard Handley Madison Genesis
37 Thomas Baylis One Pro Cycling
38 Thomas Pidcock Team Wiggins
CiCLE Classic (UCI)
1 Gabriel Cullaigh Team Wiggins
2 Karol Domagalski
3 Koos-Jeroen Kers
4 Connor Swift Madison Genesis
5 Erick Rowsell Madison Genesis
6 Peter Williams One Pro Cycling
7 Thomas Stewart JLT Condor
8 Emils Liepins
9 Thomas Pidcock Team Wiggins
10 Tobyn Horton Madison Genesis
11 Maarten de Jonge
12 Alistair Slater JLT Condor
13 Thomas Moses JLT Condor
14 Sven van Luijk
15 Gruffudd Lewis Ribble Cycling
16 Jasper Ockeloen
17 Seid Lizde
18 Julio Alberto Amores Palacios
19 Jonas Hartig
20 Johnny Mcevoy
21 Richard Handley Madison Genesis
22 Oliver Wood JLT Condor
23 Andris Vosekalns
24 Jacques Sauvagnargues Team Wiggins
25 Russell Downing Holdsworth Pro Racing
26 Jordy Buskermolen
27 Callum Ferguson Team KTM UK
28 Matthew Nowell Canyon Eisberg
29 Jasper Bugter
30 Jacob Tipper MEMIL
31 George Atkins Madison Genesis
32 Etienne Georgi Team Wiggins
33 Harrison Jones Vitus Pro Cycling
34 Joshua Hunt Vitus Pro Cycling
35 Steve Lampier Saint Piran
36 Damien Shaw
37 Victor Muller
38 Michael Mottram Morvelo Basso RT
39 Kieran Brady Team KTM UK
40 Dylan Kerfoot-Robson Team Wiggins
41 Scott Auld Zappi Racing Team
42 Joey Walker Team Wiggins
43 Marcus Burnett Spirit Tifosi Racing Team
44 Kristers Ansons
45 James Tillett Wales Racing Academy
46 William Scott Flamme Rouge Cycling Team
47 Axel Flet
48 Harry Tanfield Canyon Eisberg
49 Felix Intra
50 Damien Wild
51 Lawrence Carpenter Ribble Cycling
52 Odin Eikeland
53 Fraser Rounds Team KTM UK
54 Ken Buckley Morvelo Basso RT
55 Jorgos Schrijver
56 Fernado Finkler
57 Jacob Scott One Pro Cycling
58 Sean Mckenna
59 Andreas Miltiadis
60 Adam Kenway Vitus Pro Cycling
61 Yentl Ruijmgaard
62 Teun Mouris
63 Chris Opie Canyon Eisberg
64 Dante Carpenter Morvelo Basso RT
65 Oliver Maxwell Richardsons-Trek RT
66 Hayden McCormick One Pro Cycling
67 William Harper Saint Piran
68 Joe Evans Saint Piran
69 Matthew Exley Flamme Rouge Cycling Team
70 Lois Recuna
71 Maxime Huygens
72 Bradley Symonds Team PB Performance
73 Fraser Martin Saint Piran
74 Samuel Rodriguez Gil
75 Kieran Savage Cycling Sheffield Giant Sheffi…
76 Elliot Harrison Leisure Lakes Bikes.com
77 Antony Richardson Royal Air Force CA
78 Pierre Moncorge
79 Josh Copley TBW23 Stuart Hall Gett Taxi
80 Julius Domnick
81 Richard Jones Ribble Cycling
82 Angus Claxton Wheelbase Castelli MGD
83 Mel Veekens
84 Kevin Avoine
85 Jake Hales Spirit Tifosi Racing Team
86 Rupert Graham Spirit Tifosi Racing Team
87 Jordan Peacock Spirit Tifosi Racing Team
88 Benjamin Marks Morvelo Basso RT
89 Siim Kiskonen
90 Peter Barusevicus Team KTM UK
91 Joann Leinau
92 Jordan Levasseur
93 Robert Orr MEMIL CCN PRO CYCLING
Chorley Grand Prix
1 Karol Domagalski
2 Jonathan McEvoy Madison Genesis
3 Richard Handley Madison Genesis
4 Peter Williams One Pro Cycling
5 Steve Lampier Saint Piran
6 Maximilian Stedman Canyon Eisberg
7 Connor Swift Madison Genesis
8 Szymon Tracz
9 Matthew Holmes Madison Genesis
10 Edmund Bradbury JLT Condor
11 Thomas Pidcock Team Wiggins
12 Michael Cuming Madison Genesis
13 Gabriel Cullaigh Team Wiggins
14 Grant Martin Vitus Pro Cycling
15 Matthew Nowell Canyon Eisberg
16 Corentin Navarro
17 Robert Scott Team Wiggins
18 Russell Downing Holdsworth Pro Racing
19 Joe Evans Saint Piran
20 Edward Laverack JLT Condor
21 Conn Mcdunphy
22 George Wood Richardsons-Trek RT
23 Callum Ferguson Team KTM UK
24 Jacob Scott One Pro Cycling
25 Tristan Robbins Team PB Performance
26 Jacques Sauvagnargues Team Wiggins
27 Andrew Nichols Team B38 / Underpin Racing
28 Julio Alberto Amores Palacios
29 Seid Lidze
30 Marcus Burnett Spirit Tifosi Racing Team
31 Rupert Graham Spirit Tifosi Racing Team
32 Michael Mottram Morvelo Basso RT
33 Zeb Kyffin GS Metro
34 Matthew Clarke Wheelbase Castelli MGD
35 Finn Crockett Wheelbase Castelli MGD
36 Jack Stanton-Warren Wheelbase Castelli MGD
37 Louis Szymanski Cycling Sheffield Giant Sheffi…
38 Joe Swinnerton Swinnerton Cycles
39 Dexter Gardias Canyon Eisberg
40 James Gullen JLT Condor
41 Charlie Passfield Spirit Tifosi Racing Team
42 James Tillett Wales Racing Academy
43 Thomas Baylis One Pro Cycling
44 Lawrence Carpenter Ribble Cycling
45 Kieran Savage Cycling Sheffield Giant Sheffi…
46 Adam Kenway Vitus Pro Cycling
47 Elliot Harrison Leisure Lakes Bikes.com
48 Michael Hall TBW23 Stuart Hall Gett Taxi
49 Daniel Coombe Wales Racing Academy
50 Fraser Rounds Team KTM UK
51 Harrison Jones Vitus Pro Cycling
52 Ben Walsh Vitus Pro Cycling
53 Erick Rowsell Madison Genesis
54 Joshua Hunt Vitus Pro Cycling
55 Sean Mckenna
56 James Lowsley-Williams Canyon Eisberg
57 Isaac Mundy Madison Genesis
58 William Roberts Wales Racing Academy
Klondike Grand Prix
1 Thomas Pidcock Team Wiggins
2 Thomas Moses JLT Condor
3 Jonathan McEvoy Madison Genesis
4 Steve Lampier Saint Piran
5 Gabriel Cullaigh Team Wiggins
6 Karol Domagalski
7 William Harper Saint Piran
8 Edmund Bradbury JLT Condor
9 James Gullen JLT Condor
10 George Pym Madison Genesis
11 Maximilian Stedman Canyon Eisberg
12 Oliver Wood JLT Condor
13 Peter Kibble Wales Racing Academy
14 Joey Walker Team Wiggins
15 Seid Lidze
16 Robert Scott Team Wiggins
17 Gruffudd Lewis Ribble Cycling
18 Ryan Christensen
19 Louis Szymanski Cycling Sheffield Giant Sheffi…
20 Rupert Graham Spirit Tifosi Racing Team
21 Emils Liepens One Pro Cycling
22 Grant Martin Vitus Pro Cycling
23 Dylan Kerfoot-Robson Team Wiggins
24 Matthew Gibson JLT Condor
25 Alex Luhrs Ribble Cycling
26 Leon Mazzone Holdsworth Pro Racing
27 Luke Ryan Richardsons-Trek RT
28 Will Fox Team KTM UK
29 Louis Rose-Davies Canyon Eisberg
30 Isaac Mundy Madison Genesis
31 Joshua Hunt Vitus Pro Cycling
32 James Lowsley-Williams Canyon Eisberg
33 Dexter Gardias Canyon Eisberg
34 Bradley Symonds Team PB Performance
35 Joe Evans Saint Piran
36 Reece Wood Team Wiggins
37 Matt Clarke Halesowen A & CC
38 Lawrence Carpenter Ribble Cycling
39 Elliot Harrison Leisure Lakes Bikes.com
40 Josh Housley TBW23 Stuart Hall Gett Taxi
41 Oliver Robinson Team Wiggins
42 Joe Swinnerton Swinnerton Cycles
43 James Jobber Backyardbikeshop.com
44 Jesse Yates Team Wiggins
45 Freddie Jagger Team B38 / Underpin Racing
46 Peter Cocker Richardsons-Trek RT
47 Adam Kenway Vitus Pro Cycling
48 James Tillett Wales Racing Academy
49 Ruari Grant Veloclub Edinburgh
50 Alistair Slater JLT Condor
51 Peter Williams One Pro Cycling
52 Damien Shaw
53 Sean McKenna
54 Christopher Latham One Pro Cycling
55 George Atkins Madison Genesis
56 James Oram One Pro Cycling
57 Jacob Scott One Pro Cycling
58 Andrew Tennant
59 Oliver Maxwell Richardsons-Trek RT
60 Angus Claxton Wheelbase Castelli MGD
61 Harry Tanfield Canyon Eisberg
62 Alex Orrell-Turner Wheelbase Castelli MGD
63 Erick Rowsell Madison Genesis
64 Jack Pullar Canyon Eisberg
65 George Kimber Team PB Performance
66 Taylor Gunman
67 Ian Bibby JLT Condor
Lincoln Grand Prix
1 Alexandar Richardson
2 Andrew Tennant Canyon Eisberg
3 Alistair Slater JLT Condor
4 Mark Downey
5 James Oram One Pro Cycling
6 Connor Swift Madison Genesis
7 Maximilian Stedman Canyon Eisberg
8 George Pym Madison Genesis
9 Ian Bibby JLT Condor
10 Gabriel Cullaigh Team Wiggins
11 Jonathan McEvoy Madison Genesis
12 Dexter Gardias Canyon Eisberg
13 Thomas Baylis One Pro Cycling
14 Callum Ferguson Team KTM UK
15 Matthew Nowell Canyon Eisberg
16 James Lowsley-Williams Canyon Eisberg
17 Steve Lampier Saint Piran
18 Adam Kenway Vitus Pro Cycling
19 Karol Domagalski One Pro Cycling
20 Hayden McCormick One Pro Cycling
21 Thomas Pidcock Team Wiggins
22 Stephen Bradbury Morvelo Basso RT
23 Arlen Vartazarian HJL
24 Isaac Mundy Madison Genesis
25 Robert Scott Team Wiggins
26 Marcin Bialoblocki Steele Davis Via Roma RT
27 Szymon Tracz
28 Lawrence Carpenter Ribble Cycling
29 Alex Luhrs Ribble Cycling
30 James Tillett Wales Racing Academy
31 Michael Mottram Morvelo Basso RT
32 Louis Szymanski Cycling Sheffield Giant Sheffi…
33 Samuel Tillett Wales Racing Academy
34 Damien Shaw
35 Ryan Fenwick Wheelbase Castelli MGD
36 Russell Downing Holdsworth Pro Racing
37 Daniel Coombe Wales Racing Academy
38 William Harper Saint Piran
39 Alex Orrell-Turner Wheelbase Castelli MGD
40 Charlie Tanfield Canyon Eisberg
41 Matthew Clarke Wheelbase Castelli MGD
42 Andrew Turner Team KTM UK
43 George Atkins Madison Genesis
44 James Gullen JLT Condor
45 Oliver Wood JLT Condor
46 James Jenkins Richardsons-Trek RT
47 Jake Alderman Saint Piran
48 Owen Line Wales Racing Academy
49 Harrison Jones Vitus Pro Cycling
50 Frederik Scheske Team Tor 2000 KALAS
51 Josh Housley TBW23 Stuart Hall Gett Taxi
52 Fraser Rounds Team KTM UK
53 Joshua Hunt Vitus Pro Cycling
54 Gruffudd Lewis Ribble Cycling
55 Julian Varley Team KTM UK
56 George Wood Richardsons-Trek RT
57 Marcus Burnett Spirit Tifosi Racing Team
58 Leon Mazzone Holdsworth Pro Racing
59 Cameron Jeffers Saint Piran
60 Harry Yates Cycling Sheffield Giant Sheffi…
61 Lindsay Watson
62 Fraser Martin Saint Piran
63 Joseph Clark Cycling Sheffield Giant Sheffi…
64 George Fowler Tri UK
65 Matt Hallam Crimson Performance Race Team
66 Conor McCann
67 Rupert Graham Spirit Tifosi Racing Team
68 Neil Phillips Kibosh
69 William Scott Flamme Rouge Cycling Team
70 Darnell Moore
71 Taylor Gunman
72 Campbell Stewart
73 Matthew Teggart
74 Joe Evans Saint Piran
Tour of Reservoir
Overall
1 Thomas Moses JLT Condor
2 Hayden McCormick One Pro Cycling
3 Ian Bibby JLT Condor
4 Ethan Hayter 100% ME
5 Connor Swift Madison Genesis
6 Thomas Pidcock Team Wiggins
7 Jack Pullar Canyon Eisberg
8 Mark Donovan Team Wiggins
9 Isaac Mundy Madison Genesis
10 Fred Wright 100% ME
11 Ryan Christensen
12 Joey Walker Team Wiggins
13 Alexandar Richardson
14 Thomas Baylis One Pro Cycling
15 Jonathan McEvoy Madison Genesis
16 Daniel Tulett Specialized Racing
17 Matthew Bostock 100% ME
18 Dylan Kerfoot-Robson Team Wiggins
19 Mark Downey
20 Tim James Zappi Racing Team
21 James Oram One Pro Cycling
22 Robert Scott Team Wiggins
23 Michael Cuming Madison Genesis
24 Charlie Meredith Saint Piran
25 James Fouce
26 Maximilian Stedman Canyon Eisberg
27 Richard Handley Madison Genesis
28 Ian Field Hargroves-Montezuma's
29 Erick Rowsell Madison Genesis
30 Jacob Scott One Pro Cycling
31 Michael Mottram Morvelo Basso RT
32 Will Fox Team KTM UK
33 Kieran Savage Cycling Sheffield Giant Sheffi…
34 Edmund Bradbury JLT Condor
35 Felix Barker ActiveEdge Race Team
36 Finn Crockett Wheelbase Castelli MGD
37 Jordan Reed Team KTM UK
38 Matt Clarke Halesowen A & CC
39 Zeb Kyffin Ribble Cycling
40 Darnell Moore
41 Rupert Graham Spirit Tifosi Racing Team
42 Jack Stanton-Warren Wheelbase Castelli MGD
43 Thomas Stewart JLT Condor
44 Callum Ferguson Team KTM UK
45 Christopher Latham One Pro Cycling
46 Jake Alderman Saint Piran
47 Thomas Mein Hope Factory Racing
48 Joe Evans Saint Piran
49 George Pym Madison Genesis
50 Daniel Coombe Wales Racing Academy
51 Peter Williams One Pro Cycling
52 Joseph Clark Cycling Sheffield Giant Sheffi…
53 Julio Alberto Amores Palacios Vitus Pro Cycling
54 George Wood Richardsons-Trek RT
55 Joseph Sutton Goma Dakwerken vdb Steenhouwer…
56 Alex Dalton Wheelbase Castelli MGD
Stage 1
1 Ian Bibby JLT Condor
2 Connor Swift Madison Genesis
3 Ethan Hayter 100% ME
4 Thomas Pidcock Team Wiggins
5 Hayden McCormick One Pro Cycling
6 Thomas Moses JLT Condor
7 Jack Pullar Canyon Eisberg
8 Gabriel Cullaigh Team Wiggins
9 Mark Donovan Team Wiggins
10 Isaac Mundy Madison Genesis
11 Michael Mottram Morvelo Basso RT
12 Joey Walker Team Wiggins
13 Ryan Christensen Canyon Eisberg
14 Fred Wright 100% ME
15 Daniel Tulett 100% ME
16 Graham Briggs JLT Condor
17 Matthew Bostock 100% ME
18 Will Fox Team KTM UK
19 Alexandar Richardson
20 Alistair Slater JLT Condor
21 Mark Downey
22 Tim James Zappi Racing Team
23 Maximilian Stedman Canyon Eisberg
24 Andrew Tennant Canyon Eisberg
25 Dylan Kerfoot-Robson Team Wiggins
26 Robert Scott Team Wiggins
27 George Pym Madison Genesis
28 Michael Cuming Madison Genesis
29 Gavin Taylor Team KTM UK
30 Oliver Maxwell Richardsons-Trek RT
31 Christopher Latham One Pro Cycling
32 Thomas Stewart JLT Condor
33 James Oram One Pro Cycling
34 Cameron Jeffers Saint Piran
35 Ronan Mclaughlin
36 Kieran Savage Cycling Sheffield Giant Sheffi…
37 Fraser Martin Saint Piran
38 James Hill Team PB Performance
39 Felix Barker ActiveEdge Race Team
40 Nic McKibbin Zappi Racing Team
41 Matthew Clements Richardsons-Trek RT
42 Harry Hardcastle Amicale Cycliste Bisontine
43 Callum Ferguson Team KTM UK
44 Oliver Richardson Twickenham CC
45 Julian Varley Team KTM UK
46 Dexter Gardias Canyon Eisberg
47 James Fauce
48 Finn Crockett Wheelbase Castelli MGD
49 Charlie Meredith Saint Piran
50 Joe Evans Saint Piran
51 Thomas Mein Hope Factory Racing
52 Joseph Clark Cycling Sheffield Giant Sheffi…
53 James Jobber Java Partizan Pro Cycling Team
54 Harrison Jones Vitus Pro Cycling
55 Edmund Bradbury JLT Condor
56 Alex Paton Canyon Eisberg
57 William Harper Saint Piran
58 Jake Alderman Saint Piran
59 Jordan Reed Team KTM UK
60 Jack Stanton-Warren Wheelbase Castelli MGD
61 Alex Fanshawe Saint Piran
62 Darnell Moore
63 James Boyman Hoops Velo
64 Joshua Hunt Vitus Pro Cycling
65 Matt Clarke Halesowen A & CC
66 Peter Williams One Pro Cycling
67 Jonathan McEvoy Madison Genesis
68 James Gullen JLT Condor
69 Joe Swinnerton Wheelbase Castelli MGD
70 Bradley Symonds Team PB Performance
71 Anthony Moye Spirit Tifosi Racing Team
72 Adam Kenway Vitus Pro Cycling
73 Matthew Nowell Canyon Eisberg
74 Toby Atkins ActiveEdge Race Team
75 Rupert Graham Spirit Tifosi Racing Team
76 Tristan Robbins Team PB Performance
77 Thomas Baylis One Pro Cycling
78 Erick Rowsell Madison Genesis
79 David Shackleton Team KTM UK
80 Ian Field Neon-Velo Cycling Team
81 Ben Hardy Zappi Racing Team
82 Anthony Richardson
83 Zeb Kyffin Ribble Cycling
84 Daniel Coombe Wales Racing Academy
85 Freddie Jagger Team B38 / Underpin Racing
86 Andrew Turner Team KTM UK
87 Richard Handley Madison Genesis
88 Thomas Power Richardsons-Trek RT
89 Dante Carpenter Morvelo Basso RT
90 George Atkins Madison Genesis
91 Douglas Coleman Spirit Tifosi Racing Team
92 Jacob Scott One Pro Cycling
93 Jonathan Mould JLT Condor
94 Peter Kibble Wales Racing Academy
95 Marcus Burnett Spirit Tifosi Racing Team
96 Fraser Rounds Team KTM UK
97 Jordan Peacock Spirit Tifosi Racing Team
98 Joel Lewis ActiveEdge Race Team
99 Julio Alberto Amores Palacios Vitus Pro Cycling
100 Christopher Dredge Spirit Tifosi Racing Team
101 Charlie Passfield Spirit Tifosi Racing Team
102 Yorben Van Tichelt
103 George Wood Richardsons-Trek RT
104 Daniel Nieto TBW23 Stuart Hall Gett Taxi
105 James Tillett Wales Racing Academy
106 William Roberts Wales Racing Academy
107 Joseph Sutton Goma Dakwerken vdb Steenhouwer…
108 Samuel Tillett Wales Racing Academy
109 Thomas Gelati Bioracer-Project GO
110 Tom Fitzpatrick
111 Emils Liepins
112 Ian Lee Royal Air Force CA
113 Laurence Kirby ActiveEdge Race Team
114 Liam Walsh VC St Raphael
115 Louis Rose-Davies Canyon Eisberg
116 Conor McCann
117 Ben Walsh Vitus Pro Cycling
118 Alex Dalton Wheelbase Castelli MGD
119 Thomas Bustard Spirit Tifosi Racing Team
120 Declan Hudson Liverpool Century RC
Stage 2
1 Thomas Moses JLT Condor
2 Hayden McCormick One Pro Cycling
3 Alexandar Richardson
4 Thomas Baylis One Pro Cycling
5 Jonathan McEvoy Madison Genesis
6 Ethan Hayter 100% ME
7 Connor Swift Madison Genesis
8 Thomas Pidcock Team Wiggins
9 Ian Bibby JLT Condor
10 Jack Pullar Canyon Eisberg
11 Mark Donovan Team Wiggins
12 Fred Wright 100% ME
13 Daniel Tulett 100% ME
14 Matthew Bostock 100% ME
15 Richard Handley Madison Genesis
16 Dylan Kerfoot-Robson Team Wiggins
17 Charlie Meredith Saint Piran
18 Mark Downey
19 Isaac Mundy Madison Genesis
20 Tim James Zappi Racing Team
21 James Oram One Pro Cycling
22 Robert Scott Team Wiggins
23 Ryan Christensen Canyon Eisberg
24 Joey Walker Team Wiggins
25 Michael Cuming Madison Genesis
26 James Fouce
27 Ian Field Neon-Velo Cycling Team
28 Erick Rowsell Madison Genesis
29 Maximilian Stedman Canyon Eisberg
30 Jacob Scott One Pro Cycling
31 Kieran Savage Cycling Sheffield Giant Sheffi…
32 Edmund Bradbury JLT Condor
33 Will Fox Team KTM UK
34 Finn Crockett Wheelbase Castelli MGD
35 Jordan Reed Team KTM UK
36 Zeb Kyffin Ribble Cycling
37 Felix Barker ActiveEdge Race Team
38 Matt Clarke Halesowen A & CC
39 Alex Dalton Wheelbase Castelli MGD
40 Darnell Moore
41 Rupert Graham Spirit Tifosi Racing Team
42 Jack Stanton-Warren Wheelbase Castelli MGD
43 Thomas Stewart JLT Condor
44 Callum Ferguson Team KTM UK
45 George Wood Richardsons-Trek RT
46 Joseph Sutton Goma Dakwerken vdb Steenhouwer…
47 Christopher Latham One Pro Cycling
48 Jake Alderman Saint Piran
49 Michael Mottram Morvelo Basso RT
50 Daniel Coombe Wales Racing Academy
51 Thomas Mein Hope Factory Racing
52 Joe Evans Saint Piran
53 Peter Williams One Pro Cycling
54 Julio Alberto Amores Palacios Vitus Pro Cycling
55 George Pym Madison Genesis
56 Joseph Clark Cycling Sheffield Giant Sheffi…
Bristol Grand Prix
1 Matthew Gibson JLT Condor
2 Jack Pullar Canyon Eisberg
3 Connor Swift Madison Genesis
4 Alex Paton Canyon Eisberg
5 Tobyn Horton Madison Genesis
6 Daniel Tulett TEKKERZ CC
7 Robert Scott Team Wiggins
8 George Pym Madison Genesis
9 Taylor Gunman
10 Julio Alberto Amores Palacios Vitus Pro Cycling
11 Dexter Gardias Canyon Eisberg
12 Matthew Bostock 100% ME
13 Isaac Mundy Madison Genesis
14 Dylan Kerfoot-Robson Team Wiggins
15 Erick Rowsell Madison Genesis
16 Alexandar Richardson
17 Rory Townsend Canyon Eisberg
18 Jake Stewart 100% ME
19 Campbell Stewart
20 Richard Handley Madison Genesis
21 Karol Domagalski
22 Jonathan McEvoy Madison Genesis
23 Steve Lampier Saint Piran
24 Peter Williams One Pro Cycling
25 Joey Walker Team Wiggins
26 Fred Wright 100% ME
27 Thomas Baylis One Pro Cycling
28 Marcus Burnett Spirit Tifosi Racing Team
29 Rhys Britton 100% ME
30 William Roberts Wales Racing Academy
31 Etienne Georgi Team Wiggins
32 Finn Crockett Wheelbase Castelli MGD
33 William Bjergfelt Neon-Velo Cycling Team
34 James Tillett Wales Racing Academy
35 Oliver Peckover Team KTM UK
36 James Ireson Morvelo Basso RT
37 Luke Ryan Richardsons-Trek RT
38 Adam Kenway Vitus Pro Cycling
39 Jake Hales Spirit Tifosi Racing Team
40 Neil Phillips Kibosh
41 James Phillips Bristol RC
42 Jacob Scott One Pro Cycling
43 Ashley Towey Team Tor 2000 KALAS
44 Anthony Moye Spirit Tifosi Racing Team
Stockton Grand Prix
1 Matthew Gibson JLT Condor
2 Matthew Walls 100% ME
3 Emils Liepins
4 Daniel Tulett 100% ME
5 Christopher Latham One Pro Cycling
6 Tobyn Horton Madison Genesis
7 Andrew Tennant Canyon Eisberg
8 Matthew Bostock 100% ME
9 Jake Stewart 100% ME
10 Will Fox Team KTM UK
11 Frederik Scheske Team Tor 2000 KALAS
12 Gabriel Cullaigh Team Wiggins
13 William Roberts Wales Racing Academy
14 Connor Swift Madison Genesis
15 Jack Pullar Canyon Eisberg
16 Daniel Bigham Ribble Cycling
17 David Lines Wheelbase Castelli MGD
18 George Wood Richardsons-Trek RT
19 Alexandar Richardson
20 Stephen Dent Baguet-MIBA-Indulek-Derito CT
21 John Archibald Ribble Cycling
22 Jake Hales
23 Grant Martin Vitus Pro Cycling
24 Charles Page Canyon Eisberg
25 Peter Cocker Richardsons-Trek RT
26 Fraser Martin Saint Piran
27 Marcus Culey
28 Marcus Burnett
29 William Bjergfelt Team Tor 2000 KALAS
30 Finn Crockett Wheelbase Castelli MGD
31 Neil Phillips Kibosh
32 Oliver Peckover Team KTM UK
33 Liam Davies Vitus Pro Cycling
34 Harry Tanfield Canyon Eisberg
35 George Pym Madison Genesis
36 Thomas Pidcock Team Wiggins
37 Jacob Scott One Pro Cycling
38 Peter Williams One Pro Cycling
39 Joe Holt 100% ME
40 Rory Townsend Canyon Eisberg
41 James Tillett Wales Racing Academy
42 Joe Swinnerton Wheelbase Castelli MGD
43 Gruffudd Lewis Ribble Cycling
44 Felix Barker ActiveEdge Race Team
45 William Scott Flamme Rouge Cycling Team
46 Harry Yates Cycling Sheffield Giant Sheffi…
47 Angus Claxton Wheelbase Castelli MGD
48 James Hill Team PB Performance
49 Gavin Taylor Team KTM UK
50 Campbell Stewart
51 Tristan Robbins Team PB Performance
52 Matt Langworthy Saint Piran
53 Matthew Clements Richardsons-Trek RT
54 Joe Evans Saint Piran
55 Taylor Gunman
56 Peter Kibble Wales Racing Academy
57 Ryan Fenwick Wheelbase Castelli MGD
58 James Oram
59 Karol Domagalski
60 Lee Frost Tri UK
61 Dylan Kerfoot-Robson Team Wiggins
62 Josh Copley TBW23 Stuart Hall Gett Taxi
63 Thomas Stewart JLT Condor
64 Adam Kenway Vitus Pro Cycling
65 Toby Atkins ActiveEdge Race Team
66 Ben Lockett Tri UK
67 James Jobber Java Partizan Pro Cycling Team
68 Fraser Rounds Team KTM UK
69 Simon Alexander Richardsons-Trek RT
70 Oliver Maxwell Richardsons-Trek RT
71 Laurence Kirby ActiveEdge Race Team
72 Daniel Coombe Wales Racing Academy
73 Jake Alderman Saint Piran
74 Jonathan Mould JLT Condor
75 Alistair Slater JLT Condor
76 Jonathan McEvoy Madison Genesis
77 Richard Handley Madison Genesis
78 Callum Ferguson Team KTM UK
79 William Corbett Ribble Cycling
80 Erick Rowsell Madison Genesis
81 Alex Luhrs Ribble Cycling
82 Josh Housley TBW23 Stuart Hall Gett Taxi
83 Daniel Nieto TBW23 Stuart Hall Gett Taxi
85 Jack Stanton-Warren Wheelbase Castelli MGD
86 Dillon Byrne VCUK
87 Robert Scott Team Wiggins
88 Cameron Jeffers Saint Piran
89 Matthew Clarke Wheelbase Castelli MGD
90 Thomas Baylis One Pro Cycling
91 Jordan Peacock Spirit Tifosi Racing Team
92 Bradley Symonds Team PB Performance
93 Ryan Christensen
94 Maximilian Stedman Canyon Eisberg
95 Joey Walker Team Wiggins
96 Reece Wood Team Wiggins
97 James Gullen JLT Condor
98 Thomas Moses JLT Condor
99 Rhys Britton 100% ME
100 Matthew Holmes Madison Genesis
101 Fred Wright 100% ME
102 Jack Rees Ribble Cycling
103 Joshua Hunt Vitus Pro Cycling
Leicester Castle Classic
1 Gabriel Cullaigh Team Wiggins
2 Robert Scott Team Wiggins
3 Christopher Latham One Pro Cycling
4 Andrew Tennant Canyon Eisberg
5 Connor Swift Madison Genesis
6 Isaac Mundy Madison Genesis
7 Jonathan Mould JLT Condor
8 Daniel Tulett 100% ME
9 Maximilian Stedman Canyon Eisberg
10 Frederik Scheske Team Tor 2000 KALAS
11 Jack Pullar Canyon Eisberg
12 Louis Verhelest
13 Dylan Kerfoot-Robson Team Wiggins
14 Joey Walker Team Wiggins
15 Jacob Scott One Pro Cycling
16 Joe Evans Saint Piran
17 Peter Williams One Pro Cycling
18 Alexandar Richardson
19 Graham Briggs JLT Condor
20 Tobyn Horton Madison Genesis
21 Harrison Jones Vitus Pro Cycling
22 William Harper Saint Piran
23 Cameron Jeffers Saint Piran
24 Jake Womersley Holdsworth Pro Racing
25 Reece Wood Team Wiggins
26 James Ireson Morvelo Basso RT
27 Timothy Torrie Vitus Pro Cycling
28 Callum Ferguson Team KTM UK
29 Jordan Peacock Spirit Tifosi Racing Team
30 Oliver Robinson Team Wiggins
31 Antony Richardson Royal Air Force CA
32 Peter Cocker Richardsons-Trek RT
33 Joshua Croxton Team Tor 2000 KALAS
34 Neil Van Der Ploeg
35 David Lines Wheelbase Castelli MGD
36 Ken Buckley Spokes BPC Racing
37 Erick Rowsell Madison Genesis
38 Thomas Moses JLT Condor
39 Taylor Gunman
40 Alistair Slater JLT Condor
41 Peter Barusevicus Team KTM UK
42 Joshua Wallis ActiveEdge Race Team
43 Oscar Hutchings VCEquipe/FlixOralHygiene/Propu…
44 Thomas Baylis One Pro Cycling
45 Oliver Wood JLT Condor
46 Fraser Martin Saint Piran
47 Liam Davies Vitus Pro Cycling
48 Luke Ryan Richardsons-Trek RT
49 Jonathan McEvoy Madison Genesis
50 Etienne Georgi Team Wiggins
51 Ryan Fenwick Wheelbase Castelli MGD
52 Peter Haworth Team Tor 2000 KALAS
53 Peter Kibble Wales Racing Academy
54 Will Ranoe Morvelo Basso RT
55 James Tillett Wales Racing Academy
56 Matthew Ellis Soenens Booom
57 Anthony Moye Spirit Tifosi Racing Team
58 Christopher Durham Lincsquad (Quadrathlon Club)
59 Fraser Rounds Team KTM UK
Ryedale Grand Prix
1 Graham Briggs JLT Condor
2 Maximilian Stedman Canyon Eisberg
3 Connor Swift Madison Genesis
4 Thomas Moses JLT Condor
5 Jonathan McEvoy Madison Genesis
6 Jacob Scott One Pro Cycling
7 Richard Handley Madison Genesis
8 Erick Rowsell Madison Genesis
9 Edmund Bradbury JLT Condor
10 Joey Walker Team Wiggins
11 Joseph Nally 100% ME
12 Matthew Holmes Madison Genesis
13 Charlie Meredith Saint Piran
14 Thomas Pidcock Team Wiggins
15 Isaac Mundy Madison Genesis
16 Joseph Clark Cycling Sheffield Giant Sheffi…
17 Alistair Slater JLT Condor
18 Peter Williams One Pro Cycling
19 Thomas Stewart JLT Condor
20 Joe Evans Saint Piran
21 Etienne Gorgie
22 Matthew Clements Richardsons-Trek RT
23 Scott Auld Zappi Racing Team
24 Julian Varley Team KTM UK
25 William Harper Saint Piran
26 Kieran Savage Cycling Sheffield Giant Sheffi…
27 Cameron Biddle Halesowen A & CC
28 Grant Martin Vitus Pro Cycling
29 Michael Cuming Madison Genesis
30 Peter Kibble Wales Racing Academy
31 James Gullen JLT Condor
32 Ian Bibby JLT Condor
33 Thomas Baylis One Pro Cycling
34 Jack Pullar Canyon Eisberg
35 Cameron Jeffers Saint Piran
36 Alex Dalton Wheelbase Castelli MGD
37 Lawrence Carpenter Ribble Cycling
38 Jake Alderman Saint Piran
39 Dylan Kerfoot-Robson Team Wiggins
40 Adam Kenway Vitus Pro Cycling
41 Marcus Culey
42 Jude Taylor Team B38 / Underpin Racing
43 James Oram One Pro Cycling
44 Hayden McCormick One Pro Cycling
45 Steve Lampier Saint Piran
46 Fraser Martin Saint Piran
47 Timothy Torrie Vitus Pro Cycling
48 George Wood Richardsons-Trek RT
49 Jack Stanton-Warren Wheelbase Castelli MGD
50 Daniel Coombe Wales Racing Academy
51 Louis Szymanski Cycling Sheffield Giant Sheffi…
52 Dillon Byrne VCUK
53 Gavin Taylor Team KTM UK
54 Joe Swinnerton Wheelbase Castelli MGD
55 Oliver Maxwell Richardsons-Trek RT
56 Jordan Reed Team KTM UK
… continued after advert
Top 10's
British Road Race Championships
1 Connor Swift Madison Genesis
2 Adam Blythe Aqua Blue Sport
3 Owain Doull MBE Team Sky
4 Robert Scott Team Wiggins
5 Fred Wright 100% ME
6 Ben Hetherington MEMIL
7 Gabriel Cullaigh Team Wiggins
8 Ben Swift UAE Team Emirates
9 Joey Walker Team Wiggins
10 Dexter Gardias Canyon Eisberg
CiCLE Classic
1 Gabriel Cullaigh Team Wiggins
2 Karol Domagalski
3 Koos-Jeroen Kers
4 Connor Swift Madison Genesis
5 Erick Rowsell Madison Genesis
6 Peter Williams One Pro Cycling
7 Thomas Stewart JLT Condor
8 Emils Liepins
9 Thomas Pidcock Team Wiggins
10 Tobyn Horton Madison Genesis
Chorley Grand Prix
1 Karol Domagalski
2 Jonathan McEvoy Madison Genesis
3 Richard Handley Madison Genesis
4 Peter Williams One Pro Cycling
5 Steve Lampier Saint Piran
6 Maximilian Stedman Canyon Eisberg
7 Connor Swift Madison Genesis
8 Szymon Tracz
9 Matthew Holmes Madison Genesis
10 Edmund Bradbury JLT Condor
Klondike Grand Prix
1 Thomas Pidcock Team Wiggins
2 Thomas Moses JLT Condor
3 Jonathan McEvoy Madison Genesis
4 Steve Lampier Saint Piran
5 Gabriel Cullaigh Team Wiggins
6 Karol Domagalski
7 William Harper Saint Piran
8 Edmund Bradbury JLT Condor
9 James Gullen JLT Condor
10 George Pym Madison Genesis
Lincoln Grand Prix
1 Alexandar Richardson
2 Andrew Tennant Canyon Eisberg
3 Alistair Slater JLT Condor
4 Mark Downey
5 James Oram One Pro Cycling
6 Connor Swift Madison Genesis
7 Maximilian Stedman Canyon Eisberg
8 George Pym Madison Genesis
9 Ian Bibby JLT Condor
10 Gabriel Cullaigh Team Wiggins
Tour of Reservoir
Overall
1 Thomas Moses JLT Condor
2 Hayden McCormick One Pro Cycling
3 Ian Bibby JLT Condor
4 Ethan Hayter 100% ME
5 Connor Swift Madison Genesis
6 Thomas Pidcock Team Wiggins
7 Jack Pullar Canyon Eisberg
8 Mark Donovan Team Wiggins
9 Isaac Mundy Madison Genesis
10 Fred Wright 100% ME
Stage 1
1 Ian Bibby JLT Condor
2 Connor Swift Madison Genesis
3 Ethan Hayter 100% ME
4 Thomas Pidcock Team Wiggins
5 Hayden McCormick One Pro Cycling
6 Thomas Moses JLT Condor
7 Jack Pullar Canyon Eisberg
8 Gabriel Cullaigh Team Wiggins
9 Mark Donovan Team Wiggins
10 Isaac Mundy Madison Genesis
Stage 2
1 Thomas Moses JLT Condor
2 Hayden McCormick One Pro Cycling
3 Alexandar Richardson
4 Thomas Baylis One Pro Cycling
5 Jonathan McEvoy Madison Genesis
6 Ethan Hayter 100% ME
7 Connor Swift Madison Genesis
8 Thomas Pidcock Team Wiggins
9 Ian Bibby JLT Condor
10 Jack Pullar Canyon Eisberg
Bristol Grand Prix
1 Matthew Gibson JLT Condor
2 Jack Pullar Canyon Eisberg
3 Connor Swift Madison Genesis
4 Alex Paton Canyon Eisberg
5 Tobyn Horton Madison Genesis
6 Daniel Tulett TEKKERZ CC
7 Robert Scott Team Wiggins
8 George Pym Madison Genesis
9 Taylor Gunman
10 Julio Alberto Amores Palacios Vitus Pro Cycling
Stockton Grand Prix
1 Matthew Gibson JLT Condor
2 Matthew Walls 100% ME
3 Emils Liepins
4 Daniel Tulett 100% ME
5 Christopher Latham One Pro Cycling
6 Tobyn Horton Madison Genesis
7 Andrew Tennant Canyon Eisberg
8 Matthew Bostock 100% ME
9 Jake Stewart 100% ME
10 Will Fox Team KTM UK
Leicester Castle Classic
1 Gabriel Cullaigh Team Wiggins
2 Robert Scott Team Wiggins
3 Christopher Latham One Pro Cycling
4 Andrew Tennant Canyon Eisberg
5 Connor Swift Madison Genesis
6 Isaac Mundy Madison Genesis
7 Jonathan Mould JLT Condor
8 Daniel Tulett 100% ME
9 Maximilian Stedman Canyon Eisberg
10 Frederik Scheske Team Tor 2000 KALAS
Ryedale Grand Prix
1 Graham Briggs JLT Condor
2 Maximilian Stedman Canyon Eisberg
3 Connor Swift Madison Genesis
4 Thomas Moses JLT Condor
5 Jonathan McEvoy Madison Genesis
6 Jacob Scott One Pro Cycling
7 Richard Handley Madison Genesis
8 Erick Rowsell Madison Genesis
9 Edmund Bradbury JLT Condor
10 Joey Walker Team Wiggins
---
Cycle Division's Shop
---
Send your results as well as club, team & event news here
---
Other Results on VeloUK (including reports containing results)

---
Other News on VeloUK