Matt Holmes, in his first race for Lotto Soudal, showed why he should be in the WorldTour, with victory on the final stage of Tour Down Under whilst home favourite Ritchie Porte gave the home fans what they wanted on Australia day with overall victory
Tour Down Under: Final Stage
Matt Holmes, in his first race for Lotto Soudal, showed why he should be in the WorldTour, with victory on the final stage of Tour Down Under whilst home favourite Ritchie Porte gave the home fans what they wanted on Australia day with overall victory
[pullquote]"What a surprise: for the crowd, the commentators, the team, and even the rider. To win a WorldTour race for the first time is impressive. To drag race a rider like Richie Porte to the line and win? That the kind of result that gets a lot of attention. And the significance of the victory wasn't lost on Holmes".[/pullquote]
Holmes, who has for a few years now, shown in the biggest races like Tour of Britain and Tour of Yorkshire, that he has what it takes to race with the worlds best, did just that in Australia,  winning the final stage solo by three seconds from Ritchie Porte who was giving it everything to win the race overall.
Matt Holmes:Matt Holmes was part of a 26-strong breakaway group but he was the only breakaway rider Richie Porte couldn't drop on the second and final climb up Willunga Hill. Porte was overtaken by Holmes in the final stretch where he sprinted to his first-ever professional win in what was his first WorldTour race. "I was always waiting, waiting, waiting for the sprint but slowly I realised they were all on the limit", said Matthew Holmes.
"Then Richie came but I did not panic. All I thought was this is great, he's not gonna slow down and he's just going take me to the finish' as he was obviously riding his own race for the GC. All I had to do was beat him and that was quite simple. As a team we had no real plan for this stage. Team Director Herman Frison gave us all a free role. So, I went in the breakaway. Also Jonathan Dibben was in the break and he did a perfect team job. I sat on, and he didn't miss one turn all day."
Three days earlier, in the stage finishing uphill in Paracombe, Holmes was disappointed after having finished 31st. "I've been trying my hardest to ride well in the GC but I couldn't handle the speed and a sort of danger in the bunch. So, I really didn't do well the first days. Even last night I was saying to my parents, who are here for a few days, that this job maybe not for me. Today is a bit of a turnaround."
After racing before in continental British teams, Holmes will be known from now on. "Teams need to really look at the National Series in Britain. They are not UCI races, but they should count. They are no easy races to win. Kevin De Weert was my first contact with Lotto Soudal. Lots of people recommended me and put in a good word. It's really good to repay them. I've always thought that World Tour races would suit me better. It's just pedaling hard. There is less tactics involved. In Britain, it's not always the strongest rider that wins. I did not often win there as I was not good at the tactics."
For sure Holmes looks more a climber than a classics rider. "I don't know. I've never really raced up a climb. I've been stuck in Britain for the last six years, which is not a bad thing. This is my second hilltop finish this week, and it seems to suit me. This will give the team a lot of confidence in me. Up to now I felt they didn't know me very well. I am the new person in the team and they gave me the first easy job in the stages. From now on, maybe I can ask sometimes to ride for me in some stages."
Matthew Holmes' program is not definitely decided but… "Short stage races were on my original plan and maybe a Grand Tour. Either the Giro or the Vuelta. I have to do something much better than today to go to the Tour de France…" Holmes ended with a smile."
Meanwhile, Porte's team, Trek-Segafredo came to South Australia with purpose: the team wanted to win the Santos Tour Down Under title. Richie Porte duly delivered on promise – winning Subaru Stage 3, taking the Santos Ochre Leader's Jersey… and then losing it again before The Final Showdown. For the first time in seven years, he was beaten to the top of Old Willunga Hill but his second place was more than enough to claim the crown he last won in 2017.
Richie Porte achieved another overall victory in the Santos Tour Down, earning his first stage race title with the Trek-Segafredo team that he joined at the start of last year. As we've come to expect in the McLaren Vale wine region of South Australia, there was a huge cheer as he burst out ahead of the peloton with just over a kilometre to go and performed his trademark surge on an incline that has become part of Australian cycling folklore.
His attack is expected by all and, when it comes, it's an impressive reminder of the climbing strength he possesses. On this hill in January, there is nobody capable of matching his acceleration. He carries the weight of expectation but sheds that burden almost as quickly as he drops his rivals when he goes up this stretch of road in such a convincing manner that he's almost earned naming rights for the incline. 'Richie Porte Hill' would be an appropriate title for he has won here so often and so convincingly that it seemed implausible that anyone else would ever throw a victory salute here when Porte is in the peloton.
This year he could afford to gamble a little for all he really had to do was finish more than two seconds ahead of the race leader after five stages, Daryl Impey of Mitchelton-SCOTT. The South African champion is more a sprinter than a climber but he has been able to limit his losses to Porte in recent years. When Impey first won the TDU in 2018, he was second to Porte on Old Willunga, surrendering eight seconds to the stage winner. The two finished first and second overall; Impey the winner, Porte the runner-up… but both with the same cumulative time. It was only a count-back on stage placings that earned Impey the victory.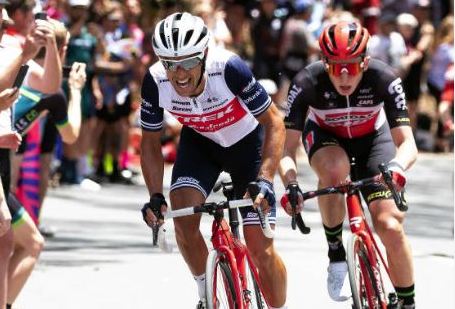 Photos; Getty Images – Porte attacks the climb and then Matt Holmes attacks Porte!
Last year, the stage featuring 'Richie Porte Hill' was moved from being the penultimate stage (before a largely 'ceremonial' final day on the streets of Adelaide) to the final stage. Again, Richie danced away from his rivals. Again, Daryl refused to concede to the climber. And, for the first time in history, a rider won two successive titles. Could Impey earn three? It seemed possible… but unlikely. Even Mitchelton-SCOTT's manager, Matt White admitted that beating Porte in 2020 was going "to be difficult", and 'Whitey' prides himself on 'his' team winning this race. Impey dropped: who's next?
There was small chance that Joey Rosskopf, the Subaru King of the Mountain in 2020, would pull off the ultimate coup. Had it been said that the American from CCC Team would rise up from 32nd on GC to first before the stage, there would have been laughter and derision. What? Finish 58 seconds ahead of Porte? On Old Willunga?! 'No chance', would have come the chorus.
… continued after advert
But Rosskopf likes to attack. He is capable of climbing. And these two elements combined well in Be Safe Be Seen Stage 6 when he set off as part of a 26-strong group that worked up an advantage of five minutes while the bunch sped down past Port Willunga beach for the traditional early circuits of a stage that has always been a feature of the TDU. After the first of two ascents of Old Willunga, Rosskopf and the breakaway enjoyed a lead of over two minutes. On the approach to the final climb of the 22nd Santos Tour Down Under, CCC still had the virtual leader. Could it be? For a few minutes it seemed possible but then came the charge of the GC specialists.
Within a few kilometres, Rosskopf's dream scenario faded… quickly. Even before he started to climb, the American's virtual lead was gone. Mitchelton-SCOTT sent troops to the front of the chase with 10 kilometres to go. The advantage of Rosskopf and crew then diminished rapidly: 2'05" with 9 kilometres remaining… then it collapsed: 8 kilometres to go 1'45"; 7 kilometres to go 1'30"; 6 kilometres to go 1'10"; 5 kilometres to go 40". Sorry Joey, not today. Virtual lead gone. It's time to climb – Richie Porte attacks
The Tasmanian has been repeating his stage winning routine year after year, with team after team – Sky in 2014 and 2015, BMC Racing in 2016, 2017 and 2018, then with Trek-Segafredo in 2019… but then came a little surprise this January.
British Rider Holmes wins on Australia Day
Britain's Matthew Holmes showed just why he should be in the World Tour by winning, on Australia Day, the final stage ahead of a rampaging Ritchie Porte. In his first WorldTour race with the Lotto Soudal team, the 26-year-old from Wigan in Britain, won the stage. Holmes had been in the move with Rosskopf since the start of the day. His new team, Lotto Soudal, had issued its instructions and he seized the opportunity to show what he could do when told to race for himself.
"We also had both Matthew Holmes and Jonathan Dibben in the breakaway," explained Herman Frison, the DS from Lotto Soudal. "We told Dibben, 'You can go full, but Matthew just take your bottles and wait a little bit and see about the final…' In the final, the bunch was always looking at each other," continued Frison. "In the last lap [their lead] was 2:30, I said, 'Yes, one from the break can go for the victory. Then in the final, the chase was closing in fast but he took the wheel (of Richie) and he took the victory."
What a surprise for the crowd (but not us here in Britain!), the commentators, the team, and even the rider. To win a WorldTour race for the first time is impressive. To drag race a rider like Richie Porte to the line and win? That's the kind of result that gets a lot of attention. And the significance of the victory wasn't lost on Holmes. "I tried to not sprint every time that they [accelerated]," said the 26-year-old. "Everyone's got power meters and you know everyone is on the limit so I just rode hard and sensible and then just had to go with Richie when he came past. He was obviously going a hell of a lot quicker than me up there, so he had no sprint left."
This explains the fact that Porte finally got beaten on 'his' hill. But the win still created a ripple in the crowd. When Holmes crossed the line, there were more than a few sideways glances from those watching on. There were raised eyebrows, confused expressions, and whispers uttered with such regularity amongst the crowd that the same private question that was being asked among friends almost became audible over the incessant replaying of the race's theme song.
'Who is that?' Many asked. And eventually they found out. 'Matthew Holmes.'
Word quickly spread. Matthew Holmes, eh? He can climb! Indeed, he can. We'll talk more about him in the years to come, but first let's recognise how Richie's second place atop Old Willunga confirmed his status as the race champion in 2020. And we should also review the significant shake up of the top order of the general classification that came because of the few kilometres up the Old Willunga Hill.
Porte rewards Trek-Segafredo
It's easy to say that Richie Porte's second title is a result everyone expected today. Given that he began the final stage of the 2020 race ranked second overall, only two seconds behind the winner of the previous two editions, Daryl Impey (Mitchelton-SCOTT) the expectation was that he'd do that again, take the 10-second bonus for the stage win… and stroll away with the ochre jersey.
… continued after advert
It didn't exactly go that way even if he rolled back down the hill with the Overall Santos Ochre Leader's Jersey, a broad smile and, surely, a strong sense of relief. Porte did attack near his favourite spot. Everyone knew he would, including Mitchelton-SCOTT's Grand Tour winner, the impressive (yet injured) Simon Yates who quickly responded to the Trek-Segafredo leader's acceleration. That happened at 1,050 metres to go… give or take a metre.
It becomes easy to note the distance from the finish of Porte's regular attack– this time it came when he looked up and saw the blue structure indicating one kilometre to go. While the attack didn't yield a stage win this time, it did get the reward that Trek-Segafredo had been working towards all week. We'll let the champion conclude this story with his observations of the finale of the last stage, the one won on his hill with an effort he'll not forget in a while.
"There's always little points where I hear the crowd," said Porte once he'd arrived back at the race headquarters, the Hilton Adelaide, and answered questions from the media. "But unfortunately, I can't really take it in. That last 800 metres today bloody hurt. It was probably the most painful 800 metres of my life. You've got someone like Simon Yates sitting on your wheel [and] it's not a given you're going to drop him. So, I think that the crowds there today were just awesome, and it is electrifying to get to the top".
"Obviously, you don't get to take it in too much because you're in a different world of hurt. But the crowds there are just second to anything really… it's like a Tour de France stage to be honest."
There are recurring themes for Old Willunga, and Richie Porte's attack is the most common. But, he was asked, does he realise exactly what effect he has on this fantastic 'stadium' for cycling when he weaves his magic. It is, after all, like a tunnel of noise that he's passing through. He may not realise it because he's in there amongst the cheering. From the top, however, it's possible to track his progress as the roar of the crowds announces his pending arrival at the top.
"I've heard that from people," said Porte. "It's maybe a little bit like when Cadel (Evans) attacked in the Geelong worlds (in 2010). You could hear all the Aussie fans cheering. I think the Willunga stage is a great day for Australian cycling."
It must be. The crowds continue to return. The race fulfils its remit by luring people to South Australia to watch a bike race. And the riders respond by putting on a show.
Joey Rosskopf (CCC – KoM winner): "The jersey is a really good reward because it took a lot of work to get it, a lot of days in the breakaway. You set out with a goal and you start chipping away at it from day one and to be able to actually achieve it, it's always super rewarding. Nothing is guaranteed. At the start of the stage we were really unsure because it could have played out like yesterday with the GC guys already hitting it really hard over the climb the first time and one of them taking all of the points. So, to have such a big breakaway with so many strong guys like that was the ideal scenario. I'm sure there was a lot of arguing going on behind about who was going to chase because it must have taken a big commitment to bring a breakaway that big back. So, for us, it was an ideal scenario to even make it to the first climb like that.
"In the very first team meeting we had, especially after we lost Paddy Bevin, we were looking around and started to asses what other opportunities we could take advantage of. In the build up to the race, we were all in for GC with Paddy because he was super last year and we were defending his lead for a few days. We pictured that coming into it with no other goals. We had to re-asses and the KOM jersey was one thing we could take advantage of, especially here because it is more or a breakaway jersey than a pure climbers' jersey so, it was within our grasp. It could have been anyone in the first day or two, whoever got in the breakaway and started chipping away. I always love to get out in front of the race but after a few days of dong it, especially this early in the season without a couple of stage races in the legs, I was starting to wonder if I was really the guy to be able to do this every single day. You never know in January how you are going to respond."
Simon Geschke: "It was a super positive surprise for me coming here as a helper and suddenly being in the role of a GC card. After Paracombe, I was seventh so that was already more than I expected before I came here. I had a super good day and I thought I did a good ride but finishing third is definitely a surprise. We were a bit nervous because Joey was not safe for the mountains jersey [at the beginning of the day] so we could have lost both of our goals, the top ten and mountains jersey. In the end, we can be super happy with how we rode together as a team all week. Joey, in particular, in the breakaway almost every day fighting hard so I am happy that he got what he deserved. For me, personally, last year I broke a lot of bones in the beginning of the season so it is super nice to start this season much better, with my best result ever in a WorldTour stage race."
Diego Ulissi (UAE Emirates): "At the beginning of the week I was hoping and aiming for a final placement in the top 10. Finishing second here can only make me happy. From the start I always had good legs and felt good also thanks to the help of the team who worked perfectly throughout the whole Tour Down Under.
No one today expected a stage like this, but we were good at being present in the breakaway. In the end, the team did a great job putting me in the front where I wanted to be so I was able to push as I wanted".
Philipsen (Points winner): "Wearing the blue jersey at the end of such a race is a great feeling. Again today the team worked at its best in a stage different from what we expected, and Diego's second place in the General is proof of this".
Rohan Dennis (Ineos): "I felt good for January, but I've got a bit of work to do before July and my big goal of Tokyo – and for the Giro I have to get better at climbing again. Obviously I did alright today, but it's only a three kilometre climb, not 10-15km like the final week of the Giro. The race was good, we raced hard, took things seriously but I've had a lot of fun this week too, it's a great group of guys. Even if there's a small issue, we talk about it, we move on and try and do everything better the next day. It's one big thing I've noticed with the team, it's like 'OK we can't do everything perfectly, but we're gonna strive to improve'. We talk about it and then we try again tomorrow."
Luke Rowe (Ineos): "I think it was crucial for us to have a guy in the break, it took the pressure off the boys behind and the size of the group meant we needed one guy minimum there. I felt really good throughout the day, it was quite cruisey in the break and unfortunately we finished up a climb, which was a shame!
"I felt nice and strong on the flat, and I knew that from the 12 guys left I was one of the weakest on the climb, so I tried to hit them early, get a gap – but it never really materialised. As soon as they came back to me, I dropped back in case on our guys was going to jump clear. To wrap up the week, we didn't get on the podium, but we did everything but! We got Team GC and best young rider, so it's been a fun, enjoyable week."
Daryl Impey (Mitchelton Scott): "I came over the line spent. I knew I was out of it there once I got dropped and I just kept fighting to the line, trying to limit the damage and trying to save the podium. I wasn't on a great day today. I struggled a bit there on the bottom slopes, perhaps paying for quite a busy week but, that being said, we gave it our all. I'm still happy with the performance, obviously disappointed with today but that's how it goes.
"I don't want to pull excuses, I think Richie proved he is the best climber here. Going into today's stage I would have actually preferred a 20-second buffer like we usually come with, but it was a lot closer this year. (Richie) rode a great race. I had to get time and to put myself in a position to possibly win. Last year I finished on his wheel so I thought it was a possibility this year, but the body just didn't respond today like last year.
"Tactically we rode a good race today. We just put guys on the front at the end to close the gap so we didn't lose the race but it wasn't up to us to chase the break, we wanted them to take the seconds away."
Michael Storer (Sunweb): "At the start I saw a big group of guys jump and managed to get in it. I tried to then conserve some energy and see what happened behind," explained Storer after the finish. "I tried to ride smart to choose the best time to go on the final climb. I wasn't listening to the legs, I was riding purely on emotion in that last kilometre. It's really amazing on Willunga, it's like you're at the Tour de France, you can't even hear yourself think going up the climb. We managed to get close to fully making it with only Richie catching us before the line. With one kilometre to go I didn't have the legs," expressed Power. "I gave it everything I had but the legs just weren't there. It's disappointing but we rode really well this week. We came here, we gave it everything and that's all we can ask for."
STAGE FINAL
1 Matthew Holmes Lotto – Soudal 03:24:54
2 Richie Porte Leader jersey Trek – Segafredo @ 03
3 Manuele Boaro Astana Pro Team @ 04
4 Bruno Armirail Groupama – FDJ @ 07
5 Michael Storer Team Sunweb @ 07
6 Diego Ulissi UAE Team Emirates @ 07
7 Simon Geschke CCC Team @ 07
8 Rohan Dennis Team Ineos @ 07
9 Dylan Van Baarle Team Ineos @ 07
10 Simon Yates Mitchelton – Scott @ 23
20 Daryl Impey Mitchelton – Scott @ 29
23 Pavel Sivakov Youth jersey Team Ineos @ 29
32 Romain Bardet AG2R La Mondiale @ 48
47 Robert Power Team Sunweb @ 01:38
68 Luke Rowe Team Ineos @ 02:15
73 Owain Doull Team Ineos @ 03:46
74 Caleb Ewan Lotto – Soudal @ 03:46
75 Adam Hansen Lotto – Soudal @ 03:46
76 Gabriel Cullaigh  Movistar Team @ 03:46
78 Luis León Sánchez Astana Pro Team @ 03:46
85 Alex Dowsett Israel Start-Up Nation @ 05:53
92 Jonathan Dibben Lotto – Soudal @ 06:42
93 Jack Bauer Mitchelton – Scott @ 07:29
96 Thomas Scully EF Pro Cycling @ 07:46
103 Sam Bennett Deceuninck – Quick Step @ 08:53
108 Thomas De Gendt Lotto – Soudal @ 10:03
126 Ian Stannard Team Ineos @ 12:42
129 Elia Viviani Cofidis @ 12:42
130 Mads Pedersen Trek – Segafredo @ 17:10
Final Overall
1 Richie Porte Trek – Segafredo 20:37:08
2 Diego Ulissi UAE Team Emirates @ 25
3 Simon Geschke CCC Team @ 25
4 Rohan Dennis Team Ineos @ 25
5 Dylan Van Baarle Team Ineos @ 25
6 Daryl Impey Mitchelton – Scott @ 30
7 Simon Yates Mitchelton – Scott @ 37
8 George Bennett Team Jumbo – Visma @ 46
9 Lucas Hamilton Mitchelton – Scott @ 52
10 Hermann Pernsteiner Bahrain – McLaren @ 54
33 Matthew Holmes Lotto – Soudal @ 02:39
74 Gabriel Cullaigh Movistar Team @ 14:36
80 Owain Doull Team Ineos @ 16:48
93 Alex Dowsett Israel Start-Up Nation @ 19:43
105 Jonathan Dibben Lotto – Soudal @ 23:34
106 Luke Rowe Team Ineos @ 23:48
108 Thomas Scully EF Pro Cycling @ 26:11
117 Ian Stannard Team Ineos @ 30:00
120 Christopher Lawless Team Ineos @ 31:59
---
Cycle Division's Shop
---
Send your results as well as club, team & event news here
---
Other Results on VeloUK (including reports containing results)

---
Other News on VeloUK