Marcin Bialoblocki and One Pro Cycling did the double in Croydon whilst Charline Joiner had her first Series win as Nikki Juniper continues to dominate Women's Series
Featured Report! Tour Series – Croydon
The ONE Pro Cycling team of England cricketer Matt Prior took their fifth team win of the 2015 Pearl Izumi Tour Series in Croydon to edge a point closer to Series leaders Madison Genesis with three rounds to go.
ONE Pro Cycling (above) made it team and individual wins on the night thanks to Marcin Bialoblocki's victory, making it eight different riders having now won the eight individual rounds held so far in 2015.
There was also no change at the top in the women's Matrix Fitness GP Series, with Team Giordana Triton rider Nikki Juniper keeping the Individual and Sprints jerseys after finishing second to Team WNT's Commonwealth Games medallist Charline Joiner.
Nikki Juniper (Giordana Triton) who leads the Women's series and the Points competition
MEN'S RACE
In the men's event, after a fast start five riders eventually went clear and stayed away, lapping the remainder of the field in the closing minutes.
Madison Genesis duo Tom Stewart and Tobyn Horton were joined by Alex Paton, Series returnee Andy Tennant and eventual winner Bialoblocki. With Stewart tumbling out of contention, it was Bialoblocki who outsprinted Tennant for his first Pearl Izumi Tour Series race win since 2012 with Guernseyman Horton coming in third.
The fight for a front position before a pinch point on the course sees the TV bike swamped on the neutral lap
The main chasing group though was dominated by ONE Pro Cycling's five riders to give them the all-important team win, while Madison Genesis did well to salvage second after three riders were struck down in separate crashes.
Consolation for Stewart's exit from the lead group was a return to the lead of the Chain Reaction Cycles Points Jersey two points ahead of Morgan Kneisky, while NFTO's Ian Bibby took the Costa Express Fastest Lap award around Croydon.
Heading to Round Eight at Canary Wharf, Madison Genesis lead ONE Pro Cycling by just two points, with ten available for victory, the two are well clear of nearest challengers Pedal Heaven, who themselves have a handy 13-point lead over Team Raleigh GAC in fourth.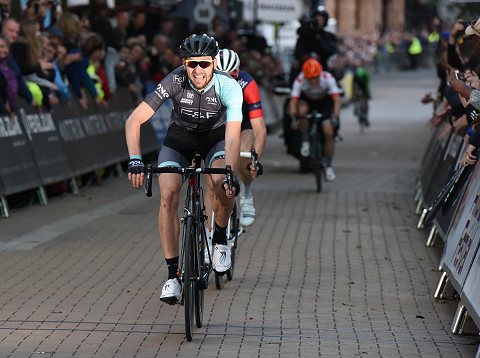 Marcin Bialoblocki (One Pro Cycling) wins the individual race at Croydon
Madison Genesis before the race. After four crashes to their riders, only two of the team made the podium for the post race presentation.
Tom Stewart (Madison Genesis) was unsurprisingly in the front group but then crashed out
Tom Scully (Madison Genesis) is helped to his feet out of the way of the other riders before rejoining the race. It was a huge blow to Madison Genesis who lead the series.
Owain Doull (Wiggins) led solo for a long time before being joined by Steele Von Hoff (NFTO) to bring two of the races fastest sprinters together but they weren't alone for long. The race behind however was now in bits.
George Harper and One Pro Cycling driving the chase group on their way to a team win
Andy Tennant (Wiggins) stretches the leading group to breaking point as Bialoblicki holds the wheel
Ian Bibby (NFTO) salvaged his race by doing 'an Ed Clancy' and sprinting to a fastest lap.
WOMEN'S RACE
Pearl Izumi Sports Tours International riders Gabriella Shaw, Katie Curtis and Dame Sarah Storey were among the most active in a fast and sometimes fraught women's race, but ultimately it was a top three of Joiner, Juniper and Croydon's adopted Louise Mahe, all of whom at one stage or another had tried their hand on the attack.
A delighted Charline Joiner wins the Women's race.
Joiner's win, her first in the Series, puts her third behind Juniper, who has yet to finish off the podium in three races and Jessie Walker, with races in Peterborough and Bath to come next Tuesday (9 June) and Thursday (11 June).
Highlights from Croydon will be shown on ITV4 at 2200 on Wednesday 3 June, with a repeat at 0855 on Thursday 4 June.
The Pearl Izumi Tour Series remains in London for Round Eight at Canary Wharf on Thursday 4 June at 1930, before the final week's events in Peterborough and Bath to complete the 2015 Series.
Top 3 in the women's race: Nikki Juniper (Giordana Triton); Charline Joiner (WTN) and Louise Mahe (Ikon Mazada)
Pearl Izumi Sports Tours International who lead the Team competition
Sarah Storey, who crashed out of the race
RESULTS
MEN'S
INDIVIDUAL
1 Marcin Bialoblocki ONE Pro Cycling 1:07:44.556 46
2 Andrew Tennant Team WIGGINS 1:07:44.877 46
3 Tobyn Horton Madison Genesis 1:07:46.194 46
4 Alex Paton Pedal Heaven 1:07:50.743 46
5 Tom Stewart Madison Genesis 1:08:44.663 46
6 George Harper ONE Pro Cycling 1:05:15.710 43
7 Richard Hepworth SportGrub Kuota 1:05:20.299 43
8 Chris Opie ONE Pro Cycling 1:03:12.231 42
9 Jon Mould ONE Pro Cycling 1:03:12.516 42
10 Jonathan McEvoy NFTO Pro Cycling 1:03:17.655 42
11 Owain Doull Team WIGGINS 1:03:18.063 42
12 Will Fox Pedal Heaven 1:03:18.225 42
13 Kristian House JLT Condor presented by Mavic 1:03:18.234 42
14 Harry Tanfield JLT Condor presented by Mavic 1:03:18.921 42
15 Yanto Barker ONE Pro Cycling 1:03:19.610 42
16 James Lowsley Williams NFTO Pro Cycling 1:03:21.206 42
17 Liam Stones Team Raleigh – GAC 1:03:21.375 42
18 Steele Von Hoff NFTO Pro Cycling 1:03:21.390 42
19 Matt Cronshaw Madison Genesis 1:03:21.653 42
20 Lloyd Chapman Richardsons Trek** 1:03:21.775 42
21 Sam Lowe Team Raleigh – GAC 1:03:21.937 42
22 Morgan Kneisky Team Raleigh – GAC 1:03:22.411 42
23 David Lines Velosure Starley Primal 1:03:31.157 42
24 Rory Townsend Pedal Heaven 1:04:01.935 42
25 Tom Scully Madison Genesis 1:04:27.538 42
26 Mike Northey Madison Genesis 1:04:27.682 42
27 Ed Clancy JLT Condor presented by Mavic 1:04:42.525 42
28 Will Bjergfelt SportGrub Kuota 1:03:22.502 41
29 George Wood Richardsons Trek** 1:03:22.740 41
30 Evan Oliphant Team Raleigh – GAC 1:03:22.928 41
31 Mitch Webber Pedal Heaven 1:03:23.144 41
32 Felix English JLT Condor presented by Mavic 1:04:03.872 41
33 Jon Dibben Team WIGGINS 1:04:33.206 41
34 Ollie Maxwell SportGrub Kuota 1:04:33.747 41
35 Stephen Adams SportGrub Kuota 1:04:34.001 41
36 Ian Bibby NFTO Pro Cycling 1:04:41.466 41
37 Luke Ryan Richardsons Trek** 1:04:08.509 40
38 Lewis Atkins Pedal Heaven 1:04:34.337 40
39 James Gullen Velosure Starley Primal 1:04:34.644 40
40 Jack Pullar Velosure Starley Primal 1:05:20.527 40
41 Luc Hall Team WIGGINS 1:04:03.443 39
42 Stephen Bradbury Velosure Starley Primal 1:04:05.346 39
43 Simon Alexander Richardsons Trek** 1:04:11.902 39
44 Keiran Brady Richardsons Trek** 1:04:12.112 39
45 Adria Moreno Sala Velosure Starley Primal 1:04:12.991 39
46 Chris Lawless Team WIGGINS 1:04:33.493 39
DNF Ryan Perry SportGrub Kuota 1:03:08.344 37
DNF Andrew Hawdon Team Raleigh – GAC 0:43:53.094 29
DNF Zach May NFTO Pro Cycling 0:25:24.497 17
DNF Graham Briggs JLT Condor presented by Mavic 0:23:26.837 15
Team Classification for Round 7
1 ONE Pro Cycling 5:47:26 10
2 Madison Genesis 5:49:11 9
3 Pedal Heaven 5:55:27 8
4 Team Raleigh – GAC 6:01:44 7
5 Team WIGGINS 6:03:58 6
6 NFTO Pro Cycling 6:05:07 5
7 JLT Condor presented by Mavic 6:06:11 4
8 SportGrub Kuota 6:06:17 3
9 Velosure Starley Primal 6:13:46 2
Team Overall Classification after Round 7
1 Madison Genesis 84
2 ONE Pro Cycling 82
3 Pedal Heaven 69
4 Team Raleigh – GAC 56
5 NFTO Pro Cycling 55
6 JLT Condor presented by Mavic 41
7 SportGrub Kuota 39
8 Velosure Starley Primal 38
9 Team WIGGINS 22
PODIUM
Costa Express Fastest Lap Winner: Ian Bibby
Points Competition Round Winner: Tom Stewart
Points Competition Overall Leader: Tom Stewart
Individual Race Winner: Marcin Bialoblocki
Team Round Winner: ONE Pro Cycling
Marcin Bialoblocki, George Harper, Chris Opie, Jon Mould, Yanto Barker
Team Overall Leader: Madison Genesis
POINTS
1 Tom Stewart Madison Genesis 57
2 Morgan Kneisky Team Raleigh – GAC 55
3 Kristian House JLT Condor presented by Mavic 43
4 Jon Mould ONE Pro Cycling 31
5 Chris Lawless Team WIGGINS 28
6 Chris Opie ONE Pro Cycling 22
7 Tobyn Horton Madison Genesis 20
8 Mike Northey Madison Genesis 20
9 Richard Handley JLT Condor presented by Mavic 16
10 Alex Paton Pedal Heaven 16
11 Tom Scully Madison Genesis 13
12 Ed Clancy JLT Condor presented by Mavic 12
13 Marcin Bialoblocki ONE Pro Cycling 11
14 James Lowsley Williams NFTO Pro Cycling 10
15 Will Bjergfelt SportGrub Kuota 10
16 Jonathan McEvoy NFTO Pro Cycling 9
17 Andrew Tennant Team WIGGINS 8
18 Andrew Hawdon Team Raleigh – GAC 7
19 Ian Bibby NFTO Pro Cycling 7
20 Steele Von Hoff NFTO Pro Cycling 6
21 Owain Doull Team WIGGINS 5
22 Zach May NFTO Pro Cycling 5
23 Ian Wilkinson Team Raleigh – GAC 2
= Jack Pullar Velosure Starley Primal 2
25 Liam Stones Team Raleigh – GAC 1
= Richard Hepworth SportGrub Kuota 1
= Gruff Lewis Pedal Heaven 1
= Rory Townsend Pedal Heaven 1
= George Harper ONE Pro Cycling 1
WOMEN'S (PROVISIONAL)
INDIVIDUAL
1 Charline Joiner Team WNT 0:39:47.198
2 Nikki Juniper Team Giordana Triton 0:39:47.279
3 Louise Mahe IKON Mazda 0:39:47.624
4 Charlotte Broughton Corley Cycles Drops RT 0:39:48.070
5 Emily Kay Team USN 0:39:48.275
6 Jessie Walker RST Racing Team 0:39:48.422
7 Katie Curtis Pearl Izumi Sports Tours International 0:39:48.563
8 Henrietta Colborne Team Jadan 0:39:49.194
9 Gabriella Shaw Pearl Izumi Sports Tours International 0:39:49.291
10 Dame Sarah Storey Pearl Izumi Sports Tours International 0:39:52.228
11 Ella Hopkins IKON Mazda 0:39:52.877
12 Helen Wyman Matrix Fitness 0:39:57.106
13 Grace Garner Team Giordana Triton 0:39:59.381
14 Laura Greenhalgh Les Filles 0:40:10.855
15 Jennifer George Les Filles 0:40:54.392
16 Lucy Shaw Matrix Fitness 0:40:54.890
17 Louise Laker PMR@ToachimHouse 0:40:54.946
18 Lucy Chittenden Bonito Squadra Corse 0:40:54.948
19 Abby-Mae Parkinson Team Giordana Triton 0:40:55.178
20 Brit Tate Team WNT 0:40:55.218
21 Ruth Summerford PMR@ToachimHouse 0:40:55.235
22 Annabel Fisher Team Jadan 0:40:55.358
23 Natalie Creswick Team Mulebar Girl – Sigma Sport 0:40:57.733
24 Katy Simcock Corley Cycles Drops RT 0:41:00.244
25 Tamara Davenne Zappi's Cycling Team 0:41:09.876
26 Lauren Creamer Pearl Izumi Sports Tours International 0:41:20.288
27 Emily Nelson Team USN 0:41:28.463
28 Jasmine Diotti Team Velosport 0:41:42.059
29 Rebecca Mackey Aprire Bicycles/HSS Hire 0:39:55.357
30 Louise Borthwick Project 51 0:40:02.126
31 Tanya Griffiths Velosure Starley Primal 0:40:03.207
32 Clover Murray Corley Cycles Drops RT 0:40:03.996
33 Pia De Quint Velosure Starley Primal 0:40:04.196
34 Josephine Gilbert Velosure Starley Primal 0:40:04.345
35 Merce Pacios Pujado Zappi's Cycling Team 0:40:10.933
36 Rebecca Carter WyndyMilla 0:40:11.262
37 Annasley Park Team Giordana Triton 0:40:15.396
38 Bethany Hayward Pearl Izumi Sports Tours International 0:36:35.929
39 Sian Botteley Velosure Starley Primal 0:35:02.356
40 Maxine Filby Team Mulebar Girl – Sigma Sport 0:35:02.709
41 Nicola Soden Carnac Planet X 0:35:03.528
42 Laura Cameron Les Filles 0:35:04.078
43 Abigail Dentus Team Velosport 0:35:04.316
44 Jo Tindley Team WNT 0:35:11.162
45 Mary McFadzean GB Cycles.co.uk 0:35:15.880
46 Kiera McVitty Team Giordana Triton 0:35:21.417
47 Anna Christian Wiggle Honda 0:35:25.376
48 Hannah Walker Team WNT 0:35:36.494
49 Clare Gillott Les Filles 0:35:50.776
50 Nicole Oh Les Filles 0:35:51.149
51 Monica Dew Team Jadan 0:35:51.223
52 Sandra Mackay Carnac Planet X 0:35:51.440
53 Chloe Weller PMR@ToachimHouse 0:35:52.001
54 Anne Marrie Hughes Aprire Bicycles/HSS Hire 0:35:52.935
55 Madeline Moore VC St Raphael 0:35:54.029
56 Amy Brice 0:35:54.626
57 Vicki Strila PMR@ToachimHouse 0:35:54.923
58 Abi Van-Twisk Corley Cycles Drops RT 0:36:02.728
59 Jennifer Crouch Team Velosport 0:36:05.759
60 Niki Kovacs Team Mulebar Girl – Sigma Sport 0:36:36.293
61 Madelaine Lee-Smith Oxted Cycling Club 0:35:04.679
62 Eleanor Cadzow PMR@ToachimHouse 0:35:23.235
63 Ellie Coster Team USN 0:35:25.385
64 Sam Burman Team WNT 0:36:15.479
65 Laura Cheesman Velosure Starley Primal 0:36:23.924
66 Michelle Forster GB Cycles.co.uk 0:36:24.846
67 Charlotte Sampson Zappi's Cycling Team 0:36:46.769
Non-finishers
Alice Lethridge GB Cycles.co.uk
Rose Osborne High Wycombe CC
Corinne Clark Ride 24/7
Juliet Milward Zappi's Cycling Team
Individual Overall Classification
1 Nikki Juniper Team Giordana Triton 56
2 Jessie Walker RST Racing Team 45
3 Charline Joiner Team WNT 39
4 Katie Archibald Pearl Izumi Sports Tours International 36
5 Lydia Boylan Team WNT 31
6 Katie Curtis Pearl Izumi Sports Tours International 30
7 Emily Kay Team USN 30
8 Louise Mahe IKON Mazda 26
9 Henrietta Colborne Team Jadan 26
10 Annasley Park Team Giordana Triton 24
11 Charlotte Broughton Corley Cycles Drops RT 23
12 Gabriella Shaw Pearl Izumi Sports Tours International 23
13 Laura Trott Matrix Fitness 20
14 Dani King Wiggle Honda 19
15 Eileen Roe Wiggle Honda 18
16 Manon Lloyd Team USN 18
17 Dame Sarah Storey Pearl Izumi Sports Tours International 18
18 Jennifer George Les Filles 18
19 Ellie Dickinson Team Giordana Triton 17
20 Lucy Martin Matrix Fitness 12
21 Abby-Mae Parkinson Team Giordana Triton 11
22 Elinor Barker Matrix Fitness 10
23 Ella Hopkins IKON Mazda 10
24 Helen Wyman Matrix Fitness 9
25 Rebecca Nixon Fusion RT Gearclub Bike Science 9
26 Grace Garner Team Giordana Triton 8
27 Laura Greenhalgh Les Filles 8
28 Hannah Walker Team WNT 6
29 Lucy Shaw Matrix Fitness 5
30 Rebecca Raybould Team Jadan 5
31 Louise Laker PMR@ToachimHouse 4
32 Genevieve Whitson WV Avanti 4
33 Mel Lowther Matrix Fitness 3
34 Lucy Chittenden Bonito Squadra Corse 3
35 Lauren Creamer Pearl Izumi Sports Tours International 2
36 Ciara Horne Pearl Izumi Sports Tours International 2
37 Brit Tate Team WNT 1
38 Emily Nelson Team USN 1
Sprints Competition
Sprint 1
1 Nikki Juniper Team Giordana Triton 5
2 Jessie Walker RST Racing Team 4
3 Louise Mahe IKON Mazda 3
4 Gabriella Shaw Pearl Izumi Sports Tours International 2
5 Charline Joiner Team WNT 1
Sprint 2
1 Nikki Juniper Team Giordana Triton 5
2 Jessie Walker RST Racing Team 4
3 Louise Mahe IKON Mazda 3
4 Emily Kay Team USN 2
5 Charline Joiner Team WNT 1
Sprints Classification for Round 3
1 Nikki Juniper Team Giordana Triton 10
2 Jessie Walker RST Racing Team 8
3 Louise Mahe IKON Mazda 6
4 Charline Joiner Team WNT 2
5 Emily Kay Team USN 2
6 Gabriella Shaw Pearl Izumi Sports Tours International 2
Sprints Overall Classification at Round 3
1 Nikki Juniper Team Giordana Triton 24
2 Jessie Walker RST Racing Team 20
3 Katie Archibald Pearl Izumi Sports Tours International 7
4 Louise Mahe IKON Mazda 6
5 Gabriella Shaw Pearl Izumi Sports Tours International 5
6 Elinor Barker Matrix Fitness 4
= Emily Nelson Team USN 4
Team Classification for Round 3
1 Pearl Izumi Sports Tours International 37
2 Team Giordana Triton 29
3 Team WNT 21
4 Corley Cycles Drops RT 17
5 Team USN 16
6 Team Jadan 13
7 Les Filles 13
8 PMR@ToachimHouse 4
Team Overall Classification for Round 3
1 Pearl Izumi Sports Tours International 109
2 Team Giordana Triton 107
3 Team WNT 77
4 Team USN 49
5 Matrix Fitness 45
6 Team Jadan 31
7 Corley Cycles Drops RT 23
8 Les Filles 13
9 IKON Mazda 8
10 PMR@ToachimHouse 4
---
Send your results as well as club, team & event news here
---
Other Results on VeloUK (including reports containing results)

---
Other News on VeloUK